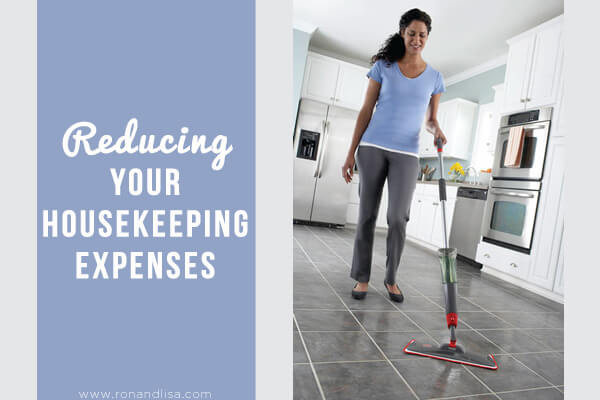 Looking for a way to reduce those monthly bills and expenditures? Try cutting your housekeeping expenses.
Most families are unaware of how much they spend on cleaning their house, and even less aware of how cheaper alternatives can be better for their health and the health of the planet.

Here are some ways to downsize those housekeeping expenses:
Fill Up and Trash Less: Save money on water, electricity, and detergent by always doing full loads, whether it's laundry or dishes. You can also save on dry cleaning by tossing dry clean only items in a garment bag and putting them in the dryer on low heat with a fabric softener sheet.
Any product with excessive packaging or disposable parts, from individually wrapped fruit to floor mops with throw-away pads, is going to be more expensive. To save money, buy in bulk whenever possible and switch to cleaning tools that have reusable pads.
Natural Clean: Going natural used to mean buying organic, which is often more expensive. But when it comes to natural cleaning supplies, everyday cooking staples are great options. White vinegar and baking soda clean just about anything.
Plus, it's far better for your health – commercial cleaning products often create air pollution inside the home. Just make sure to check with your floor's manufacture to see if the solution will not ruin your floor. Consider using household cleaning tools, such as the Rubbermaid Reveal Spray Mop, that let you use your own cleaning solution instead of buying a premixed one made from chemicals.
Multi-Taskers: Instead of buying separate products for the kitchen, bathroom, and floors, use a multi-purpose cleaner. Better yet, create your own. Two tablespoons of castile soap or white vinegar in a spray bottle can clean bathroom and kitchen counters. For floors, add a drop of pine essential oil to the soap or vinegar mixture for a bright shine and fresh room scent.
Go Micro: More than paper towels, rags, or any other cloth, microfibers are better at dusting, polishing, and washing floors, even when using nothing but water. Sweep them across dust-covered electronics or rub them on greasy surfaces for an easy shine. Micro-fiber mops are also great time and money savers. They can be hand washed or thrown in the washing machine to be cleaned and used again, eliminating the waste you produce.
Think Seasonally: Decades ago, no one would expect to get mangoes in the dead of winter, but nowadays, global trade makes that possible. It also makes food more expensive. An easy way to save on groceries is to buy produce that's in season and grown locally. Visit local farmers' markets and you'll save even more.
Remember, being frugal shouldn't mean having a messy house. In fact, the cheapest solutions are often best for your family's health and the environment.
Courtesy of StatePoint