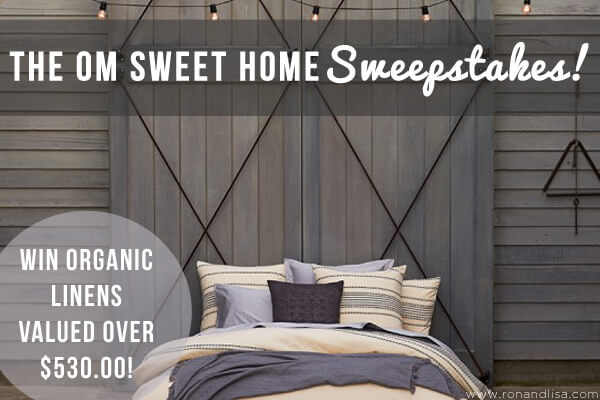 Rustic yet elegant. Substantial but soft. Safe + sustainable!
To say Coyuchi is our faaaavorite organic linen company would not be stretch. In fact, we used to partner with them when we owned our retail store, Green Nest, because we wanted to offer our clients the very best in sustainable home furnishings; those that respect our natural surroundings and enhance lives. And, if you read our post on non-toxic shower curtains, then likely you've already drooled over the numerous and healthy options available to replace your traditional and oh-so toxic, PVC-laden variety. And, now it's your turn to discover why our love affair has lasted 8 years. Not one…but TWO lucky winners will adorn their bedroom or bath with the luxuriousness of Coyuchi's organic linens. Will it be you snapping selfies of your new duvet and shams or towel drying off with your new set of organics (um, please keep it PG rated)? Enter below now.
What We Love:
Coyuchi was founded over 20 years ago in Point Reyes Station, a small town on the Northern California coast. There, surrounded by ocean, forest, beach and bluff, Coyuchi's "aesthetic ecosystem" philosophy of design was born, leading to a line of home textiles rooted in the innate qualities of nature.  This rustically sophisticated style has become the hallmark of Coyuchi, with every product, color and detail designed to fit harmoniously and evolve repeatedly, for effortless mixing of colors and textures from room to room and season to season.
Their Promise to Us:
We design all of our products with reverence for the planet—using only natural fibers, sourcing our materials carefully and processing them minimally—so our cotton truly feels like cotton, our linen feels like linen, our wool feels like wool.~Coyuchi
They truly do take expert care to ensure that everything that bears the Coyuchi label is produced and processed to the strictest environmental standards in safe and humane conditions, from the farm to the factory to the store to your home.
Proof's in the Certifications! 
Coyuchi relies on guidelines such as those set by the USDA National Organic Program, GOTS (Global Organic Textile Standards) and the International Labor Organization to guarantee our products meet these goals. Take a sneak peek at what makes Coyuchi a brand we're proud to recommend.
Did You Know?
Coyuchi is the first company to bring organic cotton bedding to the United States, and in 2013 became the  first home textile brand in the U.S. to receive GOTS (Global Organic Textile Standards) certification as a company.
Coyuchi products are produced using organic and natural fibers, free of the toxic dies, bleaches and finishes used in conventional textiles. Coyuchi relies on guidelines such as those set by the USDA National Organic Program, GOTS (Global Organic Textile Standards) and the International Labor Organization.
All Coyuchi cotton is 100% organic, and they've added organic wool to the line as well. Additional fabrics use only natural fibers, all of which are produced using a nontoxic production process audited by internationally recognized organizations.
Isn't it time to rejuvenate your—body, mind and spirit—to help you turn your home into a unique and personal sanctuary? Not one, but TWO lucky winners will get the chance to customize their very own organic duvet and matching shams set or an organic towel set including: 2 bath towels, 2 guest towels, 2 washcloths (your color choice) valued over $530.00! Will it be you? Enter daily + pretty please share this page with a friend, loved one or someone you care about. Remember, the golden rule people!
How to Enter:
For every action below that you complete, you receive a specific number of entries. Click each individual action to enter yourself. For actions you have done in the past (i.e. you are already a fan of Coyuchi or RonandLisaTheHealthyHomeDreamTeam on Facebook) just click directly on 'I did this'. The eligibility of the winner will be verified by The Healthy Home Dream Team®.
There is no mandatory entry. Each action will earn different numbers of entries into the contest. You may Tweet or share on Pinterest, Google+ or your Facebook wall for an entry once per day. All other actions will only be counted once. You must be 18 or older and reside in the United States address to win. Contest ends9/20/14 at 12:01am ET.