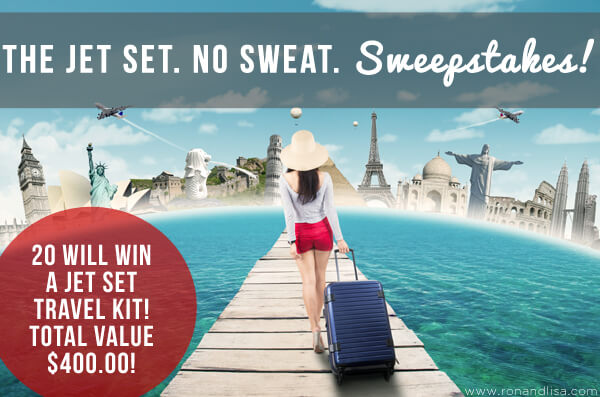 ENTER FOR A
CHANCE TO WIN!
20 Winners Will Receive a Jet Set Kit by Savvy Travelers:
KIT INCLUDES 16 INDIVIDUALLY WRAPPED DESIGNER WIPES (ARV $20.00/ea):
4 NO SWEAT – ANTIPERSPIRANT & DEODORANT WIPES
4 IN THE KLEAR – LENS & SCREEN CLEANING WIPES
4 TAKE OFFZ – FACIAL CLEANSING WIPES
4 SPEAK EAZY – MOUTH CLEANSING WIPE
Total Value $400.00
in the…
Jet Set. No Sweat.
Sweepstakes!

Feel First Class Fabulous. Anytime. Anyplace.
As a prior frequent flier for over 15 years, I know all too well the challenges that come with travel. While jet-setting may at first glance appear glamorous (honeymoons aside), we're not all sipping champagne cocktails in first class on our way to Tahiti. Let's face it – most of us have found ourselves in a pinch without an emergency or well-needed personal care essential while on the road. There is, in fact, a very un-glamorous side if you're unprepared. Right before departing the plane to attend a client meeting, meet the fiancée's parents or a reminisce at a reunion – you encounter one (or more) – of the following:
Spills.
Sweat.
Bad Breath.
Germs.
Bacteria.
Chipped Nails.
Sunglass smudges.
Mascara smears.
Suddenly, lack of cabin legroom seems to be the least of your worries. But…
There is light at the end of the tarmac.
Introducing the Savvy Travelers collection of designer beauty wipes that are curated for the sophisticated on-the-go travelista (yep, that's you and me!). Savvy Travelers will keep you fresh and fabulous from head to toe, one swipe at a time; offering products in convenient kits and single-use packets that are disposable, eco-friendly and made in the good 'ol USA (in our home state of California in fact)!
Savvy Travelers' mission is to reduce the use of bulky packages, jars, tubes and bottles that are inconvenient for business, travel or daily use.
The full line of Savvy Travelers products (oh, there is more goodness! Click HERE to see the rest of the line including Klean Offz, Klean Upz) ensure that women feel first class fabulous no matter where they go.
Now.
We're.
Talking!
Savvy Travelers products minimize the use of water with specialized no rinse formulas for beauty care and wellness needs.
Savvy Travelers cares about the environment and focuses on sustainability by manufacturing in California using high quality ingredients and eco-friendly facilities.
Founders Who Care about the Planet
Meet Margarita Floris and Tina Aldatz – the gorgeous and successful founders behind Savvy Travelers. Tina founded Foot Petals®, the revolutionary line of designer insole cushions for women's high heels (thank you) and Margarita was the previous international sales manager for BCBG Max Azria. Both women joined forces to solve the challenges of busy women striving to staying fashionable, while each values giving back to their community and beyond. Click HERE to learn more about their philanthropic efforts.
Each lady cares about the environment and focuses on sustainability by manufacturing in California using high quality ingredients in eco-friendly facilities.
No Water? No Problem. Don't Take our Word. See for Yourself:
Did You Know? The Jet Set Kit Ingredients are:
Convenient travel size
Carry-on friendly & TSA compliant
Not tested on animals
Biodegradable & compostable
EPA Green Power Partner approved
FSC / Rainforest Alliance certified
Made in California using clean, renewable solar energy
Everyone's a Winner!
Not one, but TWENTY lucky RonandLisa.com (that's a first for us!) readers will win a Jet Set Kit from Savvy Travelers with a total value over $400.00! Who's ready to snag some eco-friendly swag?
YOU WIN! Another first, is everyone is winner because our fabulous friends at Savvy Travelers are offering  e v e r y o n e  a whopping 30% discount off of any order using one of these three codes at checkout:
Will you be one of the 20 *lucky* winners? Enter daily for a chance to WIN and share this page with a friend, loved one – or anyone – that could benefit from feeling fresh and looking fabulous while flying!
How to Enter:
For every action below that you complete, you receive a specific number of entries.  Click each individual action to enter yourself. For actions you have done in the past (i.e. you are already a fan of Savvy Travelers on Facebook) just click directly on 'I did this'. The eligibility of the winner will be verified by The Healthy Home Dream Team®.
There is no mandatory entry. Each action will earn different numbers of entries into the contest. You may Tweet or share on Facebook or Google+ for an entry once per day. All other actions will only be counted once. Sweepstakes open to US residents age 18 and over. Contest ends 6/18/16 at 12:15am PST.