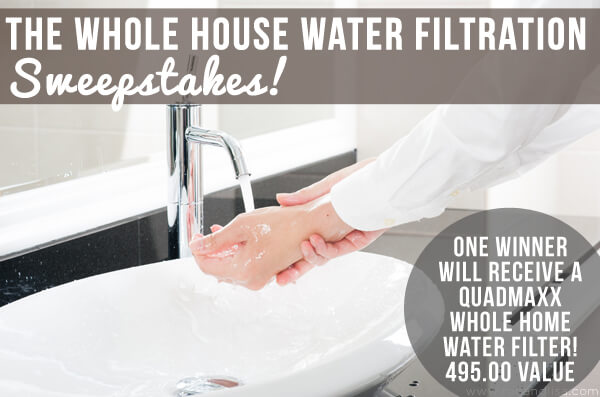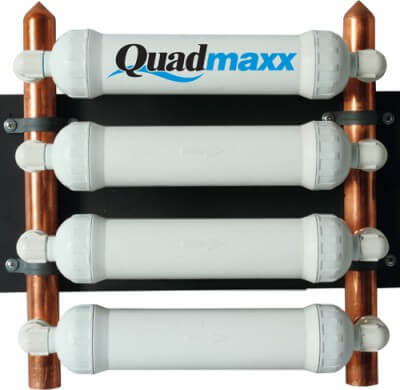 Water Filtration for Your Entire Home
If you're new to water filter shopping, then you may not be familiar with the types of filtration systems available. For starters, there is what's called a point of entry. These are installed where water enters your home and filters virtually every faucet in your home (bathroom sink, shower, kitchen sink, etc). Alternatively, and usually less expensive, are point of use. These are installed at the source (ie: under the kitchen sink) and only filter water coming from that faucet. What if we told you could have a whole house water filtration system for the price of a single point of use system. Oooh, and did I forget to mention that one *LUCKY* Ron and Lisa reader (you?) will WIN a system for their own home valued at $495.00? Fall is definitely in the air (and Santa must be verrry near)!
Who's ready to get chlorine-free, clean, great tasting water from every faucet with the advanced Quadmaxx system? Your skin is your largest organ. Isn't it time to protect yourself and your family from the harmful effects of chemicals and pollutants that get absorbed through the body when bathing and showering by getting a whole house water filtration system? The Quadmaxx whole house water filter by Wave Home Solutions includes everything needed for installation and is super easy to maintain (it requires a plumber, but is so simple to install).
In independent testing, the Quadmaxx removed 99% of the chlorine, and reduced lead, arsenic, mercury, aluminum, VOCs and THMs found in the test water supply. Actual results may vary based on your home's specific water supply. Your water will be chlorine free, odor free, and will taste great. They even have an option to remove fluoride!
How the Quadmaxx Works
The patented blend of purification media utilize a unique 3 dimensional design that allows for more surface contact area. The quadruple flow design allows the water to spend more time in the purification media. All this is accomplished with virtually no loss of water pressure. And of course, there's the unbeatable price. NOTE: The Quadmaxx is designed to filter and purify municipal water only. Well water presents different problems. Check out Wave Home solutions for well water.
Small, but Mighty!
Through the highly innovative 4 canister design, the Quadmaxx is able to achieve high standards of water purification without loss of water pressure. This unique design also provides the capability to continue to use the Quadmaxx even in the event that one of the canisters gets damaged. The Quadmaxx is compact yet powerful. At a mere 18″w and 13″h, it boasts a 40,000 gallon capacity.
How Often Should I Replace the Filters?
The capacity is 40,000 gallons, but how often to replace your filters really depends on your household water usage. The manufacturer recommends changing the media approximately every 6 months. If you notice a change in the taste and look of your water, it is probably time to change the media.
The Quadmaxx Warranty
The Quadmaxx carries a 1 year full Performance Guarantee* plus a separate 3 year manufacturer's parts warranty. Click HERE for all the details regarding the Quadmaxx guarantee. *restrictions apply
Thank you for making the dual action water system so easy to install. I had my friend who is a plumber install it in less than half an hour. I love having filtered water come out of all the faucets in my home. I used to go all the way downstairs to the fridge to get a drink of water at night, not anymore. No more chlorine showers! I really feel I did a great thing for my family when I purchased your system. I will be telling all my friends. ~Beth Stewart
Did You Know? The Quadmaxx Offers: 
Whole house water purification
99% removal of chlorine
Removes cysts, THMs, VOCs & chemicals
Parallel flow for increased purification
Patented Purification media
Virtually no pressure loss
Easy installation
Virtually maintenance free
WQA certified
Will you be the insanely lucky winner? Enter daily for a chance to WIN and please share this page a friend or loved one who could benefit from better tasting and healthier water to cook and bathe in!
How to Enter:
For every action below that you complete, you receive a specific number of entries. Click each individual action to enter yourself. For actions you have done in the past (i.e. you are already a fan of WAVE Home Solutions on Facebook) just click directly on 'I did this'. The eligibility of the winner will be verified by The Healthy Home Dream Team®.
There is no mandatory entry. Each action will earn different numbers of entries into the contest. You may Tweet or share on Facebook or Google+ for an entry once per day. All other actions will only be counted once. Sweepstakes open to US residents age 18 and over. Contest ends 10/17/15 at 12:15am ET.