It's hard to believe the sounds and sights of trick-or-treaters and glowing Jack-O-Lanterns are already a nostalgic memory for 2010. But, as we anticipate the unveiling of more holiday joy just around the corner, it is a good time to remember that, although the goblins associated with the month of October are tightly packed and neatly stacked in containers lining the perimeter of your garage, the upcoming holidays can also mean time for a new type of goblin… toxic threats to your pets! At Green Nest, we know that you adore your furry best friends, and we do too! In the most comprehensive study of chemicals in pets, dogs were found to have 40% higher and cats to have 96% higher levels of chemicals than found in people. These chemicals include plasticizers, grease-proof chemicals, and fire retardants. That is why we suggest giving them only the best when it comes to their health. Old pet beds with crumbling foam release flame retardants that can negatively affect your pet's health. According to the World Health Organization (WHO), 20,000 deaths occur every year from pesticide poisoning in developing countries, many of which is from cotton farming. Organic pet beds contain organic cotton, natural rubber, and wool to keep moisture at bay and prevent mildew. The Green Nest Organic Pet Bed uses natural rubber for the core support, giving it outstanding heat and moisture regulation, and of course the added benefit of a natural dust-mite repellent from the hevea milk in the rubber.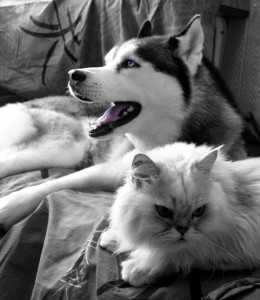 Some people are surprised to discover their beloved animal diagnosed with an illness. However, it should not be a surprise when considering the fact that not only are they exposed to the same household toxins as humans, but with their shorter life spans, pets develop health problems from such toxic exposures much more quickly. This draws attention to the importance of creating a healthy indoor environment for them too. This includes their toys and food which, as we recommend in our green shopping guide Just GREEN It!, should be organic. But, also important and often overlooked is indoor air quality! If you have more than one pet in your home, you should definitely consider the Pet Air Machine which utilizes HEPA technology to trap airborne dust and dander. While the special carbon blend will help reduce many pet odors that linger in the air, the Pet Machine reduces allergens and odors created by pets with a new specially designed filter. Why? In the first study of its kind, the Environmental Working Group found that pets absorb the pollutants in tap water, on lawns treated with pesticides, and in the air at higher levels than humans. Toxins used in plastic toys and medicines were discovered in tests of dogs that found that the animals were contaminated with breakdown products of four plastic softeners (phthalates) at higher levels than found in humans.
Ron & Lisa's Tip #1: Need a handy guide to take when pet shopping? Download this for free!
StatePoint – Home for the holidays can mean colorful decorations, sumptuous food and spirited cheer between friends and family. Unfortunately, it can also mean danger for the family pet.
Sweets, decorations and a multitude of guests can adversely affect your pet's health and behavior.
"There are lots of pet hazards during the holidays, but the right training can keep your dog safe," says Dawn Sylvia-Stasiewicz, trainer of Senator Ted Kennedy's dog Splash and Bo Obama, the First Family's dog, and author of the new book "The Love That Dog Training Program."
Common holiday decorations and treats that are toxic to dogs and other pets include mistletoe berries, poinsettia leaves, tinsel and water from a tree stand. In addition, your dog's appetite for unattended holiday chocolates, poultry bones or holiday decorations can result in emergency visits to the vet.
To keep pets safe, try keeping things out of reach or make them inaccessible, such as using a tree skirt to keep dogs from drinking water in a tree stand. But solid training based on positive reinforcement, especially for that new puppy you got for the holidays, is often the best prevention technique.
"Canine communication is usually visual, not verbal," says Sylvia-Stasiewicz. "Starting off with hand signals for 'sit,' 'down,' and 'stay,' encourages your dog to watch you closely, thereby making them more obedient once you add a verbal cue."
You should also positively reinforce good behavior in your dog instead of punishing bad behavior. That means your dog should come to understand that when he sits, he gets a reward — either a toy or a treat.
"Dogs love making trades for something of equal or lesser value," Sylvia-Stasiewicz says. "If you teach your dog that bringing you a particular object will result in him receiving a more desirable alternative, such as a favorite toy or treat, then he'll be less likely to hold onto dangerous holiday decorations."
For anxious dogs, incessant doorbell ringing and an abundance of guests may be unnerving, leading them to act out. In order to give dogs a sanctuary, Sylvia-Stasiewicz recommends rewarding dogs for spending time in their crate. That way, they begin to associate their crate as a safe haven from the party, not a jail from which to escape.
For more tips on training dogs to be safe during the holidays, check out Sylvia-Stasiewicz's new book with Larry Kay, "The Love That Dog Training Program."
"The lessons learned from good parenting are also applicable in the dog world," says Sylvia-Stasiewicz. "Fortunately, it's never too late to teach an old dog new tricks."
Ron & Lisa's Tip #2: As a natural deodorizer, baking soda can be sprinkled onto rugs and carpets and vacuumed after 10 to 15 minutes. Or, mix the baking soda with a drop or two of essential oils or dried lavender before shaking onto carpet, and let sit for an hour or longer.
For holiday gift ideas for pets, check out our PET GIFT GUIDE!