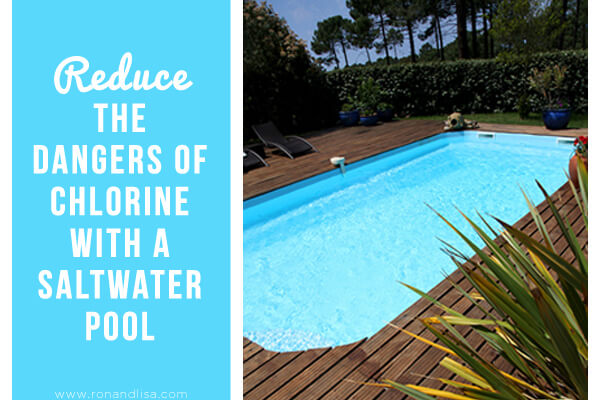 Everyone knows the irritating, bleach-like odor of chlorine. When exposed to significant amounts of this chemical, people may experience blurred vision, coughing, wheezing and burning sensations in the nose, throat and eyes, according to the Centers for Disease Control and Prevention. Chlorine is found in many household cleaners and, of course, it's used to keep pools free of bacteria. A 2010 Environmental Health Perspectives study evaluated 50 adults after they swam for 40 minutes in a chlorine pool and found a rise in the markers for asthma and cancer.
Despite all this, many homeowners still use chlorine in their backyard pools. Instead of exposing your family to this harmful chemical, consider a more natural alternative: a saltwater pool.
How Saltwater Pools Work
Saltwater pools do contain small amounts of chlorine, but salt-generated chlorine is much milder than typical chlorine. According to IntheSwim.com, a salt chlorine generator naturally turns the salt added to the pool into chlorine through electrolysis, which keeps the pool clean with minimal amounts of added chemicals. With a chlorine generator in your saltwater pool, you can say goodbye to chlorine and never have to touch this harmful chemical again.
Chlorine generators are just as effective at keeping the pool clean and fighting scum buildup along the waterline of the pool. If the unit is operating properly, the small amount of chlorine required in saltwater pools will always be present, eliminating algae and bacteria without causing itchy red eyes and irritated skin. Ultimately, these generators create a healthier, more pleasant swimming experience.
Do you know about the top 10 Himalayan salt lamps
Health & Beauty Benefits
Have you ever stepped out of a typical chlorine-filtered pool and felt like your skin was tight and dry? That's because chlorine can damage the skin and cause premature signs of aging. And swimmers with sensitive skin can develop an itchy rash or experience sinus irritation. According to the New York State Department of Health, chlorine chemicals strip the skin of natural oils, causing dry and cracked skin.
Taking a swim in a saltwater pool is much more pleasant. The water is smooth and skin is not left with that taut, dried-out feeling. Saltwater swimmers say it's much more refreshing; they also don't have to deal with that green chlorine tint to their hair, and their swimsuits don't get damaged nearly as easily.
Environmental & Safety Considerations of Chlorine
Chlorine in liquid or tablet form can be dangerous to store and transport. Chlorine pool owners must always keep chlorine away from combustible chemicals, avoid mixing different types of chlorine together and should always keep the chlorine in the original storage container. If ingested or inhaled chlorine can be deadly, so this chemical must be stored in a safe place where children, pets and wildlife cannot access it. Saltwater pool owners do not have this long list of precautions, because they are using typical salt in their pools rather than chemicals.
Pool owners should always be mindful when draining their backyard pools, whether saltwater or chlorine. Never drain a pool directly into a body of water.
If you're worried about your exposure to chlorine, you can contact your regional poison control center at 1-800-222-1222.