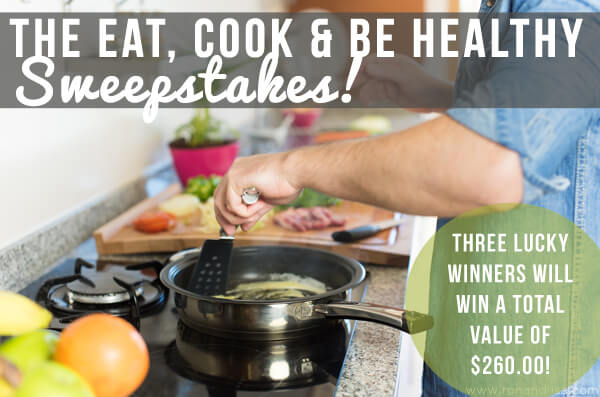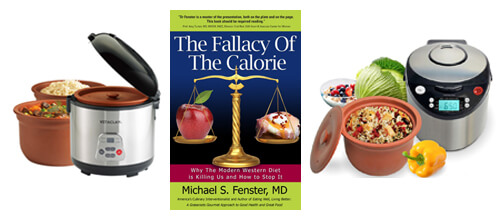 I dunno 'bout you, but we're passionate about health, enjoy working out…and love to eat. If we wanted to know the best tips for eating – and cooking- healthier (which we do), we'd ask an expert in their field. And, someone who walks the talk. Case in point: if we were interested in improving our health through diet, then a board certified interventional cardiologist and professional culinary chef would be a pretty good resource, wouldn't you say? Since we always have your back (and your stomach), we sought out one of the top experts in his field to share the best tips for eating smarter; while still enjoying quick, delicious and nutritious food. Introducing Dr. Mike, author of "The Fallacy of the Calorie: Why The Modern Western Diet is Killing Us and How to Stop It" (Koehler Books) as featured in this post.
About Dr. Mike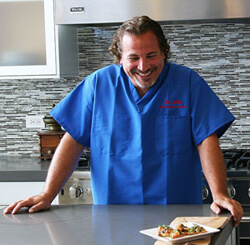 As a Board Certified Interventional Cardiologist, martial artist and professional chef, Dr. Michael S. Fenster is a beacon of light in the dark world of food myths. Better known to his fans as "Dr. Mike", he's never one to back down from a challenge – including receiving his culinary degree from Ashworth University, where he was their alumnus of the year.
Dr. Mike is no stranger to the spotlight. He's been a regular on CW's The Daily Buzz, ABC's The List & NBC's Daytime TV. He's also the star and producer of a popular cooking web series with Forbes Riley and the author of several books, According to Dr. Mike,
Like any physician, when I am working in the O.R. I need the right tools to get the job done. And as a chef, when I operate in the kitchen, the same golden rule applies. That's why my VitaClay is always close at hand whenever I am crafting delicious, but nutritious meals. Unlike modern slow cookers, the VitaClay contains no lead, no aluminum and no non-stick chemicals. Clay is a natural insulator that holds and absorbs heat to cook foods slowly and evenly as heat and moisture circulate through the clay during the cooking process. In contrast to the acidity found in so many foods common to the modern Western diet, the clay that forms the vessel and the airtight lid is naturally alkaline. These factors help seal in essential nutrients, vitamins, enzymes and most importantly flavors. The result is a process that imparts subtle earthy tones and distinctive textures that you just can't get from other methods or cookers.
Mike's love of food and medical awareness propelled him to combine these passions, the result is an exceptionally unique and insightful approach to food that seeks to counter the negative and inflammatory effects of the modern Western diet that deadens our taste buds, robs our vitality and increases the risks of cardiovascular disease, obesity, diabetes and a host of other conditions and illnesses that plague our society. Dr. Mike is back to help Americans change the way we view food and our diet.
Pre-programmed functions for "Rice", "Brown Rice", "Stew" and "Soup"
Extensive cooking including bean pots, creamy porridges, and much more
Totally programmable
Naturally nonstick unglazed clay bowl enhances the flavor and texture
Preserves essential nutrients
Free from non-stick chemical glazes or aluminum contacting your food!
Clay bowl natural thermal retention promotes uniform cooking
Double-lid design maximizes the steaming process to create tender and flavorful dishes
Cooks two times faster than in conventional slow cookers
50% more cooking efficiency, using as much as 50% less energy
Extra power to cook larger cuts of meat
30 minutes up to 12 hours programmable cooking time with 30-minute increment!
Automatically keeps warm for up to 12 hours
10 minutes preparation time and a snap to clean-up
Recipe booklet, rice paddle and measure cup included
Makes up to 12-cup cooked rice / or 3.2-quart capacity
UL listed, FDA, CA Prop 65 and RoHS laboratory tested
THREE TEMPERATURE SETTINGS (Off, High, Low, Yogurt)
Preserves beneficial nutrients, live cultures and enzymes
Unglazed clay pot enhances flavor and texture
Lead-free and chemical free clay insert
Ideal making large batch Greek yogurt and yogurt cheese in
5-12 hours
Choose your own quality ingredients and natural sweeteners
Makes savory mineral rich and nutrient-dense soups, stews and bone broths easily from scratch
FREE RECIPE BOOKLET–Healthy seasonal gourmet recipes catered to your personal dietary needs
REMOVABLE CLAY INSERT and glass lid for easy cleaning and refrigeration
Healthy meals on-the-go
Will you be one of the THREE lucky winners? Enter daily for a chance to WIN and please share this page a friend or loved one who could benefit from healthier eating, cooking and living!
How to Enter:
For every action below that you complete, you receive a specific number of entries. Click each individual action to enter yourself. For actions you have done in the past (i.e. you are already a fan of Dr. Mike on Facebook) just click directly on 'I did this'. The eligibility of the winner will be verified by The Healthy Home Dream Team®.
There is no mandatory entry. Each action will earn different numbers of entries into the contest. You may Tweet or share on Pinterest or Google+ for an entry once per day. All other actions will only be counted once. Sweepstakes open to US and Canadian residents age 18 and over. Contest ends 7/4/15 at 12:15am ET.