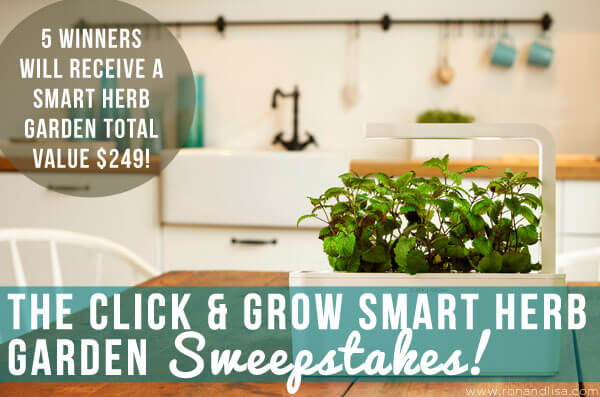 ENTER FOR A
CHANCE TO WIN!
5 Winners Will Receive the Following valued over $49.95/ea:
Total Value over $249.00!!
in the…
Click & Grow Smart
Herb Garden
Sweepstakes!
Goodbye Green Thumb. Hello Smart Soil.
I've been wanting an herb garden forrrever and, besides my beautiful rosemary bushel, I haven't managed to get too far. I've used the excuse that I don't have a green thumb and have a tendency to over- and under-water my plants to dried-out, brown, wilted oblivion. But, not anymore…
No green thumb? No worries.
We didn't have one (uh, two) either. That was until we started using – or shall I say growing – our very own Smart Herb Garden…indoors! At the corner of nature and technology, meet our friends, Click & Grow. They use technology to bring life into our modern homes and spread the joy of growing something on your own, even if you have never been blessed with a green thumb.
All of their plants are grown using automatically controlled technology in a unique and specially developed Smart Soil. Developing the Smart Soil took quite a while, but it's definitely one of the most effective and unique plant cultivation technologies you'll find anywhere! Why? They use innovative NASA-inspired technology that help the herbs naturally grow faster. How? Their specially developed Smart soil balances oxygen, water, and nutritional ingredients at an optimal level. It's nature at its purest…and greenest!
Proof is in the Pot
The great, green peeps at Click & Grow seek progress, change and solutions to different plant cultivation problems so you don't have to (they had me at Smart Soil). It's true! With Click & Grow, just watch your seeds sow and your plants grow! Click below to WATCH:
Pure. Healthy. Toxic-Free. Naturally.
The Smart Soil truly is the heart of Click & Grow's sustainable secret. It stands for a nano-technological growth medium that balances oxygen, water and nutritional ingredients at an optimal level. Click & Grows' soil has special oxygen pockets that provide the plants with nutrients and enough oxygen even when the soil is wet. The technology used is based on the way plants grow in soil, but has made the process more effective and fool-proof (not that any of us need this…wink, wink!).
Additional growth-spurt is provided by the adjustable LED light (our faves), which offers plants all the specific light specters they need. Sensors tie it all together by constantly measuring and monitoring the need for light, water and nutrients.
Despite the high technology involved, plants are grown naturally, using biomimicry as the main source of inspiration and innovation. Products include no pesticides, fungicides, insecticides, plant hormones or any other suspicious substances.
The Smart Herb Garden is the easiest and the nicest-looking indoor gardening solution that lets you grow three plants at a time. It comes with a water reservoir and contains all the technology to help plants grow with zero effort. Each Smart Herb Garden comes with cartridges for basil, thyme and lemon balm, but refills are also available for mini tomato, chili pepper, salad rocket, dwarf basil, rosemary and stevia (oh, can't live without this stuff). When you're ready for new plants, simply replace your old 'herb' cartridges with new ones.
With Click & Grow smartpots, the technology does all the work.
Did You Know? Click & Grow: 

The Smart Herb Garden is the nicest and easiest indoor garden out there! It waters your plants for you and makes sure they have enough light, oxygen and nutrients to grow into beautiful, fresh + healthy plants.
The Smart Herb Garden comes with three basils which allow you to start growing instantly!
No more dead plants! The automated robot garden will become the pet of the family- it will bring excitement to any child being the first garden a child grows to being the perfect assistant to a healthy home cooking king or queen!
Will you be one of the lucky 5 winners? Enter daily for a chance to WIN and please share this page a friend or loved one who could benefit from growing their own herbs and/or veggies in their home!
How to Enter:
For every action below that you complete, you receive a specific number of entries. Click each individual action to enter yourself. For actions you have done in the past (i.e. you are already a fan of Click & Grow on Facebook) just click directly on 'I did this'. The eligibility of the winner will be verified by The Healthy Home Dream Team®.
There is no mandatory entry. Each action will earn different numbers of entries into the contest. You may Tweet or share on Facebook or Google+ for an entry once per day. All other actions will only be counted once. Sweepstakes open to US residents age 18 and over. Contest ends 8/29/15 at 12:15am ET.