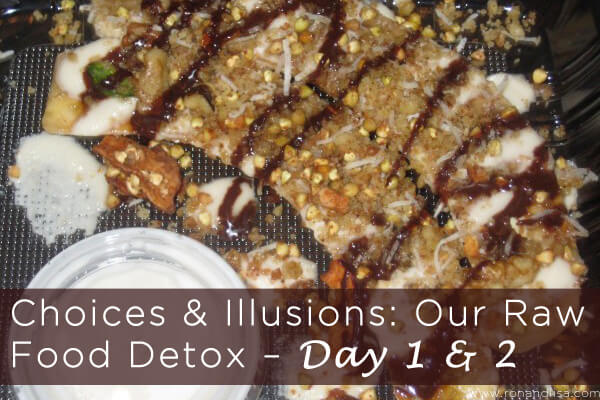 So much food, so few mealtimes! Chances are those words are not the first phrasing that sweep across your mind when you hear the words '14 Day Raw Food Detox.' You are not alone, but, it really is true! Not only is the food plentiful, it's colorful. I remember hearing years ago that the food on your plate should reflect the colors of the rainbow (or as many as possible). Seems like a distant past gazing into my ceramic white, Pottery Barn, wedding-gifted plates only to see one or two colors staring back at me. Or, hearing Ron tell me the tomato & pickle garnish for his veggie burger allotted him his US RDA daily intake requirement of vegetables. Today, however, is a different story.
For the first day of the detox – we arrived at noon in person to collect our freshly prepared food including a printout of the menu for the first two and a half days. To jumpstart you out of the gate, you get to indulge in a late breakfast followed by lunch. For anyone thinking they will starve on this plan, I am here to dispel that myth. I was like a kid in a candy store wondering what decedent surprises lie hidden in the perfectly packaged tote bag. As we pulled out each container one by one, an almost guilty feeling, reminiscent of peaking at my childhood Christmas gifts too early, washed over me. It began with the first meal of the plan, which is breakfast: Smothered Banana with Almond Milk. Sounds good, but looks divine. I thought this one was worthy of its own picture (see above). Yes, it really does taste as good as it looks! As I was savoring every bite of this guilt-free, encased in an illusion-of-naughty package, I couldn't help but smile. I said to Ron "Can you imagine if our mothers prepared before school for us growing up?" What child in the world would not marvel at the taste, let alone the beauty of this scrumptious; but healthy treat? Goodbye cocoa puffs, hello organic banana, chopped nuts, raw cacao, and a white frothy crème smothered on top that tastes like frosting but is actually non-dairy. Now, this is what I call a breakfast of champions. I don't think champions are built on high fructose corn syrup, food coloring, genetically modified corn and preservatives. But, fresh organic ingredients derived from nature and assembled with love? Yes, that is a breakfast of champions. No, it doesn't carry a secret toy surprise, cardboard box or heavy commercial marketing. But what it does offer are nutrients, vitamins and minerals to give you health, energy and the feeling that someone cared enough to prepare food from the earth; not a box. Yes, we do need to consume food to eat, but that doesn't make you a victim of consumer marketing.

My mom's husband is Hawaiian and is a great chef with instinctive abilities (you know, one of those people who can find a few ingredients in the cupboards and whip up a fantastic feast)? He always told me food tastes better when it's prepared with love. Ever since then, I can tell. It has that extra special ingredient that you can't buy from a production line at a manufacturing facility. So, the rest of the next two days was more of the same – fresh organic ingredients, a palette of bursting color, and love. The Heirloom Squash Samosa & Marinated Kale, the Lemon Alfredo Pizza on Buckwheat Breath, the Chocolate Go Go Balls (Ron's favorite) , Coconut Yogurt with Fresh Blueberries, Pesto Rolls w/ Marinated Vegetables Chop Salad, Winter Tacos w/ Napa Slaw and Raspberry Torte (my favorite). We found ourselves saying things like "It's dancing on my palette" (o.k., that may have been my comment), and "How can this be non-dairy?"
I use to love the TV show Inside the Actors Studio. Once I saw John Travolta discussing his early career in acting. He talked about being friends with Nicholas Cage and when modestly starting out, they agreed to 'live life like art.' If they only had a few dollars, they would make sure to find a good deal in town and have a nice meal instead of a fast food fix. I always loved this concept because you really can do this with a little creative effort. Although having your meals prepared with fresh ingredients and packaged up for you is more affordable than having a personal chef in your home, you wouldn't know the difference. But Jenny doesn't really want you to do that forever. She encourages us to create our own gardens (more on this in the next post), prepare our own food, work together as a community and share the fruits of our labor. After all, we are talking about vegetables, fruits, grains and spices.
Did You Know?
Cancers are primarily an environmental disease with
90-95% of cases attributed to environmental factors
(including food) and only 5-10% due to genetics?
Contrary to popular belief, it's not expensive and definitely not costing you more than perhaps your current regimen of prescription drugs, Dr. visits or over the counter vitamins & supplements, to be healthy. You really can learn to say goodbye to being a slave to the grocery store with it's illusion of choices and nutrition and indulge in food that is nourishing, flavorful and well, artful!