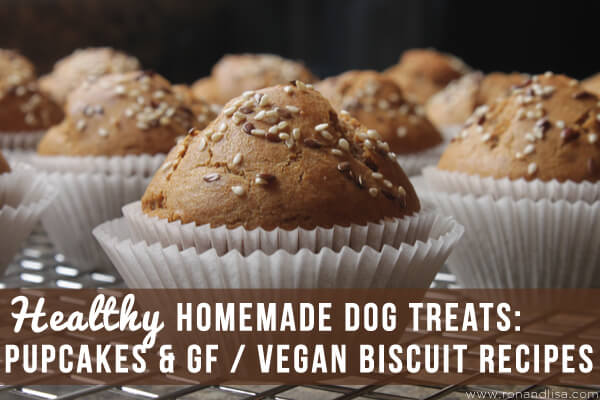 Pupcakes
Peanut Butter Banana Pupcakes
Yield: 12 pupcakes
Ingredients
1 ¾ cups whole wheat flour
1 teaspoon baking powder
1 teaspoon baking soda
¾ cup skim milk
¼ cup honey
¼ cup olive oil
2 eggs
1 ripe banana, mashed
4 tablespoons peanut butter (all natural, low sodium, less sugar)
1 tablespoon flax seeds
1 tablespoons sesame seeds
Directions
1. Preheat oven to 350 °F. Line cupcake pan with paper cupcake cups.
2. In a large glass mixing bowl, beat together the mashed banana and peanut butter.
3. Add all of the remaining ingredients and mix together with a wooden spoon, then beat until well blended.
4. Spoon the batter into cupcake cups, about ¾ full. Sprinkle tops with flax seeds and sesame seeds.
5. Bake 10-12 minutes or until a toothpick inserted into the center of the pupcakes comes out clean. Let cakes cool in the pan for 10 minutes, then transfer to a wire rack to cool completely.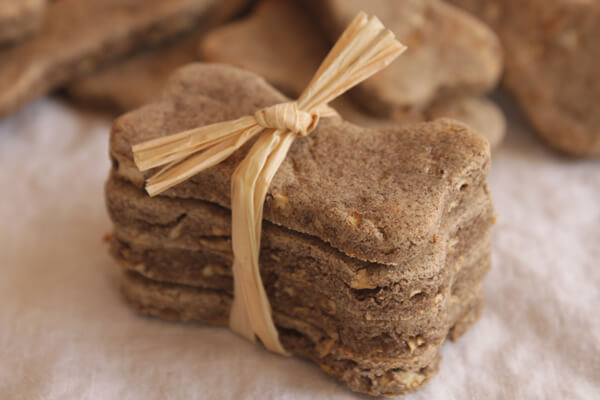 Dog Biscuit
Gluten-Free Vegan Apple Crisp Biscuit
Yield: 30 medium sized treats
Ingredients
1 apple, cored, peeled and cut into cubes
½ cup water
1 ½ brown rice flour
½ cup buckwheat flour
¼ cup water
1 apple, cored and coarsely chopped
½ teaspoon cinnamon
½ teaspoon vanilla extract
Directions
1. Preheat oven to 375 °F.
2. In small saucepan, boil apple cubes in ½ cup water, until soft and tender. Puree boiled apples along with the remaining water from the saucepan to make apple sauce.
3. Transfer apple sauce into a large mixing bowl, add buckwheat flour, water, cinnamon and vanilla extract and beat well. Add 1 ¼ brown rice flour ¼ cup at a time, beating well after each addition. Knead in coarsely chopped apple, then knead in remaining ¼ cup brown rice flour. If dough is a little wet, knead in a little bit of brown rice flour until dough is easy to work with. When dough comes together and no longer sticky, form into a flat disk.
4. In a flat surface, roll the dough out into a round of 1/4-inch thickness and cut out using desired shapes. Arrange biscuits in an ungreased cookie sheet. Gather scraps of dough together and re-roll and cut out more biscuits.
5. Bake in preheated oven for 25 minutes. Turn biscuits over half way through baking. Let biscuits cool completely on the cookie sheet.
Guest blogger, Glenda Potts, graduated from UCLA with a Bachelor of Science degree in Biochemistry and obtained a Master of Public Health degree in Health Policy and Management from Emory University. Cooking and baking are her creative outlets. In her free time, she is often in her kitchen performing culinary experiments. Glenda loves creating new wholesome recipes for her family, friends and pets!
Contact: pottsglenda@yahoo.com