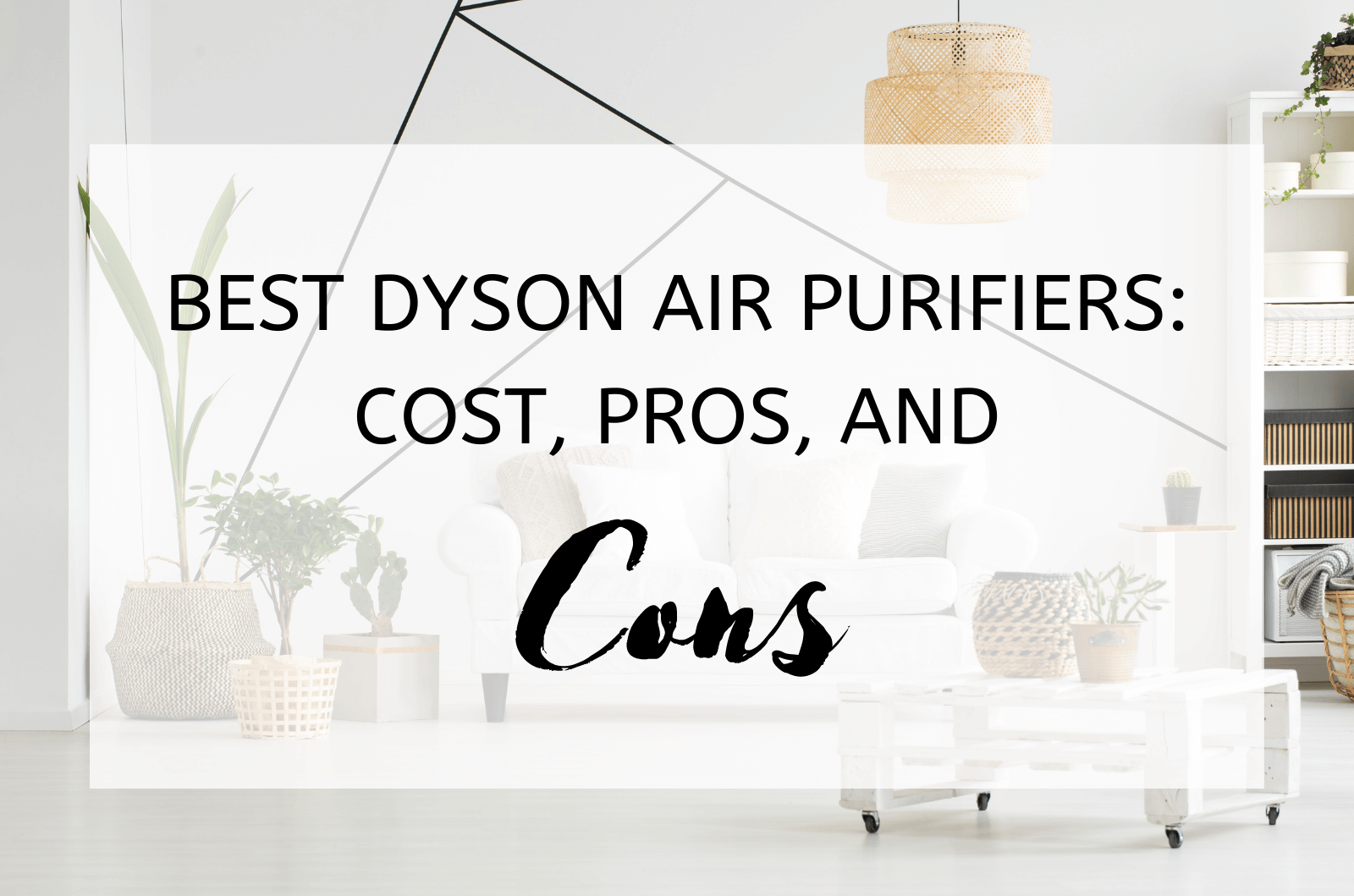 If you're in the market for a portable air purifier, Dyson offers several excellent choices. Known for their innovative design and aesthetics, these units fit nicely into any decor without creating an eye sore. In this guide, we'll explore the best Dyson air purifiers, customer reviews, costs, cons, and pros of each to help you make the best purchase decision for your needs and budget.
A Dyson Air Purifier is an excellent investment for your home and your health. But with so many different models to choose from, you may be asking yourself which model should you buy and which are the best air purifiers?
Let's take a deeper dive at some of best Dyson air purifiers. Keep reading to uncover all the details you need to know to equip yourself about the best Dyson air purifiers on the market, as well as tips to assist you in choosing the most ideal one for your needs.
If you're looking for a way to keep cool during hot summer months or warm up your space on cold winter nights without purchasing separate fans/heaters, this is what you need.
The Dyson Pure Hot is a three-in-one air purifier. It's comprised of a heater, a cooler, and air purifier, and it has over 99% effectiveness via it's HEPA filtration.
The price ranges from upwards of $60o.00 or less if you can find it on sale, which might be too high if your on a tight budget. However, it offers good value for money.
Pros
It has a high oscillating range to keep the room well-aerated
It's certified by relevant authorities;

Asthma and Allergy Friendly and the Quietmark accreditation

Ideal for those suffering from asthma and other allergies
Cons
No automatic and backward air flow regulation
The Dyson Pure Cool is one of the best Dyson air purifiers. This model has automatic sensors which help it respond to your home's air quality.
Furthermore, The Dyson Pure Cool is tested and approved and has good ratings from previous users and uses HEPA filtration. The price starts at $587.00 or less if you can find it on sale.
Pros
Purifies and cools the air
It is Alexa-enabled
It has a WI-FI connection to help in air quality control
High output of 77 gallons of air per second
Cons
Relatively highly-priced and not ideal if on a budget
Priced at approximately $579.00, this Dyson fan with heater and air cleaner will give you value for money. Its noise levels are low, while the remote and temperature control features will make you love it more. Perfect for a desk or office.
Pros
Relatively not noisy
Ideal for large and small rooms
Value for money, even when on a budget
Cons
It can be noisy if not well fixed
The TP02 is a sleek air purifier and fan that is very reasonably priced. It is quiet and generally has some good ratings. It filters up to 400 sq ft.
It comes with a remote to help you adjust the speed, although many complain of noises when there is increased speed.
Pros
It gives you value for money
Ideal for large spaces
Easy to transport
Affordable
Cons
The Dyson Humidifier is not an air purifier, but offers a unique feature no other model has: humidification. This model delivers 99.9% bacteria-free, hydrated air in the winter and boasts a fan and sleep timer.
Pros
It has a sleep timer for control purposes
Kills 99.9% of bacteria in the water with Ultraviolet Cleanse technology, exposing every drop of water to a UVC light
Quiet and even air distribution
Certified asthma and allergy friendly by the Asthma and Allergy Foundation of America
Cons
Expensive for someone on a budget at approx $649.00
It does not have a heater
This fan is among the best on the market and comprises an air multiplier technology for the best results. It's retail price is around $540.00, but it offers no air purification.
Its material makes it durable, while the 2-year warranty guarantees its quality.
Pros
Quiet and easy to clean
It has a timer and several interval sets ranging from 15 minutes to 9 hours

Remote control has the choice of 10 precise airflow settings
Cons
Not ideal for allergic individuals
This air purifier is priced at $ 479 and is among the best air purifying/fan combo. Its incredible features give value for money, while the different colors offer you a varied choice. The Auto Mode automatically monitors air quality for pollution events and initiates purification as needed. It boasts a Diffused Mode and Nighttime Mode.
Pros
It has air multiplier technology
Sealed HEPA filtration
It has a 350-degree oscillating capacity
Real-time sensing technology
It can cover a vast space of over 400 square feet
Cons
What should you consider when purchasing a Dyson Air Purifier, Humidifier or Fan?
The market is chock full of numerous types of Dyson purifiers. However, consider the following factors to avoid purchasing an air cleaner that will not offer value.
What are your Needs?
Your needs play the most significant role in your air purifier purchase. Some air purifiers are not friendly to asthmatic or allergenic individuals, so it's vital to consider these features.
Similarly, you should check each feature of the device per your needs to avoid purchasing something that will not be helpful in the long run.
What is your Room Size?
Every air purifier has a recommended room size for air purification. Therefore, it is crucial to consider your room size to gauge what purifier will suit your space best.
What is the Purifier's Filtration Technology?
There are different filtration technologies, and they all have various capacities. Some technologies can remove a few pollutants, while others remove numerous contaminants.
Some of the technologies include:
Carbon filters which absorb gas pollutants
Ionizers filters release ions into the atmosphere; these create ozone and we do not recommend
PECO filters destroy VCO pollutants
HEPA filters work by capturing particles of a certain width
Level of Noise
If you want to use a filter in your bedroom, seek one that is quiet. You may also prefer a quiet filter if you enjoy silence in the house.
When shopping for an air filter, ask about the noise level before investing.
Design
An air purifier's design is a crucial factor when purchasing. In this case, consider the ease of use, assemby, and transportation.
Other design factors to check include:
Does it have a remote control mechanism?
Does the purifier sense air pollutants?
Does it require a particular setup?
Having an air purifier in your home or office is a wise investment. When selecting from the best Dyson air purifiers, the above factors and types will help you make the most informed decision. Don't make your decision based purely on price; you should consider other factors such as air filtration, room size, and noise levels.
Finally, the features should match your personal preferences which will  help you to avoid purchasing an air filter that won't serve you and your family's needs in the best way possible.