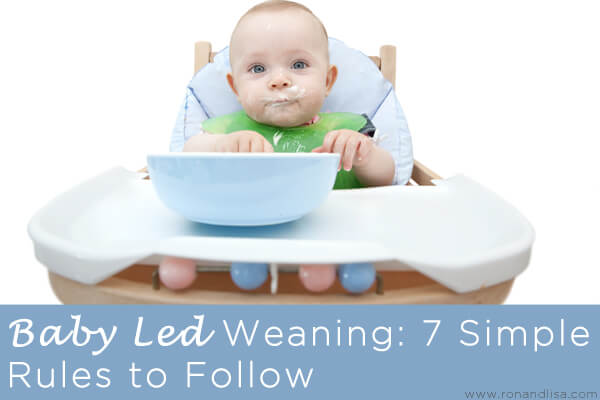 All of my mamma friends and I have been discussing the next step in feeding our little ones. Feeding in the first few months of a newborn's life is pretty straightforward; lots of breast milk or formula! Sounds simple, right?  But what do you do when they're ready for solid foods? It seems that baby led weaning is the latest philosophy for us healthy, green mammas. I had heard the phrase and had a general idea of what it meant, but assumed it was something I would figure out later. Well, it seems later has arrived.
Baby Led Weaning is defined by Wikipedia as:
A method of adding complementary foods to a baby's diet of formula or breast milk. A method of food progression, BLW facilitates the development of age appropriate oral motor control while maintain eating as a positive, interactive experience. Baby-led weaning allows babies to control their solid food consumption by "self-feeding" from the very beginning of their experiences with food.
So really what this means is -when your baby is ready- you introduce him or her to the same types of fresh, unprocessed, whole foods that you and your family would eat; not pureed baby food (either homemade or from a jar). No spooning in weird goopy blends of fruits and veggies. If you want your little one to eat sweet potatoes, you give him soft cooked sweet potatoes cut in little pieces right on his/her own plate or on his/her own high chair tray. They can grab and chew and mush those sweet potatoes themselves.  Don't let the word weaning confuse you either. Your baby will still need breast milk or formula for several months. Introducing solids is a gradual process that takes time.
So, what's the benefit?  To start, it helps to develop their motor skills; hand eye coordination and such. It lets them choose what they want to eat, when and how much. Kids can learn on their own how delicious and fun food can be. This is believed to help discourage picky eater syndrome, something every parent wants to avoid. I didn't realize until recently that I've experienced baby led weaning for years at my own restaurant- Avanti Café. In our 9 years of business we've seen numerous kids and their parents in our dining room all eating the same foods offered on our menu. These "Avanti Babies," as we call them, are amazing eaters. These little ones eating kale, mushrooms, and peppers. What a refreshing change of pace!
As anything involving young children goes, a dose of common sense is in order when getting started. The American Academy of Pediatrics recommends against giving any kind of solid food to babies under 6 mos of age- so don't rush.
7 Baby Led Weaning Rules to Follow:
1. Always be present when feeding your little one- never leave them unattended!
2. Start simple– foods like the above mentioned: sweet potatoes, avocados, carrots, bananas, pears, and zucchini broccoli are all easy choices. Just remember don't add any salt or spices. There's plenty of time for that later.
3. Always choose organic and seasonal foods when available.
4. When you first introduce these food cut them so your little one can get a firm grip. Younger babies don't yet have the dexterity to use their fingers like pincers to grab tiny cuts of food. They love to grab on the stalk of the broccoli and gnaw on it. When they get a little more coordinated, you can go smaller.
5. Be prepared for a mess– there's no way around this one. Bibs and maybe even floor coverings are your new best friends.
6. Have the camera ready! You don't want to miss any good (and future embarrassing) photos.
7. Read up on Baby Led Weaning. There's so much good information out there. I'm including some links to several sites below. They will give additional great info and suggestions. There are also several books available for further studying. Recources:
Related Articles:
Parenting Tip: Simplify, Simplify, Simplify
Autism: Six Missing Pieces to the Puzzle
BABY BOMBSHELL: 300 Toxins Lurking in Your Nursery!
A New Mama's World: A Green Fantastic Point of View
Writing this article was just the ticket for me. I've invested time, thought and research and, today, am a proponent of Baby Led Weaning. It fits with our lifestyle of hearty, healthy, and whole food choices. I want my son to grow up with a love of delicious food.  I want him to grow and thrive; all while learning that eating can be nutritious and fun as long as you make smart choices. And now I wish that for your family also!