By Charlie Jourdain, Humboldt Redwood Company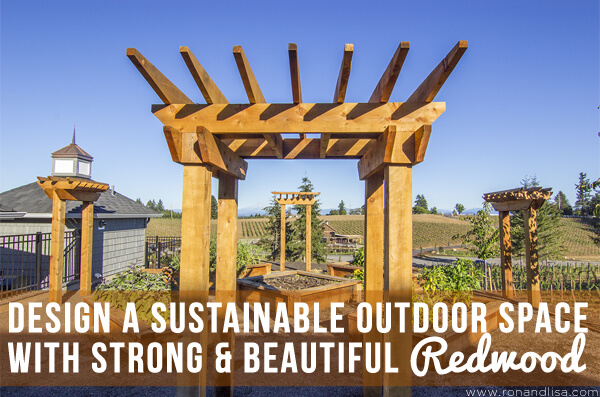 When it comes to designing your outdoor living space, most homeowners plan out the flow and movement to make the most of the beautiful, natural surroundings. Choosing the materials they will use to define that space, then, means choosing materials that stand the test of time – natural products such as stone and wood. That is why, of all the products available, Redwood should be at the top of your wish list.
Benefits of Redwood
Redwood is a great choice for any outdoor landscaping plan. It is one of the lightest, yet structurally strong, softwoods found in North America. These natural qualities make redwood the ideal wood to use in a wide range of projects where large structural components are required. But what's even better: it is naturally durable, shrinks and swells less than other woods, and is less likely to warp or split. And each piece of lumber is naturally unique, with its own grain, color, and texture.
4 Ways to Incorporate Redwood Outdoors
Homeowners today appreciate the many ways redwood's natural beauty makes their own space all the more breathtaking. Here are four ideas: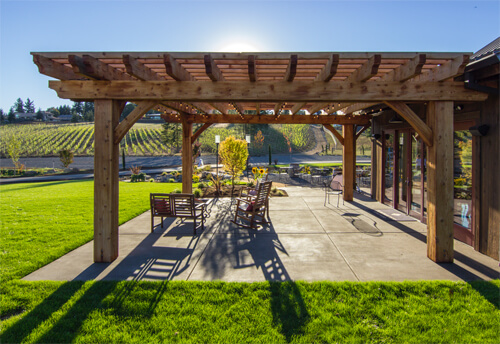 1. Pergolas – as an open-air structure, pergolas bring visual interest out into a yard, and with redwood as the lumber of choice, can last a generation.
2. Gazebos – with more of a shelter than a pergola, gazebos offer a point of retreat from the surrounding landscape without isolating inhabitants.
3. Exposed Timber structures – the natural color and grain of redwood timbers lend a solid support to a greater structural design. Exposing the timbers to view adds drama to an impressive design.
4. Arbors – create memorable transitions from one part of a yard to the next with redwood arbors. These structures can reinforce the main lines and aesthetic of a house to connect outdoor and indoor spaces.
Redwood: An Environmentally Responsible Choice
Redwood timbers are milled from the same carefully managed and responsibly raised forestlands that all redwood lumber comes from, meaning the dramatic scale and strength inherent in all redwood lumber is delivered on a more robust format. In fact, redwood is one of the most environmentally responsible building materials available.
Redwood uses nothing more than the energy from the sun and rain to grow, is recyclable, and cleaner to produce than composites or plastics. Milling processes minimize waste as well, collecting sawdust and bark that are used to produce clean energy. Sawmills use this biomass energy to power their operations and return excess electricity to the state's power grid. At the end of its useful life, redwood is biodegradable, returning to the earth to help grow more trees.
Redwood is Sustainably Managed
Using redwood in outdoor living spaces makes an unparalleled statement about natural beauty: strong, enduring, unique and a reflection of the homeowner's values. In addition, homeowners can rest easy that redwood is sustainably managed, meaning we grow more redwood than we harvest while maintaining or enhancing the other forest attributes such as soil, water, fish and wildlife.
To learn more about one of nature's most environmentally friendly, beautiful and strong building materials, visit www.getredwood.com.