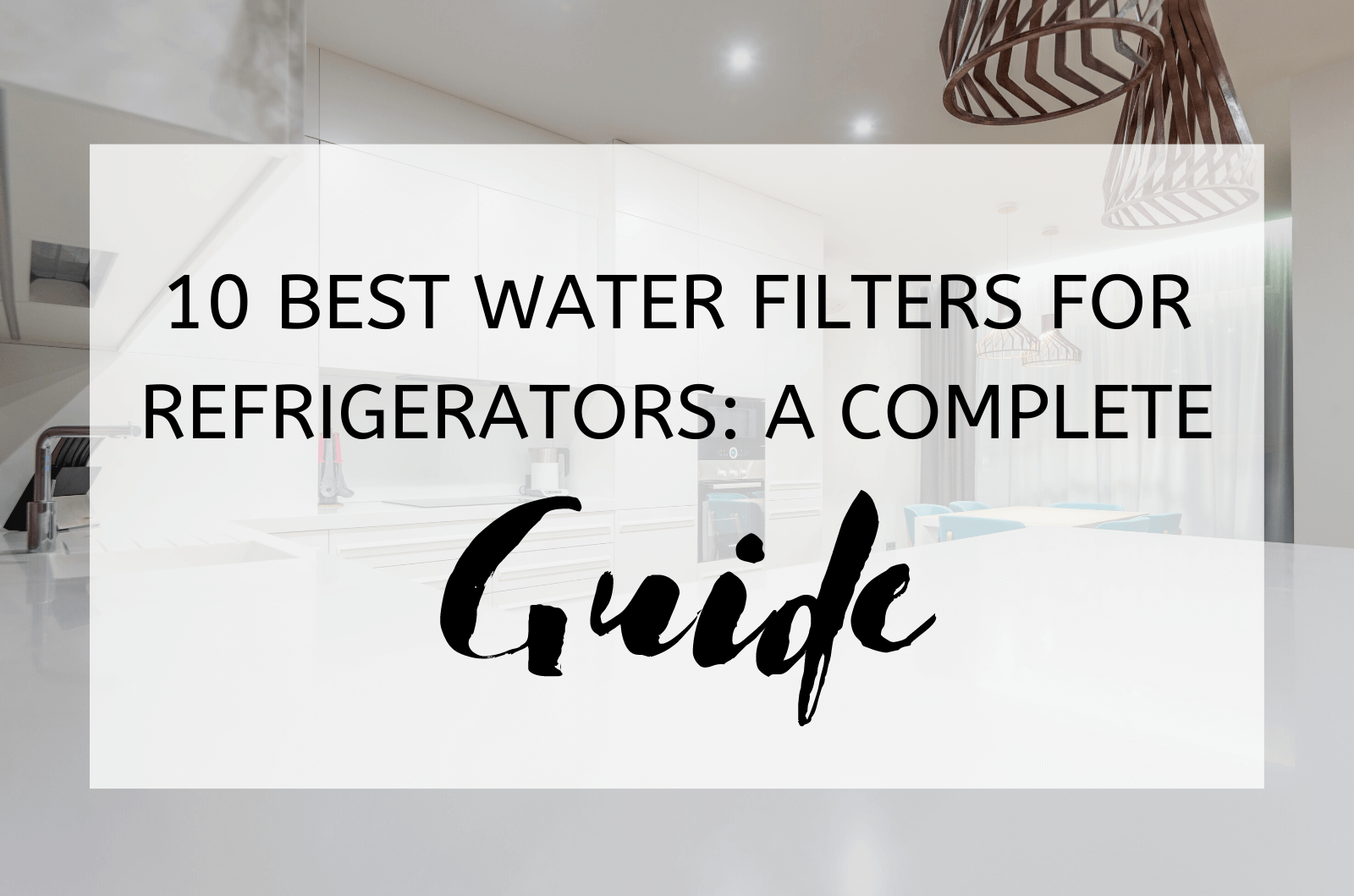 Many people completely forget about replacing the water filter in their refrigerator. In fact, we've frequented homes where the homeowners believed the water from their fridge was pure and safe to drink, even though they had never once changed the filter!
If you are ingesting water from the built-in refrigerator spout, it's essential to change this filter regularly. You also want to arm yourself with knowledge of the best water filters for refrigerators that are ideal for removing harmful and toxic contaminants. You can achieve the best value for your money by following this detailed guide.
A refrigerator water filter is one of those must-have tools for your home. These filters purify the water by reducing or removing contaminants, leaving you with clean and refreshing drinking water. If you are seeking the best water filters for refrigerators, this article will assist you. Unlike other buying guides, this one showcases the ten best refrigerator water filters and highlights key factors to consider when buying.
Here are the best fridge water filters worth your consideration:

This Samsung water filter has a high-grade carbon block giving it 99% purification efficacy. It can remove most contaminants such as lead and chlorine, helping you reap the benefits of drinking water.
It has an easy installation manual; therefore, no technician is required. It has a high price but is worth it due to its unique and notable features.
Pros
It is easy to install
Removes many contaminants up to 99%
It is NSF certified
Cons
Not ideal if you are on a tight budget
Gets clogged quickly
This filter is compatible with many fridges, and purchasing it eliminates the need for filter-specific fridges.
You can install this filter yourself without tools, but make sure to turn off the water before beginning. It helps reduces some contaminants, including pharmaceuticals, mercury, cysts, lead, and chlorine taste/ odor.
Pros
It relatively lasts longer than other models
It has an easy installation guide
Compatible with many refrigerators
NSF and WQA approved
It uses a carbon-made filtration method
Cons
It has a slow flow rate
It needs a lot of purging to start
Instances of cloudy water

With GE refrigerators being common in the market, an ideal water filter to purchase is the model. These filters are also among the best-selling due to their commonness. You may even be able to find one at your local grocery store. Installation is easy. Just line up the tabs and push them into place.
GE filters remove impurities from your water while leaving the essential minerals behind. It is an excellent choice to enjoy crisp drinking water without sacrificing taste or quality.
Pros
It is fairly affordable
Easy installation
Cons
Not cost-effective in the long run
It doesn't remove most of the contaminants
If you are looking for an ideal water filter for your refrigerator to help you prepare fruit-infused water recipes, the Waterspecialist filter is excellent. It removes and reduces many harmful substances such as metals and excess chlorine.
This filter is compatible with many refrigerator models and thus can be termed a virtually universal filter. Third parties have tested its filtration, therefore, guaranteeing top-notch performance.
Pros
NSF 42 and 372 certified
Compatible with many refrigerators
Provides value for money
Cons
It may have slow flow rates
The LG water filter is an NSF-certified filter that helps you and your family get fresh and clean water or ice. It removes contaminants like detergents and pesticides, giving you the safest water you desire.
Pros
Highly efficient in contaminant removal
NSF certified
Cons
It has a relatively low gallon limit of 200
May allow some sediments to pass-through
Choose this filter if you are looking for a double NSF-certified water filter. It has the NSF/ANSI 42 and 372 certifications.
It has an innovative multilayered innovation that ensures the water has beneficial minerals for your health.
Pros
Good quality control
Compatible with several refrigerators
Cons
May have water flow problems
The Icepure water filter is your go-to water filter if you need to avoid common water sources full of health dangers.
This filter is NSF certified, and the water quality is better smelling and tasting. It fits many models, although there are some reports of mismatches.
Pros
Has three NSF certifications; NFS53, NFS42, and NFS372
Affordable
Cons
Can fail to fit the claimed refrigerator model
Has cases of discolored water
Enjoy fresh water for up to six months by using this water filter. It is one of the best in the market due to its great features, such as NSF certification and compatibility with a high number of fridge models.
Pros
Removes odors, bad taste, and other contaminants such as excess chlorine
NSF certified
Cons
The Culligan filter provides safe water by reducing chlorine, lead, mercury, and asbestos. It has a relatively long shelf life of six months or 3000 gallons.
Pros
Relatively high filtration rate
NSF certified
Cons
You may require extra parts, thus pushing installation costs higher
Has leaking problems
Not strong and breaks easily
Everydrop refrigerator water filters are NSF-certified. They are among the must-have water filters as they provide great-tasting water by reducing the presence of chlorine.
Everydrop filters offer convenient, filtered water for you and your family.
Pros
Reduce many contaminants
NSF certified
Cons
It is noisy
Has leak issues
Provides water with a metallic flavor
Didn't find what you were looking for? Replace your refrigerator water filter easily today. Head over to FiltersFast.com.
Buyer Guide: How to Choose the Best Water Filter for Refrigerators
These are some of the best water filters for refrigerators on the market. But before rushing to purchase one, consider the following factors for an even better decision to suit your personal needs.
What is the cost, and does it offer value compared to my needs?
What are the contaminants in the water, and what filter removes them?
What are the water filter certifications?
What is the water filter quality, and what is its shelf life?
We know your primary concern is to get an efficient water filter and we have highlighted some of the best in the market. These models offer value and will provide clean and better-tasting water.
However, knowing your fridge model is not enough. You should also consider your needs and match them with the refrigerator water filter's features. Ask yourself the above-mentioned questions until you settle on one that best fits your needs.