It's not hard to SEE that technology is ruling our world and intruding our minds today.  You may be experiencing side-effects that you weren't even aware of such as eye strains, dryness, insomnia, and other ailments. That's where comes Prospek blue light filtering eyewear comes to the rescue. If you're like us, you may be looking for ways to ease some of the discomfort and eyes strains that anyone who spends time in front of digital device experiences.
How many people are affected by the harmful rays of blue light? Look around at airports, restaurants, or any public venue and you'll see heads down, gazing into a digital abyss. The amount of time spent on digital devices today is astounding. In fact, sixty percent of Americans today are spending a whopping six hours a day staring at their screens, according to a new study from Haifa and Harvard Universities. And, it's not just adults that need to be concerned. Scientific Reports reveals that daily screen time utilizing touch screen televisions, mobile devices, and video games, contributes to disrupted sleep and sleep interruption, delay in falling asleep, and cognitive development in infants and toddlers between the ages of 6 and 36 months.
Light from fluorescent and incandescent bulbs, LEDs (light-emitting diodes) in televisions, smartphones and computers, heck – even alarm clock lights – emit blue light which alerts your body that it's daytime. This has positive benefits during the daytime such as increased energy and wakefulness. The problem is at night where exposure has reached unhealthy levels. Besides the fact that blue light emits rays that cause eyestrain to your eyes and may permanently damage the eyes and contribute to both the formation of cataracts and to the destruction of cells in the center of the retina, the research also reveals a correlation with insomnia, depression, obesity and migraines. Additionally, the use of sleeping medication has doubled in the past decade; no coincidence considering blue light rays reduce the production of melatonin, a hormone essential for effective sleep.
Did You Know? More than 20 percent of the population sleeps less than six hours a night.
 
With a zombified, insomniac nation addicted to their smart devices, prying those plastered eyeballs away from screens would require somewhat of a Big Bang (theory).
In the meantime, channel your own Sheldon Cooper and Penny with a solution to protect your eyes while staying stylish. Meet a glasses brand that says you don't have to geek out to protect yourself.
Spektrum by Prospek Blue Light Blocking Glasses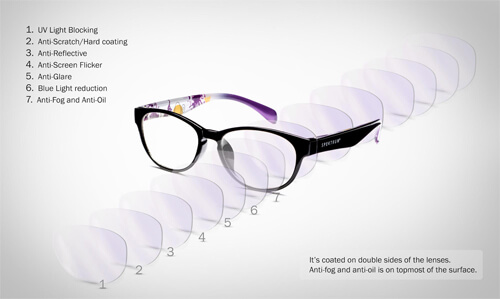 You don't need to be a rocket scientist to realize the benefits of protecting your eyes from blue light rays and harmful UV (ultraviolet) radiation with Prospek Glasses. With a built-in blue light shield, Spektrum is the only company that offers fashionable styles for the entire family – from kids and teens to men and women.
Many parents today are rightfully concerned with their kids spending too much time in front of their digital devices and ruining their eyes; Spektrum glasses offer great preventive care. But, what makes these glasses superior to the competition that they're fun, stylish and versatile with so many options to suit your tastes and personal needs. You don't have to geek out to protect your eyes. The Spektrum Glasses by Prospek offers:
Protection.
Function.
Style.
"Exposure to blue light at night, emitted by electronics and energy-efficient light bulbs, can be harmful to your health." ~ Harvard Health Publishing
Did You Know? Prospek Eyewear from the Spektrum Collection
• UV Light Blocking
• Anti-Scratch
• Anti-Reflective
• Anti-Screen Flicker
• Anti-Glare
• Blue Light Reduction
• Anti-Fog
• Anti-Oil (Fingerprint Resistant)
• Electromagnetic Ray Blocking
• Blocks out 50% to 99% of all blue light emanating from digital devices
• Various studies have proven the danger of blue light emissions on the general health. Links to obesity, insomnia,
depression, and even cancer.
• The Collections features styles available for: Men, women, teens & kids. Choose between:
1. classic Arctic
2. bohemian Artist
3. minimalist Dynamic
4. sporty Wayfarer
5. retro Cat Eyes
6. Kids ¬Action Jr.,
7. Kids Movie Star Jr.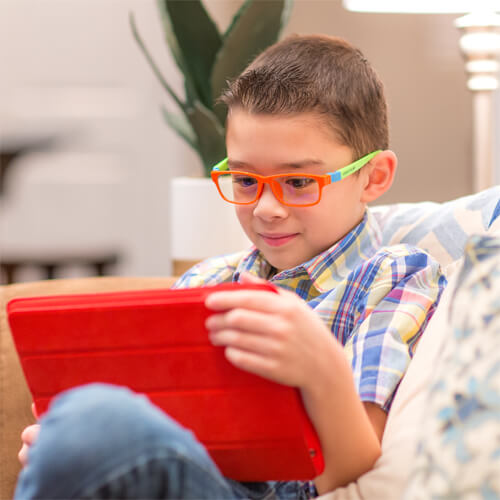 Seeing is Believing
Ron and I truly swear by the Prospek glasses for several reasons. For one, they protect your eyes and your health. Secondly, there doggone cute and lastly, the just make sense. For under fifty dollars, you can start treat yourself, your partner or your kids to a quick and easy solution with lasting effects. While it's a no brainer, seeing for yourself, truly is believing. So, don't take our word for it. Watch what makes these frames so, well, fabulous:
7 Tips to Reduce Blue Light Emissions
Harvard Medical School recommends that we make some slight changes to limit our exposure to nighttime blue lights:
1. Use dim red lights for night lights. Red light has the least power to shift circadian rhythm and suppress melatonin.
2. Avoid looking at bright screens beginning two to three hours before bed.
3. If you work a night shift or use a plethora of electronic devices at night, consider wearing blue-blocking glasses or installing an app that filters the blue/green wavelength at night.
4. Expose yourself to natural daylight which will boost your ability to sleep at night, as well as your mood and alertness during daylight.
5. Wear eyewear to block or filter blue lights and to prevent straining your eyes
6. Change your computer display setting
7. Install a blue light filtering app on your smartphone or tablet
SEE Your Way to Savings!
No one should have a blue Christmas. This holiday, and every day, don't turn a blind eye to your health. Protect yourself, your family and your loved ones from the harmful emissions from digital devices. Starting at a mere $33.95, these make a great stocking stuffers or holiday gifts. You can see your way to savings with our special discount code just for RonandLisa.com readers: Use code: Holiday2017 at checkout to SAVE 15% off your order. Valid until November 31st, 2017. They're even Santa proof – The company promises if you don't love your new glasses you are entitled to a complete refund. SHOP & SAVE!
This post was sponsored by Prospek. The opinions are completely our own based on our experience.