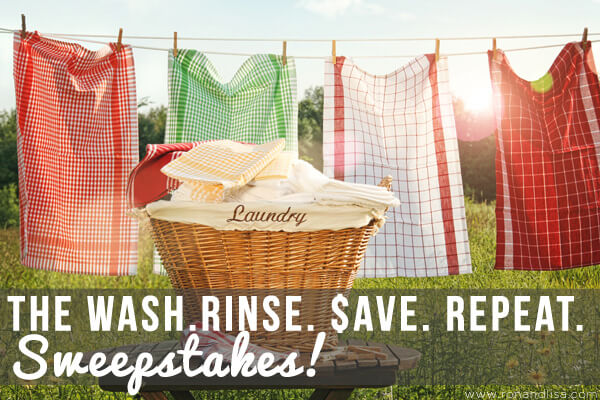 ENTER TO WIN !
Wash It™
A revolutionary detergent-less laundry system

Valued at $397.00
in the…
Wash. Rinse.
$ave. Repeat.
Sweepstakes!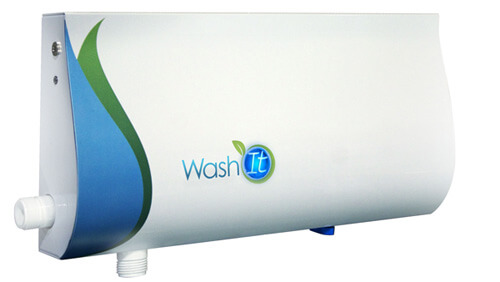 How would you like to:
Save money. Save time. Save the planet. AND. Save your health??
Derrrr! Of course you would…and you can – upwards of $700.00 a year just by the way you do your laundry. Say what?!
We are over the activated oxygen moon to share with you a revolutionary product with no strings, gimmicks or fine print attached. As seen on the DIY network, The Wash It™ compact device (8×16 inches) simply connects to your existing washing machine and turns everyday tap water into a powerful cleaning agent. Get your nerd glasses on for this: An electric charge oxidizes water to create activated oxygen (Ozone) and Hydroxyl Radicals that break chemical bonds. When Ozone and OH-radicals come in contact with water and soil – and stains vanish! Now that's what I call SQUEEKY!
Now, let's talk numbers! It is economical and environmentally friendly (if we were in Vegas this would be a double down moment!). Tweet: Wash It works in cold water and cleans fabric without the need for detergent, softener or bleach. (oh yeah, that is sooo tweet-worthy)! In studies an average family of four can save almost $700 a year by using Wash It™. Wash It™ is proudly manufactured in the USA and deep cleans laundry like never before. The scent coming from a Wash It™ load is fresh and natural without strong artificial fragrance. Since there is no need for toxic chemical products or their plastic containers, it saves money while protecting the health of families and the environment. Um, Wash It™…you had me at nontoxic!
The device is built with convenience in mind, it eliminates the need to sort clothes by whites and colors, and has whitening abilities equivalent to hydrogen peroxide. A Wash It™ laundry load takes less time to dry than regular laundry and fabric life is extended. The benefits of Wash It ™ technology using Ozone are immeasurable to our daily lives. Did you know ozone is a superb antimicrobial agent, 3,000 times more reactive than chlorine bleach (and do we even need to say…sooo much healthier)? Many respected Hotels and Hospitals all over the world have been utilizing the science behind Wash It™ since the early 1980's to sanitize and disinfect linens, towels and gowns (a-ha, no wonder the housekeeping staff always has so much energy). Ozone eliminates infectious bacteria, viruses and even superbugs, as well as reducing skin irritations and eliminating allergic reactions from detergents and other soaps left in fabrics (ick!). The Wash It™ president wanted to reduce the size (and the price) to make it practical + affordable for all families and households across America (and Canada) so we don't have to fork over 8 to 12 thousand dollars for a commercial system. Try, more like $397 with FREE shipping, a three year warranty and 30-day $$ back guarantee.
Wash

it

Watch it in action NOW:

The Wash it device installs easily (around 10-15 minutes) to all brands of existing washing machines. It uses a small amount of electricity (around 25 watts); less than the average light bulb and, impressively, the device has an estimated life span of more than a decade.
Did You Know?Wash It™ is:
1. Money Smart (no detergent, bleach, softener or hot water needed)


2. Earth Smart (no discarded chemicals or plastic bottles in the landfill)
3. Health Smart (no dyes, chemicals or fragrances)
4. Identical to the systems used by many hospitals for the last 20 years
5. Saves families $600 a year
6. Eliminates infectious bacteria and viruses such as Strep, Staph, and many more
7. Skin irritations and allergic reactions from detergents and other soaps left in fabrics will be reduced or eliminated
8. 3,000 times more reactive than bleach
9. Easy to install (between 10-15 minutes)
10. Estimated life span of more than a decade
One lucky winner will win Wash It™ for their very own home valued at $397.00? Will it be you? Enter daily and please share this page with a loved one, someone you care about (or someone that smells funny).
How to Enter:
For every action below that you complete, you receive a specific number of entries. Click each individual action to enter yourself. For actions you have done in the past (i.e. you are already a fan of Go Wash It or RonandLisaTheHealthyHomeDreamTeam on Facebook) just click directly on 'I did this'. The eligibility of the winner will be verified by The Healthy Home Dream Team®.
There is no mandatory entry. Each action will earn different numbers of entries into the contest. You may Tweet or share on Pinterest, Google+ or your Facebook wall for an entry once per day. All other actions will only be counted once. You must be 18 or older and reside in the United States or Canada address to win. Contest ends 6/21/14 at 12:01am ET. Click here for complete terms and conditions.