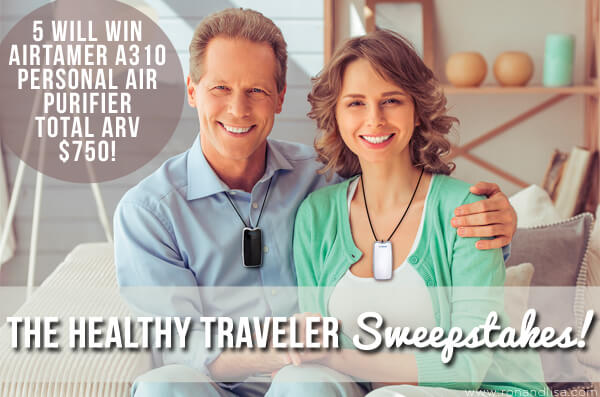 Staying healthy while on the go is not a luxury today, it's a necessity. With increased domestic and international travel, we are unknowingly exposing ourselves to environmental toxins via public transportation, our own vehicles, hotels, airplanes and public spaces including healthcare facilities. As President Lyndon Baines Johnson famously said, "The American people have a right to air that they and their children can breathe without fear." That includes you and your family.
Health Effects of Breathing Polluted Air
While we've discussed the dangers of bed bugs, dust mites, bacteria, and fungi – all of which can be found in even high-end, luxury hotels – we haven't addressed the most important pollutant when traveling – air quality. It's invisible and silent, so it's often overlooked as a threat to public health, but indoor and outdoor air quality is a real threat to our health and well-being. Current research links air pollution from everything including allergies, asthma, cardiovascular disease, lung cancer and respiratory issues to Alzheimer's, dementia and cognitive function. In fact, new studies show brain inflammation from air pollution as reported in the journal Environmental Health Perspectives. Older women exposed to particulate matter, including vehicle exhaust, were shown to double their chances of developing dementia according to a study.
The Good News!
Here at the Healthy Home Dream Team®, we believe in solutions, not scare tactics. Therefore, we are not only offering you an easy and affordable solution, but five lucky RonandLisa.com readers will win their own AirTamer® A310 valued at $150.00 each in their choice of black or white.

Meet the AirTamer® Personal Air Purifier
Dr. Andrew Weil recommends traveling with a personal air purifier, but do you own one? Meet your new travel mate – the AirTamer by FilterStream; the world's most effective personal rechargeable, personal air purifier. The AirTamer is a small, portable, personal air purifier that cleans your air by removing airborne pollutants (e.g. viruses, bacteria, pollen, dust, etc.) away from your personal space allowing you to breathe cleaner, healthier air everywhere you go.
How AirTamer Works
AirTamer® emits negative ions like those generated from oceans, waterfalls and other natural environments, from the little black brush that you see at the top of the unit. This Advanced Ionic Technology emits a constant stream of healthy negative ions that force airborne pollutants away from your personal space giving you a zone of cleaner, healthier air.
Over 2 million negative ions are emitted from that brush every second. These negative ions attach themselves to air particles like allergens, viruses, etc. in the air and negatively charge those particles.
Those negatively charged particles will then be naturally attracted to positively charged surfaces around you (e.g. a table, chair, window, clothes, etc.), rather than continuing their way towards your breathing passage where they can make you sick.
AirTamer's state-of-the-art electrostatic purification creates a 3-foot sphere of cleaner, healthier air around your head. It cleans the air of atomic sized pollutants (e.g. viruses, pollen, smoke, molds and dust mites) that traditional air purifiers (e.g. HEPA) leave behind.
AirTamer's Power Boost Technology provides 9 times more cleaning power than the competition. It is silent in operation and its extremely energy efficient technology provides 150+ hours of run time on one charge. Easily charged by included USB cable.
AirTamer's design is ultra-compact and incredibly versatile. A proprietary conductive adjustable lanyard dramatically improves performance and increases run time. You can wear it around your neck (strap included) since it is smaller than most MP3 players – or place it freely on your nightstand so the air around your pillow is clean and free of pollutants.
Wear AirTamer to create a cleaner zone of healthier air while traveling, in public places or in other poor air quality locations. The result? AirTamer reduces the probability that you will inhale these bad particles and become ill.

Did You Know? The AirTamer
The green "on" indicator light gently blinks to indicate AirTamer® is cleaning the air.
Power Boost Technology for 9 times more cleaning power.
Rechargeable – 150+ hours of run time on one charge.
USB charging cable is included with each unit.
No Filters to Replace or Clean – Healthy negative ions do the filtering.
Silent Operation – No noisy fans or motors.
Adjustable length, breakaway lanyard – For extra safety and convenience.
Ultra-Compact – Attractive, discreet design is smaller than most mp3 players.
AirTamer® includes a metal travel case to protect the air purifier when not in use. Maintenance is easy since there are no filters to replace.

Frequently Asked Questions
Q: Can AirTamer® purify cigarette smoke from the air?
A: Yes. The AirTamer is laboratory tested to be the best. Smoke is a good test pollutant because it is one of the smallest particles in air and it is very common around the world.
The videos below show how effectively the AirTamer 310 High Performance Personal Rechargeable Air Purifier cleans the air of smoke. In independent tests undertaken by the prestigious Intertek test laboratory, AirTamer reduced smoke particles by 98.9% in just 5 minutes. 875% better than our closest competitor! Watch now:
Q: How long will the AirTamer® last with fully charged batteries?
A: 150+ hours of use on one charge.
Q: Can you use the AirTamer® A310 on airplanes?
A: The Transportation Security Administration (TSA) and FAA do not prohibit the use of personal air purifiers on board airplanes. Click here to view 'Prohibited Items List'.
AirTamer is FCC certified not to interfere with airplane electronics, but some airlines do restrict their use.
Q: Does the AirTamer® make noise?
A: No. AirTamer® is silent.

Don't Take Our Word for It!
Whenever I did not wear my AirTamer, I had bad asthma attacks. When I put AirTamer on, I was breathing better within 20 minutes. I love my AirTamer! -Jacqueline Ballin, customer

Enter for a Chance to Win!
Who's ready to win? Five lucky winners will receive: An AirTamer® A310 Personal Air Purifier valued at $149.99 in choice of white or black. (Total ARV: $750.00). Will it be you? Enter NOW & be sure to tell a friend, family member or loved one who could benefit from breathing cleaner air. Sweepstakes ends 10/6/17.