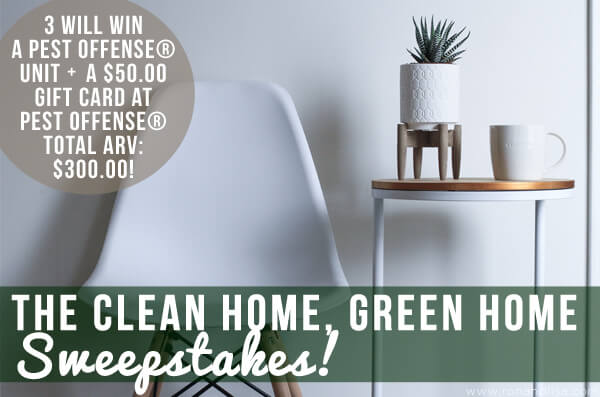 Mice are cute in Disney animations, or outside. And while we all love a cartoon-talking, cheese-chomping mouse, no one wants the sound (or sight) of a mouse in their house. If your home has been invaded by pesky rodents or insects – it's time to say goodbye to roaches, rats, mice, ants, and almost any crawling insect – without resorting to toxic pesticides. Keep your home green and clean with the PEST OFFENSE® Electronic Indoor Pest Repeller.
How PEST OFFENSE® Works
This SMART electronic indoor pest management system utilizes a microprocessor within the unit to create a protective perimeter within the walls of any building using its existing electrical wiring. The proprietary software in the microprocessor creates random digital signals that help to prevent pests from settling, nesting and feeding within the walls of the building.
PEST OFFENSE® protects buildings from unwanted pests pesticide sprays and poison pellets. Simply plug the PEST OFFENSE® unit into an electric outlet and it automatically starts working. And, it's not just for homeowners. Guard your dorm room, apartment, business or house with one or more PEST OFFENSE® unit(s). One unit is designed to cover one level of the average home. The Original PEST OFFENSE® is safe to use around, food, humans and most household pets. It is not recommended for pets like, mice, rats, hamsters, gerbils, guinea pigs, tarantulas, chinchilla, and other rodent-type pets. NOTE: No. PEST OFFENSE® has not been tested on termites nor does the manufacturer recommend using the Original PEST OFFENSE® for termite protection.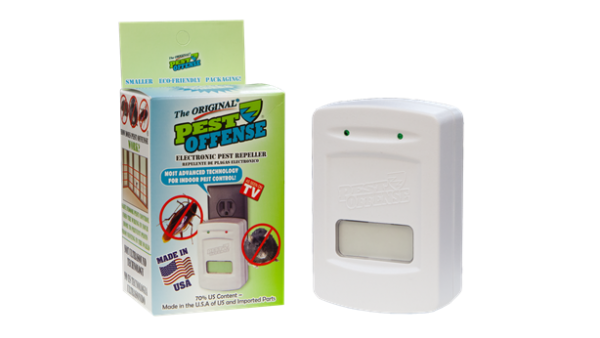 Guess what? We're offering three chances to win two PEST OFFENSE® units, plus a $50.00 gift card at PEST OFFENSE® valued at $100.00/ea. That's a total value of $300.00. Who's ready to win? Click below to enter now:

What Pests Does PEST OFFENSE® Work On?
PEST OFFENSE® helps control
rats
mice
roaches
ants
spiders
squirrels
crickets
silverfish
water bugs
earwigs
How Many Do I Need?
Just plug The Original PEST OFFENSE® Unit into any 110v outlet and it starts working through the electrical wiring in your office, home or other building. One unit is designed to cover one level of an average home with a single connected circuit panel, one unit per level on a multiple story home.
The Proof's in the Comparison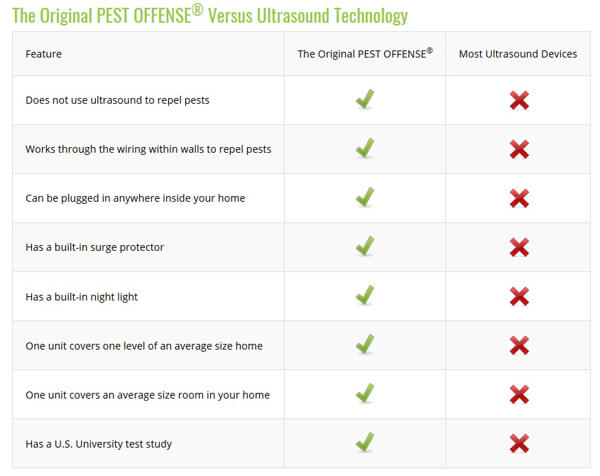 Did You Know? PEST OFFENSE:
PEST OFFENSE® helps to prevent insects and rodents from nesting or feeding within the walls
PEST OFFENSE® creates a protective perimeter within the walls to keep rats, mice, roaches and other crawling insects from nesting within the walls of your home or business
PEST OFFENSE® is a SMART Pesticide Free Poison Free indoor electronic pest control system
PEST OFFENSE® Is Safe and Affordable for everyone
Seeing is Believing
The PEST OFFENSE® US factory is registered with the Environmental Protection Agency (EPA). If it sounds too good to be true, it's not. See for yourself what makes PEST OFFENSE® the best choice via their patented digital technology. PEST OFFENSE® is proudly made the USA. It's time to protect yourself and your loved ones.
Pest Control Tips
Take care not to leave doors and unscreened windows open. This will allow new pests to come in.
Do not leave human food or pet food supplies out for extended periods of time. This will only attract pests.
Make sure that garbage is removed regularly. Pests love a stagnant food source to breed in.
If you notice pests entering around or under doors, you may need a door sweep or additional sealing around your door.
Pests (mainly roaches) hide in boxes, paper bags and containers that you have stored before your move or in a storage facility. Please open the boxes outside, if possible, and bring the contents into your home. Also, many times the pests are brought into your home from paper bags and boxes.
Keep trash and debris away from your front door. Food dropped outside of your front door may contribute to an ant infestation.
A clean environment inside your home will help control pest infestation.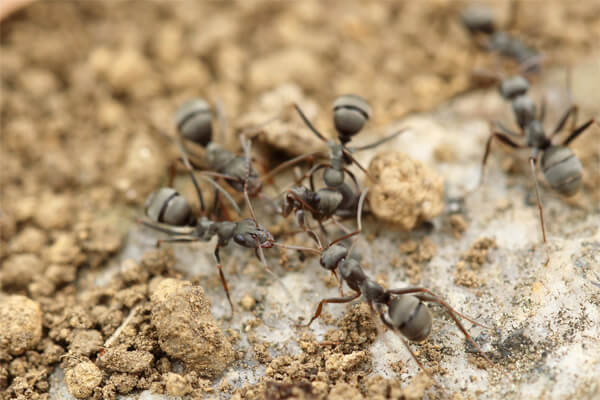 Guess what? We're offering three chances to win two PEST OFFENSE® units, plus a $50.00 gift card at PEST OFFENSE® valued at $100.00/ea. That's a total value of $300.00. Who's ready to win? Click below to enter now:

What Others Are Saying
"I bought one and stopped seeing droppings from mice within a few days. I have since purchased two more; one for my garage and one for the other end of the house. I love that I don't have to worry about chemicals around my son or cleaning up any dead animals. I've told several of my friends and family about Pest Offense" — Sarah Johnson

Enter to Win
THREE Grand Prize Winners will win two PEST OFFENSE® units, plus a $50.00 gift card at PEST OFFENSE® valued at $100.00 each. That's a total value of $300.00. Open to residents of the US. Sweepstakes ends 8/8/18.Who's ready to win? Click below to enter now: