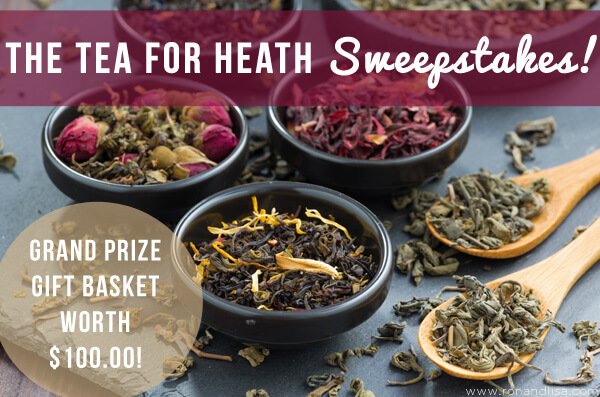 ENTER FOR A
CHANCE TO WIN!
Grand Prize Winner Will Receive:
A beautiful Maya Tea gift basket including:
1. A gorgeous hand-crafted glass teapot with a stainless steel infusing basket and lid
2. Five tins of some of our most popular teas including teas to energize, inspire and relax
3. A Tuffy Steeper collapsible steeping basket that folds flat for easy storage and fits any size mug
Total Value Over $100.00
in the…
TEA for Health
Sweepstakes!
Do Re Mi Fa So La…TEA!
While no one in my family can sing like Julie Andrews, my Irish grandmother certainly enjoyed her evening tea with jam and bread! Growing up in Arizona, iced tea was a beverage staple and today in California, I relish a warm London Fog, or hot tea latte (with almond milk), on such a winter's day. What's your favorite way to drink tea?
Whether you enjoy sipping on white, black, green, Oolong, Matcha, Earl Gray, Chamomile or Chai tea (hot or iced), you've undoubtedly realized the health benefits of drinking tea. Today, researchers all over the globe are finding that many of the traditional uses of tea can be supported with scientific fact. Tea (Camilla Sinensis) is a complex plant full of compounds that are beneficial to the human body. Hundreds of studies have been done on the health benefits of tea and the research continues. For those who don't need research to support what they already know, tea continues to promote health and well-being. Did you know tea is great for weight loss, diabetes, cholesterol and caner? It's also great for the mind and spirit and beneficial as a cold remedy (listen below). In addition to sipping this healing beverage, we've also discussed the health benefits of cooking with tea.
Steep. Sip. Savor with Maya Tea
Founded by two brothers, Manish and Yash Shah, Maya Tea was created out of a passion for the chai tea prepared by their mother and sipped throughout their childhood and into adult life. The brothers packaged this in teabags for convenience and freshness and named it "MY Chai" after the first initials of their first names. Later they developed the first chai tea that could be brewed using commercial coffee brewers for cafes and restaurants. As business grew, they received requests from customers and retail clients for traditional teas as well. Maya Tea Company was born. Over the next few years the number of teas offered by the company multiplied, and today Maya Tea offers over 130 varieties of tea for both wholesale and individual customers. Though their focus remains on quality loose teas, they've remained ever innovative, expanding our product line to include iced teas, tea accessories and supplies, private label retail programs, and of course their esteemed Maya Chai concentrate, formulated to resemble the original "MY Chai".
Don't Take Our Word for It…Listen to a podcast below to uncover the health benefits of drinking tea:
The Historic History of Tea and Health
Tea and the Big Four: Weight Loss, Cholesterol, Diabetes, and Cancer
Did You Know? Maya Tea is:
Delicious, beautiful looseleaf teas made by hand in the USA
Specializing in over 125 traditional and unique tea blends
Will you be the lucky GRAND PRIZE winner? Enter daily for a chance to WIN and please share this page a friend or loved one who could benefit from drinking high quality tea.
How to Enter:
For every action below that you complete, you receive a specific number of entries. Click each individual action to enter yourself. For actions you have done in the past (i.e. you are already a fan of Maya Tea Company on Facebook) just click directly on 'I did this'. The eligibility of the winner will be verified by The Healthy Home Dream Team®.
There is no mandatory entry. Each action will earn different numbers of entries into the contest. You may Tweet or share on Facebook or Google+ for an entry once per day. All other actions will only be counted once. Sweepstakes open to US residents age 18 and over. Contest ends 7/25/15 at 12:15am ET.