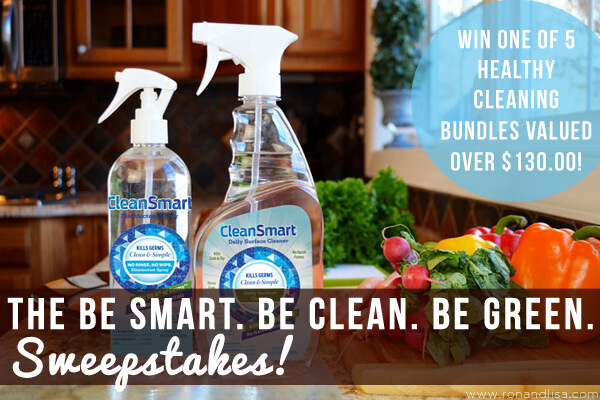 ENTER TO WIN !
(5) Winners Will Receive: A 6 Pack Hands & Home Bundle
Now you can try a variety of CleanSmart™ products in one convenient pack. The Hands & Home bundle includes:
2 – 23 oz Daily Surface Cleaner Kills 99% of Germs, Leaves No Chemical Residue
1 – 16 oz Disinfectant Spray Kills 99% of Germs, No Rinse, No Wipe
1 – 2 oz To Go Disinfectant Spray Kills 99% of Germs, No Rinse, No Wipe, Perfect for the Purse
1 – 8 oz Alcohol Free Hand Cleanser Spray Non-Drying, No Added Fragrance and Hypoallergenic
1 – 2 oz Alcohol Free Hand Cleanser Spray On the Go Spray that's gentle enough for even the smallest hands. (Total ARV $134.15)
Valued $130.00!!
in the…
Be Smart. Be Clean.
Be Green.
Sweepstakes!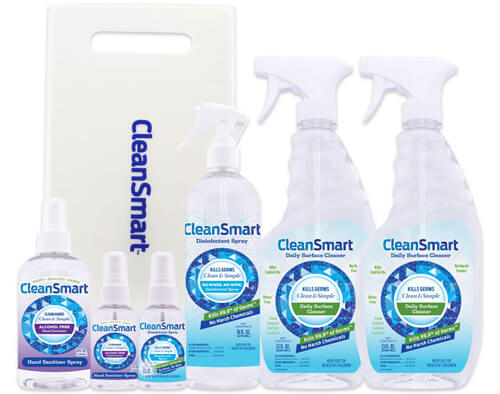 Happy. Healthy. Home.
We've discussed the obsession (and danger) of antibacterial overuse on this site numerous times before. But, what if there was a way to protect yourself and your loved ones from germs – without having to resort to dangerous toxic chemicals, synthetic fragrances and preservatives? Guess whaaaaaat? There is and we are thrilled to be introducing you to this phenomenal brand, CleanSmart™! Finding a product that kills 99.9% of germs without exposing you to harsh chemicals or dangerous fumes was a tough job. We just made it easier!
Hypochlorous is CleanSmart's™ active ingredient. And, it's been used for decades in food and beverage manufacturing, healthcare for wound treatment and in grocery stores to mist vegetables in the produce section (who knew?). It's created by using simple ingredients and a patented ionizing process to clean and eliminate germs. This technology turns disinfecting from an event into an easy, every-day occurrence and creates countless new ways for you to sanitize. Now, CleanSmart™ is the first to bring this proven disinfectant into our homes for every day use. Move over produce man!
The CleanSmart™ Philosophy:
CleanSmart's cleaning and disinfecting sprays are effective enough to kill the germs that worry you most. Yet, they contain no harmful chemicals or harsh fumes, so they are gentle enough to use every day without rinsing, even in nurseries or on food contact surfaces.
Hey Healthy Mamas!
Did you know the peeps at CleanSmart™ created the FIRST no-rinse pacifier sanitizer? The day has arrived when you can finally feel good about the products you use to clean your home and keep your family healthy. CleanSmart™ Disinfectants are the only rinse-free food surface germ killers that destroy viruses, bacteria, and pathogens that can harm your family including:
Escherichia coli (E. coli)
Salmonella enterica (Salmonella)
Staphylococcus aureus (Staph)
Streptococcus pyogenes (Strep)
Enterococcus faecalis (VRE)
Methicillin Resistant Staphylococcus aureus (MRSA)
Pseudomonas aeruginosa (Pseudomonas)
Listeria monocytogenes (Listeria)
Herpes Simplex Virus Type 1 (Herpes)
Herpes Simplex Virus Type 2 (Herpes)
HIV Type 1 (HIV)
Influenza A (H1N1)
Rhinovirus Type 37 (Common Cold)
Human Coronavirus
Respiratory Syncytial Virus (RSV)
Trichophyton mentagrophytes
(Causes Athlete's Foot Fungus)
Did You Know CleanSmart™?

Kills Germs, No Harmful Chemicals
No Harsh Fumes
Kills 99.9% of Germs
No Rinse – even on a pacifier or food contact surfaces
No Chemical Residue
Don't take our word for it! All statements about the CleanSmart™ line have been tested by outside testing laboratories and registered with the EPA. Heck, they even provide the Material Safety Data Sheets (MSDS) for all products – oooh, we just love transparency! Ron & I are beyond excited for the FIVE lucky winners who will be receiving not one, not two, 3, 4, 5…but, a 6 Pack Hands & Home Bundle for their home and life valued over $26.83/each. Will it be you? Enter daily + please share this page with someone who could benefit from switching to healthy products for their home, life + family. Who knows – you may get on Santa's nice list!
How to Enter:
For every action below that you complete, you receive a specific number of entries. Click each individual action to enter yourself. For actions you have done in the past (i.e. you are already a fan of CleanSmartHome or RonandLisaTheHealthyHomeDreamTeam on Facebook) just click directly on 'I did this'. The eligibility of the winner will be verified by The Healthy Home Dream Team®.
There is no mandatory entry. Each action will earn different numbers of entries into the contest. You may Tweet or share on Pinterest, Google+ or your Facebook wall for an entry once per day. All other actions will only be counted once. You must be 18 or older and reside in the United States (excluding Alaska, California & Hawaii – apologies) address to win. Contest ends 1/10/15 at 12:01am ET.