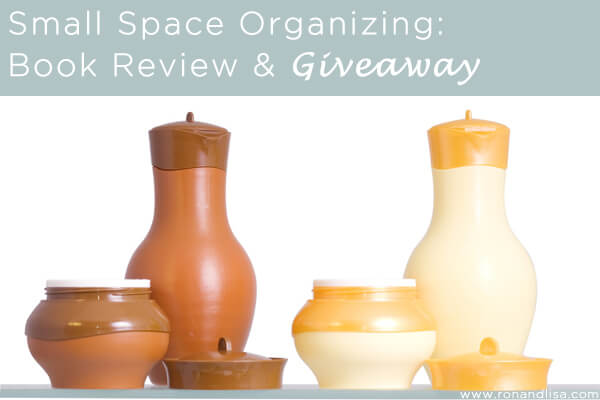 In my college years and prior, I was a self-professed organizational addict.  Ask my then roommate who witnessed me folding my underwear and neatly rolling colorful sets of socks into perfectly placed shoe boxes that lined the confines of my dorm-room-sized, dresser drawers.  But, that was just the beginning.  Everything hanging in the diminutive space beyond the door – otherwise known as the closet – had to be perfectly pressed and coordinated by category; dresses, pants, shirts, shorts and skirts.  I even missed social plans if something was awry and required my Virgo, perfectionist attention to detail.
My college dorm was a small space and, as anyone who lives in or who has ever resided in one knows, organization is essential!  But, while my attention to detail may be deemed by some as a gift, to me it was a never-ending, overwhelming burden.  In hindsight, I realize that I did not have the appropriate tools to make this job more efficient; allowing me more freedom to focus on the things that were important.  After all, isn't this the whole point of being organized in the first place?  I wish then there existed an 'organization bible' to assist me in the areas of which focus my attention on and guide me to create a small, beautiful; yet practical space.
"Out of clutter, find simplicity. From discord, find harmony. In the middle of difficulty, lies opportunity." – Albert Einstein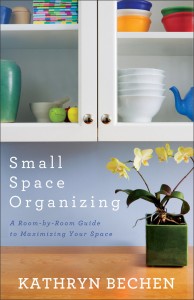 Fast forward to 2012 and alas, there is (and it's not from Albert Einstein – although he had the right idea)!  I'd like to introduce you to a new book called Small Space Organizing:  A Room-by-Room Guide to Maximizing Your Space.  Back in college, I would only have needed to read author Kathryn Bechen's Chapter 3 One-Room Wonder:  How to Live Happily and Practically in Just One Room. Today, however, is a different story and (almost) all seventeen chapters apply covering everything from newlywed studios and basement apartments to loft and high-rise spaces; even tips for RV living!
I am lucky to say that I know Kathryn Bechen personally.  An award-winning journalist, she is a survivor of MCS (Multiple Chemical Sensitivities) and allergies. Combined with my passion for the healthy homes, our southern California paths eventually crossed.  When Kathryn asked me to review her book, I delightfully accepted.  Kathryn understands the importance of, not only creating a functional space, but a beautiful space merged with my number one priority: health.  According to Bechen, "A true home is really about the size of your heart, not about the size of your space." After carefully reading her book, I can honestly attest that it is a must read; even if you don't reside in a small space.  You will definitely take away a tip – or two or three – that will save you stress for years to come.  As a children's book author, one of my favorite chapters is Chapter 12: And Baby Makes Three; in particular the section on Green Baby.  Which is why, after reviewing this section, I was humbled to share this testimonial along with others from outstanding women including: Laura Leist (past president of the National Association of Professional Organizers); Kitty Bartholomew (former HGTV host) and Marcia Ramsland (The Organizing Pro).
"If you want to maximize your baby's small nursery space while simultaneously improving the health of your child, Kathryn's book, Small Space Organizing, offers simple solutions. You'll discover how to easily green your baby's nursery and transform it into a nontoxic, organized, and serene space."  -Lisa Beres, Founder of Green Nest and RonandLisa.com, national media spokesperson, and author of Just Green It!
Kathryn is as beautiful inside as she is out; as put together in physical appearance as I assume her 1,200 square foot high-rise San Diego apartment is; and as generous in heart and spirit as you would expect.  This is why Kathryn is offering this fantastic (and FREE) bookmark download to (secretly) remind you to stay organized at all times.
Kathryn and her publisher, Revell, are so generous that I ended up with two beautiful books.  I am certain each would concur that hoarding both of them for myself would not be in the best interest of organization.  Therefore, we are giving away one book to a lucky reader!  Small Space Organizing is chock-full of simple tips to maximize your space, mend your marriage and save your sanity.  As we have discussed in prior posts, you cannot create healthy home environment if it is not a serene and organized space in which to thrive; and not just survive.  As Kathryn reminds her clients, "It's far more important to have a spirit of hospitality and friendship as the emphasis of your home, rather than neglecting to invite others to visit you because you lack large rooms or expensive furniture."  There are several ways to enter win including sharing your favorite organizational tip with us.  See below for details.
How to Enter:
For every action below that you complete, you receive a specific number of entries.  Click each individual action to enter yourself. For actions you have done in the past (i.e. you already follow @RonandLisa on Twitter) just click directly on 'I did this'. The eligibility of the winner will be verified by The Healthy Home Dream Team(TM).
There is no mandatory entry. Each action will earn different numbers of entries into the contest. You may tweet or share on your Facebook wall for an entry once per day. All other actions will only be counted once. You must be 18 or older with a US address to win. Contest ends 2/2/12 at 12:01am ET. Click here for complete terms and conditions. (ARV $12.99)

a Rafflecopter giveaway