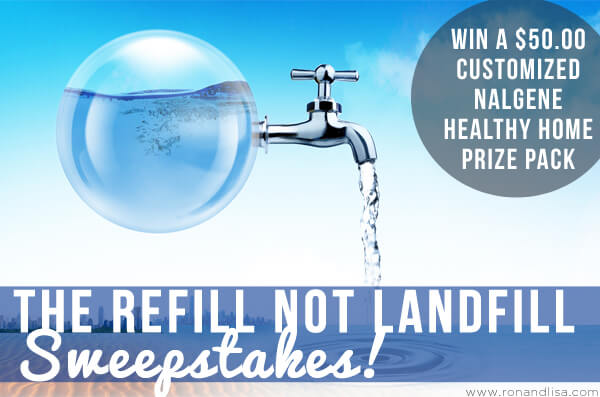 ENTER FOR A
CHANCE TO WIN!
5 Winners Will Receive a $50.00 Customized Nalgene Healthy Home Prize Pack
Total Value $250.00!!
in the…
Refill Not Landfill
Sweepstakes!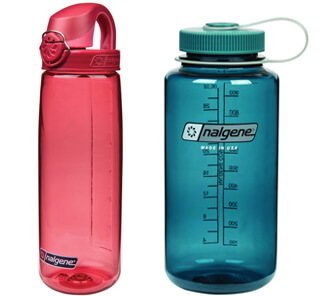 Simple for Real Life
'Tis the Season… not only for thinking about Thanksgiving and gift-giving, but also how we can make the best choices in how we reduce, reuse and recycle in our daily lives to start our resolutions BEFORE the chaos of the holidays even sets in! November 15 is America Recycles Day, a national initiative to celebrate reducing, reusing, and recycling in our own homes. Wondering how others grapple with ways to reduce, reuse, and recycle? Check out this infographic.
Nalgene® is helping Ron and Lisa readers get ahead of their resolutions and gift-giving with some exciting initiatives:
Exclusive 2015 Holiday Bottle Designs are hot off the press and hit Nalgene.com in mid-November. These one of a kind bottles are a one-gift-fits-all solution that promotes a healthy lifestyle (drink more water and save the environment!) and a healthy wallet (save money!)  in one gesture.  They retail for just $10.99 on Nalgene.com:
Drink H2O, Save Dough in 2016 — If you drink 64 oz of water from a reusable water bottle per day instead of buying that same amount of water in disposable bottles you can save $2,000 per year and rescue 1,460 bottles from landfills each year. Nalgene's free "Refill, Not Landfill" lifestyle app is a fun and interactive app that not only tracks hydration but chronicles how much "cash and trash" you save by choosing a reusable water bottle over single-serve disposable. Visit www.nalgene.com/app for more information.
Five Winners Will Receive a Nalgene Healthy Home Gift Pack Tell us how you plan to use a reusable water bottle to get through the holiday season or set intentions for a healthier 2016 and you can be entered to win one of five Nalgene Healthy Home Gift Packs. Nalgene will work with you to create an up to $50 package customized to your family's needs in water bottles, food storage containers, and more. Custom Nalgene Bottles are not something that you want to miss.
Did You Know All Nalgene Bottles Are:

Made the same since 1949, more than 65 years of innovatively simple design creates bottles that reliably stand up to the demands of real life
MADE IN THE USA with BPA- and BPS-free Tritan
Are 100 percent leak-proof, odor-resistant, and durable
Everything Nalgene creates is designed with the "every day" in mind — simple, hard-to-lose, and dishwasher-safe and easy-to-clean parts with a lifetime guarantee
Nalgene is the ideal companion for the busy, fast-paced life of today's parents and fitness-, lifestyle- and enviro-enthusiasts. Visit www.nalgene.com for full product offerings.
Will you be one of the five lucky winners to create your own customized Nalgene Healthy Home Prize Pack (bottles, food storage, and travel kits) to fit your personal needs valued at $50.00 each? Enter daily for a chance to WIN and share this page a friend or loved one who could benefit from affordable, healthy and purified water!
How to Enter:
For every action below that you complete, you receive a specific number of entries.  Click each individual action to enter yourself. For actions, you have done in the past (i.e. you are already a fan of NalgeneOutdoor on Facebook) just click directly on 'I did this'. The eligibility of the winner will be verified by The Healthy Home Dream Team®.
There is no mandatory entry. Each action will earn different numbers of entries into the contest. You may Tweet or share on Facebook or Google+ for an entry once per day. All other actions will only be counted once. Sweepstakes open to US & Canadian residents age 18 and over. Contest ends 12/12/15 at 12:15 am PST.