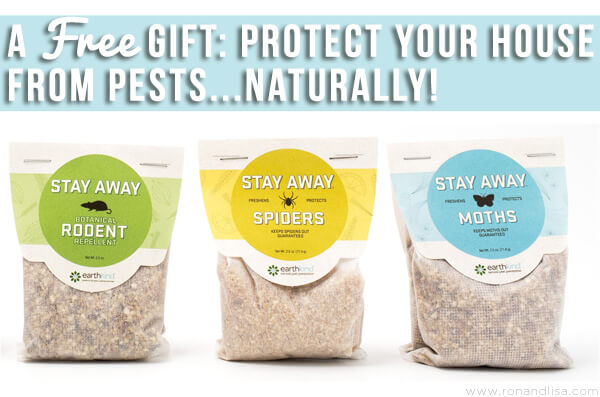 No one likes pests, especially moths, spiders and rodents. What if we told you you could eliminate these from your home without messy solutions, inhumane treatments or toxic pesticides? What if we offered this solution to you…for FREE?
No, your eyes are not playing trick on your and no, this is not a gimmick. Our fabulous friends from earthkind® are offering RonandLisa.com readers a FREE pest prevention pouch of Stay Away® – in your choice of Moth, Spider or Rodent Repellent – from your local Lowe's Home Improvement Store!
Founder (and fabulous female entrepreneur), Kari Warberg, created the first natural pest prevention line made solely from essential oils and plant fiber so it's smells great to us, but pests don't like it. It's called Stay Away® and it's a radically proactive approach that puts you & your family's health and happiness first by using only safe, effective and natural ingredients. What's more, it's guaranteed to eliminate pest infestations in the spaces where you live, work, and play without toxic chemicals.
DOWNLOAD YOUR FREE COUPON NOW! (Click to Tweet)

Oh, and if you need to find the closest Lowe's Home Improvement store to you, click HERE for their store locator.
Preserve the Good. Keep the Rest
The evidence is staggering as research from the Harvard School of Public Health (HSPH) and Icahn School of Medicine at Mount Sinai have linked toxic chemicals and pesticides with neurodevelopmental disabilities among children including autism, ADHD, and dyslexia. They found certain types of pesticides to cause cognitive delays.
Until man duplicates a blade of grass, nature can laugh at his so-called scientific knowledge.  ~Thomas A. Edison
Like Kari, we too, believe nature can solve problems better than chemicals. Ridding unwanted insects and rodents with harsh, synthetic chemicals is dangerous to our planet, our future and of course, our health. But, don't let the pretty earthkind® packaging fool you. Stay Away® works. It's just looks cute doing so.
How Stay Away® Works:
1.) Rodent Botanical Rodent Repellent
2.) Spiders Natural Pest Repellent
3.) Moths Natural Pest Repellent
Stay Away® is 
Effective:
The earthkind® patented pouch design delivers a long-lasting, slow release of proven essential oils, reliably "keeping moths out" of treated areas for up to three months
Guaranteed, or your money back!
Easy to Use:
Simply place Stay Away® Moths pouches in areas you wish to prevent infestations. Replace pouches when scent has diminished.No messy clean-up, just dispose of in the trash.
Safe:
Made with essential oils and plant fiber, grown on family farms.
Licensed, and certified safe ingredients, by the Federal EPA.
We hope you enjoy your free gift. Let us know how it works in the comments below. While there may not be such thing as a free lunch, there definitely is a free and toxic-free pest control for you home!