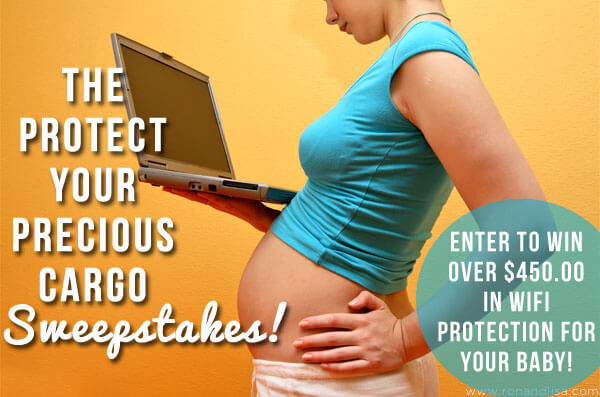 ENTER FOR A
CHANCE TO WIN!
1x GRAND PRIZE WINNER will receive:

Belly Blanket Organic Azure – $79

Camisole in Charcoal Grey – $89

Rouched Belly Tee – $59

Nursing Cover – $49

2 Baby Hats (Mouse and Rabit) – $19


$314 MSRP
1x FIRST PLACE WINNER will receive:

Belly Blanket Chic – Metro Gray
$69 MSRP
1x SECOND PLACE WINNER will receive:

Belly Blanket Chic – Cosmo Blue
$69 MSRP
Total Value $452.00!
in the…
Protect Your Precious
Cargo
Sweepstakes!

Safe Wireless
We live in the digital age and the reality is…technology isn't going away. In fact, it's evolving at a rate faster than we are as human beings. While scientific innovation makes our lives more convenient, there's a dark side to the harmful effects of exposure to electromagnetic radiation from wireless devices and the radio frequencies that surround us. Unfortunately, it's children who are most vulnerable to the effects from Wi-Fi radiation due to their growing bodies & developing brains, yet many parents unknowingly expose their unborn babies or young children daily. The good news is there are action steps and protective measures you can take – starting today – to shield yourself and your precious cargo.
Do Cell Phones Cause Cancer?
In 2011, the World Health Organization classified cell phone radiation as a "2B carcinogen", which means possibly carcinogenic to humans. The concern is that cell phones have only been in widespread use for a couple of decades, the long-term health impact are yet to be seen. Click here to read an informative fact sheet from the WHO about Mobile Phones and Public Health.
In addition, the early, partial findings in the $25 million U.S. National Toxicology Program animal study show that exposure to cell phone radiation leads to a slightly increased risk of malignant gliomas in the brain and schwannomas of the heart in male rats. These are the largest, most complex studies ever conducted by NTP.
Cell Phones Are Not Toys
While you don't need to stop using a cell phone, you do need to be informed and take the necessary precautions by making simple, common-sense changes to reduce radiation exposure. In fact, the American Academy of Pediatrics (AAP), has issued specific recommendations to reduce wireless cell phone exposure and updated their online resources for parents concerning cell phones and wireless devices.
"They're not toys. They have radiation that is emitted from them and the more we can keep it off the body and use (the phone) in other ways, it will be safer." ~Jennifer A. Lowry, M.D., FAACT, FAAP, chair of the AAP Council on Environmental Health Executive Committee
Exposure to Radiation
Over the past few years there has been growing evidence that exposure to everyday radiation (low-frequency, non-ionizing radiation) may cause significant health risks, especially during pregnancy and early childhood. These risks have increased considerably over the past decade along with the prevalence of cell phones, computers, power lines, smart meters and other electronic devices – including wireless baby monitors. Health experts and organizations worldwide are advising precautionary measures to lower this exposure.
The fine peeps at Belly Armor even offer a safe alternative to cordless baby monitors. Traditional DECT baby monitors emit significant amounts of microwave radiation over extended periods of infant exposure as we've discussed on this blog before (read: You Mean Baby Monitors Aren't Safe?). The new CARE (Cordless Anti-Radiation Environment) technology in the SmartNova Baby Monitor achieves the same clear and private communication, while emitting 97% less radiation and no pulsing radiation.
Meet Belly Armor
As Baubiologists®, Ron and I were over the moon to discover the amazing work Belly Armor does to protect little ones and we just had to introduce you to this brand (and offer a fabulous giveaway so you could experience their amazing products firsthand). Belly Armor is made with RadiaShield® Fabric, a highly conductive silver textile with similar shielding properties as a 1/4-inch thick sheet of aluminum. RadiaShield® Fabric works to shield everyday radiation by neutralizing, through reflection and absorption, incoming electromagnetic waves, canceling out the ambient radiation and reducing your exposure (learn more about RadiaShield® Technology). Belly Armor is the definitive resource for information and tools to protect children in the womb and newborn children against the risks of everyday radiation. The with RadiaShield® Fabric is:
Super light-weight (weighs less than the cotton in t-shirts)
Machine washable
Breathable
Soft to the touch
Free of toxins and allergens
Highly effective as proven by independent testing in FCC-certified and NVLAP-accredited labs
Maternity, Nursery & Fertility Protection
With a full range of products – from Belly Blankets and Belly Bands to maternity tops, nursing covers, baby hats and men's briefs –Belly Armor products shield against non-ionizing radiation (10MHz~8GHz), which are emitted by everyday electronic devices and other ambient sources, such as cell phone towers, but they cannot completely shield against all low-frequency radiation exposure in your environments or high-frequency/ionizing radiation (ie: X-rays).
Listen up gals (and guys…oh yes! They've even got you, ahem, covered with their RadiaShield® Men's Boxer Brief's to reduce radiation to reproductive organs)!
Watch & Learn About the Benefits of Using Belly Armor:
Did You Know? Belly Armor: 

• RadiaShield(R) Fabric effectively shields 99.9% wireless radiation including cell phones, laptops and other devices
• Independently tested by an FCC-certified laboratory
• Safe to use – products are free of heavy metals, toxic chemicals and common allergens
• Lightweight material, machine washable
Protect Your Family: Tips to Reduce Cell Phone Radiation Exposure
Giving Back
As a Trusted Partner of Healthy Child Healthy World, Belly Armor by RadiaShield offers a Healthy Child Blanket (which gives $10 per sale to the organization) and a portion of all Belly Armor proceeds go towards programs for promoting women's pre-natal health. They're also partners with two of our other fave organizations: The Honest Company & Environmental Working Group. Additionally, Belly Armor products are made with socially and environmentally responsible processes including recycled paper and carbon footprint offsets!
Savings for You!
Between January 26, 2017 and March 11, 2017, you can save 15% off any order at BellyArmor.com! Just use Coupon Code: Ron&Lisa on the checkout page. Save money and save your health; either way, you win!
Who's Ready to Win Radiation Protection Goodies from Belly Armor?
One GRAND prize RonandLisa.com reader will win $314.00 worth of Belly Armor products and one FIRST prize and one SECOND prize winner will receive a Belly Blanket valued at $69.00/ea. (total ARV $452.00). Who's ready to give children the best possible start in life? Can you say baby shower gifts?!
Enter daily for a chance to WIN and please share this page with a friend, loved one – or anyone – that could enjoy peace of mind and s safe + healthy baby!
How to Enter: 
For every action below that you complete, you receive a specific number of entries. Click each individual action to enter yourself. For actions you have done in the past (i.e. you are already a fan of Belly Armor Company on Facebook) just click directly on 'I did this'. The eligibility of the winner will be verified by The Healthy Home Dream Team®.
There is no mandatory entry. Each action will earn different numbers of entries into the contest. You may Tweet or share on Facebook or Google+ for an entry once per day. All other actions will only be counted once. Sweepstakes open to US residents age 18 and over. Contest ends 2/25/17 at 12:15am PST. **BONUS** After your first entry, you will unlock the option to share with friends for five additional entry points. Look for the viral share box at the top of the widget.
Save
Save
Save