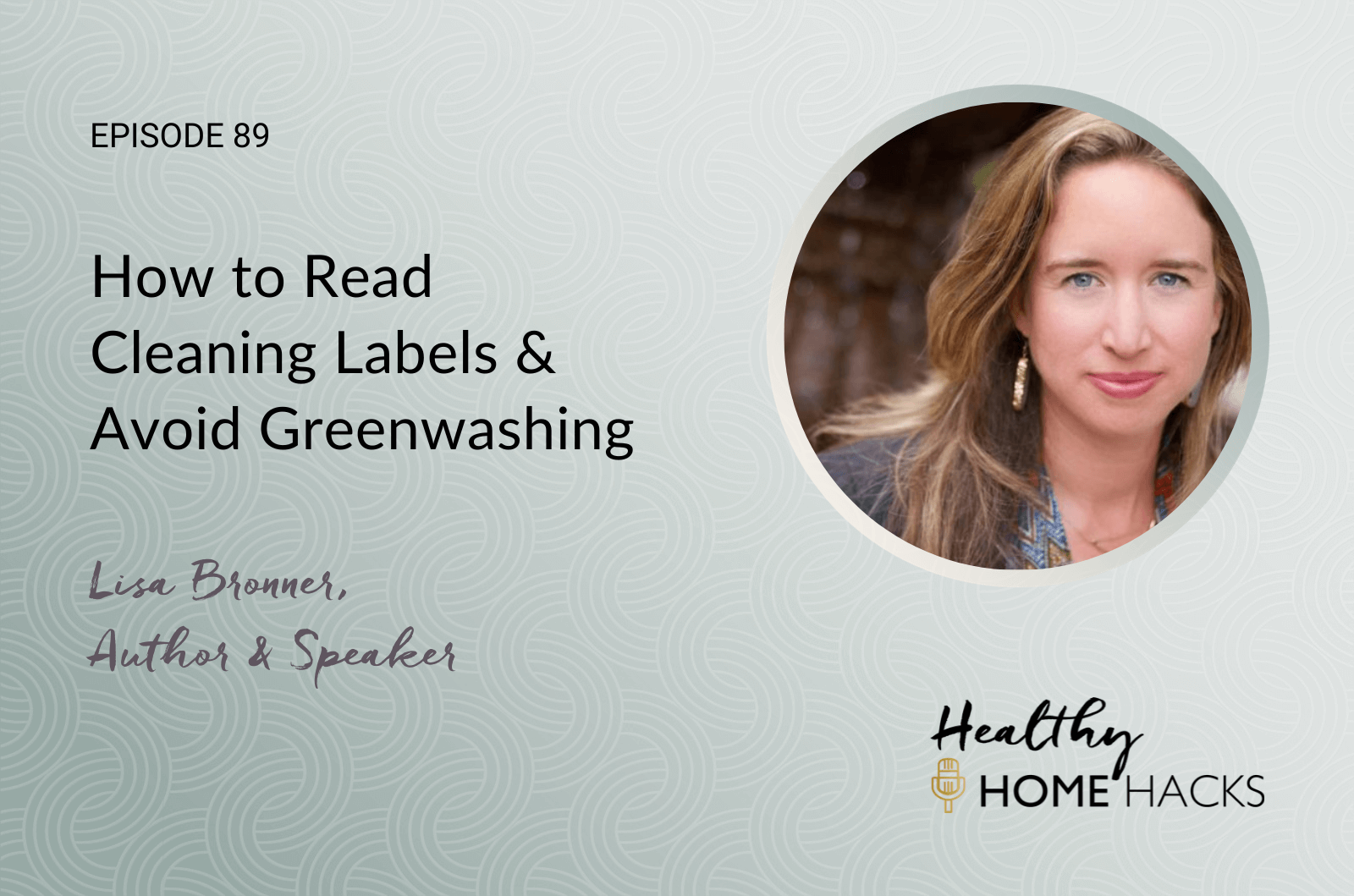 A study published in May 2023 in the journal, Environmental Science & Technology, found that more than 100 types of common consumer products contain at least one and often multiple chemicals linked to cancer or reproductive and developmental problems.
Our guest needs no introduction. She is the granddaughter of Dr. Emanuel Bronner, founder of Dr. Bronner's. Unless you've been living under a toxic kitchen sink, you've likely heard of Dr. Bronner's line of ALL-ONE magic soaps. a family-owned company founded on the principle of universal peace and safety; a family brand of soap makers since 1858. Lisa is a prolific writer, consumer advocate, and speaker on health and green lifestyle issues. She is the author of the blog, "Going Green with a Bronner Mom," and author of SOAP & SOUL: A Practical Guide to Minding Your Home, Your Body, and Your Spirit with Dr. Bronner's Magic Soaps.
KEY TAKEAWAYS
The incredible story of Dr. Bronner's, and how it came to be the household name it is today.
How to read labels and avoid greenwashing to ensure what you're buying for your family is safe.
Unregulated terms that can trip consumers up on home and body product labels.
How to determine what you purchase in the cleaning or body care aisle beyond the fancy packaging and marketing terms.
Tips to use non-toxic, environmentally-friendly options to replace everything from kitchen cleaning spray to laundry detergent to shampoo.
5 unexpected ways to use castile soap around the house, office, and car.
How to swap out common household cleaners for a more non-toxic home and a greener planet?
You can learn more about Dr. Bronner's line of nontoxic products at www.DrBronner.com Or, be sure to pick up a copy of Lisa's new book, A Practical Guide to Minding Your Home, Your Body, and Your Spirit with Dr. Bronner's Magic Soaps. Learn more at Going Green with Lisa Bronner at www.LisaBronner.com
Episode Links:
Listen to all episodes of Healthy Home Hacks on your favorite podcast app
Rate, Review, & Subscribe on Apple Podcasts
"I love Ron & Lisa and Healthy Home Hacks." <– If that sounds like you, please consider rating and reviewing our new show! This helps us support more people — just like you — to regain their health, protect their loved ones, and enjoy more energy. Click here, scroll to the bottom, tap to rate with five stars, and select "Write a Review." Then be sure to let us know what you loved most about this episode or the entire show.
Also, if you haven't done so already, subscribe to the podcast. Subscribe now!
Shop our Healthy Home Hacks Store
Visit the Healthy Home Hacks store to shop everything from notebooks and tees to hoodies, mugs & more! Your purchases help our show continue to thrive and reach more healthy living enthusiasts.
Narrator 0:05
How would you like to improve your health and keep your family safe? You're listening to the Healthy Home Hacks podcast where we firmly believe in joining optimal health shouldn't be a luxury. Healthy Home authorities and husband and wife team Ron and Lisa will help you create a home environment that will level up your health. It's time to hear from the experts. Listen in on honest conversations and gain the best tips and advice. If you're ready to dive in and improve your well being and increase your energy, you're in the right place. All right, here are your hosts, baubiologists, authors, media darlings, vicarious vegans and avocado aficionados, Ron and Lisa Beres.
Ron Beres 0:48
I stumbled upon an article just this week, titled conventional cleaning products omit hundreds of hazardous chemicals. According to the study published September 12. In the Journal of Chemosphere conducted by EWG, the Environmental Working Group, conventional cleaning products used to mop the floors and scrub the counters may release hundreds of hazardous volatile organic compounds known as VOC's. The analysis included 30 Clean products, including multipurpose and glass cleaners, air fresheners and more.
Lisa Beres 1:25
And to add fuel to the household cleaning fire. A study published in May of 2023 in the journal Environmental Science and Technology found that more than 100 types of common consumer products contain at least one and often multiple chemicals linked to cancer, reproductive and developmental problems. This made me wonder, after all these years, how are we still allowing these toxic chemicals in the products we use to clean our home?
Ron Beres 1:54
The good news is that the green products sample in the study released significantly fewer VOCs and a lower amount than their conventional counterparts. And speaking of greener brands, you're gonna love the guest today. Unless you've been living under a toxic kitchen sink. You've likely heard of Dr. Bronner's line of all in one magic soaps, a family owned company, founded on the principle of universal peace and safe effective soaps known worldwide for their quirky text heavy labels, espousing the company philosophy. They've been a family brand of soap makers since 1858.
Lisa Beres 2:38
Our guest needs no introduction since she is the granddaughter of Dr. Emanuel Bronner, founder of Dr. Bronner's Lisa Bronner is a prolific writer, consumer advocate and speaker on health and green lifestyle issues. She's the author of the blog Going Green with a Bronner Mom and most recently the author of Soap & Soul, a practical guide to finding your home your body and your spirit with Dr. Bronner's Magic Soaps. Her book is a comprehensive guide to caring for home care, body, pets, and even the garden using non toxic planet friendly Castile soaps such as Dr. Bronner's.
Ron Beres 3:18
This book is more than a list of cleaning tips and tricks. It's a manifesto on what it means to mine to clean and care for yourself and your space, but also to pay attention to nurture your spirit and respect the planet as you do so. Welcome to the show. Lisa.
Lisa Bronner 3:42
Lisa it's great to be here.
Lisa Beres 3:43
Ah, thank you so much for being with us. We're excited about this interview.
Ron Beres 3:47
I don't know if you noticed, Lisa, because we're looking at each other now on camera, right? I washed my face today with Castile soap from your company. And I feel like I'm glowing. Of course, every day. I feel I feel that way every day because I do it all the time. I love your soap. So thank you for being here and sharing your wisdom.
Lisa Bronner 4:06
That's excellent. And your skin looks beautiful Ron.
Lisa Beres 4:09
And it's not the ring light. Super, super. Well at least I want to dive right in. I know we want to cover a lot of ground today and listeners are gonna be so excited to hear from you. Just to start Can you share the incredible story of Dr. Bronner's and how it came to be the household name it is today?
Lisa Bronner 4:29
Sure. So as Ron mentioned, my family's soap making history goes back to 1858. And we actually have copy not the original certificate of my great great grandfather when he was authorized as a master soap maker and allow time Germany and so he started making soap in the basement of his house in Laupheim. His sons he had 11 children, three of them went off to form another soap company in Heilbronn Germany and it was very successful. They have three factories. And then my grandfather, Dr. Emanuel Bronner, he brought the technology and the family legacy to the United States in 1929. After working more as a consultant for various soap making operations around the country, he went back to his own family roots and founded Dr. Bronner's. But as Ron alluded to, he wasn't just making a soap, he had a message that he wanted to spread. And it was a message of peace and harmony and connecting across our cultural and religious divides. And this was in the 1940s, then the world was really falling apart. And he very much felt that the world was on the brink of self destruction. And so he had written this philosophy, but he found that not a whole lot of people are interested in hearing it, but they did like the soap and so in a brilliant understanding of human behavior. He took his message and he printed it on a soap label, so that when people would take the soap and have nothing breed while they were indisposed, they would read his label. And he was right. So that was 1948 is when we date the founding of Dr. Bronner's. And so then he ran it his life and through his life, went through my dad's hands for a short while, and then into my generation where my brothers and my mom and my husband and I all are very much involved in the company today.
Lisa Beres 6:24
Oh, okay. I was curious. Like, how a class that's really interesting. What an interesting story. Now, was your grandfather, an actual doctor? Or is that just the name that he gave to the soaps?
Lisa Bronner 6:34
Well, no, it was a name he gave to himself.
Lisa Beres 6:38
Doctors, like Dr. Seuss. Well, not a real doctor.
Lisa Bronner 6:41
Right? Well, the broader part was his name, but well, okay, there's a story behind every part of his name, I will say the family's name in Germany was Heilbronner and named after the town of Heilbronn. Our family is of Jewish ancestry. And there was a point at which Jewish last names were outlawed, and it wasn't uncommon to take the last name of your city. So we became the Heilbronners. When he came to the United States, most non German speakers just associated the word Heil with Hitler. And so he thought that. So that's where Bronner came from.
Ron Beres 7:15
He was a master marketer, right? That was not a good luck, right.
Lisa Bronner 7:20
And then he was a master soap maker himself. He had gone through an apprenticeship and been certified as a master soap maker. We don't have that title or that position in the United States. So he did assume the title of doctor as.
Lisa Beres 7:33
Oh, gotcha. Okay. That's really cool.
Ron Beres 7:36
Yeah, that is really neat. Well, Lisa, I'm curious, how can our listeners learn to read labels and avoid greenwashing? So they know what they're buying from their family is safe.
Lisa Bronner 7:49
=Yes, this is exactly where we need to be concentrating our buying decisions is on reading the labels. It takes some strength, it takes some confidence and willingness to buck advertising, ignore marketing. Ignore the psychological togs have a bottle that's beautiful, or has gorgeous natural imagery on it. None of that matters. As far as what is in the bottle, you have to read the ingredient list. And I know they can be overwhelming it can be a lot of gobbledygook. And that's actually a red flag right there. I mean, there are some definitely ingredients that have long names that are fine.
Lisa Beres 8:29
But if bicarbonate is right, about that, or acetic acid.
Lisa Bronner 8:35
Yes, vinegar, I hear Absolutely. And so but if you have to start by reading the labels, and eventually if you get in the habit of doing that, you will see similarities, you will learn to recognize hazards and understand even some of them that have the chemical sounding names, use tools you already referenced to study EWG, the Environmental Working Group just released this year, EWG is a fantastic resource. They have a healthy cleaning guide website, you can plug in products, and they'll help you sort through some of the ingredients.
Lisa Beres 9:06
So yeah, let's give a little plug to that. Because a lot of people our listeners are familiar with the skin deep database, because we plug that a lot where you can put it in pretty much any cosmetic item and get a toxicity rating, but they also have the healthy cleaning database. Is that exactly. And I'm sure you guys have all A's right? I mean, your products. I know they have different rating for skincare and the cleaner or the cleaner is rated one to 10 or they rated ABCD
Lisa Bronner 9:30
Yeah, ABCD ABCD. Like school, yeah, skin deep databases, 1 to 10 one being good. 10 being horrible, and then the cleaning databases right at A to F and they have the same breakdown of ingredients that they do on the skin deep. That website is such a treasure trove. I'm very familiar with it, but even I will find something new and I've done a wormhole and emerged five hours later.
Lisa Beres 9:53
So yeah, exactly. The work they've done is extensive and 1000s and 1000s of products that they're scientists have vetted and tell us hey, are there allergens in her? Are there reproductive toxins? Beyond all that we're not all scientists and chemists do we really need to know that. And I know, looking at Dr. Bronner's and all the incredible certifications that you guys have on your product line. That is one of the big tips that we tell listeners. Because if you can't really decipher the label, and you can't be see beyond the green leaf and the packaging, you can look for those third party certifications as a way to know that what they're saying is true. Because without that, you don't really know right, and we know now people make up certifications to so you have to know which certifications, can you give us a couple of the certifications that you guys have and like what?
Lisa Bronner 10:44
Okay, yeah, and you're exactly right. So that is the purpose of certifications. It's a language, it's a communication, a way of assuring customers of what a company is saying is valid, because the good certifications all require an independent third party audit. That's what gives them their credibility. If it's a certification, or a seeming certification that doesn't require a third party audit, then that is one not to give any weight to.
Lisa Beres 11:11
Like non toxic as great as that word is. There is no entity that backs that up. None. There's no government entity, and natural is another one. Those sound good, but they don't really mean anything. Yeah.
Lisa Bronner 11:23
I'm totally with you. Green I mean, I read a blog called Going Green and I will tell you green is not a certification. A certification, right. Bee friendly, bee friendly. It's not a certification, right. So even things like plant based or eco friendly, none of those are certifications. And if you see even a little pretty little piece of artwork by them, it's just artwork,
Lisa Beres 11:44
Right? That little logo, they make up their own logo, sometimes you'll see logos, you're like what is this? Right? It doesn't mean anything. Yeah.
Lisa Bronner 11:51
Yeah. So the solid ones are the USDA organic label certification, that's a solid one. They also have their NOP the National Organic Program. The me organic itself is still a quagmire because a company can use the word organic, as long as they don't claim certification. They can use the word organic. So if you see the word organic without certification, it's not backed up.
Lisa Beres 12:15
Okay, because the USDA is very rigorous and the testing, correct. I mean, I know Oh, yeah. Yeah, you can't have any chemical fertilizers or any chemicals in the process. Then they come out. They send people out to check the farms and all of that. We're talking about the agriculture that can only apply right to agricultural ingredients.
Lisa Bronner 12:35
That's exactly right. Then that was the first certification. Dr. Bronner's got, and it's a very good one. It does certify that there wasn't any big rains of synthetic input into crops is not allowed. And it's very good. But it is absolutely silent on the topics of labor and animal welfare. I realized that's taking things a little bit beyond certifications, like fair for life, go into issues of labor. And there's a newer certification that Dr. Bronner's actually helped to spearhead along with the Rodale Institute and Patagonia. And this is a very new certification called the regenerative organic certification. It's growing exponentially, but from very small start, so it's not too far out there. But the regenerative organic certification is extremely comprehensive and involves organic standards of preventing chemical input. It involves Fair Labor Standards. It also involves animal welfare standards. So it's very holistic, and it's very difficult. So it's just coming up there. But I encourage consumers to take a look at what that one is and to see products that are certified, regenerative organic, other ones non GMO verified as a solid one vegan action. Now vegan is one that I see made up vegan logos all the time.
Ron Beres 13:50
Me and Lisa are at least vegan. Are you vegan as well?
Lisa Bronner 13:53
I am not vegan.
Ron Beres 13:55
Okay, you talked about it a few times. I wasn't sure if you were but okay, so.
Lisa Bronner 13:58
Our products are. No worry our products are.
Lisa Beres 14:00
The products are cruelty free too cruelty free.
Lisa Bronner 14:03
Yes, Leaping Bunny, that's another excellent one. And once again, things can claim cruelty free, but if they don't have the actual certification from Leaping Bunny, let's say, then it's just a foundationless claim. So I do think certifications are a very strong tool for consumers. They do have to do a little bit of research into which ones are strong and making sure that a company or brand that's claiming a certification actually has the actual certification and not just one they made up.
Lisa Beres 14:31
Yeah, and that's confusing for consumers because we live breathe, eat and sleep this so we all are aware. Okay, the US EPA, that's a good one on the USDA organic, that's a good one. We know what to look for. But I think a lot of the average consumers will they know, we need to look for certification but they can be fooled by the fake certifications, like we're talking about those fake made up logos. It doesn't take a whole lot to get it but we are in a time where consumers have to be their own investigator.
Lisa Bronner 14:57
That is absolutely yes. I do want to know should also the EWG verified certification. That's a valid one as well.
Lisa Beres 15:04
That's a good one too, right? So excellent. I mean, I was thinking, as you were talking, could you imagine, like, I all of a sudden say, I'm a veterinarian, and I'm gonna make up my little V, you know, logo and giving pet advice. It's kind of like that, without me going to school and getting that degree or your mold remediator not having his certification? You don't know. And that's where things get messy in a lot of these professions where, without that people have horror stories of, say, mold remediators or whatever coming in? Well, if they're certified and backed, you're not going to have that likely.
Lisa Bronner 15:41
Right. And I think that's the thing where we assume as consumers that somebody's watching, there's some entity out there overseeing this, surely there are laws about this thing. There aren't. And that's where we've been, where cleaning products have not been well regulated, unless they hit the EPA standards, which that's taking things if they're hitting EPA standards, where they're hazardous to the environment that EPA is going to step in. But there's a lot of area between like hitting that level and still not being good for us and to bring into our lives on a daily basis, and even small exposures that add up over the years, and then all of a sudden, you're sick, and you're like, what happened? And it's really hard to trace a source.
Lisa Beres 16:23
Yeah, it's hard to trace. Yeah, these little cumulative exposures over time, little by little by little, all of a sudden someone gets cancer, and they're like, oh, wow, how that happened, you know, and I tell people, it's the daily dose of these chemicals through our air or water or food aren't right now our food and all that, yeah.
Lisa Bronner 16:40
Our bodies are really resilient and can put up with a lot for a long period of time. But eventually, after bombardment, they just say, okay, yeah, I'm done. Yeah.
Ron Beres 16:49
Well, Lisa, you mentioned in your book that we can use non toxic, environmentally friendly options to replace everything from the kitchen cleaning spray, to laundry detergent to shampoo, can you give us some insider tips and how people can get started?
Lisa Bronner 17:02
Yes, yes. So it's so simple that I sometimes wonder, like, can I offer more, but this is it. Um, as far as cleaning things, soap is all you need. But the thing is, soap is a very fancy, it's not new. I mean, mankind has been making soap for 1000s upon 1000s of years, it's one of our oldest chemical reactions that we've been able to control. And honestly, it's just doesn't make necessarily the best marketing. And so we've come up over the last 100 years, with detergent, detergent cleaners for everything from our bodies, shampoos, or detergent, toothpaste, or detergents. And then, of course, for our house. And detergents are, I'm not gonna say universally bad, because there are some fine, mild ones, but it's a huge range. And a lot of them are just unnecessary, we should always be cleaning ourselves and cleaning the spaces around us with the least intensive means to accomplish the job. We don't need to be overdoing it. The thing is, if you're always overdoing it, then when a real crisis comes of sickness or vulnerability, you have nowhere to go, you've already been bleaching things or you've been at the most extreme, and the creation of resistant bacteria and resistant viruses is a real thing that World Health Organization has identified antimicrobial resistance as one of the top 10 threats to human health. And this is the idea that the means with which we have been combating microbes are no longer effective because of microbes have become resistant bacteria, fungus, viruses,
Lisa Beres 18:37
Well, even the CDC speaking of viruses and bacteria, like even the CDC says hand washing with soap and water is more effective than hand sanitizer, hot soapy water wash your hand long enough.
Lisa Bronner 18:47
They have the same recommendation for house cleaning. I don't know. I think we all were looking a little bit more into the efficacy of our cleaners during the past several years. I know I certainly was and it was nice for my topic, my field of expertise to become popular, and of people wanting to know more about how soap works. But the CDC has a guide to home cleaning and the first step is clean your house with soap and water. If needed disinfect, and they give the times you need to disinfect when there's a known contagion. Somebody is sick, and only disinfect the surfaces that are commonly touched, which are doorknobs, light switches, faucet handles, soap dispensers, but not like everything because disinfectants, they have a risk to them. We always want to make sure that we're balancing out the risk and the benefit of whatever it is we're doing and the benefit of getting the surface clean. But if it's risking our health, we just want to make sure that risk is worth it. But if we can get the surface clean without the risk to our health, then that's what we should be doing and soap and water is sufficient. So Ron, you started with the question of where to start. I say start with soap. Soap cleans, it removes what's different from disinfectants, disinfectants kill, but don't remove soap just removes everything. Everything gets removed.
Lisa Beres 20:00
right, because even with the hand sanitizers, you're not actually removing dirt. You're killing with alcohol. You're killing something, but you're not actually removing the dirt. So yeah, absolutely. Yeah, it's really fascinating. Are your most of your products? Do they would you say have five and under ingredients? Like I'm guessing?
Lisa Bronner 20:18
Yeah, they are very simple. We use a blend of five different oils to make the soap itself and so there's five ingredients right there, but they're pretty understandable oils. They're coconut oil, olive oil, palm or palm kernel oil, hemp and jojoba oil. So so that's the base of all of our soaps. And then they have essential oils for fragrance.
Ron Beres 20:38
We see you just gave way the family secret.
Lisa Bronner 20:44
Don't even make you turn the bottle around to see though. Right on the front bottles.
Lisa Beres 20:49
You don't know the combo, right? No, it's true. So see, like someone with gorgeous skin. And you'll be like, what? $200 bottle of skincare did you buy it from the department store? Oh, no, it's Ivory. So you know, it's soap it's just soap. And Ron, you were just saying like your skin's gotten so much better since using Dr. Bronner's. And that's not a plug, because that's a true story.
Ron Beres 21:10
It's a true story. Yeah. So.
Lisa Bronner 21:11
I know people asked me, What do you use to moisturize? I use coconut oil? Like it's not fancy? Oh, yeah. That night. Coconut oil is a little too heavy during the day. But overnight. Yeah.
Ron Beres 21:23
Getting back. I went through a period of doing that to Lisa what great minds think alike, right?
Lisa Beres 21:28
This revolution and all this technology and all these things we have and all these millions and millions and millions of products that we really don't need to clean our house and our skin. I mean, I know. Soap and vinegar. I mean, vinegar works great for glass, right glass and mirrors and vinegar and water. And you can add some essential oils if you want. So yeah, it's going back to the basics grandma knew at best. We're literally going back to what our grandparents used.
Lisa Bronner 21:53
Yes, yeah, we think we know better. It's kind of the arrogance of modernity. But sometimes we really overcomplicated it and gotten ourselves in a bit of a pickle.
Lisa Beres 22:01
Yeah, yeah. Say that with food too. We're kind of like the pendulum has swung so far with all this genetically modified and lab grown this and that and all these artificial colors and flavors. And it's like can we just get back to the earth and like eat like vegetables? And?
Ron Beres 22:16
Yes, absolutely. Well, listen, you probably been asked this before if you were trapped on a desert island and you can only take one Dr. Bronner's product, what would it be? Not?
Lisa Bronner 22:25
Do you will have given me one.
Lisa Beres 22:29
Okay, I'll give you one.
Ron Beres 22:30
Okay. You get one from Lisa one from us, and then we drop you off in the boat. Okay, excellent. Thank you.
Lisa Bronner 22:35
So it would be the Dr. Bronner's castile soap and the coconut oil. Because soap really can prevent all manner of sicknesses. Okay, if I happen to sustain an injury while I've been scrambling about on this desert island, the soap can clean that out. And then the coconut oil actually, of course, I can eat it. I can moisturize my skin, I can sooth a sunburn. Scrape. Exactly. So I think those two would pretty much keep me in good shape until I was rescued.
Ron Beres 22:35
Little deeper on this, Lisa. So you're on this island and you actually build a house and office in a car. So what are five unexpected ways? You use castile soap around your house, office and car because that's all you have?
Lisa Bronner 23:19
Okay, that's all I have. Well, If you don't mind my tooting my own horn here for a moment are my family's. You mentioned the EWG study in your introduction, and they tested 30 products. 29 of them were found to emit some manner of VOCs including those that were touted as green. The only product that wasn't was the Dr. Bronner's unscented castile soap. Wow. So that is what I would use. I would use the Castile soap. So it's home office and car. Absolutely. So the home make up an all purpose spray, clean any surface with that quarter cup. So fill the rest of the court with water. You know spray or your counters, your bathrooms, your toilet, your walls that you can use it to mop your floors.
Lisa Beres 24:03
Laundry? You can do laundry too?
Lisa Bronner 24:05
Absolutely. I would throw some vinegar in the rinse cycle there because here. I do have hard water and vinegar is a great natural fabric softener.
Ron Beres 24:13
Well Lisa, you didn't pick vinegar. You had two products. So we have to go back. I know I created this funny game anyway, you have three products now. That's perfect.
Lisa Bronner 24:24
Yeah, okay. Superduper. Yeah. And then we don't think of our offices that's getting dirty because we don't do body care for the most part and then we don't cook. But the biggest transfer of germs in our in our houses and in our offices is our hands. Our offices actually do get quite dirty when it comes to our keyboards and our phones and anything that we touch. And so once again, use that all purpose spray, don't spray a keyboard directly because watering computers don't mix but spray on a cloth and wipe the surfaces down when it's off. Keep those clean soap and water is still better than any sort of spray sanitizer. You were mentioning.
Lisa Beres 24:30
You're right about our phones being so dirty. I think there was a study showing our phones have more bacteria than your toilet. Yeah, it's kind of I mean, it makes sense. How often are we touching our phone all day? Right?
Lisa Bronner 25:11
Exactly. We put it up to our mouth, we breathe on it, all sorts of things like that. So, and the same thing in our car is I mean, we don't think about driving being a dirty thing. But I mean, how often do you have goodness? How often do you maybe eat in the car and you've been touching the steering wheel, and you've been out at some place like a bowl game, and you get in your car, you've been touching handrails, and you're touching a steering wheel. And that also, once again, wash it, wash it with soap and water, dry it and get those germs off of it. That's the best thing we can do. So often, we cover things up with air freshener or a scented something that is not solving the problem right there. It's actually making it worse.
Lisa Beres 25:47
Masking. We live in a masking society. We like to mask illness, we like to mask odors, we like to mask so many things versus getting to the root. I was literally just talking to somebody whose mother had lung cancer. And she said, Oh, it's so weird. She never smoked. And I said, Well, did they test their house for radon? And she said, What? No. And I said, Well, you know, it's the number one cause of cancer among non smokers. And I said, the doctor never mentioned that to your mother who went through chemo and radiation. And she said never. So I sent her the link to get the radon test kit because they go, Well, she got rid of the cancer. But what to say it's not going to come back if there's radon, like just getting to the root, instead of like you said, like, Ooh, there's an odor. Why don't we find out where the odors coming from clean it naturally versus spraying some artificial air freshener which is loaded with chemicals, including a lot of cancer causing chemicals and a lot of those products and just toxic fragrances with endocrine disrupting ingredients and all of that. So yeah. Okay, so one of the things that we find, run and I will meet people, and they're like, oh, you know, I live a healthy lifestyle, you know, I'm clean and green, and then you'll go to their house. And you'll see like bleach, and you know, all these toxic laundry detergents. So what's a good baby steps for people who really want to switch over everything, switch over their cleaners, but they have toxic stuff right now. A/nd they want to go to more non toxic home and a greener planet
Lisa Bronner 27:13
Right? Well, we do want to take it one step at a time. Because if you try to do everything all at once, you probably frustrate yourself and give the whole thing up. So unless you have a health crisis, that you need to change everything all at once on allergy or diagnosis that you do need. And you can make it through that it's a tough way to go, but you can do it. So the first thing I tell people to pay attention to is actually what you were just talking about is the air. Because if you think about what is it in our houses that we are most in contact with, that we are most physically connected to, it's not the countertops, or even our fabrics, not even our sheets that we sleep on for so many hours, it's actually the air, I mean, that's going in us, it's going into our lungs that are designed to pull things out of it and drop it in our bloodstream. So pay attention to what is in your air, which means you've got to pay attention to what you're putting in your air through fragrances through VOCs through things. I mean, basically, if you are smelling cleaner, it means that it's in your air and going into your body. And so I want people to think about their air. Unless you live in a super polluted urban area, chances are the air outside your home is cleaner than the air inside your home. So open your windows, we have sealed our houses up tight because it's more efficient, keeps the heat in the cold where we want them. But it also keeps everything else inside. So the reason we get sicker when school starts and once it gets cold is because we come inside and shut the door. Breathe on each other. So open the air and flush it out. Stop spraying things into the air or burning candles or plugging in air fresheners that are putting things in the air because it's not just a pleasant smell. It's a substance. It's going inside you.
Lisa Beres 28:50
Right. I mean, those are chemicals. And those are dangerous chemicals. And especially with synthetic fragrances. We're talking about balades and these hormone disrupting chemicals that you don't think, Oh, well, it's just in the air. How can it be affecting me but like you said, you're breathing it in your skin is your largest organ, so you're absorbing things you're inhaling. And so I would agree I think indoor air is very overlooked because it is invisible. Could you imagine if we could see all the things floating in the air?
Lisa Bronner 29:18
I don't think we'd enjoy that at all. But for more practical stuff, I do think making an all purpose spray out of soap and water is the simplest and easiest first step to take. You can then go or make glass cleaner. We're talking vinegar and water. It's so simple. It's just as effective as anything you can buy. It's a good first step. I would say conventional glass cleaner is probably not the worst of conventional products. But if you need a toehold into making your own cleaner, it's a great one to start with. I always encourage people I mean my three, get rid of them now, Products are of course drain cleaner, oven cleaner and toilet bowl cleaner. The reason is partially because of the thickness of their substance they are meant to be durable, they're meant to cling. And they're meant to eat through things. It's the biggest hazard for accidents. Because like, if you read the hazard statements on those, it's causes irreversible skin damage. Fatal if swallowed.
Lisa Beres 30:14
Some of them blindness. Yeah. And speaking of let's talk about that. So there's the warning, the caution and the danger, the three flag words that are you, as a manufacturer are required to have one of those?
Lisa Bronner 30:27
A lot of you don't have a product that merits it.
Lisa Beres 30:30
Okay, so you don't have to have caution on totally non tech. Okay. So guys, so listeners, if you see, obviously caution is the lowest I believe, and then warning, and then if you see danger, one, it is dangerous danger to you. That's why it says danger. These are products we shouldn't be having in our home or on children around yourself. Even your cleaner. If you have professional cleaners that clean your home, think about them being exposed to those chemicals to and it affects our wildlife, like you were talking about this stuff's going down the drain the toilet cleaner, it's going into our waterways. It's affecting all of that it all comes full circle.
Lisa Bronner 31:06
Yeah, that's right. And I've been in California, we do have the cleaning product Disclosure Act where ingredients are supposed to be listed on product if they're sold in the state of California. Hopefully that will go countrywide. But it hasn't. Yeah. But I mean, up until then, there was no mandatory listing of cleaning product ingredients anywhere in the United States, New York tried one and then it got struck down in court. And so the only thing we had to go by it was what you're talking about the hazard statements, the caution, the warning, if that's on there, that's telling you there's something in there that that's a problem. One of the most motivating studies to me when I read this was the one it was a 30 year study on cleaners, people who clean and the products they use and the impact it has and the results of the study. The conclusion of it was that people who clean regularly whether for their profession, as professional house cleaners, as nurses, or as the main cleaner in their home, are 40% more likely to develop COPD or chronic obstructive pulmonary disease than other people. Oh, well. I mean, I'm the primary cleaner in my house I was made. I don't want to develop COPD, and it was specifically tied to the use of bleach.
Lisa Beres 32:13
Right, because bleach is a respiratory irritant.
Lisa Bronner 32:16
Absolutely.
Lisa Beres 32:17
Yeah, it makes things wider. But guess what, sort of a lot of other non toxic things,
Lisa Bronner 32:20
Right? Yeah, it does what it says it will do. Back to the side effects is what we're looking at here. And there are other things that will clean your surfaces that don't have that risk. And they have the benefit, but without the risk.
Lisa Beres 32:31
Right. So it sounds like someone who's got a toxic compilation under their sink, who's saying I want to go clean and green could start with a bottle of Dr. Bronner's castile soap. And from that, you can use it for multiple things, even your laundry, you're also cleaner, and then get started there. And that's a very small investment. And then like you said, little by little switch over unless you're in an eminent need with healthcare.
Lisa Bronner 32:55
Right? You get used to one thing, great, adopt the new habit, and then keep going. Take the next step. And eventually you've taken quite a few steps and you're well on your way.
Lisa Beres 33:04
Yeah, I couldn't agree with you more, don't be overwhelmed and then not do anything. That's the worst thing you can do. One last thing I wanted to ask because you guys use natural 100% essential oils to scent your products. And this is an area that people get very tripped up on because right they'll see lavender, scented with lavender scented with whatever, give our listeners a little insight into how can they decipher whether it's a synthetic or a natural?
Lisa Bronner 33:31
Right this is a great question because essential oil is not a regulated term, which means not even saying the word essential oil on a label of can verify that it is what you hope it is, which is like the extraction of a plant in its purest form. So that takes us back to certification. So organic certification will be one that would address ingredient integrity there regenerative organic wood as well. So the issue is essential oils have come into their own people are much more aware of them. They do need to know that essential oils are potent, they aren't powerful, they're not something we should immerse ourselves in. They're not even those should be breathed constantly, because they're potent. So but essential oils don't have the downsides or the same downsides as the synthetic when you see the word fragrance that is not an ingredient that is a category you can have any of 3000 ingredients and the word fragrance and eventually phthalates are which are something that makes fragrance very durable. A durability is not good for our health it means they don't break down so you breathe them in. They stay put in the compounds her body just kind of shoves them bio accumulates them and eventually just gets overwhelmed by them. So looking for no fragrance, that word by itself fragrance. If I see that and I really want to buy the product. I go do my research. I find out what that fragrance is. If they don't disclose it red flag right there. If they're claiming essential oils, let me see some certification that they are actually essential oils that I have a valid claim there with essential oils something we want to put them on our skin all the time because they are powerful but having them in a wash off products or just in in something that you use. I'm not a fan of diffusers because again I don't like putting things in our air. Fresh air is the smell of nothing is really what we should be going for right there. So yeah fragrance and preservatives and the two categories that you actually find the most hazards in for personal care products for house cleaners, got bleach, and other things in there. So that's a little different. But fragrance is something and it's not the functional ingredient and fragrance is not what's doing the cleaning or.
Lisa Beres 35:38
Yeah, exactly. And I see this Latin candles where they'll say made with essential oils and as I tell our readers to Hey guys, that could be all synthetic and a drop of essential oil. And that's made with so people get really bamboozled by that with candles and you can kind of tell I mean, at least I can when you pick up a synthetic fragrant candle. It's got a completely different smell right? It doesn't have real smell. Yeah.
Lisa Bronner 36:01
Synthetic lavender is both nothing like essential oil lavender like our lavender castile soap. It's like almost spicy. And people see the lavender like oh, that's so floral. I'm like, You need to smell this. It's like spicy. It was my uncle Ralph's favorite sentence like my entrepreneur is older son because of it. So.
Lisa Beres 36:19
Really, yeah, go to a lavender farm one day. It's like joyful to go into a little gift store if they have one. And you're like, Ah, I love this smell. Like you said, we're getting bamboozled by fake smells. We don't even know what the real thing supposed to smell like.
Lisa Bronner 36:31
Absolutely. Yeah.
Lisa Beres 36:33
Well, this was amazing. Is there anything else that you want to leave our listeners with? Before we wrap?
Lisa Bronner 36:38
Oh, my goodness, well, I just my main message to people is just dial it back into your products or putting on yourself, dial it back in the products you're using. Keep it simple. And then of course, dial it back in your routines. Make sure you have some whitespace in your day. So unplanned of take your head up out of the rat or out of the crowd and look around and make sure you're taking it in. So.
Lisa Beres 37:01
That's good advice. Yeah, get out with nature. Connect with nature. Yeah, we're gonna get back to that ground yourself and what you guys are doing it's it's honoring nature, your products, honor nature honors animals, and it honors the human body. And really all of our products should do that. We've had to undo a lot in this.
Lisa Bronner 37:18
It's also all sointerconnected. There's no single decision we make that doesn't have ramifications. And as a business, you know, we see that globally, but even in our own homes, and also the difference that we can each make in our own home. So for all making differences in our own homes on not using single use plastics or single use anything and taking things down and making it more simple will have a big impact across the world.
Lisa Beres 37:45
Yeah, don't underestimate if you think you're too small to make a difference. You've never been in bed with a mosquito.
Lisa Bronner 37:50
That's so very good point.
Lisa Beres 37:54
Take that, guys. Lisa, thank you so much for being with us today. Guys. You can learn more about Dr. Bronner's line of non toxic products at Drbronner.com. Or be sure to pick up a copy of Lisa's new book, A Practical Guide to Minding Your Home, Your Body and Your Spirit with Dr. Bronner's Magic Soaps Soap & Soul. And learn more at Going Green with Lisa Bronner at LisaBronner. And that's lisabronner.com.
Ron Beres 38:28
Thanks for being with us today. Friends. We'll have all the links in the show notes at Ronandlisa.com/podcast. Join us in two weeks for another episode, and get ready to uplevel your health by thanks so much.
Narrator 38:43
This episode of the Healthy Home hacks podcast has ended. But be sure to subscribe for more healthy living strategies and tactics to help you create the healthy home you always dreamed of. And don't forget to rate and review so we can continue to bring you the best content. See you on the next episode.
Transcribed by https://otter.ai
Sign up to receive email updates
Enter your name and email address below and I'll send you periodic updates about the podcast.
Disclaimer: *This post contains affiliate links for your shopping convenience. You still pay the same price but we might earn a small commission. Thank you for supporting the brands we love and trust.