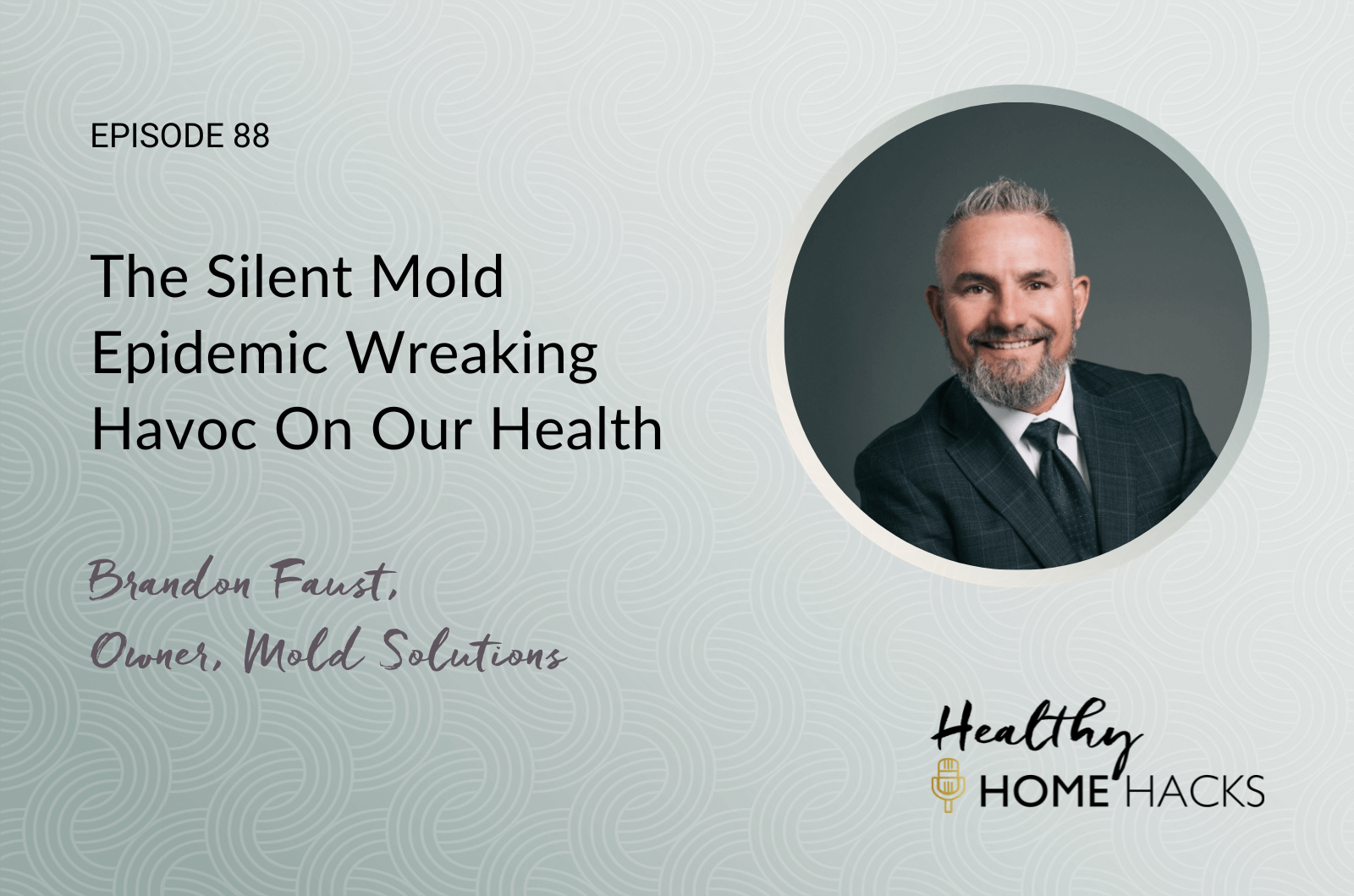 One of the questions we get asked most often is 'I think my home has mold. What should I do?' Today, we're diving deep into how mold growth Is linked to disease, chronic health problems, and even death.
Our guest, Brandon Faust, is the owner and founder of Mold Solutions, an industry-leading Indoor Air Quality company specializing in top-tier remediation, atomized sanitization, and duct cleaning services. Brandon's dedication stems from witnessing his family's struggle with unexplained chronic illnesses.
KEY TAKEAWAYS
The most common health risks associated with mold exposure.
The specific age groups and individuals with certain health conditions that are more susceptible to mold-related health issues.
How to identify potential mold issues in your surroundings.
When it's time to seek professional assistance.
The red flags or indicators that suggest a mold problem may be present, even if it's not immediately visible.
The difference between wet molds and dry molds.
The different types of molds and mycotoxins.
Why it's essential to hire a professional for mold remediation.
Common misconceptions about mold remediation and its effects on health.
Some preventative maintenance tips to stop mold from growing in a home, especially for those living in areas with high humidity levels.
Tips to create a mold-resistant home or work environment to ensure long-term health and well-being.
Listen to all episodes of Healthy Home Hacks on your favorite podcast app
Rate, Review, & Subscribe on Apple Podcasts
"I love Ron & Lisa and Healthy Home Hacks." <– If that sounds like you, please consider rating and reviewing our new show! This helps us support more people — just like you — to regain their health, protect their loved ones, and enjoy more energy. Click here, scroll to the bottom, tap to rate with five stars, and select "Write a Review." Then be sure to let us know what you loved most about this episode or the entire show.
Also, if you haven't done so already, subscribe to the podcast. Subscribe now!
Shop our Healthy Home Hacks Store
Visit the Healthy Home Hacks store to shop everything from notebooks and tees to hoodies, mugs & more! Your purchases help our show continue to thrive and reach more healthy living enthusiasts.
Episode Links:
Narrator 0:04
How would you like to improve your health and keep your family safe? You're listening to the Healthy Home Hacks podcast where we firmly believe in joining optimal health shouldn't be a luxury. Healthy Home authorities and husband and wife team Ron and Lisa will help you create a home environment that will level up your health. It's time to hear from the experts. Listen in on honest conversations and gain the best tips and advice. If you're ready to dive in and improve your well being and increase your energy, you're in the right place. All right, here are your hosts, baubiologists, authors, media darlings, vicarious vegans and avocado aficionados, Ron and Lisa Beres.
Ron Beres 0:49
Question, do you feel sick, depressed or unhealthy? Maybe you're suffering from chronic health problems or just annoying symptoms that just won't go away? From headaches and brain fog to joint pain and worse. There's nothing more daunting than feeling sick. But not knowing why. Hang with us because today's guest has become a beacon of hope for countless individuals in search of answers.
Lisa Beres 1:17
One of the questions we get asked the most in over our 15 years in the business of creating healthy homes is I think my home has mold. What should I do? Well, today we're diving deep into how mold growth is linked to disease, chronic health problems and even death. It can be scary, overwhelming and in many cases very costly, especially if you don't know the right steps to take who to trust what visible signs to look for or symptoms you may be experiencing from mold exposure. Hunt down that bottle of bleach and hang on to your rubber gloves. Because if you can relate to any of what we just said, you don't want to miss today's show.
Ron Beres 2:00
We have a very special gift for our fabulous listeners. Stay tuned till the end because our guest is going to gift you with a free ebook 15 tips to prevent mold in your home. Our special guest today is Brandon Faust. Brandon is the owner and founder of Mold Solutions an industry leading indoor air quality company specializing in top tier remediation, atomized sanitisation and duct cleaning services.
Lisa Beres 2:29
Driven by his commitment to health and healing. Brandon's dedication stems from his own family's struggle with unexplained chronic illness with a heartfelt mission to address these widespread health concerns. In just 1.5 years, Brandon has propelled mold solutions from a dynamic startup to a thriving enterprise boasting a highly skilled team of 15 staff members. Brandon's accomplishments and unwavering commitment have garnered major recognition and 2021. He was honored with the prestigious Inc 5000 award and propelled the company to an impressive number 377 ranking on the coveted Inc 5000 list.
Ron Beres 3:12
Very impressive. And we're thrilled to have him here with us today. Brandon, welcome to the show.
Brandon Faust 3:20
Thank you very much for having me. I'm very excited for this. This was great to talk to your audience and the exactly the type of people that I want to be talking to about the problems that we solve.
Ron Beres 3:30
Brandon they want to be listening to you too. So there's a mutual symbiotic relationship here today.
Lisa Beres 3:34
Yeah, we are so happy to have you with us. As I said, this is always a hot topic. And we've done many podcasts on mold, but none with a mold remediator actually. So you're the first and this will be a new, interesting, really unique perspective. Just to start off the show. Can you briefly tell us how you got started in the mold industry? Because I know that wasn't your background? I'm assuming.
Brandon Faust 4:01
It definitely wasn't. I mean, my dad had a construction company on the West Coast when I was a teenager, and I had done some jobs that definitely dealt with, you know, mold. But at that point in time, it was sort of the general perception of mold, like it's not a big deal. Just kind of like, get it out and move on, you know. And when I moved to Tampa, a buddy of mine had approached me on helping him with a mold business. So initially, I actually turned him down because I wasn't interested similar to when my wife said, Hey, we should get a Mold Test for the home. I was like, I'm not interested. Why would we? You know,
Lisa Beres 4:37
Oh, I think a lot of people listening can relate to that one.
Brandon Faust 4:40
Oh, yeah. It was one of those things. A woman's intuition I learned is actually something you really do need to listen to.
Lisa Beres 4:45
Turn the volume up, please turn your volume up, Brandon.
Ron Beres 4:53
I didn't hear anything Brandon said. Right.
Lisa Beres 4:56
Was that very, very true. We've interviewed so many Be experts and whether it's you know, organic mattresses, water purification, air purification systems, you name it. Doctors, they all say that they say like, you know, always trust your gut. Trust your gut when you're taking your kids to the doctor or hospital trust you gut with your own health and of course, women we do kind of have this superpower we I think we all do. But women, maybe we rely on it more, especially mothers and really just mother someday mothers, right? Yeah. If you get that feeling, there's a reason. Right?
Brandon Faust 5:32
100%. So that was really what happened. I moved in to Tampa, a buddy approached me, I turned him down. And then he said, Look, there's equity involved, if you want to do this, and I said, Okay, well, I'm a little bit more interested at this point in time. And not you know, a few months into it. My son who was a month old, was getting sick, he was like, gasping for air, almost like sounding like Darth Vader, you know, morning, just like, you know, like an asthma attack. So my wife was ready to take him to an emergency room. And I said, Okay, let's just put it on hold for one second, I'm gonna apply all this training that I just got in make sure that we don't have a situation in our own home. And my mom had just come to visit because of the baby. She was using the shower. And there was a pinhole leak in the wall. Oh, you know where that shower was located. And it was basically that water was wicking up a shelving system that we had just bought. And it was in the same room where our air handler was located. And I moved the shelving system, and it was two foot by two foot of mold. And that mold Aspergillus, Penicillium, it was like this green, white mold, you know, colonize right there being distributed all throughout the house. So at that time, you know, we fixed the leak, cleared out the contaminated material. And then we ended up doing the whole home sanitization method. And the next day, my son slept an hour longer, and he had no trouble breathing whatsoever. And that was my first like, oh, wow, this is actually really important. This is not a small deal.
Lisa Beres 7:03
And you had just been in the midst of training for this. That's so synchronistic. Right. I mean, what are the chances maybe..
Ron Beres 7:10
Divine timing?
Brandon Faust 7:11
Yeah, very serendipitous. Yeah, right. And 100%, there was something that was occurring there, because it really put me on a path at that point where the business became a mission. It became something that I was very passionate about, but it took a whole nother level. You know, when it happens to your kid, that's, you know, a huge thing already. But then I ended up getting sick as well in 2019. And I thought it was from mold. But, you know, the air samples were telling me otherwise I couldn't see anything. You know, I checked a few spots in my master bedroom, it seemed all good. And then six months later, my AC overflowed. And I was removing the kitchen, the continuous flooring in my home. I get to the master Papa baseboard and there was a toxic mold called Chaetomium, behind the baseboard. And then I started removing drywall and it literally was in three fourths of the master bedroom. And for me, I was overloaded. I've even done a mycotoxin test. And I knew I was impacted by mold, but I thought it was from other people's moldy homes. And sure, I was
Ron Beres 8:17
I wonder if you thought that yeah, like because you do service so many homes? You thought it was? Yeah. Interesting. Wow.
Lisa Beres 8:23
Like the hairdresser with the bad hair, Brandon.
Brandon Faust 8:25
Yeah, the toddler with no shoes right? It ended up happening is a very pivotal moment for me, because prior to that, the company that I was with, at that time, they were taken to the Inc 5000 list, right? Number 377. We were doing demolition, free mold remediation. And we thought that this was kind of the way of the future for mold remediation. And I was schooled in a way that I would never forget that. Yes, you can lower the air spores and you can lower the counts. But it unless you actually get the source unless you actually find the root cause and remove that. You're still going to be sick because it's not just the spores. It's the mycotoxins. Myco is a Greek word for fungus. Right? That's what actually causes a health issue.
Lisa Beres 9:16
You're the first person who's ever said that I did not know that. Myco is fungus. Okay, I'm always gonna remember that now. Fungus toxins. And so in your old company, they wouldn't have gone and removed the source then is what you're saying. So rarely wasn't efficient.
Brandon Faust 9:32
100% Yeah. So look, there's an aspect. There's a time and a place for everything. And there's certain points where that might be a good solution. But it isn't a complete solution. And unfortunately, sometimes the marketing that you get, it may not be 100% What is actually correct.
Lisa Beres 9:48
So right, that sounded trendy.
Brandon Faust 9:51
I took a hard pivot.
Lisa Beres 9:53
Right. Okay, that's a really interesting.
It sounded good. Sounded great.
Brandon Faust 9:57
And you know, it wasn't one of those things they I didn't particularly know better, you know, I was new to the industry, you know, relatively. And you know, at that moment I told my partner's look, I'm not I'm out if we continue to, you know, tout this as the end all be all, because for me, I'm not going to be able to push something that I know is not the complete solution. So we did a hard pivot at that point. And we started doing the traditional remediation where you actually remove the contaminated material. And then the whole home standardization is like a final step.
Lisa Beres 10:32
Right, going back to why didn't the mold tests pick up that mold? That particular mold? Did you do an airborne surface? And it was it because you weren't actually near the mold? The source? Why didn't those tests detect it?
Brandon Faust 10:46
Well, I think that that's a fantastic question. And it's a really important question to be asked, because truthfully, the air sampling is about 70% inaccurate. So the only place that that's an acceptable range is like as if you're a baseball hitter, you know, like, if you're batting 300, right? Then okay, but anything else you're failing, you know, so that's the sampling is basically taking a snapshot in time, where whatever is in that, you know, cubic footage for a specific amount of time. So mold may or may not be spoiling and additionally, if you think about it, it is a spore trap. It does not test for mycotoxins, but if you go to a doctor for mold toxicity, what are they testing you for? They're testing you for mycotoxins. So one of the most important datums to understand is it a mold spore, you can fit 10 mold spores on the tip of a hair. So the tip of the hair is 70 microns, a mold spores about seven microns. The actual substance that it releases is point one micron, the mycotoxin.
Lisa Beres 11:54
I'm guessing I have a fire only. Yeah, the HEPA air purifier would absorb mycotoxins then because that goes down to point three and certain was like hyper hypo 2.003. Okay, so there you go guys. Make sure you have an air purifier.
Brandon Faust 12:15
For sure. Yeah. Yeah, that's uncertain purifiers are fantastic. Yeah.
Lisa Beres 12:19
Yeah, we have a whole store. And we actually have a list that we give members of our online program, a list of our top 10 Air Purifiers, depending on their budget. Yeah. Excellent. That's another question we get all the time. Which Air Purifiers?
Ron Beres 12:34
Yeah, Brandon, what are the most common health risks associated with mold exposure
Brandon Faust 12:37
from the feedback that I get? And obviously my specialty is making the home healthy and as safe as possible, right. The body itself is a bit above my paygrade. But from the people that I talk to headaches, joint aches, respiratory issues, coughing, itchy eyes, rashes, brain fog, or depression, difficulty sleeping, which can lead to another set of factors if you're not sleeping. Well. You know, the crankiness that sets in the attention to detail all of that stuff. So the unfortunate part is it when you're taking in, and the best way to put it is a mold spore, or even the mycotoxin is a foreign invader that enters your body. So just like when you get stung by a bee or bit by a mosquito, right, you're gonna have swelling, there's inflammation that occurs. So when that body starts, you know, producing histamines at a rapid level to fight back this foreign invader, you wind up with swelling, inflammation and disease and some of the problems that the mold spores or mycotoxins in particular can cause are a bit more intense like Alzheimer's, Parkinson's, and even some of them can be carcinogenic. So it's not something to underestimate or you want to respect the mold.
Lisa Beres 13:46
You got to respect the mold.
Ron Beres 13:47
Is that what you experienced when you got sick, Brandon?
Brandon Faust 13:50
So my particular case was an interesting one because I was having a pain in my chest that would not go away. Like I literally felt like something was out of place. And I kept trying to move and it was just this pain. I went to one doctor, he said I needed an EKG. Another doctor said I had an autoimmune disease and other doctors had I had Lyme disease. Ah, I was searching. So I did the mycotoxin test from Mosaic, the mycotoxin profile, and it showed that I was off the charts, but it really was I thought I was from going into, they probably had something to do
Lisa Beres 14:22
What's that mycotoxins?
Brandon Faust 14:25
Mycotoxins profile from Mosaic
Lisa Beres 14:27
Mosaic? Okay. And that's, you do that from home? So seeing your body?
Brandon Faust 14:32
It's a basic urine sample.
Lisa Beres 14:33
Okay. Yes. And what's the price point? Do you know?
Brandon Faust 14:37
Yeah, so I'm actually going to do another one. Everybody did that. Yeah. Sunday, send it in Monday. 100%. So I'm going to be doing one but it's about 300. So obviously, depending on your practitioner and what their costs but you can also there's other testing that goes along with it. But this is a, you know, a clinic that really understands mycotoxins and what it can be connected to, and really related to So, I have a good friend of mine, Laurie Frankel, who actually works for Mosaic. She's the Reverend in this area, and we do a lot of talk on this particular point in regards to the impact of mycotoxins on the body.
Lisa Beres 15:15
Right, because a lot of people, and I'm sure a lot of you listening, have had mold, or maybe even suspect you have mold right now. Then you go through the process, whatever that may be for you get, you know, removing the mold or medium the mold, testing for mold and then move on and never test your body and may have caused some serious damage without knowing it. And like you said, those kinds of symptoms can get so misdiagnosed because they fall under an umbrella of like a gazillion different things, right? Especially like when we're talking about those allergenic type responses like wheezing and watery eyes and all of that and headache or who doesn't have headache? Well, I actually don't get headaches, but most people get headaches, so they wouldn't even associate that with mold. They might just think, oh, that's them and they get a headache. Right. And then for the mycotoxins, it really is important. Yeah. So not all mold produces mycotoxins. Right?
Brandon Faust 16:08
I think there's a lot more research to be done in this arena, I really believe that our industry is, you know, really at the beginning stages when you think about it. So, for example, the mold cladosporium has been labeled an allergenic mold, but the more research you do into it, you actually find out no, this also releases a toxic substance and mycotoxin as well. So, you know, I think that we're going to find out that there's a lot more to mold and mycotoxins as the research progresses. And as more and more people realize that this is something that causes a host of illnesses and diseases in non optimum physical conditions. You know, it is just like anything else, like we're talking about something that's microscopic, it's still here, right? It's still alive. So that means that it's had to be able to defend itself, from predators or from the environment long enough.
Yeah, it wants to live just like a parasite or the micro toxin, just like anything that is on that sub, you know, on that ultra fine part, particularly at level, it has defense mechanism built into it. And that is why like attacking mold, and the way that a lot of people handle it, like you talked about with bleach, let's hit it with bleach, well, what are you actually doing? You're putting that colonize mold into defense mode, and also hyper replication mode. So it's going to want to shoot off more spores and it's going to want to shoot off more mycotoxins. So it's like taking a baseball bat to a beehive. You've just made that problem. significantly worse.
Lisa Beres 17:44
Yeah, that's a I mean, this is a big area right here, bleach because that's what most people think, is the way they're supposed to handle mold themselves at home. I don't know how that ever even happened because even the EPA doesn't recommend that. So. So when you when you put bleach on the mold, you're saying it kind of goes into defense mode, and so it makes the matter worse, even though visually maybe you think you got it all. You don't know what's airborne with these mycotoxins, right?
Brandon Faust 18:11
Exactly right? You've you've aerosolized it and you've potentially taken the color out of it.
Lisa Beres 18:19
Right, right. Okay,
Brandon Faust 18:22
But now and now you've spread it is, well, you spread it,
Lisa Beres 18:24
And which test is best for detecting the mycotoxins in the air? Would that be the air sample? Not obviously not the surface sample.
Brandon Faust 18:32
So the best test is, believe it or not, it is actually the surface sample. Okay, picks up the title. Okay. There's really only a few tasks that pick up mycotoxins. One is the dust test. There's some other army a number of different the army, the army that hurts me the Emma. Right. So these various tests, you know, we're not necessarily designed specifically for kind of the purpose that they're being used for right now. There's another one called the dust test, I think the dusttest.com, you know, has it where it can pick up some of the, you know, the readings on on mold. There's also a company called Spiro tech that has a product called Air answers, and that it's born out of, you know, detecting airborne pathogens, and that whole thing that took place in 2020, right, so they were picking up airborne viruses, etc, etc. And one of the things he does to detect his mycotoxin. So, and that's from air enters, it is a longer test and what people are used to it's like a 24 hour test, I believe. So, but when you're dealing with sensitivity, and you're dealing with people that are debilitated from mold exposure, which can happen there's a certain percentage of the population that just does not detox from mold the same way it's about 25% of the population and about 2% They are extremely impacted by mold and not Come out completely they can Oh, really?
Lisa Beres 20:01
Is that because of the gene? Is that the MTHFR? Yeah. Okay. Yes, that's MTHFR. I think I said that right.
Brandon Faust 20:09
The gene mutation.
Lisa Beres 20:10
Yeah. Okay. Very good. So yeah, so it knows people, their body just won't naturally detox as effectively there, they can detox eventually correct. It's just not going to be as easy as long as the process. Okay. So if you're listening, and you're dealing with that, of course, you get that test. Yeah, find out if you have that gene, you can get that test at any doctor, I believe, right? That's just a blood test. Find out if you have that gene. And it's really a good thing to know anyway, because you know, we're exposed to toxins every day, and air and water, personal care, cleaning products, bedding, you name it. And so then if you have mold on top of it, and your body isn't good at detoxing, you're going to be in a real doozy situation. So it's really, really good to know that.
Ron Beres 20:53
Yeah, Brandon, you lose alluded to this earlier. But a little side note here, you said mold can sometimes be hidden from plain sight, taking the challenge to detect what are some of the red flags or indicators that might suggest a mold problem is present, even if not immediately visible.
Brandon Faust 21:10
The most important thing when you're dealing with mold is the understanding that mold is doesn't exist without water, that you have to have moisture for mold to exist. So the history of a home and the you know, different water intrusion issues that can take place is your first and foremost indicator, where was their elite? Where was water coming in the home, and then knowing that, but it's also important to know that water can come in different forms, whether it's solid in terms of ice, liquid, as most people know it or a vapor. And especially when you're in a humid climate, like you're in Florida, the amount of mold problems that we're experiencing due to humidity alone is astronomical. I mean, mold can start growing at 60% relative humidity, and we're at like 69% or higher year round. So it's
Lisa Beres 22:02
Florida's the mold capital.
Brandon Faust 22:03
We are not just the lightning capital of the world. We are the mold capital.
Lisa Beres 22:06
That some bragging alligator capital. We have our little claim to fame here. We got the earthquakes in California.
Ron Beres 22:14
We have family there, Brandon, so we can make fun. That's right. Yeah.
Lisa Beres 22:17
It's all good. So yeah, yeah. And we know, mold is everywhere. It's outside.
Brandon Faust 22:22
Oh, yeah. I mean, look, what you're the point you're making mold is everywhere. But sometimes that can be used as almost like, it's no big deal. Mold is everywhere. Of course, your home has mold. And that's true. But there's, you know, elevated levels, there's highly elevated levels. And there's numbers that are acceptable for the broad public, but you also have to keep in mind that the most important test, it is the person tested is the people test because for those guys that are sensitive, you know, what may be acceptable for some is really high for them. Right? You know, so to have somebody label it like, oh, that's an acceptable level, know, how does that person do in that environment?
Lisa Beres 22:58
Right, even if it's a safe lap rate, if it's a safe level, so to speak, but you're having symptoms? Yeah, you've got a problem. Okay, so what can listeners do to identify potential mold problems in their workplace or their school or their home? And how do they know when to seek professional help or handle it themselves?
Brandon Faust 23:16
The most important thing is really knowing what to look for and where to look. Okay, you know, and mold. It has different patterns. You know, most people know black mold, which is stachybotrys, and that looks like almost like this black, oily, velvety type substance, when it's kind of wet. And when it's dry, it's almost like the black chalk. And then there's another mode called chaetomium. When the first time I ever saw chaetomium, I literally thought it was dirt specks, like little mud specks. And it turns out that it looks like that, and then it starts growing, and then you can see the fuzziness to it, but there's orange molds, there's purple molds, green, white, brown, black, you know, it is a variety of different molds, but understanding like, it starts out as like a little dot and then it starts spreading a film and it starts spreading its roots, and then it can go fuzzy. So the most important thing, I believe, is having somebody who is an experienced detective in regards to where are the places that have frequence the Hvac system is a huge place that mold frequents the mold called cloud of spores. And it's like, it loves the cold climate of the Hvac and it thrives in cold, wet, wet areas like the you know, air handler can actually create. So it's just knowing where to look. But it's going to be water spots, always Where is the water source? Where is that water coming in?
Lisa Beres 24:38
Right there you see a ring of water on this drywall, even if you don't see mold, because you're not always going to see the mold but the water you're probably always gonna see the water leak. Of course in your case it was behind a shelf and that can happen to right where you don't see anything. I mean, in your case, you didn't see the water leak or the mold. You were a little invisible.
Brandon Faust 24:59
I did see Yeah, yeah. Well, I was lucky, right that again, divine intervention, let let me know. Like, yeah, okay, you're, you're sick. You know, my AC overflowed and I thought I was out of luck. But in actual fact, it was a blessing. Yeah, because sometimes you don't see it. But right. There's an example that I had today, where, you know, I had a client that was referred to me from a clinic here in Clearwater that treats mold toxicity. And they said, Look, you have mold, and they're like, No, we don't have any mold. But the doctor is saying that we have mold, but we don't see anything in the house at all. So I went in and started investigating and saw the below their AC, there was some watermarks, and then look further, and there's just little tiny bit of kind of darkness, right, and you can see some water damage. And then the baseboard is kind of coming, it's popping a little bit, it's swelling a little bit. So then I get behind that wall, and it was an unfinished wall. And sure enough, it black mold all up the wall. Once I put the flashlight on it. And the thing that was above it was the air handlers. So what's the air handler doing? Taking that toxic black mold? And then blowing it throughout?
Lisa Beres 26:12
Yeah. Oh, I see what you're saying. Yeah, near the AC unit, you're gonna distribute it? Whoa, yeah. Okay, so listeners want to know, okay, well, when do I handle this myself, order test or bring in a professional? What, what's your rule of thumb for that?
Brandon Faust 26:28
I mean, look, if you're going to classify as like mildew, and it's a little, little bit of, you know, stuff, like in your shower on your shower curtain, then you might go, okay, not a not a big deal.
Lisa Beres 26:40
You're gonna waste a lot of money.
Brandon Faust 26:41
But here's the thing. If I see that, and I'm doing a free environmental consultation, the first place that I'm going to is the air handler. And, you know, I also have a company called Real duct cleaning, where we do the duct cleaning duct sanitisation, in the brushing and all that type of stuff. Because it was so prevalent, I had to start being able to address the air handler as well. And in Florida, if you're an old guy, you can't touch the air handler. And if you're an AC guy, you can't say you can't say the word mold. You can't say that you do anything with mold. So there's this total disconnect.
Lisa Beres 27:14
Oh, interesting. You have? I know, we're digressing here. But because there was some bad raps about air duct cleaning, right. And I don't know why, I guess. What was the concept of why that got such a bad rap? And who should do it? And what what year of their home? Should they do it? Should they should it be routine every so many years? How do you feel about that?
Brandon Faust 27:33
Well, I think that the reason that duct cleaning got a bad rap is because it wasn't being done correctly, just like anything else. So the problem is, if you have mold in your ducts, and you start brushing it, what did you just done, you've agitated it, and now you've put it into hyper replication mode, you've put it into defense mode, and you've spread it. So you can say even if you're doing it under negative air with a high powered vacuum, that you're getting all of it, it's just not true, you're not and on top of that, if it was in your air ducts, it didn't stay there. It ends up getting distributed all throughout the house. So you can then re contaminate your unit. So there's a step that has to be done at the end of it, which to me, is the atomizer sanitisation. Again, one of these things that even in the industry, you know from some of the guys that are more old school would say you know, fogging or dry fogging is not a good thing to do. It's not accepted, you know, things along those lines. Well, I'm here to tell you it works. But you have to do it right. And you have to do it at the right time. Right and it's after you've done the traditional remediation and it's after you've removed the actual source. When you've actually done the micro cleaning the HEPA vacuuming the damp wipe, and now you want to destroy the airborne pathogen. And on top of it, it works as a solvent to help lift mycotoxins so there's a huge time in place for fogging. And it also there's a huge time in place for after you've done duct cleaning. Because you need to handle the airborne spores.
Lisa Beres 29:08
But should you do just as clean just as general maintenance if you don't have a mold problem?
Brandon Faust 29:14
In Florida? Absolutely. Now in some other climates, it might be different because here it's a mold manufacturing plant. It's not a matter of if it's just a matter of when like sooner or later you're going to wind up with mold in your unit because it is in the outdoor environment. You're going to open your doors are gonna open your windows, your dogs are going to come in your kids are going to come in spores are going to get into your home. So when you have that moisture in that hot humid air that crosses those coils, right it starts growing and then the way that it's designed is the the box above the air handler is like an inch of fiberglass duct board and it's porous. So now you have the coils that are really wet in this blower wheel blowing this wet you know air into the ducts and then the spores start collecting In the actual Clinton box, and before you know it, you have a mold manufacturing plant that is just shrinking mycotoxins in mold. Right your house.
Lisa Beres 30:08
Oh, geez. Okay, that's interesting. Yeah.
Brandon Faust 30:11
So I would say, like every two years,
Lisa Beres 30:13
We talked real quick about what versus dry mold, because you talked about stachybotrys, what it looks like wet and then dry. Is it wet when it's closer to the moisture source or what differentiates whether we're gonna see it wet or dry?
Brandon Faust 30:26
Okay, so this is an important thing. And I'm glad you brought it up, right? Because the definition of a wet mold is a mold that will start growing at about 90% moisture content. So it takes a high level of water for it to actually start growing and colonizing. So if I see stachybotrys, or I see chaetomium on an air sample, or you know, from a inspectors report, I know that there's some sort of leak somewhere or there's some sort of water intrusion issue. Now, there's dry molds like Aspergillus, Penicillium that can start growing at 60% relative humidity, that's not very much,
Lisa Beres 31:06
But it still needs a water source or the humidity is the source?
Brandon Faust 31:09
The water source is the humidity. Right? So the big difference between moisture content and relative humidity, okay. So the the moisture content, having that that water inside, and you know, you can have wood decaying fungi that will start growing at 20% moisture content. Wow. But the water molds love that wetness. So you're gonna need some sort of a water intrusion issue. Whereas outside of scoring, you don't need to have 90% moisture, moisture content, you know, it will start growing in your Hvac. You know, the Aspergillus Penicillium 60%. You know, we have in Florida, where come September or October, we're getting calls off the hook from the snowbirds that just came home and their AC went out. And they have a green garden all throughout their, their units and their condos where it's literally on their couches, on their mirrors, stoves on their appliances, everywhere, and it was just because of the relative humidity. Okay, that unit was high enough for long enough the mold started growing.
You go away on your Gosh, Ron a lot of your parents friends do that.
Ron Beres 32:19
Year and half and half the year they're gone or they come fun to come home. All over your house. Yeah, that's a good segue. So Brandon, can you explain the different types of molds and mycotoxins
Brandon Faust 32:30
The ones that I see the most commonly are cladosporium. That's number one because it's in the H fac and it's just here. It's like a 80% of the homes that I go into there is an issue stachybotrys also known as black mold. That's a moisture content mold. It's going to produce a mycotoxin called trichothecene. And there's some others that it produces fusarium it produces a pretty intense mycotoxin Aspergillus isn't a very under estimated mold, it actually is the probably the leading mold in terms of actual deaths. It causes a disease for people called Aspergillus Gnosis where the mold spore gets into the body and it starts growing in the body. Right.
Lisa Beres 33:14
What would be the symptoms of that mold. What would be the symptom of Aspergillus toxicity? Would it be respiratory?
Brandon Faust 33:21
I mean, you have that'd be respiratory issues mainly but you have a growing like if you think about it, what does mold need to grow water, oxygen and nutrients. So the spore gets in the body and it's getting everything that it needs. And it can start growing. So there is obviously fungal infections, you know, so there's Aspergillus, some of them can be good like Penicillium. That's the the antibiotic. Penicillin comes from Penicillium. Right. Right. So, but it is an anti body.
Lisa Beres 33:49
Okay. Wow. Going back to that test for Mosaic, the mycotoxin test that only test for mycotoxin. It wouldn't test for mold in your body, or would it pick up that too?
Brandon Faust 33:58
It should pick up the mycotoxins for sure you know it because
Lisa Beres 34:03
The Aspergillus example, if that wasn't producing a mycotoxin, it might not show up in that test that you might have. If you think you have mold in your body sounds like you need to do multiple tests, right?
Brandon Faust 34:14
Yes. And that would be again above my paygrade. So, I just have done a lot of research on it because of the clientele that I am working with a lot. You know, it is people we are a health centric, you know, Mold Solutions is a health centric mold remediation company. So we do cater to clients that, you know, a lot of restoration companies are not going to do anything with, you know, a lot of times when you call a restoration company, the first question out the gate is what's your claim number where it's not always a matter of there being an insurance claim. And the part that becomes a little bit skewed in this industry is if you're only doing what insurance is going to pay for it, you're gonna miss a lot. So you need to have medical first and foremost
Lisa Beres 34:59
Yeah, Welcome to the dental and medical system. Yeah, same thing. I mean, it's, it's crazy, like alternative treatments aren't, you know, typically covered by insurance but you know, all the all the drugs are you know, and all the really invasive surgeries and things like that, but not not anything like preventative really for the most part, with exception, obviously. But yeah, so that's really a great point. Wow. Okay, so is this true? If you have, I thought it was 10 square feet of mold, that's when you know, you need to bring in the professional remediation company 10 square feet or more. That's pretty big.
Brandon Faust 35:34
Look, think about this, right? So 10 square feet is three foot by three foot. And the way that that number came up was come up with with somebody in New York decided like, well, what would be kind of a serious problem. And he put that there and it became adopted, right? It's kind of magical. Yeah. Because truthfully, if you think about it, if you're seeing colonized mold, you're usually past the point that you want to be because the
Lisa Beres 35:58
If I see three foot by three foot, I wouldn't be like, let me get my marble gloves on, you know, and don't work here.
Brandon Faust 36:03
No, that's like run for the hills, even if it's like a foot of mold. It's like, look, the way that you're going to handle it. And usually, it's the tip of the iceberg. Like I remember one home, where, you know, I saw just a little bit of something in this cabinet, and was like, Okay, let's get that tested. And it came back as stachybotrys. So the protocol was, okay, remove the cabinets. By the time we were done, the kitchen was gone, the bathroom was gone. Right, half of the house was gone, because it was a slow leak that had been undetected for years. So you don't know how far it's gonna go? Until you start opening stuff up. So yes, there is regulation. So in Florida, if it's more than 10 square feet of mold, you're supposed to have a professional do it. But to me, it's more like, what's the cause? What's the source? Is this just because of you know, there's a little bit of wetness in your bathroom, and there's some mold starting to grow. But even then I would dig deeper and find out is there a source for those spores? That isn't just the spores getting, you know, in from outside, but maybe you actually have a nest somewhere or colonization, and you really want to have somebody that knows how to look where to look what to look for, you know, because it's not one test, it is absolute, you have to kind of have you built an indoor air quality profile on a home, and also still use your ability to look so I don't think that you know, mold inspectors are going to be replaced by AI anytime soon. You really need to know guys, right?
Lisa Beres 37:37
Yeah, that's one of the few jobs that is still secure everyone, they'll become a mold inspector.
Ron Beres 37:43
Oh, what are some of the common misconceptions about mold remediation, and its effects on health that you frequently come across? And how would you debunk them, Brandon?
Brandon Faust 37:52
Well, the I don't know if it's common misconception. But a lot of times when mold remediation is done, it can make the problem worse, especially if you're not doing it in a way that is correct. You know, so you could have some general contractors, for example, that just really don't think anything about it, you know, down here in Florida, they'll drink a six pack, go wrestle an alligator, and then they'll come in and bring a sledgehammer to your home and they'll do their thing. And it's like, you've just made the problem, you know, 50 times worse, where what really needs to happen is you need to put up dust wall or containment barrier, put it under a what we call negative air where it's taking that nastiness and blowing it outside and not allowing it to go further into the home. Doing really precise cuts and making sure that you are taking it you know two foot by 18 inches, putting it in a plastic bag and wrapping it gooseneck in it. And make sure ensure that it doesn't spread, doing the micro cleaning the HEPA vacuuming the wipe down. And then after all that is said and done, you treat the structural material, then you sanitize and then I would always sanitize the entire building envelope, including the hvac system and brushing the hvac system to make sure that any of those off gases and toxicity that's floating around your home is properly addressed. And that's really, to me the right way to do it. So is it costly? Yeah, there's a lot of work that goes into it.
Lisa Beres 39:10
And you think the average homeowner, when they're tackling something like that I was actually having this conversation with someone recently. You know, they're not sealing off areas rooms, they're not wearing personal protective equipment. They aren't right they're not running HEPA air purifiers most people so yeah, they might get rid of mold but then they've just exposed themselves and like you said maybe created a bigger problem by not properly doing it. So yeah, you know, kind of hiring professionals you know, especially you know, accredited professionals with great recommendations. You really can't go wrong in this situation because it is really dangerous. You could
Brandon Faust 39:49
do it you could do it yourself but you just have to make sure you do it right.
Lisa Beres 39:53
But most people can't the proper people gonna do that right.
Brandon Faust 39:57
Yeah, Tyvek suit you know, you could but you know could also, there's a lot of things you could do it on your own, you know, you could fix an engine, you know, but it's going
Ron Beres 40:05
I'm not going to do that. I think that would be unwise for me,
Lisa Beres 40:09
The engine or the mold both, let's say. Yeah, that's interesting. So I thought the EPA said you could use hot soapy water for small areas of all Do you agree with that? To remove it yourself?
Brandon Faust 40:23
I do. I think that there's times that the soapy water is actually like Dawn dish soap is a tool that can break into the mold spore, believe it or not, right. But the key thing is like what? Okay, here's a great example. So you have nasty food that's been left out and you have some mold growing on it. Do you need to call in a mold? remediator? Absolutely not. That's something that is going to occur, you put it in the bag, you remove it, you clean up the space, you know, but the question is, is that the only source is that the only thing that is moldy? And that's where you would want to start looking? Is there potentially stuff that is leading to those spores landing on that food, causing a mold problem to exist? So let's say you start and I had a client, who the mold started growing on her food faster, right than usual. So that was her first indicator, clearly to grow faster on the food. Oh, that was her clue. But she'd also been debilitated. She had been doing a lot of disaster recovery work. She'd gone to Turkey and got during that earthquake and got hit with a lot of toxicity. Oh, came home. So her cup was already full rank. She was already fairly toxic. She got home. And she had our she had a situation that she didn't know existed. And you know, she called me because she was just she was absolutely desperate and didn't know where to turn because she was extremely active, doing this disaster recovery type response. And before she knew it, she was knocked out, couldn't get out of bed, lethargic and do it and wake up with you know, cheeks swollen eyes, watery headaches and just knocked out. So we went in, I looked go into the AC system. It's covered up and down with cladosporium. There was a filter that existed in her unit that she didn't know about it was changed for like a year.
Lisa Beres 42:11
Wow. Yeah. Change those filters every year 3 months. Change your filters your Hvac filters. Yeah. Great tip.
Brandon Faust 42:17
So we ended up cleaning up both units in our home and doing a full cleanup with the micro cleaning and the whole home sanitisation in her The difference was dramatic. It literally was night and day. The next day, she said her symptoms that had been horrible for months went from a 10 to a one. And I just talked to her yesterday. And she's backup which now she's in Tallahassee. And before that she was in Maui helping with the fires, right?
Lisa Beres 42:45
Like, yeah, that's amazing. She sounds like an angel. She's like an angel. Shout out to her. Thank you for your work.
Brandon Faust 42:54
Yeah, she's great.
Lisa Beres 42:55
That sounds amazing. No, that's fantastic. Last question to leave our listeners with before we go. What are some preventative measures people can take right now to prevent mold from starting in the first place, especially those that live in high humidity areas?
Brandon Faust 43:12
That is a great question. I'm actually right now today finalizing my book, which is mold free living preventing mold in the humid climate, right. So nice. It goes over all these tips in regards to what you can do to make your home like a dry fortress or mold free haven, right? It's just like, there is no mold in this place. And that all has to do with eliminating moisture source first and foremost. So there's multiple things like obviously proper maintenance on your AC unit UV lights and purifiers for your AC unit. That's key having dehumidifiers in your home when you're not getting it below 60%. If you have a crawlspace in your home, you might consider climatized in it, meaning putting down a vapor barrier sealing off the vents, putting in a fan system and a dehumidifier in that space below your home. You know, there's like so many actions that you can take on a daily basis jumping in front of like if there's a let's say you have a flood or you have a drain issue or there's water that gets into your home, getting professionals to dry it out. You know, if you have storm surge, like we did here in Tampa, really doing the proper actions to remove that water in that mold and not just putting like a you know, a normal kind of home fan and you know, your your dehumidifier that you just bought from Lowe's, you know, in thinking that that's going to handle it. No, when you open up those walls, it's going to be mold. So there's a number of tips. They I would say to make sure that your home stays is mold free as possible. So that's why that it's really important for people, you know, yeah.
Lisa Beres 44:45
Fantastic. Those are great tips. And speaking of tips, if you stayed with us, you get the free gift that we're offering you guys, which is so fantastic. So head over to moldebook.com. and grab a copy of 15 tips to prevent mold in your home. Brandon, thank you so much for being with us today, guys. You can learn more about mold solutions by visiting them online at moldsolutions.com or find them on Facebook, YouTube and Instagram at mold.solutions.
Ron Beres 45:19
These are being with us today friends. We'll have all the links in the show notes at Ronandlisa.com/podcast. Join us in two weeks for another episode and get ready to uplevel your health. Bye.
Lisa Beres 45:32
Bye everyone.
Narrator 45:37
This episode of the Healthy Home hacks podcast has ended. But be sure to subscribe for more healthy living strategies and tactics to help you create the healthy home you always dreamed of. And don't forget to rate and review so we can continue to bring you the best content. See you on the next episode.
Transcribed by https://otter.ai
Sign up to receive email updates
Enter your name and email address below and I'll send you periodic updates about the podcast.
Disclaimer: *This post contains affiliate links for your shopping convenience. You still pay the same price but we might earn a small commission. Thank you for supporting the brands we love and trust.