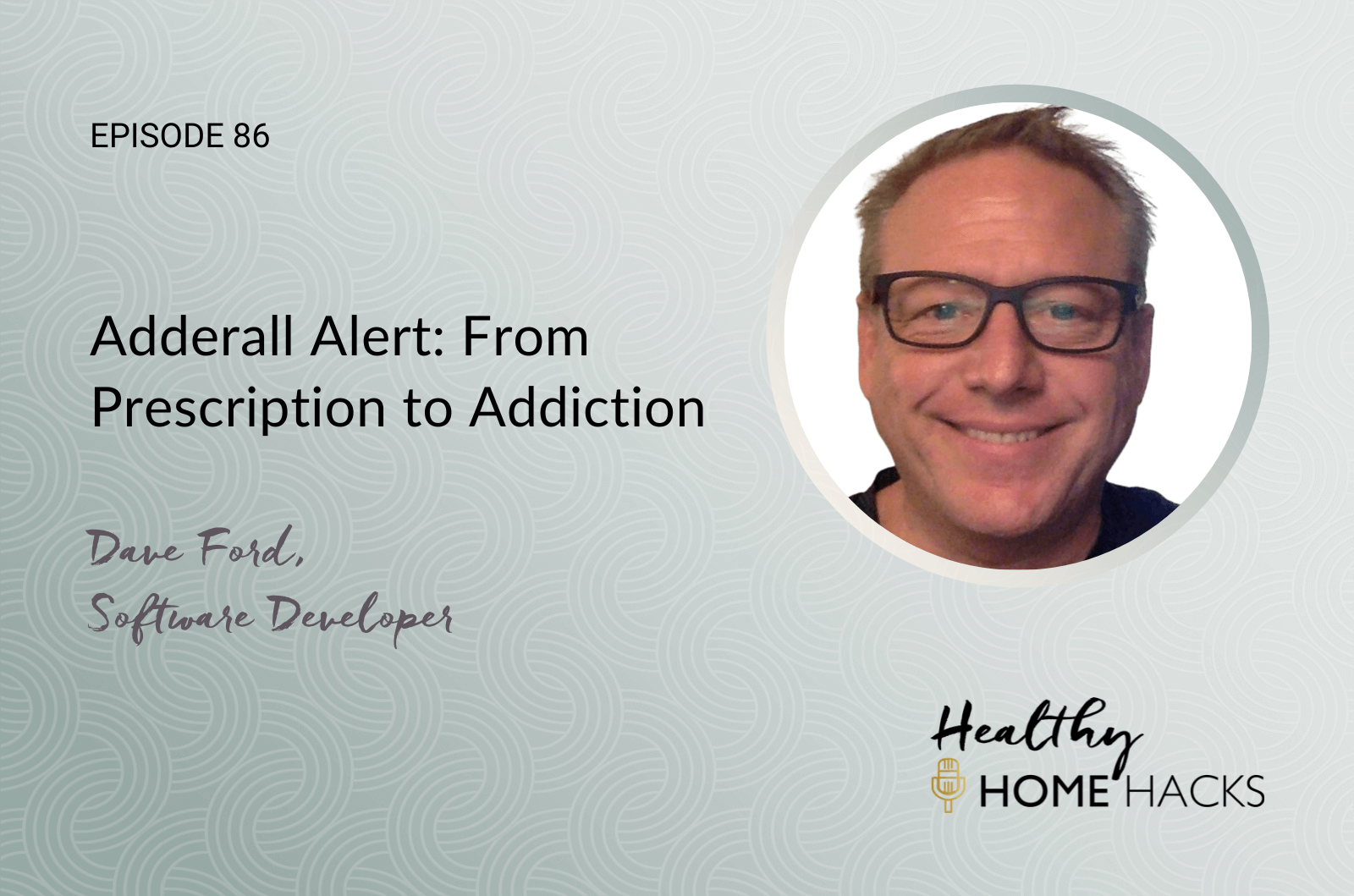 When you think of an addict, one often visualizes a homeless person or someone in a crack house, not a housewife, a wealthy exec, or successful CEO.
Our guest today, software developer and business owner, Dave Ford, had never smoked a cigarette or taken illegal drugs growing up. But when his wife suggested he see a doctor for ADHD (attention-deficit/hyperactivity disorder) doctor, he NEVER suspected that he'd be spending the next 10 years as a raging addict to Adderall. Adderall is a stimulant medication of mixed amphetamine salts that contains two active drugs: amphetamine and dextroamphetamine.
Dave's doctor never mentioned that Adderall has the potential to be addictive and potentially habit-forming. In Dave's case, it was. According to Dave, 'No one ever told me that the really dangerous shit doesn't come from the drug dealer. It comes from your family doctor.'
In March 2023, the U.S. CDC reported an unprecedented spike in stimulant prescriptions between 2020 and 2021; the sharpest increase happening in women between the ages of 20 and 49 during the pandemic.
KEY TAKEAWAYS
Some of the ways the Adderall addiction wrecked Dave's life, relationships, and livelihood.
Dave's message for doctors who prescribe drugs like Phentermine and Adderall.
Signs can parents, spouses, friends, or co-workers can look for to determine if a loved one may be suffering from an Adderall addiction.
What the term Dopesick means.
Dave's rock bottom moment and detoxification experience.
The biggest misconceptions when it comes to prescription pill addiction.
Advice on where someone can begin to seek help and get on the road to recovery.
Free help is available. If high-priced, luxury recovery centers are not an option or you don't have insurance, look for a local 12-step program or reach out to your local church. Mariner's Church offers services at marinerschurch.org/care-recovery/ with locations throughout southern California.
DISCLAIMER: The contents of this site are for informational purposes only. The content is not intended to be a substitute for professional medical advice, diagnosis, or treatment.
Listen to all episodes of Healthy Home Hacks on your favorite podcast app
Rate, Review, & Subscribe on Apple Podcasts
"I love Ron & Lisa and Healthy Home Hacks." <– If that sounds like you, please consider rating and reviewing our new show! This helps us support more people — just like you — to regain their health, protect their loved ones, and enjoy more energy. Click here, scroll to the bottom, tap to rate with five stars, and select "Write a Review." Then be sure to let us know what you loved most about this episode or the entire show.
Also, if you haven't done so already, subscribe to the podcast. Subscribe now!
Shop our Healthy Home Hacks Store
Visit the Healthy Home Hacks store to shop everything from notebooks and tees to hoodies, mugs & more! Your purchases help our show continue to thrive and reach more healthy living enthusiasts.
Episode Links:
Narrator 0:04
How would you like to improve your health and keep your family safe? You're listening to the Healthy Home Hacks podcast where we firmly believe in joining optimal health shouldn't be a luxury. Healthy Home authorities and husband and wife team Ron and Lisa will help you create a home environment that will level up your health. It's time to hear from the experts. Listen in on honest conversations and gain the best tips and advice. If you're ready to dive in and improve your well being and increase your energy, you're in the right place. All right, here are your hosts, baubiologists, authors, media darlings, vicarious vegans and avocado aficionados, Ron and Lisa Beres.
Ron Beres 0:51
Who doesn't love a good, binge worthy streaming session? You know, a few years ago Lisa and I found ourselves glued to the TV when we stumbled across the miniseries called Dopesick. Loved it, you know, based on the book Dopesick dealers, doctors and the drug company that addicted America by Beth Macy, Dopesick traces the origins of the prescription drug crisis and the coal mining town of Appalachia, Virginia. And while it's one of those stories that seems too sensational to be true, it's based on real events that happened and still are every single day in America. The story exposes the ruthless and unethical marketing of OxyContin or the slacker family owned Purdue pharma drug company that contributed to massive and unnecessary addiction and death. It stars Michael Keaton, whose character is based upon a Tennessee physician who got addicted to opiates himself after prescribing them to his patients to alleviate their pain. Well, the well attended doctor was assured by the pharma reps that this magic pill would alleviate patients suffering with little to zero potential for abuse or addiction. But the rise of the painkiller OxyContin relentlessly marketed by Purdue pharma launched the opioid epidemic in the United States. How? Purdue pharma prayed on people's pain.
Lisa Beres 2:24
And while this seems like one company's massive negligence and greed, it's far from. Many big pharmaceutical company owners and sales reps recklessly distribute powerful painkillers and drugs while downplaying the risk of addiction with just slaps on the wrist and zero liability, as in the case of the produced 2021 settlement to pay 4.5 billion to mitigate OxyContin misuse. But the deal also granted the slackers full immunity from lawsuits. They made over 10 billion selling OxyContin and never admitted wrongdoing or offered apologies to the victims of their drug. But they aren't the only culprit. In 2021. drugmaker Johnson and Johnson and three opioid distributors agreed to pay a combined 26 billion to resolve 1000s of lawsuits over the handling of addictive painkillers that created a US public health crisis.
Ron Beres 3:23
According to the American Medical Association, and June 2023, the nation's drug overdose and death epidemic continues to worsen. The epidemic affects every state and continues to be driven by illicitly manufactured fentanyl, methamphetamines and cocaine often in combination or in adulterated forms. The CDC estimates that close to a million people have died from opioid overdoses since 1999. When you think of an addict, you often visualize a homeless person or someone in a crack house, not a housewife, a wealthy exec or a successful CEO. Our guest today had never smoked a cigarette or taking drugs growing up. But when his teacher wife suggested he see an ADHD doctor, he never suspected that he'd be spending the next 10 years as a meth addict.
Lisa Beres 4:16
Dave is a dear friend. Not only have we known him for over 20 years, he was suffering from addiction when I knew him and was his roommate. But I had no idea. A few years ago, I received a direct message titled, there's something I never told you. The message proceeded with a confession that he'd become a raging addict. I thought it was a joke. It wasn't in his words. No one ever told me that the really dangerous shit doesn't come from the drug dealer. It comes from your family doctor. Dave is funny and one of the most brilliant people I know. He's extremely brave to share his story with us today, in hopes that it will help someone listening was either going through Same thing, or know someone who is.
Ron Beres 5:03
Dave, welcome to the show.
Dave Ford 5:06
Thank you.
Lisa Beres 5:07
Welcome to the show, Dave, we are so happy to have you with us today. This is emotional, I'm sure for you. And I know that this is a big step for you to be talking on such a public platform about this. So our hearts go out to you for doing that. And I know that I know there's going to be people who resonate and need to hear this message. So let's get started. Can you take us back to the beginning of your addiction journey, when you were first prescribed what seemed to be an innocent prescription drug for weight loss, and then ADHD?
Dave Ford 5:45
Yeah, first of all, I was in my mid 30s, maybe younger, and my life was already going pretty well. I had a great career, I own my own business, I have a condo on the water with a giant boat. I have a gorgeous wife, two little kids that I loved.
But my wife was a teacher. And she recognized some signs. So she mentioned that I might have ADHD. So I went into the doctor. And the next year now I got a prescription.
Now, let me mention something before this happens. I used to rent ATVs, you know, four wheel motorcycles after Pismo Beach, every time I did that, I have this fit for a 15 minute video, telling me how dangerous these ATVs are, and that I couldn't get killed?
Well, in my opinion, ATVs are not dangerous compared to some of these addictive drugs. Not only did my doctor make me watch a 15 minute video, he didn't mention anything. He did not mention danger. 0% of what he said to me was a warning. I just thought I was gonna become smarter, make more money and make the happier.
Lisa Beres 7:06
Magic pill, right?
Dave Ford 7:08
Here's the thing, these pills, they work great. They're like a wonder pill. So I took so but was wrong. And the very first day, I went into a client. And I was training about 20 people on how to build this software application. But I was also on my first week of Adderall. So I ended up in the two weeks of training. I wrote the app myself while on lunch and after wow. Oh, wow.
Ron Beres 7:37
Unlimited, right. You thought unlimited basically, limitless.
Lisa Beres 7:40
Yeah, like in that movie Limitless.
Dave Ford 7:41
Yes. I felt awesome. I and I, I was super productive. So for the first, say, two years. That's how it was. Gradually, over time, it doesn't start to work as much. So you can either A quit and lose all that awesome wonderfulness. Or you can increase your dose. And better man probably wouldn't.
Ron Beres 8:10
But oh no, you're better. Dad. You're a solid man. You're here today to you're helping so many people that this is wonderful. And by the way, Lisa was right was said at the beginning of the show. You are brilliant. You are brilliant.
Lisa Beres 8:21
And how do you quit? I mean, I'm sure that even your wife was like, Wow, this Dave's sweeping the floor. And finally, you know, cleaning all this stuff. I mean, I'm sure it was like, happy for everybody. You know, energy is a gift. So when you have all this energy, of course you don't want that to stop. I mean, that's I think that's very normal to feel that.
Dave Ford 8:41
Yeah. And to be honest, after I increased from one pill to two it was still pretty good. It went back to how it was a couple years go by now I use three. And somewhere in perceptively I don't even know when it happened between the beginning and the end of the ten year journey. It started to be more bad than good. And it's creeps up on you. You don't realize it.
Lisa Beres 9:07
Would you say that was like the halfway point, Dave? Like when did it kind of switch?
Dave Ford 9:11
Probably the halfway point halfway point.
Lisa Beres 9:13
Okay, so that's a long time. That's a journey. Yeah.
Dave Ford 9:16
Yeah. And my wife figured out before I did, that it was kind of doing more harm than good. So fast forward a few years, and now maybe seven years into it. I go on a business trip to Norway. And in Norway. It was a pretty important gig for me. And I was all messed up in my sleep. And so that morning, I increased my dosage beyond what my doctor has prescribed to me. And we're awesome. It was a five day class I did for all five days. Then I got on the plane to come home. And I kept doing it. It was just I was in the mode. I got home to the airport. I was fell in the mode. I sat in the airport with no sleep for three days straight. Oh, wow, continuing to write code on my laptop. In my mind, I was kicking it. I was killing it. I was writing awesome pillar. I was getting things done. I was being wonderful. That was just how it was.
Lisa Beres 10:20
Oh, wow!
Dave Ford 10:22
After the whole thing settles down. The code I wrote was awful. Sure, I had a lot of energy. But at some point, once you're taking three or four pills, your judgment starts to go crazy.
Lisa Beres 10:35
Okay, so you thought you were writing all this great stuff. And it wasn't okay. Yes. And now are you taking at that point? Three to four pills a day. So you wake up in the morning? And then you take them?
Dave Ford 10:46
Yes. Okay. And that was amount I was prescribed allowed to take? Oh, point. I went beyond what you're supposed to take. Okay. And so I would get the prescription once a month. And I ended up finishing it in a week. Okay. Oh, wow. That week, I was so jacked up. Again, feeling wonderful think I'm accomplishing great things. But at the end of the week, I ran out. And so the next three weeks I was dead. Just no one nothing but sleep, couldn't concentrate can focus.
Lisa Beres 11:20
Did you do the doctor hopping thing? I mean, I've heard a lot about that where, you know, addicts will hop around from doctor to doctor so that each doctor doesn't know how much they're taking.
Dave Ford 11:29
I wanted to but luckily, I'm not that connected with initiative to do it. But I really came close to doing that. Yeah. So it just the main thing about it is, it might go great for you. I know a girl who started taking Adderall. She's been taking it for 20 years, one pill every day, and still works today, like it did when she first started. But that's the exception. It's more like, you know, it's more like an opiate where you take some you need more, more more?
Lisa Beres 12:03
Yeah. Right?
Ron Beres 12:05
And how does it affect if you had a glass of wine or anything like that, too? Does that throw you off? Is there is that mixing? Or that combination? Is that cause additional effects or not really?
Dave Ford 12:16
It never did much of that for me. Adderall was never party drugs. It was a it was a work productivity drug. And I liked my work. I like to be productive. I like to have energy. But it wasn't a recreation thing other than the fact that my work is recreational. But like I said, I was enjoying my work. But I wasn't actually producing anything all that great.
Lisa Beres 12:39
Yeah, I wanted to say something to circle back to what you had just said about, you know, you weren't told at the beginning, you weren't told that this was even a possibility. So I was researching the show, and I had looked up the side effects of Adderall on WebMD and found a list that included dry mouth, weakness, stomachache, weight, loss, anxiety, more, and a bunch of other things, but no mention of potential addiction. So I hunted a little more. And I stumbled across another article, not as popular of a website that says Adderall is a scheduled to controlled substance, meaning that it has high potential to lead to dependence and abuse. Long term use of prescription stimulants such as Adderall can lead to tolerance, which is when a person needs increasing amounts of a drug for it to be effective. In some cases, people who take large doses of Adderall for an extended period may become physically dependent on the drug. But you weren't told that.
Dave Ford 13:38
And it's not even on any of that. Yeah. I wasn't told anything that nothing about the downsides. Nothing about the potential risk, nothing about the fact that there were no long term studies to say, you know, you know, we know people could take it for a year or two and not die. But there's no studies on the people who've taken us for 20 years. And none of those are good outcome. There's just very few of those that are good outcomes.
Lisa Beres 14:03
And when I think of Adderall, I think of kids, right? Is hyper attention deficit hyperactivity. I think that's a drug that's given to children who, who can't sit still in school and you know, are hyperactive, right. So, think of that the effects of that when it's starting so young, you know, 10 years for you, you know, you were an adult, but a child as they're still developing, and they get started on that really early. I would think those long term effects have to be like, excruciating.
Dave Ford 14:32
Yeah, I've got a number of health issues now. And I've been looking it up with the cause of the thing I have. And basically, drug abuse is one of them. So this stuff doesn't just ruin your marriage and ruin your job. One thing I forgot to mention is that episode where I stayed for three days in the airport, when I got into that place, I tuned out everybody. Lisa can probably remember when I was in San Diego hotel, and that was happening. So once I was going to San Diego hotel in a city where there was all sorts of stores to buy stuff, but I thought I was in a mode to me where I was in the flow. So much in the flow. I call Lisa from St. Louis. I called her in LA and had her shipped me a bottle of water downstairs to the lobby and got a bottle of water. But I was so into the flow. So I thought, but you can see it really skews your judgment. I'm sure you probably remember that.
Lisa Beres 15:38
Yeah, yeah, there were some crazy things. But you know, we like I said, we me and the other guy that worked for you down. We just said, Oh, that's a Davevism you know, that's a Dave That's the thing, quirky thing that Dave does, you know.
Ron Beres 15:49
So I wasn't sure if that was a you watch Madonna. Like I think she bathed the Navy on water or something. And you were so inspired. You wanted water delivered to you across the country?
Lisa Beres 15:57
No. You wouldn't do that. So then take us from where it went from there. So now you're taking four pills a day. And by the way, why were you in the airport for three days? Was that by choice? Or was your you had nowhere to go?
Dave Ford 16:15
I didn't know I was in the home airport I wasn't home. And I had a car in the parking lot. And my wife was wondering, Hey, I thought you're supposed to be home Friday but in my mind my work fine. I thought I was killing it. I thought when I was in a mode.
Lisa Beres 16:29
Get out!
Dave Ford 16:30
The judgment really gets out of whack.
Lisa Beres 16:32
Okay, so you could have gone home and been working at home but you stayed in the airport. You slept there just like on the benches?
Dave Ford 16:39
Oh, you didn't sleep for days and I just coded.
Lisa Beres 16:41
Holy moly. That's nuts.
Ron Beres 16:44
Doesn't security walk up to an airport saying hey, what are you doing here? Sir? This is like the third day in the row you think they'd pick up on that?
Dave Ford 16:50
They didn't. It was great. Because when you're on Adderall, you don't eat food. I'm like, I think one meal that entire three day period.
Lisa Beres 17:04
Oh my god. Okay, so that's very dangerous. You can get dehydrated, you can get all kinds of Wow. Okay, so that's really scary. That does remind me so much of that movie Limitless. So then what happens? How do you progress from there? Because you're, you're thinking you're still in control? It sounds like right now.
Dave Ford 17:23
Yeah. So you're thinking you're still in control. In the back of your mind, you kinda know this was crazy. But then you come off it. And now you can't even do anything you can't function. It's like you're as tired, as tired as you can possibly get. Whatever the opposite of focused is. That's what it is. It's the most on energetic unfocused. I really couldn't do anything.
Lisa Beres 17:48
Right, because your body's just shutting down. I'm sure. Right. It's so deep sleep deprived. And..
Dave Ford 17:53
Yeah, because I'm used to taking these stimulants every day for years and years and years. So this is the part that kind of really stinks. For one at a time. I had a great client, Toyota, and we were making a lot of money from Toyota, me and my partner, John Sheehan. Everything was wrong. Great. And I was making more money than I've ever made. And half the year and I'm loving the career. But you know, it's the more the animal kind of got to me. I started not picking up the phone. Because I thought whatever I was doing on my computer was wonderful. And I didn't need to speak to customers, or speaking to customers is kind of what business people are supposed to do. I would be super late on projects. I would be I'd be like, Oh, in order to finish this. I need some extra Adderall. And I take extra Adderall. I write lots of code. But it was like A Beautiful Mind usually scribble scratch just crazy.
Ron Beres 18:51
Ah, yeah, I was gonna say I was gonna ask you that analogy in the movie was strong, too. Like he's writing all over the room. And the end of the day you find out he's not really writing anything of significance, right? He's just crazy, right?
Lisa Beres 19:02
Yeah, that movie was one of my favorites. Yeah, it's so mind blowing, because you think he's such as genius. And then you find out oh, my God, you know.
Ron Beres 19:09
And David, in addition to being brilliant, too, I have to say you're big personalities. You'll do backflips in front of a crowd. I know your customers just love you. So they probably were perplexed when you weren't picking up the phone, just to say hello, because you're a very social person. So it's funny how it kind of flipped you that way to not even react to a person because you have a lot of empathy. You're really good at people. That so
Lisa Beres 19:31
You're in an altered state. You're in an altered state. You can't think were you really thin like were you losing so much weight? I'm imagining if you weren't eating food, and it didn't bother you. Was it like were you looking unhealthy? Did people notice?
Dave Ford 19:45
No because I had three weeks to binge. I went one week over do it. And then three weeks to sleep and binge eat actually got worse.
Lisa Beres 19:56
Yeah, kind of like crash diets which is what happens right? People ended up gaining more weight for that very reason. Because your body wants to get back to that. setpoint. Yeah.
Ron Beres 20:05
So Dave, you gave us a couple examples already, one of which was that you're at the airport for three days and didn't go home and your wife wonder where you were, I can see that being very difficult in your relationship and potentially being a running havoc to your life. Right. And also, you mentioned the customer. Was there anything else that you wanted to share that maybe how does addiction wrecked your life and relationships and livelihood in general? Was there anything else?
Dave Ford 20:29
Yeah, for one thing, every time I was coming off of it, while I was on it, I or my family, I wasn't a father or on husband. I was just a crazy person.
Lisa Beres 20:40
Just working, working, working kind of ignoring, okay.
Dave Ford 20:43
So I ignored to the extreme, like, they would come into my room or my office here. And I'd be typing away, and I wouldn't even turn my head. I thought where I was doing was so important to so just change the world. I thought I'd just stay focused and keep staring at the screen. Wow. So that's one thing. Another thing is you, you've got a false sense of confidence. I remember when I was a kid in school, people say they take drugs and walk off the building, thinking they can fly. It's kinda like that. But since I used it for productivity and work, here's what would happen. I'd have a project to say Toyota on Monday, and I'm working on it. And then I'm running late. So on Friday, I start to take a lot of Adderall. Hmm. I'm getting forward and moving forward, I possibly could finish. For some reason. Your judgment is so messed up. I'm like, Well, let me do this other thing. And I'll add that they'll really be happy. And I'll add this other thing. You think you could finish three weeks of work in like five minutes, but you can't. So those kinds of things made me late, made the turn and crappy work? And I lost the client.
Lisa Beres 21:56
Oh, yeah. You lost Toyota. They were like, we're done. Yeah. So that was a blow. Was your partner aware at the time that this was a problem?
Dave Ford 22:06
He was, I'd say the only reason I got through this is because I had such a good supportive family and friends. Yeah, my partner, John, you know, so he, he's now an expert on that role. Oh, wow. From the outside perspective.
Lisa Beres 22:21
Right. And I know, let's see, like they've cut back was he kind of trying to say, Hey, cut back cut back or?
Dave Ford 22:27
No, he's kind of quiet. If I asked him, he would tell me.
Lisa Beres 22:31
Right? He wasn't gonna Okay. He wasn't gonna mess up. But when you lost the client, he was he didn't freak out. He wasn't like, sure it's your fault.
Dave Ford 22:37
Well, let me tell you the last portion of losing the client. Okay. Toyota is like about a two hour drive from me. And so sometimes when I go to work, their first few days, I'll stay in the hotel. So I did that. And after my two days were over, I was coding. And I kept coding. I kept coding. I kept coding. Next thing, yeah, that was like, Thursday. Oh, wow. I just was focused for that many days, not really accomplishing anything. The project I was working on was backwards, it was worse than when I started. And so nobody knew where on was my family couldn't get a hold of me. So finally, John, she and the partner you were talking about, and another friend of mine, Jordan, I'm now sleeping in the hotel. And all of a sudden, they are bang, bang, bang, bang, bang, on the Marriott door. And I didn't know what was going on service room service. And I just ignored it. And they will bang, bang, bang, bang. Finally, after the ad of bang, I decided to get up. And that's where I found out it was Jordan and John. So at that point, Jordan goes, how many did you take? I said, six? Because now I know that you took 12. And so that was the for me losing Toyota and having my friends have to do an intervention like that. Yeah, that was rock bottom.
Lisa Beres 24:06
Okay, that was the rock bottom.
Dave Ford 24:07
After that I realized this is this is doing more harm than good. The thing has been doing more harm than good. For a long time at that point. Yeah, for some reason, that's impossible to explain. I kept doing it. Right.
Lisa Beres 24:22
Because you were addicted.
Dave Ford 24:25
Yeah. Yeah, I was addicted. It's super easy to put into words. How wonderful Adderall is. All drugs are wonderful. In week one. Yeah. So you'd listen to a radio talk show and some person would call and say it was like a fog lifted, which it was, but I ended up being 1000 pounds a fog. By the time this whole thing was done.
Lisa Beres 24:49
Mm hmm. Yeah. Seems like that with so many drugs. I mean, really anything? I mean, even if you think about a smoker, just a smoker, it doesn't that's never one cigarette a day. It's gonna go to more and more and more, my dad smoked three packs of cigarettes a day at his peak till he had a heart attack and never smoked again, when the doctor told him that's it, you're not going to make it if you don't quit. And that's kind of unusual that he was able to do that. quitting cold turkey is not easy, but you know, it was life or death for him at that point. But I'd say that's what so many of these addictive substances, it's got to increase, right? Usually it has to because you get your body gets now acclimated to that new level. And in order to get that high, or whatever it is, you're getting from it. You need more, you need more. So that's the super dangerous part. So you had you taken 12 pills that time?
Dave Ford 25:37
I have no idea. All I know is the bottle is empty. Oh, wow.
Lisa Beres 25:41
Okay, so then, now What year was this? Were you into? Oh,
Dave Ford 25:48
Probably 10 years. Okay, so that was the end. That was the end of it.
Lisa Beres 25:52
Okay, so you never went to other drugs after Adderall?
Dave Ford 25:56
No, but I can totally see how that can happen. Like I said, I'm kind of a dork and I'm not connected with anybody who would be able to get me meth. But meth is the next step up. Oh, okay.
Lisa Beres 26:07
We said you were a meth addict at the beginning, because I thought you had said that. Okay. So no, and never went to meth. Thank God. Right. Okay, but that would have been the next like Adderall. Would you say Adderall is a gateway drug to that? Maybe? Potentially? Oh, yeah. Okay. Oh, Adderall would lead to meth because, because like Adderall, when I researches Adderall is like, is a stimulant, right? So it makes you feel great, invincible, whereas like the opioids that we talked about the top, they're more of a painkiller relaxation. So those people get more like, I feel so good, but that's more of a mellow. And that would lead to probably different drugs for them, obviously, fentanyl and things like that. I'm guessing, right. I become an expert day researching for this show. That's like I didn't even know.
Dave Ford 26:52
One thing about Adderall that makes it slightly not as bad as opiates is. The withdrawal portion isn't as painful. You just can't get on it. But you have move. So you, you're in bed for like three months, just waking up from the last 10 years.
Lisa Beres 27:08
But really, that's part of the detoxification when you've been out that long, okay, three months just did you have help? Or did you do that by yourself?
Dave Ford 27:19
Family, amazingly, stayed with me through all that.
Lisa Beres 27:23
Ah, that is so amazing. Yeah, support system is huge. And I know there's listeners that might not have that, you know, they might not have a good support system. So I have some, we'll do some shout outs at the end of the show.
Ron Beres 27:35
We are in the day, because everyone loves you, man. I've seen the interact with so many people, and everyone thinks favorably of you. So that's why you had that. Right. You earned all that family and friends.
Lisa Beres 27:44
Yeah exactly. You have a great family. Shout out to your wife, she's amazing for I'm sure there was some rocky times in there. I mean, I'm sure there's gonna have been some knockdown drag out fights that must have happened, you know, during that period, like her, you know, probably why are you still taking this and, you know, I'm guessing I'm being a fly on the wall.
Dave Ford 28:07
The other part of that rock bottom was, you know, as a businessman, you invoice periodically. And after about four weeks of the high and low, maybe four months of high, low, high, low, high low. I hadn't sent a single invoice, and we're running out of money. And so I started I think this is the only time I lied to my wife. And I told her yeah, I'm sending invoices. So for the next three months, I kept saying, I'm sending invoice. I'm sending invoices. Eventually she figured out I was full of it. So that all happened kind of around the same time is the..
Lisa Beres 28:45
Rock bottom. Oh my god, did you eventually get paid on those invoices? I hope?
Dave Ford 28:50
No, because my work was horrible. The reason I wasn't Invoicing is because I knew my work was horrible.
Lisa Beres 28:55
Oh, I see. Gotcha. Oh, geez. Yeah, so it affects I mean, this affects every area of life, right? I mean, it's affecting the money, the relationships, the trust, obviously, the work the you know, the health, all of that. Let's find out one part that wasn't affected. So Dave, what is your message for doctors who prescribe drugs like Phen and if you could tell us real quick what Phen is P-H-E-N and Adderall.
Dave Ford 29:19
I would just consider it dangerous like my went skydiving I had to watch a video and take like a three hour course before they let me get skydive. In my opinion, skydiving is much safer. I skydiving did ruin my life, nor did on motorcycles and ATVs. But Adderall did. So yeah. They need to just educate people on how it works. Like for one thing, it'll be wonderful. Your first week. That doesn't say anything. Yeah. Because it doesn't stay that way. Right. So the fact that you've heard from people how wonderful it is in the first week, or in the first year. Yeah, that doesn't mean anything. They because after that year, you're going to need two and three, and you're going to wind up in that Dopesick kind of place that for a while. By the way, great movie I saw. Michael Keaton was amazing, wasn't he? Yeah, he's amazing.
Lisa Beres 30:14
Great movie it was amazing. If you haven't watched it listeners go check it out Dopesick. I think it's on Netflix. There's a new one coming out called Painkiller. That's going to star Matthew Broderick also about the same story, but it's a different spin on it. And this is interesting. So I didn't know this. But the term Dopesick isn't about the addiction. It's about being sick due to the withdrawal from the drugs. So you experienced that? I take it because you were three months. You said three months, just like almost like a zombie. It sounds like?
Dave Ford 30:45
Yeah, like with opiate, but I have an opiate story for you, too. I don't know if this ruins the whole thing. But um, yeah, so opiates is a little bit different. Animal. You have to work you have to do your life. And so the the main suffering, withdrawal was just not being able to function.
Lisa Beres 31:03
Okay. Having your energy taken away, the things that the pill gave you is now taken away.
Dave Ford 31:10
Exactly. Yeah. So I have another story, which was lovely, milder. But before this, I was living in that condo I told you about. And I had this persistent cough wouldn't go away in my head and for like four months. And so I went to the doctor, and he gave me a bottle of cough syrup. Didn't say anything, no warnings, no videos, no half hour training class. Just give me a bottle. And I went and I took it. And it cleared my cough. I took it for two weeks. But sometimes I got lazy and I didn't have a spoon. So just kind of do this. Right. And I wonder I realized I was watching the eagles on hell freezes over on DVD. And they were singing peaceful, easy feeling. And I remember thinking, Man, I have a peaceful feeling right now. I'm feeling good. And I didn't even realize what it was from. I have no idea what caused it. I just went on it for longer, longer, longer. And that one kind of came to a head when I was in Hawaii and a wedding with my wife. You're winning. And that's awesome hotel. I couldn't sleep. I barely slept the whole time I was there because I had run out with cough syrup. Oh, I was I didn't get he wasn't even on that for 10 years. That stuff got me more addicted in three months than Adderall can in like
Lisa Beres 32:46
eight years. Oh, wow. That's powerful. Yeah. Because you hear of young kids like taking cough here. But do you think it's so innocent? You're like it's over the counter. Right?
Dave Ford 32:57
It wasn't over the counter. Oh, this wasn't. This was an opiate. Oh, I left off the most important part of that story. Yeah, it was an opiate. And they come in off period was like you felt Jerry's heck, and you felt like, literally same thing is the overall kind of how you know, the withdrawal is like the opposite effect of what the drug does, right? With opioids when you stopped taking it. You're the most unrelaxed you've ever been.
Lisa Beres 33:23
Oh, gotcha. It's like the pendulum. It's like the pendulum wants to get Yeah, that makes sense. So it's always going to do the opposite when your body doesn't have it. Wow, that's crazy. That is crazy. I could tell
Dave Ford 33:35
you this, if I was connected with like, the drug underworld, you know, I'm such a nerd. I don't really talk to drug addicts. It's like you said, I wasn't one of the street drug addicts. I was just a normal guy. But if I knew one a dealer, I would have gone to the next level. I can't get any more of that right now. I would have gotten to try and some find something.
Lisa Beres 34:00
If you knew it was accessible. That's that's an honest statement. Because, yeah, you're in cookie cutter Orange County, like we are. It's not like there's drug dealers down the corner. But a lot of people who live in a big city, there are there are they know someone who knows somebody and it's pretty easy. In fact, it's become like incredibly easy to get drugs. Nowadays with all of this, this epidemic, and you know, it made me think about like when you were saying the studies, like they'll say, oh, you know, we did a study, people taking Adderall for a year and look at all the positive things that happened and they weren't doing anything negative. And I was running. I've studied chemicals and toxins for over 15 years. Same thing, they'll they'll take a chemical toxin, and they'll test it on a 200 pound male, six foot and say, Oh, look, it didn't cause harm. Look, we tested for two years, everything's fine. But what about that toxin every day for 10 years? What about that toxin on a small petite woman or a child, you know, and so that's where a lot of these studies, people naively think a lot of this stuff is safe. But they're not. They're seeing like, you know, a tiny view instead of a bird's eye view of what really can happen long term. And I think, I think that's the message to your listeners, like, if this is ringing a bell, and you're on something, and you're questioning it. Think about that. Think about that. Just because you were told that there are no long term studies, you might not know they might not exist yet. They might not have been out long enough this drug or, or all of that. So.
Ron Beres 35:32
Sounds like people really need outside help. So Dave, what signs can parents spouses, friends or co workers look for? To determine if a loved one may be suffering from addiction? Yeah, what
Lisa Beres 35:43
are some telltale signs?
Dave Ford 35:45
It's really hard. It's hard. A lot of people don't know about addicts. They lie.
Lisa Beres 35:52
Okay, right.
Dave Ford 35:53
You tell your doctor that every month how's the drug worked out for you? Oh, it's awesome. I didn't tell him I took all of it in the first four days, first week, and that's suffered for the rest of the three months. Yeah. So like you said, most of the studies are one year. But one way you can get long term studies is is by doctors. But the thing another is doctors if they just weren't able to see the signs that you were just talking about. But psychiatrists, they can't see the science. I was addicted for eight years, my psychiatrist who prescribed that stuff to me had no idea. So what I mean by eight years, eight years of being banned.
Lisa Beres 36:36
Yeah. Right. That's a really good point. Yeah. Because I think most addicts like that's part becomes part of the coping of how you're going to deal with it. And, and they become good at lying. And so unless it's like a full on crack addict with like, messed up teeth, and you know, needle marks, you know, sometimes you don't see it, it can be your next door neighbor, your, your best friend who knows your spouse. Wow. So the author of Dopesick states that only about 12% of people with opioid addictions can access treatment, do you have any advice on where someone with any kind of drug addiction could start to get help and get on the road to recovery?
Dave Ford 37:19
My health insurance, Kaiser offers some of that. Okay. But I was on Adderall. Most of the people who were in there, in this little support group was on meth, or heroin, or gambling. So some people didn't know there's some of the gambling addiction personality, but I've never gotten addicted to booze, and everyone addicted to gambling. Right. You know, I've taken all sorts of big two things and didn't get addicted to it. But Adderall was my thing. That's the thing that got me.
Lisa Beres 37:52
Yeah, cuz our body chemistry is all different. You're right. Do you find like in that group that addiction, because it always stems from something right? I mean, at the root cause, like what caused the addiction? What causes somebody to, you know, be addicted to gambling or shopping or or drug? Do you think at the root? They're the same? Or do you think they're all very different?
Dave Ford 38:15
I think they're a little bit the same. Okay, but also a lot of different. You know, it's a little bit controversial. Everyone has a different idea on this. And there's not that many studies, but I have a friend who's convinced all addictions from childhood trauma. I had a wonderful childhood. I've never really had any trauma. The Emerald was the trauma. Yeah. All right. There was no trauma that made this happen. So there's not some thing in my past that I'm trying to avoid. This is the biggest thing about mine. All right, I can see if you're failing jobs, because you're so so bad add. I was doing great. By anybody's measure. I was doing pretty good. You know, I had it all. I didn't need to get better. And I didn't know it would make me get way worse.
Lisa Beres 39:04
Yeah, right. Yeah, that's a really good point. And like you said, it's not like you ever thought that you were doing something bad. It's not like, I mean, someone who's who's a gambling addict knows, in the back of their mind, like, I really shouldn't go to the casino, where as well, your doctor gave you this drug and he's trustworthy and isn't a white coat. And you know, gosh, she's not going to give me something that would be harmful, right. So that explains that for sure.
Dave Ford 39:33
If you want information on a drug and that type of drug, the doctor is the last person you go to that person if you want really known if you're considering giving your children uppers to help them in school, or to make them less miserable to you around the house. Don't talk to a doctor, talk to an addict. Find him and find someone who's been addicted to that drug, or drugs similar to that. That's where you want to talk to your doctors not gonna have any knowledge John, that is how many times my doctor followed up with me how many times he called my wife and friends to see if I was acting weird. You know, I had a meeting once a month, I live and said everything was fine for 15 minutes. He didn't recognize the signs. So when you're saying what are the signs, I say, the signs are almost impossible to see. Unless you get to the really end of it, where you say sit in an airport for three days. If your husband sits in the airport for three days, when he's in his own home airport all night, I would say that's a sign.
Lisa Beres 40:36
That's a bonk on the head, as Oprah would say. That's not even the Whisper you, you pass the whispers. Wow. Wow. And also you want it to get better. So that's a huge part. Like you didn't have to have a full on intervention like, like on that TV show on TLC, like, where they had to fly you out? You know, it wasn't like that dramatic, right? You were like, I want to get better? Well, because in a lot of cases where the drug addicts so bad, they have to kinda, the whole family has to come around in a circle and have the plane ready and they fly off to the rehab center. Right? Have you ever seen those shows? It's pretty dramatic.
Dave Ford 41:12
I already knew I hadn't from or that wasn't in denial. I was maybe a little bit denial. I didn't know how bad it was. But that day, John and Jordan, just third pounding on my door. Yeah. I just had to be honest with myself at that point. So at some point, you start lying to yourself, the mind everyone else, trying to make it seem like you're normal, but you're not.
Ron Beres 41:33
Well, do you have a sense, like your next step in this process to write a book with your partner? And the whole experience? Your perspective? Yeah.
Lisa Beres 41:40
Right. Yeah. Well, this is great. So so back to that. So someone who's listening who doesn't have insurance? Do you know of any freight do like do you believe in the 12 step recovery, or anything like that any free resources that you that you're aware of where they could go, if they need help?
Dave Ford 41:57
I couldn't go on one of those when I thought about it, but you kind of remember me. I'm not into the whole higher power thing. I really didn't want to go into that direction. But I was looking, I was googling. The other thing is there was nothing specifically for Adderall, or there wasn't even a support group that was specifically for stimulants like meth and Adderall.
Lisa Beres 42:20
Oh, wow. Really?
Dave Ford 42:22
At least not around where I can find one and not not one that Kaiser paid for. So I don't want to see them with a bunch of gambling addicts. And, you know, that's just not the same thing.
Lisa Beres 42:31
Yeah, I was gonna say, is different. They should be separated for sure. They're very different. You need to relate to people who are going through the same thing. I agree. Well, if you are listening, and you do need help, and you can find a 12 step recovery, that's a great way to start. Also look at your church, our church here, which is mariners in Southern California, they actually have and it's marinerschurch.org/care-recovery, and they have locations throughout Southern California. So churches offer free counseling and services. So if you are in a position, it's especially if you're addicted, and you're, you know, usually the life is spiraling out of control, you might not have the funds, you might not have insurance and things like that, but get help get started. Let Dave be your angel on your shoulder telling you it's not worth it. Do you miss it? Do you feel like of course, you know, I don't mean that in a like, obvious way, but like, or are you like, No, I finally feel like my best now. Do you miss the feeling of feeling limitless?
Dave Ford 43:32
I do. I miss her every day. Oh, limitless is about Adderall.
Lisa Beres 43:37
No, but you took the pill. It could be it's this pill where he's just just like, you talked about hyper hyper focus. He's making all this money. He's buying all this stuff. He's like, he's limitless. And the pill is like, it comes out. And it's only for like the rich and elite and people don't know about it. And he has to get it and it's well, you should watch it. I wanted to get it through really good. Was one of our favorites on red. It's really good. Yeah. So that's an actor who used to be with Renee Zellweger.
Ron Beres 44:07
Oh, he's a major actress. I don't know why we're drawing a blank. Yeah, it's.
Lisa Beres 44:13
Okay. Anyway. Yeah, you'll like that. But um, okay, so that's an honest answer. So you do you miss that feeling of feeling limitless?
Dave Ford 44:21
I do. I do. I will. I will lie about it. You know, like, what will happen a lot of time is I know I've got work to do. And I'm like, probably like most humans, I think I'll just stay in bed today. But with that, you never want to stay in bed. You're always motivated to work.
Lisa Beres 44:40
Yeah. Oh, wow.
Dave Ford 44:43
Wow, would do something. You're definitely not gonna sit in your bed and do nothing if you're on an Adderall.
Lisa Beres 44:47
Wow. That's it. Yeah. So and now is it like, what do you what do you do now to be healthier? To get the energy more like you're vegan? Aren't you vegan or you're vegetarian? No. No, I'm not anymore. I kind of fell off. Oh, you fell off it.
Dave Ford 45:02
It was Adderall thing that well, it was a vegan after that, wasn't? Yeah, I just got weak on that it brought me to the White House that my faces.
Lisa Beres 45:12
No, you look great. Now you're strong and you do coffee like do you feel like you need something to? You know, are you like No, I'm just this is this is this life is so much better, you know, I might not have as much energy but I'm clear headed and I have a great life, you know?
Dave Ford 45:28
Yeah, I tried to my family not let her kids start on stimulants like coffee or or Diet Cokes and that kind of thing. Because if you're wired a certain way, not the addictive personality, but just in some ways you can really amenable to those numbers. And whether it's Diet Coke, coffee, Fontaine, fencin, meth, Adderall, they're all basically the same thing. They're just a stimulant. So,
Lisa Beres 46:00
Yeah, because it's hard to be given something that makes you feel better, and then have that taken away, let's be honest, right? I mean, who doesn't want to feel more energetic, you know. And so, you know, you can see how that can happen. Once you it's like, you got a little taste, you got a little taste of how great that feels. Now we're going to take it away, you know. So, you know, listeners, I mean, obviously, we're all about healthy living, you know, you're not, you're not going to feel like unlimited with work. But you know, we have so many tips on how to get that energy, whether that's you know, eating a clean, organic diet, eating more plants. Raw food gives you lots and lots and lots of energy, rather than I did a raw food diet, a cleanse for two weeks, and I thought it was bouncing off the wall like it would have to do two workouts because one workout, I didn't feel like I worked out enough. So there's natural ways to get the energy. Meditation gives you a lot of weight to have lots of lots of chopping lots of veggies. It's hard to do every day. But it's the reason that raw food diet does that is because it's not cooked in the enzymes aren't killed. So instead of your body having to work twice as hard to digest food, all those enzymes are now available and you're like available in your body for energy versus having to use it to digest food. And that's why you feel so energetic when you eat raw. We will say it's not easy to do every day. But even going on cleanses like that is really good for your body to reset your metabolism and, you know, feel what that feels like. I remember it ran, we went to the restaurant and we said to the chef, this is weird. You know, we came in here and ate. We're both so energetic. We were doing double workouts and she looked at us and she goes, Yeah, that's why people go on raw food diet. Like, we never knew we were like, oh, okay, so there's a lot in like natural coffee alternatives. I agree with you, Dave. I didn't grew up drinking coffee. That wasn't a thing. I don't know, when I grew up. No one drink kids, teenagers didn't drink coffee. There was no Starbucks. And so, you know, saving that stuff for later and making that stuff like a treat versus like a habit is such a good. It's such a good point and such a good, you know, lesson for people.
Ron Beres 48:14
And then Dave, person. Oh, sorry, good, good
Dave Ford 48:17
The reason that prescription drugs are so much more dangerous than recreational drugs, in my opinion, recreational drugs you only do like when you're recreating. Yeah. Whereas by definition, the doctors the medicine the doctor gives you you take every day. Probably if I had booze every day, I might become an alcoholic. I don't you know, so. I've done all sorts of things once, like you said, is a treat. But that's not how prescription drugs work. You do it every day.
Lisa Beres 48:49
Yeah, you're taking him every day. And, you know, I think that the medical system is broken. The western medicine medical system is broken in so many ways and that doctors finish medical school and then they you know, they become glorified drug pushers a lot of the time and their information isn't based on necessarily what they learned in med school. It's what the pharmaceutical rep tells them. The pharmaceutical rep feeds them the study and feeds them. Oh, this is safe, like in the movie Dopesick. They are all told the doctors are told by the reps. This isn't addictive. And that was the biggest thing.
Ron Beres 49:25
And the reps are told by the company that it's perfectly safe to just it's, it's like.
Lisa Beres 49:34
Yeah, so you can see how that trickles down to where everything's regurgitated. There isn't really like even hard science behind a lot. It's the pharmaceutical companies providing the science themselves, right. And so you get the doctors just kind of regurgitating and pill pushing like you said so anyone going in for ADHD is going to leave with a prescription because that's what they do. There is no other they don't give you options, right? They don't say hey, Let's talk about like, I don't know, different modalities for, for dealing with hyperactivity, you know, how else can we do it? Maybe meditation or yoga? They're not gonna tell you that right?
Dave Ford 50:12
Yeah, there's a lot of ways to do it to deal with it. You know, sitting in the classroom isn't for everybody is thinking all days during the teacher, that's just not for everybody. Some people need to move around.
Lisa Beres 50:23
Right, right.
Dave Ford 50:25
Robert Williams, he's got to ADD.
Ron Beres 50:27
So the right example.
Dave Ford 50:29
You don't have to always fix it with a drug you just have to realize I'm not gonna live my life the way these people do. Or this is true with probably Asperger's and other things, Dislexia you adapt your life to it, you don't become a drug addict.
Lisa Beres 50:44
Exactly. And I do think schools need to start embracing the differences in children and the differences in like, what they're attracted to, you know, what kind of one of those schools that does your wife teach at one where they do do that more where they say, Hey, Johnny's better at art, we're going to give him more art classes. And, you know, Cindy loves math. So we're going to, is that, yeah, what she does.
Dave Ford 51:05
I would say there's people who learn without even going to school. Yeah. Oh, yeah. Right. There's like, the 80% of life that everybody lives. But if you're in the 20%, you might need to live a different life. With coping mechanisms are my coping mechanisms. Lisa might remember this. I carry what I call a man purse everywhere I go. Because if you gotta add, you're gonna lose your wallet, your keys. Forget where all that stuff is. So I carry this black backpack with me everywhere I go. And everyone was like, Where I got that. Hey, if women can have one, I can have one.
Lisa Beres 51:43
Absolutely, yeah. Well, now everybody has a backpack. So you know men do. Yeah, Dave, I remember you losing I would sign you up for all the airline mileage programs and all the hotels and every single thing and I got you like a little booklet to keep it all in and you'd be like, Oops, I left it on the plane. I'd be like, ah because I was Dave's assistant. I didn't say that at the beginning. But I worked for Dave. Way back when we had so much fun.
Dave Ford 52:10
I will say I have never had an assistant as good as Lisa ever.
Lisa Beres 52:14
Ah, that's so nice. And now I have an assistant I bet we pass the baton Dave. Oh, awesome. No, that's great. We had so much. I mean, those are some just amazing days. Back when we all we were like the friends before friends really was as popular right? We weren't we were the friends group. We just had a blast so many funny memories. So thank you for sharing your story. Is there anything else that you would want to leave with listeners? Any last piece of advice? Are you really covered a lot?
Dave Ford 52:45
Just remember, it's as dangerous as a motorcycle. Think of it like a motorcycle if you're gonna let your kids drive? Yeah, exactly. If you think that's not so safe, then probably the drugs Adderall is less safe than a motorcycle.
Lisa Beres 52:58
Great. Great point. Great point.
Ron Beres 53:01
All right, well, hey, Well, Dave, we really appreciate you. You've done such an amazing job. You're a big voice for this now, right? You never probably didn't even intend to do this. But you're helping so many people just from this and other moments. You're living example of how to live your truth. Your positive, your great, good things are happening to you you just gave today. It's coming back to you in an even bigger way, Dave. So thank you so much for spreading this information to everyone today.
Lisa Beres 53:22
And we'll have all the links in the show notes at Ronandlisa.com/podcast. Stay tuned for the next episode. And get ready guys to uplevel your health. Bye friends!
Ron Beres 53:34
Bye.
Dave Ford 53:35
Bye.
Narrator 53:41
This episode of the Healthy Home hacks podcast has ended. But be sure to subscribe for more healthy living strategies and tactics to help you create the healthy home you always dreamed up. And don't forget to rate and review so we can continue to bring you the best content. See you on the next episode.
Transcribed by https://otter.ai
Sign up to receive email updates
Enter your name and email address below and I'll send you periodic updates about the podcast.
DISCLAIMER: *This post contains affiliate links for your shopping convenience. You still pay the same price but we might earn a small commission. Thank you for supporting the brands we love and trust.