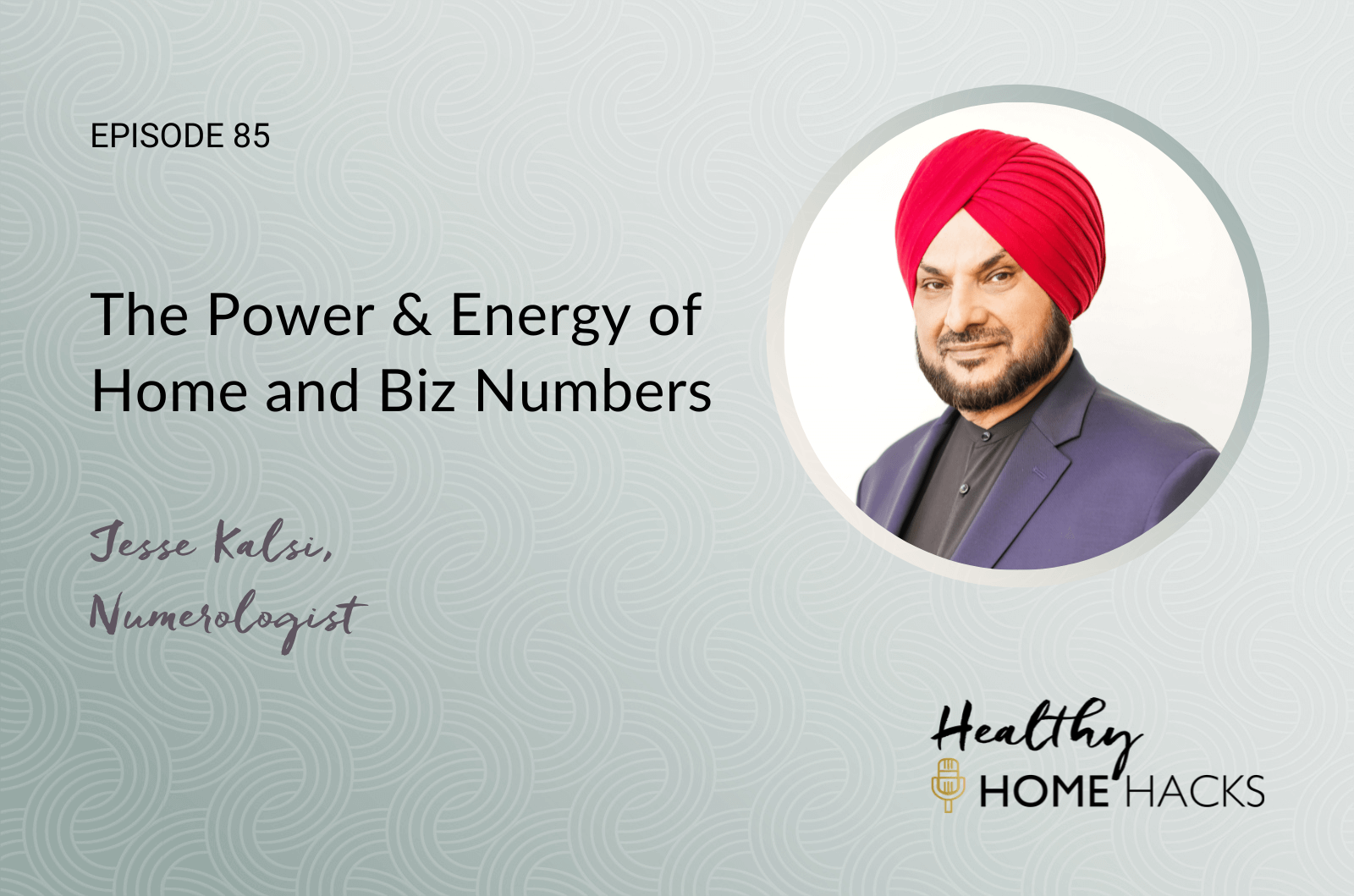 Nikola Tesla once said, "If you only knew the magnificence of the 3, 6, and 9, then you would have a key to the universe."
Can telephone numbers, bank account numbers, and business & residence address numbers determine a person's level of income, health status, and how that person gets along with a partner and family members? Our guest today and world-renowned numerologist and author of The Power of Home Numbers and All About Numbers, Jesse Kalsi says YES!
KEY TAKEAWAYS
What the influences and qualities are of each number from 1 through 9 are, as well as the amplifier number, 0.
What the original method of number patching that Jessie created is and how it can drastically improve a home or business' vibrations.
The endless combinations of numbers on homes or businesses that are responsible for success or failure, happiness or desperation.
The timing of numbers and how can anyone listening work with — and not against — the cycles of life to make progress and eliminate confusion and frustration.
Energies of famous addresses, politicians, and celebrities.
The proper use of jewelry, crystals, and tokens to elevate one's energy and expand our sense of awareness.
Listen to all episodes of Healthy Home Hacks on your favorite podcast app
Rate, Review, & Subscribe on Apple Podcasts
"I love Ron & Lisa and Healthy Home Hacks." <– If that sounds like you, please consider rating and reviewing our new show! This helps us support more people — just like you — to regain their health, protect their loved ones, and enjoy more energy. Click here, scroll to the bottom, tap to rate with five stars, and select "Write a Review." Then be sure to let us know what you loved most about this episode or the entire show.
Also, if you haven't done so already, subscribe to the podcast. Subscribe now!
Shop our Healthy Home Hacks Store
Visit the Healthy Home Hacks store to shop everything from notebooks and tees to hoodies, mugs & more! Your purchases help our show continue to thrive and reach more healthy living enthusiasts.
Episode Links:
Narrator 0:04
How would you like to improve your health and keep your family safe? You're listening to the Healthy Home Hacks podcast where we firmly believe in joining optimal health shouldn't be a luxury. Healthy Home authorities and husband and wife team Ron and Lisa will help you create a home environment that will level up your health. It's time to hear from the experts. Listen in on honest conversations and gain the best tips and advice. If you're ready to dive in and improve your well being and increase your energy, you're in the right place. All right, here are your hosts, baubiologists, authors, media darlings, vicarious vegans and avocado aficionados, Ron and Lisa Beres.
Lisa Beres 0:49
Friends, it is time to stop breathing in harmful biological and chemical contaminants. It's time to take control of your health, breathe better, and sleep more soundly. This episode of Healthy Home Hacks is brought to you by IQAir first and air quality. IQAir is the top air quality technology company and has been around for over 60 years. In fact, they provide the largest global air quality platform. In addition, they're the maker of award winning medical grade air filtration solutions that are Swiss made high performance air purifiers with something called hyper HEPA filtration technology. This technology removes 99.5% of airborne particles down to point 003 microns guides that's as microscopic as the smallest virus plus their filters last 38% longer than ordinary filters and are individually tested and certified. In fact, it's the air purifier we personally use and trust. Whether you're looking for a portable air purifier for your home, your office, your car, a whole house filtration system that fits right into your Hvac system, or an air quality monitor for your home. They've got you covered. Visit IQAir online at www.iqair.com to download their air quality app today and to find the ideal home air purifier for your needs. Oh and don't forget to head to ronandlisa.com to enter for a chance to win your own IQAir quality air monitors.
Ron Beres 2:22
Nikola Tesla once said, If you only knew the magnificence of three, six and nine, then you would have a key to the universe. But can we manifest the future we deserve through using our best numbers? In other words, can telephone numbers, bank account numbers and business and resident address numbers determine a person's level of income, health status and how that person gets along with other people. Our guest today and world renowned numerologist Jesse Kelsey says yes.
Lisa Beres 2:58
Jesse is a world renowned numerologist. He specializes in residential and business numerology and provides valuable insight on the power of numbers and how they affect our lives. In his books, The Power of Home Numbers and All About Numbers. He combines his Eastern upbringing with his Western experience to bring awareness and understanding of this phenomenon. Over the past 20 years Jesse has consulted with 1000s of people and positively affected their lives. His clients include prominent business people and successful companies. Jesse has appeared on numerous radio and TV shows in the US, and he was a successful real estate broker by trade, but Jesse is also a certified Federal Aviation Administration flight instructor and holds a commercial pilot's license. He received his bachelor's degree in India and holds an LLM in international legal studies from Golden Gate University in San Francisco, California.
Ron Beres 3:59
Jesse graduated from a national defense Academy of India and pursued Advanced Studies at the Indian military academy. He served as a captain in the First Battalion, Third Gurkha rifles, formerly called the Queen's Own. Just he left the army when he was informed of his true life's purpose. He originally came to the US to learn to fly, but eventually return to make his home in California with his family. Welcome to the show, Jesse.
Jesse Kalsi 4:31
Great to be here.
Lisa Beres 4:32
Oh my gosh, thank you for being with us today. I freaking love this topic and can't wait to learn more. So let's get started. Okay, Jesse, what is the influences and qualities of each number from one through nine, as well as What'd you call the amplifier zero.
Jesse Kalsi 4:51
Excellent. Okay, so, these are what I practice is the Vedic tradition of numerology. Like you're aware, there are many schools are taught to numbers. You know, the Hebrews have a system the Greeks have a system, the Chinese follow a certain system here in the North America as we look at numbers differently, right? But what what I follow is the Vedic tradition where and you associate numbers and planetary energies? So to answer those questions, number one, number nine, so each number has a planetary association with it. Now, say for example, number nine is Mars. And number five is Mercury, and number one is sun. And number three is Jupiter. And number six is Venus. So it goes like this all planetary. So we only look at numbers, we do not look at just numbers by themselves, we look at the planetary energy behind it. And then when they combine into different numbers, or as increased, right, we first look at the planets, behind them, and then we devide them into conclusions.
Lisa Beres 5:44
Okay, so how many numbers? It just goes up to nine? And then does it repeat? So?
Jesse Kalsi 5:50
Yeah, so let me give you a good example. Say for example, number nine. So I am influenced by the number nine. Because if you look at my name, Jesse Kalsi using the Kalyan code as of today, number 9 to 27. Okay, number 9, so 918 2736 keeps holding nines, right?
Ron Beres 6:07
Well, let's just let's go quickly. So what you're saying is, it's the letters of your name. Each letter has an associated number. Yes. And when you add up those individual numbers from each one of those letters, it creates a number. Yes, it does. Can you walk through our listeners, how they can do that, for example?
Jesse Kalsi 6:22
There are different courts but I use the Kalyan code, and that you can get it online. That's the vedic code. So..
Lisa Beres 6:29
I've heard of the Gematria, right, is that similar?
Jesse Kalsi 6:32
That's different. There are many codes - Chinese is the other then Americas, but there are different codes by different people. And what I use is the Kylyan code. So if I say my name is Jesse, Kalsi, and number nine, so I'm saying it because I use the Kylyan code, and because I practice Vedic tradition, and the reason I do that is because I find that it's more accurate than the other ones. I mean, they might be just as good. But that's where I feel that this one is more accurate. Now, so going back to what I said earlier, so my life is influenced by number nine. And why I say that is I'm born on April 3 of some year. So this business is all about harmonizing energy. So we have harmonized allies using numbers, what I practice and what I do. So on my date of birth, the planetary energy that vibrates is number 3. And number 9. Three is Jupiter and nine is Mars energy. And that's the reason why I read this color all the time to match that Mars energy. And my name is Jesse Kalsi mastered on Mars energy or my place where I live with a V 27 For many years, and much like this, I also wear Ruby in one hand, I wear red coral, and the other hand, Oh, wow. So it's colors and numbers, colors, numbers, and planetarium, Jimena. And quite a bit of other stuff, too, right? It's all about harmonizing. Like I said, that is arrived by our date of birth, you know, by each date of birth, we can know the best numbers and then we got to find, you know, say for example, if I said number nine is my best number, and I'm looking at a number 27. Now, I lived in the 36 earlier many years ago. So you can ask me, Hey, Jesse, how about living in a number 108 or 81? You know, why would you not live there?
Because one and eight is Sun and Saturn energy. And Sun and Saturn are no wonder they come together. They collide. Oh, wow. Yeah.
Lisa Beres 8:11
So you have to know that.
Jesse Kalsi 8:14
If I tell you Hey, Lisa, find a number nine. And you say hey, Jesse, I found this great numbers to number 81. No, but you told me 90 is a good number for me. Right? Yeah. But that is I have to tell you exactly what it is. All the work.
Ron Beres 8:25
Can we pick out this a little bit for listening? Yes. So real quick, so your name is a number around your birthday? Yes. The one for your name. What does that dictate in your life for the name first?
Lisa Beres 8:37
Well, actually, can we just back up a second because I want to explain if I'm getting this correct. I'm going to take a simple word ABBA, like the band, ABBA, so a would be a one, B would be 11221. So that's 246. Okay, so that's the number six. So six is Venus energy and Venus is is the business of music, art, creativity, money, it all comes to that. So just that vibration of the name is very powerful. It's like Tesla. See, Tesla has the energy of a number 16 comes to that at 16 is big business two is huge, big business.
A 16 is seven right or do you?
Jesse Kalsi 9:12
Notice a difference? This water is not seven not like the number eight it's a different it's like the White House is 1600 but it's a 1600 and that's why there's chaos there all the time. Haha, that's the address what when it comes on a business it is different when it comes on an address that is different. Okay, yeah, so that's how it goes is really tricky.
Lisa Beres 9:32
So like our address is 111.
Jesse Kalsi 9:36
It's a good number though. But then again go back to you know you and Ron gonna, you're gonna work in together. So those numbers will definitely come into play. But triple one is a number is a definitely a strong number. Not all banks have it. Yeah, that sometimes is always good. Oh, okay. So but would you call that triple one or would you call that three if you were looking up the meaning? It's like three aces or no.
Ron Beres 10:00
Okay,
Lisa Beres 10:01
You wouldn't refer to the number because I know in certain numerology you're always coming down to a single number is that different in the Vedic?
Jesse Kalsi 10:07
It's a different it's like sun. Sun three times. Sun three times is fame. It means that you got well known from that energy. It shines light on that number.
Lisa Beres 10:18
And one is the sun?
Jesse Kalsi 10:20
Sun. Yes, the Sun Sun Sun three times. Oh, okay. Oh, wow.
Lisa Beres 10:23
Some planets would you say have negative energy that you kind of want to avoid that number?
Jesse Kalsi 10:28
No. So what happens is, every number has an energy right? But every number is not good for everybody. So that's how it goes. I should have given an example like number eight, right? So you know, people love the number eight here and Orientals love it and 888 this is very auspicious. And what happens is if you look at it from the Vedic tradition, that perspective, number eight is represented by the planet Saturn. The Saturn is a cold planet, we all know that. Saturn is slow. Saturn is delivered right moves very slowly takes two and a half years to go from one cycle the mouse wheel and then second does not work. If everybody's Saturn is the color black.
Lisa Beres 11:03
Is it really?
Jesse Kalsi 11:04
Yes, Saturn works on your lower chakra. It go right from your sacral down to your feet. Right? That's how it go. I has seen a lot of people, right? Someone told them right? Number eight and stick it in your wallet. Right? You will attract money? No, it doesn't happen that that, that number eight, see if you have a five like mercury date of birth. So for example, if you're born on a 23rd or a five or you know Mercury energy, 14 that energy, then it will work for you because it's like wearing an embroidered and a blue sapphire. So that's how that connects. But say for example, if you have a one day word, or even someone like me, who has an abundant a plethora, some of it, I would never do that. I would never put 8 in my wallet and walk around knowing that block everything.
Lisa Beres 11:42
Okay, that's very interesting.
Ron Beres 11:45
You only count your month number and the day or do you actually count the year two?
Jesse Kalsi 11:49
You look at the whole energy, but I have a bunch of calculations. So what day and month are you born? I don't want to ask you the year and year so.
Ron Beres 11:54
Okay, mine is September 1, so it's nine one.
Jesse Kalsi 11:58
So basically, September 1 against your triple one is sitting in that sun energy as number one on top of that your work goes work on Mercury and Mercury is communication. That's exactly what you're doing. You're communicating with the world. Okay, yeah.
Lisa Beres 12:11
What's good for him? What color?
Jesse Kalsi 12:12
Green.
Ron Beres 12:13
Thank you for that
Lisa Beres 12:14
green shirt. And then I know we're asking you about ourselves. What about me? I'm August 24,
Jesse Kalsi 12:19
August 24. August 24, again, is very powerful energies. So you have Jupiter and Venus energy. Oh, so that is really good. Right from the beginning. And if you're growing up, you know, there's a lot of attraction around you. It's was like energy floating around us good for.
Ron Beres 12:35
Well, I was attracted to or so.
Lisa Beres 12:36
The growing up before I met you.
Ron Beres 12:39
Oh, okay. I see. Nevermind.
Lisa Beres 12:40
And so what color would those planets need Jupiter and Venus.
Jesse Kalsi 12:44
Jupiter. Venus is more like light yellow, blue. Those colors are really good.
Lisa Beres 12:49
Yeah, and I don't normally wear blue, but I'm in a blue mood. It's really interesting, Jesse Because Ron and I studied traditional numerology a bit. And the color therapy. We've had actually guests on that talk about the subconscious power of color to the point that we have integrated those aligning with our chakras. Like if Ron is giving a presentation he'll sometimes wear blue if he knows he's going to be speaking Do you agree with that kind of you do?
Jesse Kalsi 13:15
Yes I agree with that. But the thing is when a what if Ron even wears the color blue and work for him and because it always is ruled by Mercury which is number five. Your case I see no see when you asked me what are my numbers and I said threes and sixes, which is like more Jupiter and Venus energy then I said blue and yellow and blue colors. I see you're wearing blue but there's yellow in the back.
Lisa Beres 13:37
That's weird, right?
Ron Beres 13:39
Just feeling powerful. Yeah. And
Lisa Beres 13:40
What's Ron's color is green. He's just mercury or did you have another planet?
Jesse Kalsi 13:44
You got a sun as well. Sun is actually yellow background is excellent for him too.
Lisa Beres 13:48
Yellow. Okay, yellow and green.
Jesse Kalsi 13:50
And light color. But then again, Saturn just changed houses recently Vedic tradition. So his times kind of become very powerful now too.
Lisa Beres 13:56
Oh, as the planets move Yes, we have to actually adjust to a little bit to this.
Jesse Kalsi 14:01
Yeah, planetary energies keep changing and then cycles keep changing and nothing is constant everything is kind of the state of flux. Everything is moving.
Lisa Beres 14:08
Yeah, so it's interesting because I had heard it was a guru and I you probably know he's kind of a well known I can't think of his name but had talked about black absorbs energy. So traditionally, obviously here in the US people wear a black to a funeral, but he was saying that's really not a good thing to do, because you're going to absorb the sad energy. You don't normally see people wear white or a funeral but that would be a better color because then you're actually.
Jesse Kalsi 14:33
White kind of throws it away and black pulls it in.
Lisa Beres 14:36
Yeah, you agree with that too?
Jesse Kalsi 14:38
Yeah, of course. I agree with that. It does that black is a Saturn energy, black is basically sadness. But then the Saturn also then is big money too, by the way if it works with you, right, sees those Capricorns to full sign right to Saturn energy. Yeah,
Lisa Beres 14:52
This is all science. My mom was into astrology when I grew up, so I was exposed a little bit then I remembered her she would get the chart from Edgar Cayce see and all of this and I was like, oh my god, it's so complicated. In this do you need to know the exact time of your birth or just your date?
Jesse Kalsi 15:07
Yeah, I mean, there's more information needed but I can you know, because my experience I can pick up on those 24 as a number on a date of birth is considered to be very auspicious.
Lisa Beres 15:16
Oh, that's me.
Jesse Kalsi 15:17
24 is very auspicious. See, you know what people want to do is because two and four it has the energy of moon and Uranus twos and fours and this combination of moon and Uranus is very powerful. Oh, people do is I know what if things are not working well for them? You know, they've got a 24 and the sticker on the south side of the back of the number two this on the south wall? That's done very commonly.
Ron Beres 15:39
Really interesting.
Jesse Kalsi 15:40
In brass gold colors.
Lisa Beres 15:43
Oh my gosh.
Jesse Kalsi 15:43
So much you find someone's not doing too well. They know what's going on. Right? Have a 24 brass from the south wall with the back to the south wall.
Lisa Beres 15:52
In brass color, or does it have to be like?
Jesse Kalsi 15:53
It's like brassy 24. Yeah, that's used a lot. But in general, 24 is a very auspicious number is really, really good. So as rounds one one and not so many other. I'm sure you know a lot of people and I have many celebrities in India who I've worked with all the time, and many have this one energy and they're famous and then.
Lisa Beres 16:13
Ron is the one energy has always been kind of a Showboat. Let's be honest. He came into the world with Showboat.
Ron Beres 16:20
Now I know why it's all because the number one so interesting, right?
Lisa Beres 16:23
And then do we deal with zero? What does that mean the amplifier?
Jesse Kalsi 16:26
The amplifier expands the energy that takes up or amplifies it in a certain way. Right. Like I said earlier, the example 108 or sun and Saturn coming together. That's a difficult combination. So but let me tell you what that does to say, for example, if the number of Sun and Saturn comes on your residence and just for example, it will attract things like cars, injuries, accidents, family or legal troubles separation, that just sit on the door personally, very challenging.
Lisa Beres 16:51
What are the numbers that are sun and saturn?
Jesse Kalsi 16:53
One and eight?
Oh, I see. You don't want that combo?
No, no, no, no. Don't want that at all. Oh, okay. We'll meet anybody. Yeah, no, no big no.
Lisa Beres 17:01
And if you have a 180, then you're going to amplify that.
Jesse Kalsi 17:04
Hey, what do you do kind of caught me there?
Lisa Beres 17:06
Yeah, I'm getting there .
Jesse Kalsi 17:07
And further amplifies it. So we don't want that at all.
Lisa Beres 17:12
Oh, my gosh, it's so interesting, because I mean, I'm into things away. Also, I've studied that I used to be an interior designer, and it's very powerful. Are you a believer in Feng Shui as well?
Jesse Kalsi 17:21
Do I do a lot of stuff. I'll tell you quickly about Fung Shui what they say if things are being done. And besides the numerology part, if things are not working, this won't fix that you can do all the time. Is that that's the southwest corner, put some weight there.
Lisa Beres 17:35
Put some what? What would be what?
Jesse Kalsi 17:38
Would it be a picture of pillars or you put a safe there?
Ron Beres 17:41
No. Ah, southwest corner of this corner is taking notes.
Jesse Kalsi 17:47
That is the most interesting fix, right? You're gonna put a safe like a big safe there. Ah, the safe should face northeast the wall of the safe should be touching the southwest area and then it should be facing northeast with the flow of money comes from their north northeast. That's when they do. So this is one technique that we should always use like a foolproof technique.
Lisa Beres 18:08
Yeah, that's really incredible.
Jesse Kalsi 18:10
That this Bagua and all the people do a whole bunch of stuff. Yeah, that is one thing.
Lisa Beres 18:14
Wow. It's amazing. It's amazing. We really aren't taught this like I guess, in India, it's different, right? Is this pretty commonplace in India?
Jesse Kalsi 18:22
Yes. There are a lot of secrets in the very wealthy, you know,
Lisa Beres 18:25
Oh, yeah. Big time.
Jesse Kalsi 18:27
They do that.
Lisa Beres 18:28
Wow. We're in two frequencies. We're into the healing power of certain frequencies, which obviously Nikola Tesla was into that. Yes, absolutely.
Jesse Kalsi 18:36
I believe in that. Are you talking about the in the music 432?
Lisa Beres 18:41
Yeah, 432, 528. And listeners, we've talked about this a little bit, but it's so incredible. Well, actually how they changed the frequency that music was played at from 432 to 440, which 440 They say has like a negative energy. And 432 is a very healing. I think 528 is the actual love energy. But 432 is like a if I'm getting that right, I might have a reverse to attach to the resonance of your human, the Schumann resonance of the earth. And so anyone listening who's dealing with any ailments, that's a powerful thing that those frequencies just listening to that just having your body because we are semi conductive, where we're made up of mostly water. Yeah. So I knew this was going to be an interesting conversation. Jesse, we haven't even gotten past the first question.
Ron Beres 19:26
Yeah, you're right. You're right. The first question too, so real quick, so listeners are listening to you. They're saying, Okay, I have a number with my name. I have a number with my date of birth. What is the difference between those two categories? What does that define your life, the number for your name and the number for your birth? So what's the difference between those two?
Jesse Kalsi 19:43
So we actually start from the date of birth, everything starts from the date of birth, and that's just from there. We pick up your best vibration, and then from those because everything has to be tuned with your energy. Okay? It's your basic energy.
Lisa Beres 19:57
Okay. So you would if you were going to buy house you would probably go with your date of birth number more than you would your name number.
Jesse Kalsi 20:04
See name number is also very important of what her name number is all your name vibrates a popular name. So how it vibrate in the universe, but what people will share popular name, that's what vibrates a lot. See, my official name is Sin Kalsi. That's what my citizenship and everywhere that's my official name, but I use Jesse Kalsi. More of my popular name with that. So that's how I did there. Okay,
Lisa Beres 20:26
that's funny. I saw your name. And I'm like, Oh, okay. That doesn't sound completely Indian. Yeah.
Jesse Kalsi 20:32
I mean, that's just a popular name to vibrate with my numbers. But to answer your question one, do we always start from our date of birth? And from there, we pick the best vibrations and then we always try to adjust our names to our best vibrations. That's the idea, right? Make the vibration stronger and larger, right?
Lisa Beres 20:50
Yeah. Like a Katherine could be a Katy or a Kitty or whatever.
Jesse Kalsi 20:54
Exactly. Let's look at it named Ron. Ron 789. And five is 14. Right? As I said, one in five is his number ruled by Mercury at five. So that's a good number for him. Okay?
Lisa Beres 21:05
Because his real name is Ronald. You can call me with Ronaldo. But Ron is Ron's good. Okay.
Jesse Kalsi 21:10
Yeah. No, very good. Excellent. Perfect for him communication. I'm sure he's known by this name everywhere, too. And that's what you said helps Healthy Home Hacks by Ron and Lisa.
Lisa Beres 21:18
Yeah, he's the communicator for sure.
Ron Beres 21:20
What about Lisa I know we're getting personal here.
Lisa Beres 21:22
We're getting personal.
Jesse Kalsi 21:23
So Lisa has three fours. So your combination together, right. It's like the five and a 345678. So this is the five minute combination. And all you have to do is actually wearing a Blue Sapphire and Emerald. Connection is really good. The name Ron and Lisa. How long you been doing this podcasting together.
Lisa Beres 21:42
Podcasting? Gosh, Ron, come on for years. Three.
Ron Beres 21:45
Maybe it was great. Right. So three and a half. Yeah, I
Lisa Beres 21:47
can't remember the exact kickoff date.
Jesse Kalsi 21:49
Yeah, so this name vibration works really, really well.
Ron Beres 21:53
Oh, wow.
Lisa Beres 21:54
Well, we've had Ron and Lisa our business for over 13 years. The name random Lisa. There you go. So who's the Sapphire? And who's the Emerald?
Jesse Kalsi 22:02
So emerald is Orion. And you have the blue sapphire here and the names?
Ron Beres 22:05
Okay. All right. So cool. Now we know what to get each other as guests now for sure. So okay, we'll move forward here. Thank you for that Tim. It was really appreciate it. But Jesse, how can we explain the original method of number patching that you created? And how can it drastically improve a home or business? vibration?
Jesse Kalsi 22:24
Excellent question. So same number of patching is something that came to me as I walked along my journey here in the United States. And a number of patching is a technique by which we use smaller numbers, which are actually planetary energy into existing numbers with the idea to shift the vibration. And so I'm going back to that earlier tomorrow, straight spleen to you number one in each together in any form. So say, for example, that I'm going to have many clients over the years, one in eight, right? So they asked me, Hey, Jesse, what do we do? And we can't we have a lease here, we can move from here, what do we do, then typically looking at the date of birth, or it's just a patch. So a patch would be something that would lower that energy, it won't kill him completely, because the frequency is very strong, but it will make it a little bit for some time until another place. And what would typically happen is a say for example, once you wait on the residents past with the date of births of all occupants, with a common number, which is Malvinas, which kind of means this kind of common for numbers. You bring that in, and depending on how it's just because six in the beginning or the middle on the end of life, we'll see what if six comes in there, it'll shift the vibration, Venus will what happens is Venus works well, with Saturn, Saturn won't bother Venus energy does not. So it's just like going back to the sales case. And Lisa has a lot of Venus energy. But her name Lisa has Saturn energy, right. So that wouldn't bother you. Because Because six and eight are compatible, they connect fluid some load together that that's, that's really cool. Yeah, so that's how you patch a number like 108 with a six. But then before we patch it, what we choose the best number are based on the energies of all the occupants of the place. So it's not just like one person, only all the occupants. And then sometimes people either crossover or some people leave, and then we're gonna get readjusted. And then the idea is to maximize the energy at that stage, or whatever it isn't. And also at the same time, for a heavier number like that. A pet will always shift the energy it will point the occupants something that will come to them, right. So they can move in the right direction, like a little compass, they're gonna say, oh, there's something will come and they'll move in the right space. Otherwise, if we're just living in a difficult number like that, then it'd be hard for them to find the right move to know like, right, right. Now, one or the other, right? And I've seen people that I've seen very educated people to PhDs and very qualified people, right and betrayed is a friend of mine, actually a client of mine up here and they were telling us a PhD from Cal State Hayward, right. And when they invited me, and he went to his residence, and he's out mowing his lawn number, or whatever, his wife divorced him already. He was bought by himself there, right? That surprised me at all. He's a professor or whatever. I mean, he knows I'm sure he knows this stuff very well, but he doesn't understand how deep that information outside as well. I didn't mention that. I just submit. You don't talk until you're asked. Oh, it is good to keep your mouth shut. You don't have to warn. Hey, your number. No, no, no, you don't do that right. Oh, right. Right. Right.
Lisa Beres 25:08
You wait till he asks you.
Jesse Kalsi 25:09
Yeah, if someone wants to know, then they ask always.
Lisa Beres 25:12
Yeah, that's true. Otherwise keep it zipped, rollin.
Ron Beres 25:15
Did you tell them like, Hey, I know a lot about numbers and how they can affect you. But you don't mention that right now. No?
Jesse Kalsi 25:22
No, I mentioned No, I don't. Yeah, no, I see any other real estate broker I love have a combined with that's my principal business actually property. And my businesses on my broker's license, my wife and my daughter they run here. So if you have a lot of people come to me and just like this, we have this one guy up in San Mateo, she called me to Chinese lady reading for just a while you come to my house, I said, I cannot listen to I was like $3.8 million listing. And I see I cannot list your house because I don't want you to think that I'm steering your dog. Because I'm number. So I'm a broker, I'm going to sell your progress. And I cannot do that. Yeah, find another broker agent, but you're gonna do that differently. It was a number of parts. But for those who don't know, you know that I don't tell them, and then they want to buy the buyer. But I didn't do that. Earlier, I was kind of very direct less to buy. So don't tell people don't buy this and don't buy that. But now, I've learned to know sometimes people have their preferences right this year. Who cares?
Lisa Beres 26:11
Yeah. So the price that you list the house obviously would be extremely important, right? Very boring. Yes. Every number in that sequence three numbers important. Yeah, exactly. Okay. That's interesting. Yeah, because we watch that Million Dollar Listing. We love that show. And they even they'll get really into a little bit of the science of the psychology of the numbers. Not this deep. Yeah. purchased. It does certain numbers that people.
Jesse Kalsi 26:33
A lot of us see that add it all the time, right, then put like 3 million and then to win triple eight or something like that, right? Yeah, that's not good. It works. Yes. Sometimes it works. Sometimes it doesn't work. I had this one client of mine live in Kuala Lumpur. And then from there, a lot of money, they go online and find a property here in Santa Monica. La, right. Yeah, they found a property right next to a bank. Right. And her brother lived there. So they bought it for like 3.6 million or something. So I fly straight in and then they come and occupy the house. But the house number had two ones. Let me tell you 11. So you have three ones is good if to one's 11. See people think 11 is a master number, which is true it is. But what happens is when the sun comes twice, but in your case three is different energy for the sun comes two times, then it brings relationship challenges.
Ron Beres 27:18
Interesting. Oh,
Lisa Beres 27:20
Listen up. Let's get rid of that a 11 in your house.
Jesse Kalsi 27:25
Lot of these people have seen or they go to these psychics and tourists say hey, you know what number oh, you know, it's a master number by it. And they have no idea what that ma but I've seen this for years.
Lisa Beres 27:35
Is a single one. Okay?
Jesse Kalsi 27:36
Even one is different. Completely. Okay. Yeah, a triple one won't bother you. But a double one will absolutely bother you.
Lisa Beres 27:43
What about I guess this will be bad than 1111? Because that's also people have a lot of.
Jesse Kalsi 27:47
1111 Depends on on the residents. Okay. Lebanon, residents should work with someone with like a one day to burn to work. You know what? See what happens is generally the number one and the number four are very compatible. Oh, there can't be so one goes and listen for ones right here. I have no problems. Okay. But if you go there, it won't work for you. Wow.
Lisa Beres 27:48
If you visit it?
Jesse Kalsi 27:53
No, no, Lisa, if you live in a triple for have it for once. Yeah, that will work for you. Okay, they set
up all work for you.
You know why? Because Venus worked for him.
Lisa Beres 28:19
And it won't work for Ron.
Jesse Kalsi 28:20
It'll no longer work for him. Because he has a ton of energy. So what happened?
Lisa Beres 28:23
Oh, but some people who come to the house it wouldn't work for? No, I'm
Jesse Kalsi 28:27
talking. See if there's a residential 1111 1111. Okay, so now for Ron, he has some energy. Basically, it has one zip file. If he gets into a residence like that he will be able to hold it. Ballroom but say if you want to get into that restaurant, it will not work with you at all.
Lisa Beres 28:44
Oh, it wouldn't work with me at all. Ah, those ones, okay.
Jesse Kalsi 28:48
It's just like China, China has the energy of Venus is 15 Energy is China. And what happens is, whenever that energy comes to the fore combination, which is fours and sixes, Venus and Venus, whenever they come together, there's huge challenges. So your 2023 and China with the 16 See what happened, they got to get to the world, right? The give COVID. So but that's how it comes six fours and sixes cycles. This is even more deeper than that. Because we all have different data, birds, you know that different types of cycles keep changing. And the cycles change on a bunch of days every year. So around that time, it changes every time.
Lisa Beres 29:23
Okay, so we need to be aware of that. So okay, we've kind of talked about the endless combinations of numbers on homes or businesses that are responsible for success or failure, happiness or depression. What is something a business could do that needs help with their success and financial, what's something they could do if they are struggling? Like which a lot of businesses or small businesses are right now. See, the
Jesse Kalsi 29:48
business name is very important. The name to Yeah, name is very important. And then of course, the address is very serious. For example, you running a food, business, anything that's for liquor or wine, whatever food is a good We'll see that energy typically works with twos and sevens been moon and Neptune energy. But typically more with the number seven, that food business is always at energy. So so if you have a food business, and your number outside is at or eight, zero it won't run, oh, okay, because you want it's not going to run. And then again, you'll go back to the owners information and I'm gonna what is your date of birth? And that's who I'm working with. We work so hard, and we block them and nothing is happening, right? Yeah, people are stealing and then boys are stealing. Right? Right. So then a patch would come and you didn't patch that place. But then the movement of business is very important.
Lisa Beres 30:34
Okay, so just changing the name. I had a question. So when you go through your name, would you include your middle name, when you're coming up with that number doesn't matter.
Jesse Kalsi 30:42
You know what it is go with a date of birth. Then we look at the popular names, what are people calling him? And I was like, What is your popular what's why reading? And then name as well? I mean, your business license, you can check all that too. Yeah. And then again, every business is not for everybody. Can't be like you guys, you know, I mean, podcast and beat on celebrities. Everybody can't be there, because that vibration will not bring them there.
Lisa Beres 31:04
Right. That's so interesting. Wow.
Jesse Kalsi 31:06
Yeah. But it's like that. And then it's important to know your energies and then get into that business.
Lisa Beres 31:10
Yeah, going the other way around. Right? Yeah, I think that out first.
Ron Beres 31:14
wow. It is really faster. We'll just see how does the timing of numbers and how can anyone listening work with and not against the cycles of life to make progress and eliminate confusion and frustration?
Jesse Kalsi 31:26
You know, typically, you know, basically two versions. I'll give you my example. My like I said, my energy for the third I have no threes and nines energy. So with me what I see what happens it's like my Number three's a nice, I'll go with the day I'm born number three. So always the earlier part of the year which is Saturn energy, because it's the cold season. Saturn is cold. So January and February pretty much all the way till about the 21st of Feb has a cold energy. So that is Saturn energy. So that is cool. I avoid doing anything in that period. I've seen that I won't even travel in that time because no work for me even no work. But Ron wants to travel in that time it would work. Okay. If you want to travel in that time, it would work. More travel. Interesting. Go to Italy and spend some time to work. But if I want to travel it will nowhere.
Lisa Beres 32:10
Wow. And then like signing a contract like you would definitely avoid signing a contract on a certain day. Correct?
Jesse Kalsi 32:16
Absolutely. Do you look at the day have you look at the timing many things? No. In fact, just recently a friend of mine he bought this huge facility here, Saudi businessman and he got into these buying a couple of gas stations together. So he made a deal with this guy and escrow and everything was done right. No one's approved. He's ready to sign and everything. Suddenly what happens? Seller No, he backs off. Oh, he says I just didn't know that. This is what so much disappointed. I didn't realize this the price was 360,000 higher line on the sell you the dried the poor guy. I mean, he closed yesterday, we'll use some whatever we did, we did that. Oh my god. Wow. Something like that.
Lisa Beres 32:48
And look at how often that happens in real estate. What that's you know, yeah, things like that. So falling through getting up in.
Jesse Kalsi 32:54
Another very interesting thing. You said Just this morning, I was talking to my cousin sister. She lives in Nebraska and my brother in law. He's been there for many, many years. He is a professor of computer science at the Lincoln University of Nebraska. Dr. Jitendra Dugan. I've started to message this morning, as he told me that you remember that you were here last time for my daughter's wedding. And some years ago and this one guy who's polymerized the wedding and all? I said Yeah, I know the guy name. He says yesterday, two days ago, he won a lot of a $50 million. Ah, ah, wow, Indiana.
Ron Beres 33:24
So why did he win? Because he had a lucky name? No. What? What was?
Jesse Kalsi 33:27
I don't know that I don't know about okay. I don't know if data was another 50 million 50 million. Wow. And then she tells me what happened the very next day, somebody came to the store and stabbed the wife several times. Ah, can you believe that? Oh, no.
Lisa Beres 33:43
Trying to get the money.
Jesse Kalsi 33:45
Oh, I don't know anything. I'm just telling you. Right? How vibration. So that definitely has a very positive vibration rise to pull that money. And honestly, I don't remember very clearly. But again, that's how that energy came. And then all that luck. dollars comes in money comes in lotteries and things like that. It always brings a ton of garbage of the two, you know,
Lisa Beres 34:05
you got to deal. Right, you would have to be aware of that. Right? Because you can. Yeah, you're saying the win sometimes brings bad energy to it does. Oh, but you can fix that. I assume?
Jesse Kalsi 34:17
The need you have to donate most of it or keep a little bit but give it back.
Lisa Beres 34:20
All right. Because the energy right, the cycle of money. Yeah. Don't make it stagnant.
Jesse Kalsi 34:26
Yeah, right away as much as you can donate it.
Lisa Beres 34:28
Are you saying just on a whim? Or are you saying if you come into a lot of money, period,
Jesse Kalsi 34:33
you know, in our tradition, right in the Sikh religion, right? Typically, we grew up with a 10% every month. So whatever, make every month, right? 10%. We just give.
Lisa Beres 34:41
Right? I would just tell anyone not to a church, per se,
Jesse Kalsi 34:45
Church or needy or whoever, like that. If it is a lot of money, then you better be ready to give more than that.
Lisa Beres 34:51
Yeah, I would agree with that. I have a lot of Christian friends who are really, really so good about it. I mean, it's just ingrained that they Have 10% Without question, and it's just a way of life. And a lot of people don't do that some people do.
Jesse Kalsi 35:06
And it keeps coming back. But see, the thing is when you give to get right, so it's just like that. Yeah. Wow, you should know that business people should understand when you make money, you know, should give me but please give, you know.
Ron Beres 35:20
So just real quick and the one question you said, so during your birthday month you said it was too cold period of two months before you can't travel then? Because I'm not of that same birth period. Are you not supposed to travel during your birth season? Is Is that why?
Jesse Kalsi 35:33
That's not that? So I'm sorry, we just went the other way. What happens is no. So like, you're asking for cycles, right? Yes. So like I was telling you my birthday, right. And then I said the threes and nines and that part, but then when I was March works for me, may work for me. And then the end of the year, November, December, October, November, December, that energy, and that's pretty much that would work for Lisa to know that energy more like March, march May and the end of the year, right these months typically would heighten your frequency, you know, we just love this line, right? Work for You like that. But for wrong, right? Like, these hormones are really good. So you won't say for example, if he produces a film or a movie, and he wants to release it, and it seems like any day after December the 15th. Actually, there's one very famous Indian star, his name is Amir Khan. But he's a billionaire. And he's born on March the 14th. I remember, whenever he creates a film, it's always released on the 15th or the around 15. between the 15th and 20. December.
Lisa Beres 36:28
Oh, okay. movie releases. Wow. It's like everything.
Jesse Kalsi 36:33
Just interesting. He's has a lot of mercury there. And each time he does his job blockbusters, a creator, that is timing.
Lisa Beres 36:40
Yeah, like Nikola Tesla says, Everything the universe is made up of energy, frequency and vibration. And you probably heard about the water experiment with Dr. Marisol Emoto, I think is his name, where he said words to the water like negative negative words to some of them and positive positive words. And he studied this over like weeks upon weeks, and he looked under the microscope at the water crystals at the end of the experiment. Some of the water he didn't even say anything to he just had negative words taped to the glass that the water was in. The crystals in the negative water were like black and disfigured and ugly. And the ones in the positive. Those ones were given love energy and positive affirmation. They were gorgeous. They looked like snowflakes, all different shapes and crystals. The energy so quickly. Yeah, yeah. So can you share with us some of the energies of famous addresses politicians and celebrities?
Jesse Kalsi 37:33
Yeah, they're many. I have celebs? I know some of them. I won't take their names or a number. So my fear I know quite a few. See what happens in Bollywood in India know these people who live on the waterline of Jew you know, that? Don't the Arabian Sea. Right. Their homes have names?
Lisa Beres 37:48
Yeah. Oh, they don't do numbers just names. Because yes, you're gonna say yeah, I guess they do that in Hollywood.
Jesse Kalsi 37:58
Right. Lisa? Got it, something like that. Whatever it is, right. All right. So this is one girl and how are you gonna see her name on my website to see you there. He's been there since a very young age and with a family of singers very very famous. It's a very good friend of mine. So she called me this last year when she was here in Hollywood and so I asked her who was you and she said no, you don't have an address I have a name outside and I said was the name so I said the name is working with the energy or the color of that name is black written black letter Ah right. I said that was not working with our frequency right. So so this you know, use gold like some nice strong brassy letter. And when she did she believe that you with so much and she did she change the colors? Yeah, she did send me a picture later. And the things started shifting for her.
Lisa Beres 38:43
Ah, wow. Okay. So the color, like if you were to live, I mean, a farmhouse style is very popular. And you see a lot of like, really contemporary farmhouse, these kind of architecture that's black. It's kind of a new trend. Would you say that that is a protective energy to have around your house? Or is that?
Jesse Kalsi 39:01
I wouldn't say that. No, I wouldn't stay in a place just to my dark energy, you know, dark energy. When you go into a new house, you look at the light rays. The latest hasn't house is not like, yes, one thing that was used to look at the vibration. Honestly, you know, the dark energy, which is honestly you don't even have a strong sadness, say, you know, use like more lighter colors and sunlight and all.
Ron Beres 39:23
I say yeah, right to lift your mood. Quick question for you to just you actually last one for you. Thanks for your time here today. Can you share with our listeners, the proper use of jewelry, crystals and tokens to elevate one's energy and expand our sense of awareness?
Jesse Kalsi 39:38
Absolutely. So again, you know, crystals and genuine crystals are associated with our date of birth and the best numbers that vibrate with us now. So for example, in my case, like I told her, you put the total so might fusion lines know what he called red coral works great for me and Ruby works great for me, you know, because I'm wearing right now.
Ron Beres 39:54
Yeah, you're showing off the rubies?
Lisa Beres 39:56
Is that your birthstone? Is your birthstone Ruby.
Jesse Kalsi 39:58
Yeah, he's on my gemstone. Be honest with you ever since I want to offer I wore this Ruby right? You know, all these celebrities came in.
Ron Beres 40:06
Wow, okay.
Lisa Beres 40:07
Oh nice!
Jesse Kalsi 40:10
Why does that that's what it does do. So now if you asked me You said hey Jesse wanted to go wear a blue sapphire is never worked.
Lisa Beres 40:18
Right. And Ron, what's your Do you know your birthstone September is that I'm like emeralds. Oh, you're an emerald green emerald green. Okay. And then I know mine's.
Jesse Kalsi 40:27
A little pinky finger. It's like it's worn by Mr. Amitabh Bachchan right. The biggest Star of India.
Ron Beres 40:34
Oh, really? Okay, I'm gonna copy his ring.
Lisa Beres 40:37
Yeah, we got to get to your emerald. And I know mine's a light green. Mine's the Peridot. So we're just a green. Oh, you know what our first business was called? Green Nest. That was a good name. We have a lot of stuff in our lives. Our book too. Oh my gosh, this was so incredible. Jesse, I could talk to you for like 10 hours. But thank you so much for being with us today.
Jesse Kalsi 41:00
Thank you for being here. And it's really nice to be with your honor. Lisa. Excellent.
Ron Beres 41:05
Oh, you too, Jesse.
Lisa Beres 41:07
Thank you. I'm so happy when we met and crossed paths. You can learn more about Jesse by visiting Jesse and that's jessekalsi.com Or follow him on Instagram @iamjessekalsi.
Ron Beres 41:23
To get all the links to today's show. Head to ronandlisa.com/podcast. And stay tuned for the next episode. Get ready to uplevel your health. See you then. Bye. Thanks so much.
Narrator 41:36
i This episode of the Healthy Home hacks podcast has ended. But be sure to subscribe for more healthy living strategies and tactics to help you create the healthy home you always dreamed. And don't forget to rate and review so we can continue to bring you the best content. See you on the next episode.
Transcribed by https://otter.ai
Sign up to receive email updates
Enter your name and email address below and I'll send you periodic updates about the podcast.
Disclaimer: *This post contains affiliate links for your shopping convenience. You still pay the same price but we might earn a small commission. Thank you for supporting the brands we love and trust.