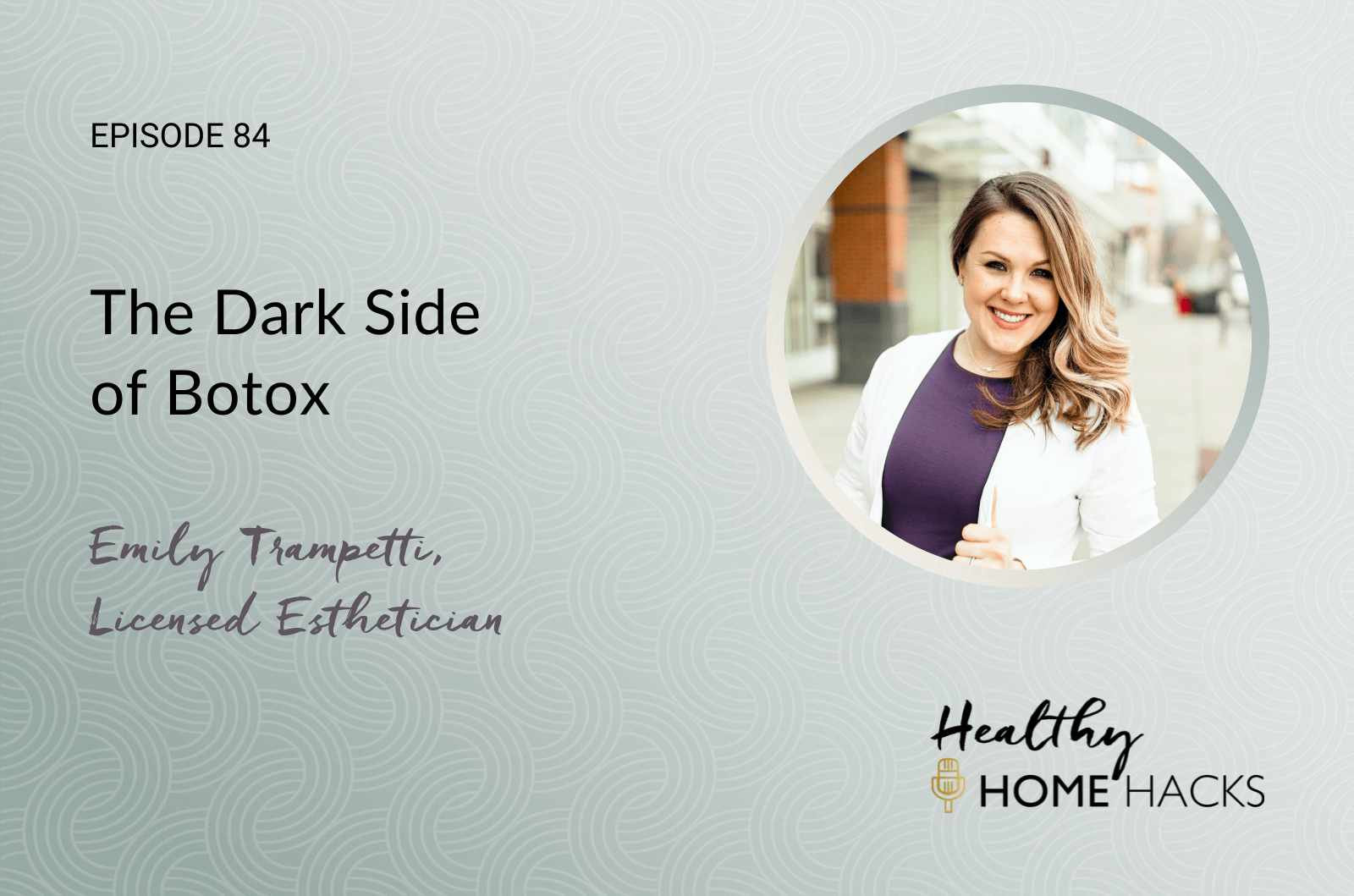 The decision to diminish fine lines and look our best via a noninvasive injection weighs heavily on both women and men today.
If you have used, or are considering using, Botox, also known as Botulinum neurotoxin serotype A, you don't want to miss this episode. Botox is big business; the global Botulinum Toxins Market is projected to grow from $7.49 billion in 2023 to $10.62 billion by 2030. But, besides the price tag, is there a cost to the user's health long-term? Especially considering researchers at The University of Queensland have shown how Botox is transported via our nerves back to the central nervous system.
Our guest, Emily Trampetti, is a Master Licensed Esthetician and founder of Skin Property is here to shed light on this dark side of our obsession for a more youthful appearance.
KEY TAKEAWAYS
Why someone listening should avoid Botox and its competitors.
The long-term effects most people don't know about.
Some of the psychological beauty factors that push the hype of Botox and other invasive preventative measures.
How some clinics and companies are breaking the law by advertising Botox and even purchasing Botox illegally.
Tips to age well and with grace.
Factors people should people be paying attention to as they age, and when.
If you suffer from various skin issues including acne, severe dryness, rosacea, eczema, and even premature wrinkles, head over to www.skinproperty.co to learn more or book a consultation with Emily. We'll have the links to all of the links in the show notes at www.Ronandlisa.com/Podcast.
Listen to all episodes of Healthy Home Hacks on your favorite podcast app
Rate, Review, & Subscribe on Apple Podcasts
"I love Ron & Lisa and Healthy Home Hacks." <– If that sounds like you, please consider rating and reviewing our new show! This helps us support more people — just like you — to regain their health, protect their loved ones, and enjoy more energy. Click here, scroll to the bottom, tap to rate with five stars, and select "Write a Review." Then be sure to let us know what you loved most about this episode or the entire show.
Also, if you haven't done so already, subscribe to the podcast. Subscribe now!
Shop our Healthy Home Hacks Store
Visit the Healthy Home Hacks store to shop everything from notebooks and tees to hoodies, mugs & more! Your purchases help our show continue to thrive and reach more healthy living enthusiasts.
Episode Links:
Healthy Alternatives:
Narrator 0:04
How would you like to improve your health and keep your family safe? You're listening to the Healthy Home Hacks podcast where we firmly believe in joining optimal health shouldn't be a luxury. Healthy Home authorities and husband and wife team Ron and Lisa will help you create a home environment that will level up your health. It's time to hear from the experts. Listen in on honest conversations and gain the best tips and advice. If you're ready to dive in and improve your well being and increase your energy, you're in the right place. All right, here are your hosts, baubiologists, authors, media darlings, vicarious vegans and avocado aficionados, Ron and Lisa Beres.
Ron Beres 0:50
We all have them threaded wrinkles, whether you're looking to diminish unsightly wrinkles or just working to prevent them, the pressure for both women and men to get a magical injection that diminishes the fine lines weighs heavy. Which brings me to this important question. Do you or have you ever used Botox? It's a big business. In fact, the global botulinum toxins market is projected to grow from 7.49 billion in 2023 to over 10.60 billion by 2030.
Lisa Beres 1:30
And I recently stumbled upon a disturbing article titled, Botox ugly side effects when deeper than skin alter mind and numb emotion. It sent chills down my spine. According to the article. This increasingly popular beauty strategy has a dark side, it doesn't only deaden facial nerves and muscles. It may also alter human cognition, emotion and possibly empathy as well. This coupled with the Science Daily report finding that Botox makes an unnerving journey into our nervous system, where scientists found how some of the potent toxin used for cosmetic surgery escapes into the central nervous system. Yikes. That's enough to make even the most Botox's faces brown. Our guest today, Emily Trampetti, a master licensed esthetician and CEO and founder of Skin Property and it's been featured in Reader's Digest, Healthline, Well and Good and more.
Ron Beres 2:29
As she grew up, Emily quickly learned how confusing the beauty industry can be. As a marketing veteran. She was also aware of the strategic ways companies use language, celebrity influence and PR to convince you their product or service is superior. Emily weighed her comfortable marketing career, and she sought out one of the top European aesthetic institutes in the world and became state board licensed to advise on skincare. This was important since many brands sales reps influencers out there are not licensed in esthetics, meaning that the majority of people telling you how to take care of your skin are hardly aware of how the skin actually functions.
Lisa Beres 3:12
Emily understands how devastating and isolating it can be to suffer from various skin issues like acne, severe dryness, rosacea, eczema, and even premature wrinkles, which is why she created Skin Property. She wanted a brand that truly cared and advise on skin, a company that was invested in the person versus the brand. Emily is here with us today solely to help us navigate this crazy beauty industry with better tools and understanding so that we can reach our dreams skin goals and get glowing.
Ron Beres 3:43
Welcome to the show, Emily.
Emily Trampetti 3:46
Yeah. Hi guys. Happy to be here. Thank you for having me.
Lisa Beres 3:50
Thank you. I'm super excited about this topic. And thank you again for being with us today. So let's get started. So many people don't know that in 2007, Allergan was ordered to pay Virginia man $212 million from damage caused by their Botox. In 2009. The FDA required manufacturers to put a black box warning on their products, stating the effects of Botox and all botulinum toxin products may spread from the area of injection to produce symptoms consistent with botulinum toxin effects. The symptoms have been reported hours to weeks after injection, swallowing and breathing difficulties can be life threatening. And there have been reports of death and it goes on. So Emily, are you familiar with this and why should someone listening avoid Botox? Its competitors and what are the long term effects that most don't know about?
Emily Trampetti 4:43
Sure! So as we all know, we live in the United States in particular, you know, Botox is a very household name and I have many friends I'm in you know my 30s 40s and mean today it's almost like you get shamed if you don't try or dabble or I regularly get injected.
Lisa Beres 5:01
Botox shaming.
Emily Trampetti 5:02
Yeah, botox shaming. Yes. Especially like weirdly, in the mom space. I feel like that's really common, which is unfortunate. But I am familiar with some of these different lawsuits and all kinds of different stories that we hear out there. And I really want to create a little bit more of a talking platform, which is again, why thank you so much for having me on here. Because I want to spread more facts about these botulinum toxin A, which is Botox and Dysport. And some of the newer type of brand names that are coming out there. It essentially is the same toxin right, that causes botulism, it's an a very, very tiny dose, that with our current research, since like the 90s, it was just FDA cleared, actually, in 2002. In actuality, it hasn't really been on the market that long, if you look at beauty standards. But you know, the overwhelming research that's been done since then, which is not that long, it is safe. But like anything that you inject into your body, it can be hitting nerves, it can be hitting muscles the wrong way, and it can spread, there are actually a lot of serious risks that you take on, I would hope that people are reviewing that information with every patient. I know for a fact that they are not always doing that. But it's a risky thing. You're injecting a toxin into your face, right. And so anything can happen.
Lisa Beres 6:29
And this was important for us to bring up because, you know, we teach people how to eliminate toxins in their home and in their life. And like you said, this is a widely accepted toxin that isn't even talked about, like you said, people have Botox parties, and who knows who's injecting? I mean, I have never been to one of those. But I would be petrified, like, what is it just random people putting Botox in each other? Like, you're gonna end up with some crazy spot guys, you know, weird things that can happen, which is another part of it too, because it is last what for three to four months. So if there is something that goes wrong, you're stuck with that until it leaves your system.
Emily Trampetti 7:07
Right. And sometimes not even in certain cases, it can be permanent too.
Lisa Beres 7:12
The damage. Oh, yeah.
Emily Trampetti 7:14
Yeah. Like, especially if someone hits a nerve differently. You know, there has been known cases of permanent muscle paralysis.
Lisa Beres 7:22
Yikes. Yeah.
Emily Trampetti 7:23
What you're saying is that, yes, well, one, going back to the beginning, you said it's a very lucrative business, that's absolutely true, which has caused many people that have licenses to inject. We're talking dentists, we're talking nurse practitioners, PA, people that are not, I guess, in my opinion, really focused on knowing the musculature of the face, and really how to properly inject to ensure that you're getting nerves or hitting the wrong muscles to have migration of these different ingredients in the skin. And therefore right you're seeing more botched jobs. But botch jobs can also be dangerous, because again, you're hitting weird spots in the face, especially when you get around them, the eyes, the mouth, and all the places that there's a lot going on there between blood vessels and nerves and you know,
Lisa Beres 8:10
People are using it everywhere now. I see these videos on Instagram, and I'm like, what they're putting Botox there and there and there like...
Ron Beres 8:16
Where? Where would they put it?
Lisa Beres 8:18
Oh, neck they're doing around lips. I mean, I always thought lips would be like filler. Wouldn't you be nervous to put something like that? And like, what if you did have some kind of paralysis around your mouth? And I know people do this all day, every day, but it's just an obviously armpits Ron. They do that too to prevent sweating.
Ron Beres 8:34
To stop sweating. They'll do that right?
Emily Trampetti 8:36
Yeah. Oh, right. Well, if you think about it, there are some promising therapeutic aspects to it. Because it stops the muscle from working right. I couldn't think of the word I was thinking of.
Lisa Beres 8:46
Atrophies the muscle.
Emily Trampetti 8:48
Yeah, well, it atrophy the muscle but it basically it numbs the muscle completely. So when you think about different glandular activity, sweat glands, oil glands, or other different functionalities in the body, you can prevent what we call hyperhidrosis, which is excessive sweating that people have sometimes as a condition or TMJ problems. You're constantly punching your teeth, we live in a really stressful world that's becoming more common as well to stop that contraction happening. So you can relax that muscle. Those are very promising things that have helped people but I think where I'm coming from still is we are not, in my opinion, talking about the risks enough when people are getting these things that especially when it comes to a purely aesthetic nature.
Lisa Beres 9:31
Yeah, right. It's not medical, and aren't they using it for hair loss too? Or is that something different that they're injecting into the head like the scalp?
Emily Trampetti 9:39
There's many different research studies going on data collection of different ways we can use some of these various chemicals and like just like the botulinum toxin A, fillers as well for the neck, all that stuff. We have a lot of research of creating micro injuries, if you will, are controlled injuries to enhance the growth factor. ders have the skin and hair follicles to help stimulate them more. So that's kind of where that research is going.
Lisa Beres 10:05
Gotcha.
Emily Trampetti 10:06
As far as like the Botox stuff goes, I also think it's ironic that, you know, a lot of the clients I work with are always coming to me and saying, Oh, are your products clean? And, you know, all of this stuff, which get me started about the clean beauty industry, that's a whole another show. These are the same people that are just totally objecting without question.
Ron Beres 10:24
That's what it's about. That's why I was laughing. They're like, know where you're going with that? Yeah, that's so funny.
Lisa Beres 10:30
Oh, God, we see that all the time. You know, there'll be super, super, super particular about something being organic, and then go eat like a burger and fries and a Diet Coke, you know, or something like that. I mean, there's a lot of that. And we're not saying be perfect in every area. Impossible. Impossible. There's so much exposures. And you know, the show is always about do the best you can. And we're just bringing shedding light on this topic that doesn't get enough conversation, like you said, and making sure that people are aware before they go out. And just, you know, and I really feel bad for the younger girls doing this so early, because like you said, if it's only been around since 2002. Like, what about the long term effect? Is there a potential? Something that we don't know?
Emily Trampetti 11:10
We'll get breast implants. We didn't need information about that. And now it's coming out that it's causing all kinds of various health problems.
Lisa Beres 11:17
Yeah. Oh, yeah. Breast Implant illness. Yes.
Emily Trampetti 11:22
Totally. And so I think there's a resounding we don't know, we don't know there. Yeah. And there's a lot of dogs, I think that the part that I don't care for is the pushing of it, especially even from dermatologists. You know, when you get down to what Botox is, it's just going to stop the muscle from functioning. It does not prevent, like skin degradation from a health perspective, it does nothing to prevent aging, I think that's like I was the message of Oh, to your point with the younger crowd, oh, I'm going to come and prevent my wrinkles. Okay, you might prevent expression lines very temporarily for three to four months, like you said, but you're atrophying your muscles at the same time, which is not good for long term facial structure. I mean, actually, if you continue on Botox regularly and religiously, for like, 8/10/15 years, whatever. I've known, a few people that have had so severe of drooping from all the atrophy, that they've chosen to get facelifts or other invasive procedures, because again, you're just atrophy in the muscle. But what we aren't doing and even when I worked at dermatology office for a little bit, you know, we'd have people come in in their 20s and be like, I just want Botox. What alarmed me was not so much of like that they were doing it, which kind of did but the dermatologist didn't say, Okay, well, what are you currently using on your skin?
Lisa Beres 12:43
Yeah, exactly.
Emily Trampetti 12:44
What's your current regimen? Are you wearing sunscreen? Are you Yeah, the sun a lot. There wasn't education around the actual physiology and histology of the skin? That really would be more probably important for long term skincare strategies.
Lisa Beres 13:00
Yeah. What is the youngest you've ever seen anyone come in to get Botox? Teens? I'm guessing.
Emily Trampetti 13:05
Well, I've had teens ask for it. Because you can't get it unless you're over 18?
Lisa Beres 13:10
Oh, you can't? Okay. I didn't know that. No, you have
Emily Trampetti 13:13
to have an adult guardian sign off or approval.
Lisa Beres 13:17
Oh, but the parent could the parent could say sure my 16 year old could have it, I guess.
Emily Trampetti 13:21
So I have not experienced that age. But I have experienced 24 and 25 year olds, which is I think, just as alarming in many ways, and not just the health benefits, but really just I think about the world we're living in with Tiktok and Instagram and all of the filters and you know, just what we'll call it the toxic beauty culture, I guess out there and we have teens that have mental health struggles with wanting to attain these impossible beauty standards. It's like, okay, as a parent coming into like, do I want to show my daughter that this is normal? Oh, I have wrinkles. I want to inject myself. I think that I'm never going to shame anybody for trying injectables. But I want to always advocate for stopping and say, Okay, why am I doing this? Is it like a peer pressure thing? Is it actually good for my health is only going to break the bank on many people as well. You're just asking yourself why I think can be just as powerful in some cases.
Lisa Beres 14:16
And maybe also, even if you are using it, take it down a notch like build there's so much aggression with it to using high quantities very often. Maybe just consider lessening the dosage that hold the dose makes the poison.
Emily Trampetti 14:30
Well, like once a year, let's do it once a year instead of every three months back. Yeah.
Lisa Beres 14:35
Or maybe for an event or something.
Emily Trampetti 14:36
Exactly. I think that's a really healthy way of looking at things
Ron Beres 14:40
Very interesting. Well, Emily, I have a question for you as well. A little off topic from where we're at. What are some of the psychological beauty factors that pushed the hype of Botox and other invasive preventative measures out there?
Lisa Beres 14:53
Oh, social media.
Ron Beres 14:56
Tiktok right. Yeah,
Emily Trampetti 14:57
But also Zoom since COVID
Lisa Beres 15:00
And I don't have a filtering light on right now my skin is actually like this. I'm kidding. They have a filtering light.
Emily Trampetti 15:10
Like seriously, I cannot tell you how many people have been like ever since, right? I've been on Zoom morning meetings, I have to look at myself and I'm noticing the bags and I'm noticing the lines, and I'm noticing all this stuff. And it's impossible not to look at yourself and what do we do? We're just gonna judge the crap out of ourselves.
Lisa Beres 15:30
Right? Exactly. We're not looking at the other people thinking we're like, oh, my god.
Emily Trampetti 15:33
You know, the double chin came out, right. Like all those things. And so that and even I think there's a lot of data right now people are doing more studies on it. That cosmetic surgery has gone up and inject Oh, yeah. gone up since cool. Yeah. And they're really starting to trace it back to that aspect of like, Oh, we're looking at ourselves all day long.
Lisa Beres 15:54
Right? Yeah. Right, exactly. And comparing, and I know the rates of suicide, I believe they're at an all time high depression anxiety, the surgeon general just came out with a report showing that loneliness, isolation and depression. It's at an all time high right now, because social media was being a big part of that. And well, you know, we're kind of lacking community. And as we get more connected, we're less connected, right? We can look at Tiktok and Instagram and Facebook all day, and not have that real quality interaction with a human like we used to do. And with more and more people working remotely that just accentuates even the art of going to get a coffee has changed because everyone's doing coffee at home. So like we're getting less and less. But anyway, I can see that so you know, my heart goes out to the younger generation with that, because I think they have more pressure than ever to live up to these very unrealistic expectations of looking perfect dressing perfect. Everything Pperfect, perfect, perfect, you know, and so hopefully to shed some light now I've heard Zeeman is a more purified version of Botox and Gwyneth Paltrow, either is or was their spokesperson. Should people avoid alternatives like Zeeman, Juvederm, and other fillers? Or how do you feel about that?
Emily Trampetti 17:13
You know, I am not a cosmetic chemist or a toxicologist. So I'm unfamiliar with how they're purifying all these different things. But I have worked in marketing for a long time before I was an esthetician. And I know that as we move into demand, where people want cleaner things, and we are talking more about maybe the risks of Botox, what opportunity is there for brands to come in and say, Oh, well, we're gonna make something new. That's cleaner, that's better to gain maybe more popularity in a market that is already there, but maybe allows people to have a sigh of relief, like, oh, well, this is safer version, right? Yeah. All my quotation marks here. This is something that most likely again, I'm not in that lab. But it's most likely similar if not the same to botulinum toxin A, that is again, just simply going to stop any muscle contractions. Or there would be expression lines, right, where you can't really smile or frown or right?
Lisa Beres 18:12
The toxin has to be in there for it to work. I guess the purification part might be with the other ingredients, I'm guessing.
Emily Trampetti 18:18
Yeah. And a lot of the risks is, well, we don't know, again, going back to we don't know what the risks of the actual minut amount of toxin is in the body, right? But the risks are more about the injection. And if it's going to be a dirty needle, like obviously, those are things that hopefully are never happening, but they are, you know, because they're having Botox parties are having their friend who was an esthetician, because esthetician is especially are regulated by state I cannot even inject. I am licensed in Wisconsin, Illinois and Florida. And I'm not allowed to inject.
Lisa Beres 18:51
Okay, you have to be a nurse at minimum?
Emily Trampetti 18:53
You have to be a nurse practitioner or an MD to inject but..
Lisa Beres 18:59
But that's not what's happening, right?
Emily Trampetti 19:01
That's not stopping people from ordering Botox off of the internet from Mexico and having parties. So that is a very common thing. And we we need to just make sure that if we do choose to get injected, I always say please go to a dermatologist who at least knows and study the facial structures, who should, again I'm quoting should know exactly where and how to inject safely and properly to avoid the most risk possible for those hematomas those nerves, you know, miss injections, we'll call them and from it migrating. You know, the other thing is, when you get injected, you know, it's kind of annoying, you can't really like you can't lay down for eight hours or something like you can't move. You don't want to move as you can't work out. You can't make a lot of facial expressions. You're gonna have to go home and lay low for a while. Right? So there's also just those annoying things like why am I doing this? This is really annoying.
Lisa Beres 19:56
Yeah, well, I had an interesting thing. I don't know if you'd read that article that I mentioned at the top of the show, I'm gonna put it in the show notes.
Emily Trampetti 20:03
Yeah, at least had I haven't read that one.
Lisa Beres 20:05
Oh, it had like six studies citing that whole cognitive and that lack of empathy and that, but other experts had voiced concerns that the manufacturer recommends injecting this toxin directly into the procuress muscle which is within the neurobiological locus of the third eye. And in Chinese acupuncture. This point is known as the Yin Tang or Hall of impression and is known as an extraordinary point. It's sometimes interpreted as associated with intuition and inner visions. So like, from a spiritual perspective, this really spoke to me because the meridians in our body and all of this these energy centers, we all know that third eye is right here really popular place that people get Botox and like, there's no conversation about that when I saw this article, that was the first time I'd ever heard anyone talk about this.
Emily Trampetti 20:56
Absolutely. I think that's really good that is being communicated out there too, as multiple factors and components that this could be affecting. I'm a huge proponent in making sure that we're really keeping our energy in balance throughout our body. And again, there is not information out there that really tells us how this is adapting that we just don't know and that's why personally I just probably will choose never to get injected just because A this is just my opinion, because there's a lot of science out there.
Lisa Beres 21:22
You don't need to. Like..
Emily Trampetti 21:27
It sunscreen guys that's just sunscreen.
Lisa Beres 21:31
Wear your sunscreen. I know I saw your video telling your husband, what does he learn? What does he learn from being married to an esthetician? Nothing?
Emily Trampetti 21:39
To do wash your face? I sound like a mom. No. Well wash your pillowcase tomorrow, I guess. And then he's like, Oh, what do I have a pimple? Oh, well. Don't talk about anymore.
Ron Beres 21:53
Man don't listen right? That's for surely never listen. Right? So yes, Emily I have a question too. Are our clinics and companies breaking the law by advertising Botox or even purchasing Botox illegally.
Emily Trampetti 22:04
So this came up because in the UK, right, they have a law with their pharmaceuticals that says you can't advertise drugs, basically. Oh, and botulinum toxin A is a drug. And it is a pharmaceutical that people are using. And so they got in trouble because they were advertising it. And really, you shouldn't be advertising drugs in that way.
Lisa Beres 22:26
Right? Wait, but they can advertise drugs on T.
Emily Trampetti 22:29
They advertise it in the way and I'm not. I'll have to go back and look at the actual article. But just the way the UK laws are set up. They're a little bit different from the US. But it's something just in the way they're messaging it. And maybe we're messaging it again, don't quote me here, but the gist of it was that they were kind of messaging it as a very accessible like no risk type. Yeah, almost misleading, maybe say, and so that government has kind of gotten on top of saying we really need to rein this in. Because we're not talking about the risks enough as it pertains to a drug with any risks out there. Right. And so obviously, the us a little bit different in that, but I think it was a good conversation to start from a global perspective, because, in my opinion, from what I'm seeing out there, and my clients, you know, Botox does seem to be like a vitamin status, right? Easily accessible, not really harmful. I don't care if I do it or not kind of a thing. And we need to have more of a conversation about like, Okay, why are we doing this? How is it? Like, is it dangerous to our society, from the cultural beauty perspective? And also, is it dangerous to us internally, because there are many risks associated all the way down to I think what you were saying, Lisa, about, you know, could there be long term empathy and like sympathetic, parasympathetic parasympathetic nerve type of risks down the road, we just don't know.
Lisa Beres 23:52
We don't know. I mean, if it travels, and now they have to state that it travels to the nervous system. You know, that's scary. And I know we're talking about small, small amounts. But that's a scary thought. That to me is the biggest alarm. So Emily, what are some tips you can leave our listeners with that they should practice to age well with grace?
Ron Beres 24:10
Tell us Emily.
Emily Trampetti 24:14
Yeah. This thing is and why this is not very popular is it's just not very sexy. It is wearing your sunscreen daily. And it is obviously we also live in a world that is getting increasingly polluted. And increasingly, the air quality especially now, right, with the wildfires that we're experiencing, well, that really degradation our skin and it causes free radicals to accumulate in our body, which is just some believe is like the building blocks of disease right in the body but just damages our cells long term. And so making sure that we're filling our skin with topical antioxidants as we our body antioxidants, again, are those things that come in and basically balance out diseased cells in the body. We've heard about polyphenol and basically every fruit and vegetable has a bunch of antioxidants. Yeah.
Lisa Beres 25:04
You can't go wrong with any fruit or vegetable, they all have some kind of...
Emily Trampetti 25:07
Exactly but topically they can also really help to fight the free radicals that are damaging our collagen or elastin, all of the things that he just that we're usually worried about fine lines, wrinkles, sagging, lost elasticity, free radical damage is mainly the cause of it. And the main cause of free radical damage is sun damage. So right want to make sure that we're living a balanced healthy lifestyle, which I know you guys are all about, and wearing our sunscreen daily, if you're worried about making sure you're in the right formulations, because let's just be honest, the skincare industry is a jungle of misinformation and marketing. Right? Yeah, I do recommend, you know, seeking out an esthetician that you trust that will help you navigate those things. We're trained specifically in knowing kind of what ingredients and different formulation panels work with your particular skin and what you should be using?
Ron Beres 26:00
Well, that's a good question. I mean, different types of skins are there.
Emily Trampetti 26:03
Every skin is unique, actually, when they did a study, there's not a lot of studies out there on the microbiome of the skin. But the ones that are out there show that every single skin is drastically different from like a microbiome standpoint.
Lisa Beres 26:16
Wow. Like our own fingerprint, so to speak. Exactly. So
Emily Trampetti 26:21
that's why I always stress like, don't listen to your neighbor that says, Oh, I tried this skincare, and it's great for me, right? It just doesn't work that way. Because our skin has different capabilities of producing oil, sweat, bacteria, we have different pore sizes, that's genetic, a lot of it is all genetic. So you know, it really, really depends.
Lisa Beres 26:43
Yeah, that's a great point.
Ron Beres 26:44
I now understand that every face is like a different fingerprint. But are there like 12 different generic types, you look like you're a type 10, or you're a type does that go like that when you're reviewing the patient?
Emily Trampetti 26:55
Yeah, so a lot of times, like my procedure is a lot more personalized, where I go into a very holistic viewpoint of of someone's skin to make sure they're in the exact right stuff for their skin. But typically, from like a textbook definition, we like to look at skin types based off of oil production. So that's why you see a lot on the market of like this is for oily skin, this is for dry skin. Because from a traditional like more of a general standpoint, how much oil we produce, can really have an impact on what conditions we develop, for example, more oily skin is more prone to acne, because oil can get plugged easily in the poor. Plus, more oily skin has a tendency to over proliferate skin cells, those also get clogged in there. So we can kind of generalize based off of oil type. But if you really want to find the right ingredients for your skin and really take care of it, you want to look at things a little bit more holistically than that.
Lisa Beres 27:46
That goes for medical too. Yeah, exactly. Look at your body as a whole. Now, I don't think we actually answered the question on the fillers. How do you feel about those are there certain ones that people should avoid running for the hills are some safe with the hyaluronic acid, those types?
Emily Trampetti 28:02
Most are hyaluronic acid, I mean, really, it's not too safe to be injecting things into the body because our body will reject most things that are in the body. Hence why Botox only lasts three to four months, because eventually it will be like this does not belong here. I'm going to flush this out to the lymph system and you know, call it a day. But with fillers, you know, you're still dealing with botch jobs, right, you're still dealing with the risk of hitting nerves and different muscles that aren't meant to be hit. I'm not as familiar. Obviously, I'm not an injector. I've done a lot of my own studies on the topic, but I would say that it's kind of the same situation where you're injecting a foreign body into a body. And you know, for temporary effects. Filler lasts a lot longer than Botox does. So, my concern more about the fillers is that it almost is connected from my experience to like a body dysmorphia type of situation where I'm seeing a lot of people get kind of addicted to it.
Lisa Beres 28:57
Oh, yeah. You see that here? Right? We're in Orange County. So yeah, we see it everywhere.
Emily Trampetti 29:02
Yeah, definitely. You guys. You walk around and you're like, was her face or his face supposed to look like that originally, and but you don't see it? Right? Because you're the cat woman?
Lisa Beres 29:14
Remember cat woman? Yes, totally.
Emily Trampetti 29:16
But if that's how it goes, right. It's the same as body dysmorphia. We always are seeing something slightly different versus what others may be seeing us and we're trying to keep up with the Joneses. I mean, especially when you're in LA and you're in California. I mean, there is nothing probably worse than not getting injectables. When you're there, you know?
Lisa Beres 29:35
Yeah, the pressure is real, right? The pressure to look youthful and look great is real. And so what should people be paying attention to as they age and when like what age should they start? Really? We know we should wear sunscreen always right from the time.
Emily Trampetti 29:49
Yeah, totally. I mean, really, if you look at it from a perspective of like decades, as children, and if you're like for the moms and dads out there, get your kids and sunscreen and make it a game make it part of a lifestyle early on, because that's really going to help out. I think the good thing is we have so much more information out there now that the next generation is so much better than like I was I was a tanning bed girl when I was 16.
Lisa Beres 30:12
Oh, me too. I grew up in Arizona.
Emily Trampetti 30:14
So I mean, I'm like, we grew up in the 80s and 90s. And it's like, that's just what you did before us. It was like baby oil and whatever, right? Yeah. So the best thing you can do is get your kids teens and 20s sunscreen. The next thing with that and your 20s and 30s really focused on the antioxidants keep the skin hydrated, hyaluronic acid, glycerin like which is really in most skincare, if you just look at the marketplace and find something that says hydrating, most likely, it's going to be a suitable item for anyone because hydrated skin is for every condition or I'm sorry hyaluronic products, like hylauronic acid serum, like no skin can go wrong with that.
Lisa Beres 30:54
And always look for organic, certified organic, that's my blood here, you know, just because we're gonna avoid those preservatives and parabens and all of those like fragrance synthetic fragrances, and endocrine disrupting chemicals and all of that. So it does pay to either quality brand that we're big proponents of EWG skin deep database where you can go in and plug in any product and find out the hazard score and the toxicity. Are there cancer causing chemicals in there? Are there allergens, any of that. So that's a big shout out. And same with the sunscreen. You know, certain sunscreens are clearly better with the rating. So you can find those on our website. Yeah.
Emily Trampetti 31:31
Kind of kind of know, you're probably gonna hate me for saying this. But, you know, there is a lot of misinformation out there. And the thing with formulations is that we tend to focus on ingredients over formulations. To some people strawberries are toxic, because they're allergic, it doesn't mean that they're dangerous to everybody. So I think with looking at the beauty industry from like a formulation and chemistry perspective, the best and safest sunscreen you can wear is the one that you have available to you, right. We just don't want to be saying there's better and worse because sometimes sunscreen, if you don't like the texture of it, or the feel of it, you're not going to wear it, I find out with my clients a lot. The only true known cancer causing ingredient is the sun that we know everything else has really not been proven from the studies that I've seen. It might be somewhat flawed in the research. So my thing is, I was don't be afraid of sunscreen, because there is nothing proven about any ingredient out there right now proven proven that it's going to harm you, but the sun will.
Lisa Beres 32:30
Okay, well, we will disagree on that. For sure. Just because, you know, we've been doing this for 15 years. I mean, there's definitely like, there are definitely ingredients linked to cancer in sunscreens and in regular cosmetics and not to mention the pesticides which are sprayed on everything if it's an agricultural product, and it's not organic. And then you have the endocrine disruptors like parabens and those things that are very harmful to the hormonal system. Hey guys, I want to interject really quick. And while Emily and I don't see eye to eye on this particular issue, I do want to reiterate to you guys a few important facts from minerals and heavy metals like lead and lipstick, to endocrine disrupting and cancer causing chemicals, asbestos and PFAS. Our personal care products can be loaded with hidden toxins. PFAS is showing up and make up in his link to his serious health issues, including cancer, obesity, decreased fertility and a weakened immune system. PFAS can be found in foundation, mascaras and lip products and even those products marketed as waterproof, sweatproof or shimmery. According to Harvard public health. Personal Care Products, like cosmetics and shampoos don't have to be reviewed or approved by the FDA before they hit the market. Nor do they have to include a full list of ingredients. Manufacturers can hide their specific formulas behind vague terms like fragrance, or perfume or flavor. The average woman today applies 168 chemicals onto her body every day, many of which are hormone disrupting chemicals. Just over a year ago, independent testing found hundreds of popular personal care items in the US contaminated with benzene. A highly carcinogenic chemical, sometimes at levels considered life threatening. Benzene was found in antiperspirant shampoos, sunscreens, hand sanitizers, deodorant, dry shampoos, conditioners, body sprays and antifungal treatments. There is no safe levels of benzene exposure because it's so toxic at very low levels. So guys, when using sunscreen, skip the chemical formulas and even those sprays and look for a mineral sunblock that's made with titanium dioxide or zinc oxide. Is there any tip that you'd like to leave listeners with like the most important skincare ingredient they could be using right now or vitamin C you said hyaluronic acid is there anything?
Ron Beres 35:01
Oh coconut oil for moisturizer. Do you believe in that?
Emily Trampetti 35:04
Coconut oil I'm not a huge fan of okay, it can be pretty clogging on the skin especially if you're prone to acne or breakouts. I think there's a lot better ways of moisturizing the skin through humectants like I mentioned before, glycerin and a lot of products is one of the best humectants out there to attract water to the skin. Coconut oil is probably if that's all you got. I would recommend if you have dry skin only.
Lisa Beres 35:28
Yeah, it's very oily. I've used it for a sunburn in Hawaii and it did wonders but it's like really oily. Like you're gonna get it all over your pillowcase.
Ron Beres 35:36
I always thought a coconut oil because I remember it is either Cheech or Chong. The actor claimed that his skin was so smooth and to his older age because of coconut oil.
Lisa Beres 35:46
Did he take it put it.
Ron Beres 35:48
Every night he said he put it on so I remember going into a little phase of putting coconut oil on but you're right. It is very thick and it can be a little messy. My skin is a little dry.
Lisa Beres 35:56
Yeah, it can definitely get messy. Yeah, if you want your pillowcase clean. Friends remember, age should not have its face lifted, but it should rather teach the world to admire wrinkles as the etchings of experience and the firm line of character head over guys to skinproperty.co to get a consultation with Emily and to learn more.
Ron Beres 36:22
We'll have the links in the show notes at Ronandlisa.com/podcast. Stay tuned for the next episode. Get ready to uplevel your hell see you then. Bye. Thanks so much.
Emily Trampetti 36:34
I appreciate it guys. Bye
Narrator 36:40
This episode of the Healthy Home hacks podcast has ended. But be sure to subscribe for more healthy living strategies and tactics to help you create the healthy home you always dreamed of. And don't forget to rate and review so we can continue to bring you the best content. See you on the next episode.
Transcribed by https://otter.ai
Sign up to receive email updates
Enter your name and email address below and I'll send you periodic updates about the podcast.