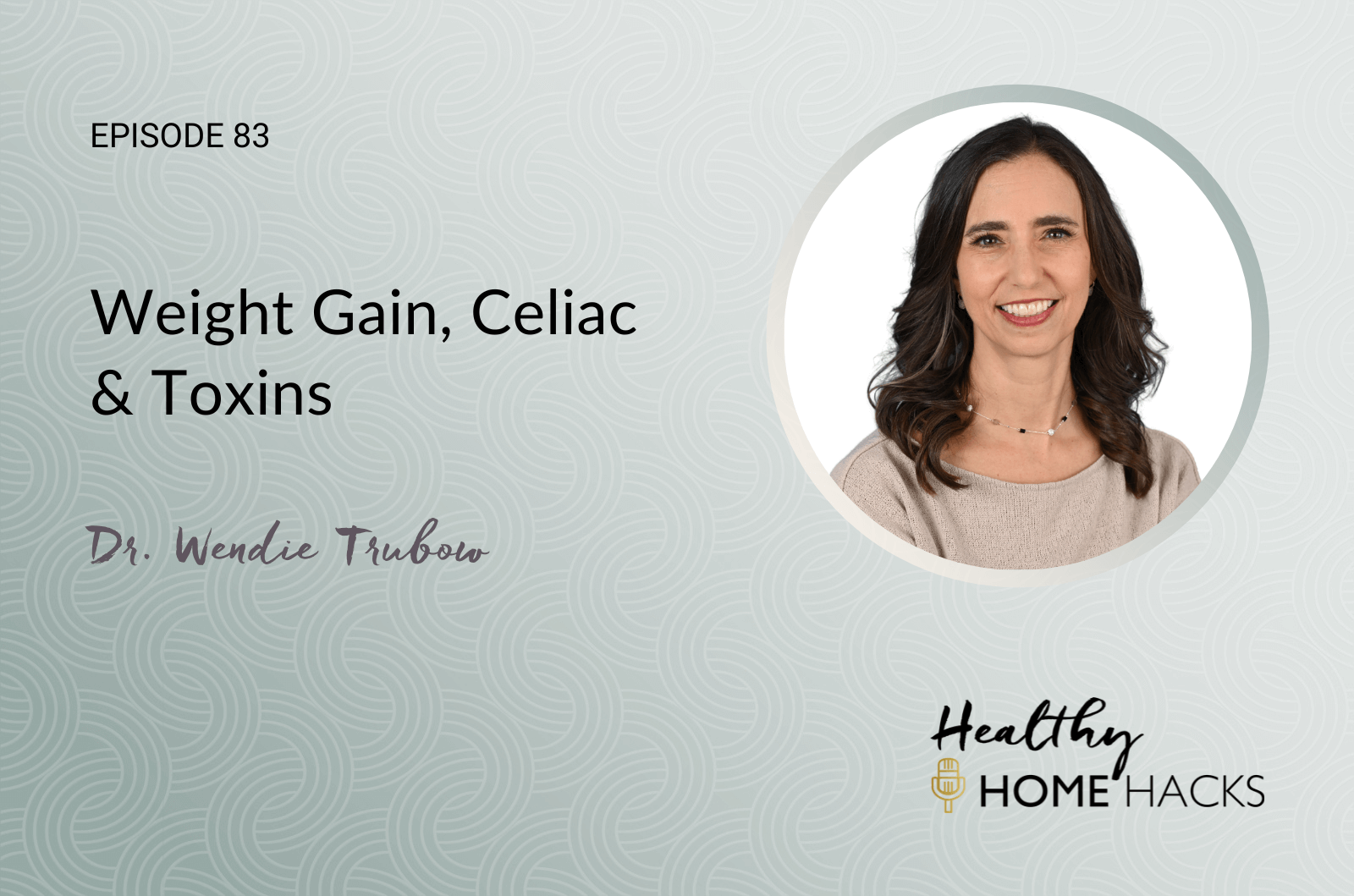 Recent research reveals that the ingredients in the foods we eat, pollution in the air we breathe, and toxins in the goods we use on a daily basis are changing our bodies in harmful or bizarre ways, and in real time. Leo Trasande, an expert in children's environmental health at NYU, says, "These are chemicals that literally make us sicker, fatter, and poor."
Of the over 40,000 in consumer use, less than 1% has been tested for safety, according to the EPA.
Our guest, Dr. Wendie Trubow, is a graduate of Tufts University School of Medicine, a board-certified OBGYN, and President of the National Celiac Association. She is a certified functional medicine physician passionate about helping women optimize their health.
KEY TAKEAWAYS:

The role toxins play in regard to inflammation, and ultimately the development of many diseases and chronic conditions.
Why after trying just about every diet and exercise trend, many people still can't lose weight, especially after a certain age.
The role sleep plays when it comes to the body being able to detox properly.
How we can lower our risk of being exposed to toxic ingredients in our beauty and cleaning products.
The types of ingredients we should try to avoid.
Why most people with celiac disease are undiagnosed or misdiagnosed.
The healthy food choices that are worth the expense, and where is it okay to save a few bucks.
Listen to all episodes of Healthy Home Hacks on your favorite podcast app
Rate, Review, & Subscribe on Apple Podcasts
"I love Ron & Lisa and Healthy Home Hacks." <– If that sounds like you, please consider rating and reviewing our new show! This helps us support more people — just like you — to regain their health, protect their loved ones, and enjoy more energy. Click here, scroll to the bottom, tap to rate with five stars, and select "Write a Review." Then be sure to let us know what you loved most about this episode or the entire show.
Also, if you haven't done so already, subscribe to the podcast. Subscribe now!
Shop our Healthy Home Hacks Store
Visit the Healthy Home Hacks store to shop everything from notebooks and tees to hoodies, mugs & more! Your purchases help our show continue to thrive and reach more healthy living enthusiasts.
Episode Links:
Narrator 0:04
How would you like to improve your health and keep your family safe? You're listening to the Healthy Home Hacks podcast where we firmly believe in joining optimal health shouldn't be a luxury. Healthy Home authorities and husband and wife team Ron and Lisa will help you create a home environment that will level up your health. It's time to hear from the experts. Listen in on honest conversations and gain the best tips and advice. If you're ready to dive in and improve your well being and increase your energy, you're in the right place. All right, here are your hosts, baubiologists, authors, media darlings, vicarious vegans and avocado aficionados, Ron and Lisa Beres.
Lisa Beres 0:49
Friends, it is time to stop breathing in harmful biological and chemical contaminants. It's time to take control of your health, breathe better, and sleep more soundly. This episode of Healthy Home Hacks is brought to you by IQAir first and air quality. IQAir is the top air quality technology company and has been around for over 60 years. In fact, they provide the largest global air quality platform. In addition, they're the maker of award winning medical grade air filtration solutions that are Swiss made high performance air purifiers with something called hyper HEPA filtration technology. This technology removes 99.5% of airborne particles down to point 003 microns guides that's as microscopic as the smallest virus plus their filters last 38% longer than ordinary filters and are individually tested and certified. In fact, it's the air purifier we personally use and trust. Whether you're looking for a portable air purifier for your home, your office, your car, a whole house filtration system that fits right into your Hvac system, or an air quality monitor for your home. They've got you covered. Visit IQAir online at www.iqair.com to download their air quality app today and to find the ideal home air purifier for your needs. Oh and don't forget to head to ronandlisa.com to enter for a chance to win your own IQAir quality air monitors.
Ron Beres 2:24
We stumbled across a recent article with research revealing that ingredients in the foods we eat, pollution and the air we breathe and toxins in the goods we use on a daily basis are changing our bodies and harmful or bizarre ways. And in real time. According to Leo Trasande, an expert in children's environmental health at NYU, these are chemicals that literally make a sicker, fatter and poor.
Lisa Beres 2:52
So of the over 40,000 chemicals and consumer use today. Less than 1% has even been tested for safety according to the EPA. So just about anything we buy and consume. Think about the plastics you buy the food the fragrance soaps and personal care that nonstick cookware and on and on have been shown to increase our exposure to harmful agents with the power to infiltrate organs and play with hormonal balance. Hi friends and welcome to today's episode. If you suffer from conditions such as exposure to toxins like mold, heavy metals, lead or maybe gut health, gluten intolerance, celiac disease, eczema, psoriasis, Lyme disease, fatigue, memory loss, low libido, hair loss, weight management, insomnia, anxiety, depression and even early onset of Alzheimer's. You don't want to miss today's show. Our guest today is Dr. Wendie Trubow, a graduate of Tufts University Medical School and she also serves as president of the National celiac Association.
Ron Beres 3:56
As a Board Certified OBGYN. It was Dr. Wendie wellness journey resolving her own personal diagnosis of mold and metal toxicity, celiac disease and a variety of other health conditions that led her to become a certified functional medicine physician who is passionate about helping women optimize their health. Dr. Wendie's signature approach for evaluating a patient's health focuses on careful consideration of five key areas including physical, chemical, emotional, energetic, and spiritual health.
Lisa Beres 4:31
She is co founder and president of the five journeys membership based wellness practice in the Boston area. And co host of the Five Journeys- Live Like You Matter podcast alongside her husband, Dr. Edward Levitan. And she is the author of "Dirty Girl: Ditch the Toxins, Look Great, and Feel Freaking Amazing!"
Ron Beres 4:52
Dr. Wendie, Welcome to the show.
Dr. Wendie Trubow 4:56
So great to be with the two of you. I'm so excited because your passion is mine passion. So we're gonna get along really well, I already know.
Lisa Beres 5:02
This is gonna be a long conversation.
Ron Beres 5:04
We just found out before the show, too, that Lisa grew up in Boston. You're in Boston. And your best friend, you know, you don't even know you but your best friend.
Lisa Beres 5:13
My sister, somehow.
Dr. Wendie Trubow 5:14
Sister from another, Mister, I mean, we look alike even.
Lisa Beres 5:18
Yeah, and I'm normally a brunette.
Dr. Wendie Trubow 5:20
I feel it, you can feel it.
Lisa Beres 5:23
So we are so excited to have you today. I'm just really, personally excited to dive into some of these questions. And I know this is going to be so amazing. So stay tuned, listeners. So Dr. Wendie, can you explain the role of toxins in regards to inflammation and ultimately, the development of so many of the diseases and chronic conditions that we see today?
Dr. Wendie Trubow 5:44
Oh, let me count the ways. Okay. Okay. Let's go back to 1989. Where either of you alive at 1989?
Lisa Beres 5:51
Ah, thank you.
Ron Beres 5:51
So nice. least one year, right.
Lisa Beres 5:54
Were you?
Dr. Wendie Trubow 5:55
I born in 1970. The EPA and I are the same age. And in their life, they have banned nine substances, the last of which was banned when I was 13 years old. Thank you very much.
Ron Beres 6:07
Which one was that?
Dr. Wendie Trubow 6:08
It was one of the nitrogen bearing families. And so that's a long time away. It's almost 40 years since they've banned anything.
Lisa Beres 6:19
You were born in 1970.Oh my gosh, I would not have guessed that.
Ron Beres 6:22
You wouldn't have guessed. You look half that age.
Lisa Beres 6:23
Yeah, half.
Dr. Wendie Trubow 6:24
Thank you. It's my easy lifestyle, apparently.
Lisa Beres 6:27
Toxic free.
Dr. Wendie Trubow 6:28
Okay, so I'll actually answer your question. So in 1989, where we were all alive, the Massachusetts study again, go Boston, indicated and show that one in every six deaths was due to either poor air or poor water quality. That was almost 40 years ago. Okay. I know. Ron, you're like, what?
Ron Beres 6:46
Yeah, that's it. I never heard that stat before. That's interesting. I'm glad they quantified it. And of course, you're right. It's probably the multiplier now is probably five times higher. Right?
Dr. Wendie Trubow 6:53
Right. So fast forward to 2011. And I happen to know this because I'm in the middle of researching a presentation of giving on autoimmune disease. And I was like, Okay, well, how much money do we spend on autoimmune disease and in 2011, globally, we spent about $22 billion on autoimmune disease. That was 12 years ago, we are now up to 140 billion. And when you talk about it, making you sick and poorer, this is the impact of toxins, because toxins are suspected. I mean, okay, between you and me talking to the root cause, but in the scientific world, they're suspected to be implicated.
Lisa Beres 7:31
Yes, well, I think it was Gloria Steinem. That said genetics loads the gun and environment pulls the trigger. Have you heard that?
Dr. Wendie Trubow 7:38
Totally I mean, in genetics are like 10% of it, they set the stage right, they make you likely to get something but then you pile on all these things. Stress, which is a toxin, lifestyle, which can be toxic alcohol, totally a toxin, plastics, makeup that has endocrine disruptions, plastic that you're typing on plastic that you're sitting on, none of us are sitting on leather chairs anymore. We're sitting on plastic. Vegan, right? Vegan leather, it's plastic. Think about it, like, Oh, I'm
Ron Beres 8:08
Which one, because we're vegan.
Lisa Beres 8:09
I got some leather purses sent to me. And I was like, Oh, this is so great. And someone said what is vegan leather? And I was like, I guess they don't harm the animals. Like I hadn't really thought of it. And then I I'm like, I looked it up. I'm like, no, it's actually plastic.
Dr. Wendie Trubow 8:22
Okay, so yeah, it's not helping you. It's helping the animal.
Lisa Beres 8:26
It's not helping the planet either.
Dr. Wendie Trubow 8:27
But the animal didn't lose its life for the bag, the animal last slide for the meat, and then they're making use of all the pieces. But if you're not going to eat meat, then you don't want to use leather. But the vegan leather is no better for you. Yeah. So basically, when you're..
Lisa Beres 8:40
Brainwashing, right?
Dr. Wendie Trubow 8:43
So you take a step back and you go, Oh, man, it's everywhere. And it's making us sicker. With this explosion of autoimmune disease. It's making us fatter, with an explosion of type two diabetes in particular, along with cardiovascular disease, cardio, metabolic disease, pre diabetes, all of these are toxins related.
Ron Beres 9:04
Wendie you can you explain how you become fatter from this experience. Why don't we come fatter?
Dr. Wendie Trubow 9:08
Horrifying? Okay, so you have this amazing detox system that I'm happy to talk about. It's like one of my favorite things to talk about. Every time I talk about it. My kids are like, Oh, my God, you're doing again?
Lisa Beres 9:17
You clear out of room pretty quick.
Dr. Wendie Trubow 9:19
Seriously. So I have four kids, and the younger ones still think it's cool. The older ones are like, Oh, my God we're talking about it again.
The body is smarter than we are. So if you store toxins in your fat, and don't get rid of them, and by the way, you know, it's really hard to get rid of them because you're standing underneath this waterfall of toxins. So even as you're trying to get rid of one toxin, you're getting exposed to 50 more. So you store it in the fat as a depot. Essentially, think of it as like your storage unit. Yeah. And you can't get rid of fat until you get rid of the toxin in the fat.
Lisa Beres 10:26
Oh, really, you have to get rid of the toxin in the fat to get rid of that?
Dr. Wendie Trubow 10:29
Yeah. Which is why sometimes when people go on these crazy diets, and they lose 20 pounds in three weeks, I'm like, I felt awful that whole time. Because think of all the toxins flooding their bloodstream as they do this ridiculous weight loss very fast. It's not safe.
Lisa Beres 10:43
Yeah. And speaking of I'm going to veer a little because you were talking about type two diabetes and all of this. Have you heard of that drug that is like all the rage now? I think Ozempic it's called.
Dr. Wendie Trubow 10:53
Yes, we use semaglutide in our practice, which is the peptide version.
Lisa Beres 10:57
Is it safe? Because people are using that for weight loss that aren't diabetic? Right?
Dr. Wendie Trubow 11:01
Yes. So it's so funny. You talk about this, because we went to the peptides conference, and we are with the guy who does all this work. And I said to him, okay, okay. I don't understand, like, why are we starting people on weight loss medication before we've detox them, it doesn't make sense in my brain. And what he said to me is, sometimes people are desperate. And they've tried everything to lose weight, and they're at the end of their rope. So I'm going to get them started. And I'm going to start detoxing them along the way so that they can lose the weight and lose the toxin so they don't get sick. There's often some cushion for people of ability to lose some weight before the toxin start really getting released.
Lisa Beres 11:37
I see. Okay, so under a doctor's supervision, but what do you think about people who just are taking it for weight loss that's safe, it is fine?
Dr. Wendie Trubow 11:44
It is safe. It is okay, as long as you don't go below an ideal body weight. If you're five, eight, and you want it to be 100 pounds, that's not safe. That's not a safe, healthy weight. But if you're losing weight, your body will self regulate. It is safe, it is safe.
Lisa Beres 11:58
There's no strange bizarre side effects that we know of from that?
Dr. Wendie Trubow 12:01
Asked me in 20 years. Not what we know of.
Lisa Beres 12:04
We don't know, right? Because it's a new drug. Right? To be continued.
Ron Beres 12:10
In regards to weight loss to It's especially hard for at a certain age to lose weight. What is that call? We hit that age? And why does this happen to us? As I'm guessing it's an accumulation of chemicals in our body.
Dr. Wendie Trubow 12:20
Menopause? I was gonna say, are you telling me about me now?
Ron Beres 12:25
Well, I'm, oh, geez, I was just staring at the screen. I didn't mean to look at you directly. No, I'm joking.
Lisa Beres 12:30
He was also looking at me.
Ron Beres 12:32
I can only look at both you. So I'm gonna I'm gonna turn off my screen now. So I don't get any of you. There you go.
Dr. Wendie Trubow 12:36
Right to I mean, think about as you progress through life, you get exposed to tons of toxins, that creates a pull or drag on the system. And it's happening at a time that you're getting less resilient. In general, the older you get, you get less elastic, less resilient, less able to bounce back from insults. So think about, especially at perimenopause, when your hormones are all over the place, your adrenals are all over the place you're going through. If you've had children, often those children are transitioning in their life to another point, which is stressful. This is often a point where I'll speak to women. Women ask themselves the question, okay, as I transition, what's going to be my legacy? Why am I here? Am I in the right marriage? Am I in the right job? What's my legacy? What's my purpose in life, this is called the fifth stage. This is normal, you should go through this. It's like between 40 and 65, to figure out like, what's next, however, it can be stressful. If you wake up and go, Whoa, I'm in the wrong job, or I'm really not in the right marriage, or I gotta get out of here. I need to move like if something happens, right? So there's all these things that you start to pile on, and then maybe you get sick, we've been in a global pandemic, so maybe you get sick, and that acts as a trigger. Or maybe you change how you're eating or you have a car accident, something happens. And you get a lot less resilient a lot faster, that speeds up the process of decline, because you have all these exposures, you have this lack of resilience, you have a trigger. Maybe you have some genetic predisposition, maybe you're not eating as well, because you're stressed and it all piles on.
Lisa Beres 14:07
Sounds like a fun era. If you haven't hit that. No wonder men ease up on the women.
Ron Beres 14:21
The same thing in a way differently, though, don't think.
Dr. Wendie Trubow 14:23
Menopause.
Ron Beres 14:24
Is that true? Is that a real term?
Dr. Wendie Trubow 14:26
It's not, I just play with that. I think it's men go through similar things where they're, especially if they've gained weight, think about so. When you've gained weight, your circulating testosterone gets converted into estrogen by your fat cells. Oh, so men, especially men who carry like the weight in their gut, it's estrogen noising meaning they can grow breasts they can have a lowered sex drive they can have difficulty with performance like having an erection so that's one reason when argument for get to a healthy weight because especially because the fat in our midsection is super inflammatory. So not only is it making issues for men around hormone balance, it's also very inflammatory and a risk factor for cardiovascular disease type two diabetes.
Lisa Beres 15:11
Oh, wow, it's so common. Someone had a meme of a little pug when he was like leaning up against a wall. And they were like this is every male after age 30. Because it's like the belly.. And so what can men and women do to avoid that weight gain around the middle? I mean, is it just a case of detoxing and working out?
Dr. Wendie Trubow 15:30
I mean, that sounds to a pejorative, right? Just detox and workout and you'll be fine. So, but that's not the case for a lot of people. I mean, when I went through my own hot, toxic mess issue, I was like, I haven't changed my diet. I haven't drank alcohol in like 17 years. I don't drink alcohol. So it wasn't that. But I had a lead exposure ultimately. So I had a lead exposure on top of having lead. And that was like the crossing the line in the sand that couldn't come back from but to it's not certainly eating right and exercising set the stage for health. But if you're really being exposed to a lot of toxins, what you want to start to look at is how can you peel away all of these toxins you're getting exposed to through your food, your beauty products, your environment, your furniture, what you're sleeping on the air fresheners, I know you have a thing about air fresheners on your site. Like these are real. And so you start to peel it off, that stops filling the pump. And then you have to start peeling out whatever you've stored in your toxins with things that help the liver. So glutathione and acetyl, cysteine, Alpha Lipoic Acid, detox, detox and more detox, cruciferous vegetables, B vitamins, sauna, hyperbaric oxygen IVs, like, there's a million things you can do sweating.
Ron Beres 16:48
That's it?
Dr. Wendie Trubow 16:50
Just a little bit.
Lisa Beres 16:52
It's interesting, because we have become so sedentary in our lifestyles. And I was saying to Ron, think about different it was like us to actually get up to turn the TV, people are sitting at their desks all day, then they're driving in their cars, and they're sleeping in their bed. They're really in a sitting position most of the time, right eating sitting down, unless you're in like a service type job where you're on your feet. But the majority of people are you have to actually take that extra effort now to make sure you're getting that exercise, whereas before it was just part of life. Right. And I wanted to ask you about something obesogens? Because we've written about this a bit, and the particular chemicals that are in at least things that you're talking about that are linked to us holding and storing weight. Can you touch on that a little? Are you familiar with that?
Dr. Wendie Trubow 17:34
I can. I mean, it's a massive topic, Lisa? So when you think about it, people are like, what's an endocrine disruptor? Okay, well, it's like 1000 chemicals. And I think what you said at the beginning about less than one, it's not even less than 1%, it's like less than a fraction of 1% have really been tested. So essentially, the companies have designed them. And then once there becomes a preponderance of evidence, then they might say to the EPA, Hey, there, it looks like there might be a problem. It really relies on individual reporting, which, what company is going to do that? So the category of obesogens is massive. It's anything that disrupts your endocrine system, your hormones, so that can be anything from Thalys, sodium lauryl, sulfate, best phenol, abps, BPA pee fast. All of these chemicals that are designed to make our lives easier, are also disrupting our hormones. Flame retardants. If you sleep on a bed that's not organic, it's got flame retardants in it. That is an endocrine disruptor.
Lisa Beres 18:34
Yeah. And speaking of: How does sleep play a role when it comes to our body being able to detox? Is that an important part? Are we doing better if we're operating on five hours sleep? Or should we be getting eight to nine?
Dr. Wendie Trubow 18:46
At the risk of irking every high performing human who's listening? You need more sleep than you think you need? Let's start there. So you can't paint people with a broad brushstroke and say everybody needs X. But I will say generally, women need more sleep than men.
Lisa Beres 19:04
Oh, we hear that over and over. Don't we ran from guests. On the show? They say the same thing. Yeah.
Dr. Wendie Trubow 19:10
Generally, if you're spending, I mean, think about it, the quality of sleep matters. So if you're in bed for six or seven hours, you're likely not sleeping for that full time you have a period to fall asleep. And then you have natural periods where you're awake throughout the night, that can be 45 minutes of time. So if you spend six hours in bed, you're getting five hours and chain.
Lisa Beres 19:30
Absolutely. That's a great point. Yeah, who's sleeping all the way through like, every night?
Dr. Wendie Trubow 19:35
I never happened. And then on top of it, you're getting not all deep and REM sleep, you're getting a portion of light sleep. So between your awake and your light, which could be half of your sleep, you're getting two and a half hours of rest. And I track sleep I'm really into sleep. So when this global pandemic hit, I continued going to the office, however my kids didn't so I didn't have to deal with carpool I didn't have to deal with driving them. picking them up. So I was able to sleep a lot more. And it's interesting. I used to think that I was good with seven hours in bed. I'm actually not like, I'm ideal with 10 hours in bed. And I was like, holy moly. That's more guys. Like that's 45% more.
Lisa Beres 20:15
Wow, yeah.
Ron Beres 20:17
Twice as effective, right? You're twice as effective when he's better you felt?
Dr. Wendie Trubow 20:21
Yeah. Now, let me go back to why it matters. So when you go to sleep, and you get into sleep, the cells in your whole body, but particularly your brain gets smaller. And that makes the space the interstitial space, the space between your brain cells bigger. What does that mean? That means that you can drain toxins out of your brain into your glimpse into your lymphatic system at night, and you do a ton of detoxing at night. So sleep is critical. Because if you're not truly resting, your body's active, and it's not doing the detox work it needs to do. Its critical.
Lisa Beres 20:59
Anyone listening, just do the opposite of everything you'd normally do, right? I mean, like you said, it's such a toxic world we live in and then it's not just the products. It's the sort of pressure to go, go, go, go go and be stressed actually, the glorification of stress, I call it right glorification of being busy. And it's almost like just a reset. Everybody needs to reset and come back to self care taking care of yourself, doing what's best for you, not what society thinks you need to be doing all the time. Right.
Dr. Wendie Trubow 21:29
Right stresses massive.
Ron Beres 21:31
Yeah, Wendy, quick question in regards to sleep. What about napping? Because that doesn't sound like that would detox you to take a 20 minute nap? But I sometimes feel amazing. After a 20 minute nap or Lisa does not she might have right?
Lisa Beres 21:42
I felt worse. I felt groggy.
Dr. Wendie Trubow 21:43
Yeah. Isn't that funny, Lisa, I'm in your camp. But my husband likes a 20 minute nap. So I think everyone's different. But I think if you're someone who does well with napping, I mean, I'll take a nap. I'll take an hour and a half nap. My husband gets up after 20 minutes. And I'm like, done. I'm still sleeping. So sleep gets sleep. And the more sleep you get, the better it is for you. So my vote is if you're tired, instead of drinking a double coffee. You know, I've been in whatever I don't drink.
Ron Beres 22:08
Now you're staring at us, Dr. Wendie?
Dr. Wendie Trubow 22:11
Like, if you double shot, right. So if you're tired, don't do that to yourself. Because now you're just creating false energy and creating more stress on the system. So and then the adrenals are like, Oh, Lions can eat me. Okay? Don't detox because you don't need to detox. When a lion is going to eat, you need to run. So you send sugar to your muscles in your legs. You shut down detox, you shut down digestion, and what happens over time, you know, if you do that once a year, whatever, who cares? But we're not doing it once a year, we're doing it 20 times a day. Every time you have a stressful thought or a nasty thought you're setting off your adrenal system. I know Ron's like, wait, what? those stressful thoughts are not good for you. That's true.
Lisa Beres 22:57
We've gotten good at managing stress. We've gone back and forth with coffee. Now we're drinking this pure mold free, certified for no pesticides, no mold, and all of that. But we did med for a while, which is like a coffee alternative. And it's all adaptogenic mushrooms, and it's really healthy and good for you. I loved it. I could go back to that. I don't need the coffee. But I do like the ritual. And I think a lot of us like the ritual, right? The warm drink in the morning or something that you're looking forward to. But there are so many good coffee alternatives now.
Dr. Wendie Trubow 23:27
Yeah, I think you really want to get clear about do you like the ritual? In which case create a ritual for yourself that's healthy? Or do you need the caffeine in which case you need a detox to get yourself healthier? And focus on why do you need all that cash?
Lisa Beres 23:40
Why do you need that? Yeah, that's a great question.
Ron Beres 23:42
Great point. Okay, so switching gears here, Dr. Wendie, how can we lower our risk of being exposed to toxic ingredients? And our beauty and cleaning products? And what type of ingredients should we try to avoid?
Dr. Wendie Trubow 23:53
I was so psyched before I heard the beauty and clean and I was like, does this include toxic people too? If you've toxic people, get rid of them, you don't need them. And that includes if they're part of your family, and they're toxic for you. And they're not like, you're the best, you're gonna have this, you've got it, I trust you. You're amazing. If that's not what you're hearing from the people in your life, it's time to ditch them.
Lisa Beres 24:17
Thank you for saying that. It's so so so important. And as people pleasers listening, and I was that way we have it the hardest, right? Or like, but 20 years ago, that person did something nice for me, you know, will justify, or because they're a relative or because you've had a history with the person. And when you do that, because it sounds like you have Wendy I have to when you go through that process, you feel so much lighter, right? You get a lot of energy, and then you attract the people that you really want into your life. So it makes that energetic space.
Dr. Wendie Trubow 24:48
My favorite thing to say is, that doesn't work for me. You can argue with that. Yes, it works for you who's gonna argue that right? No one's gonna die on that hill and raise that flag. So my fav I use it judiciously. It's not like I see it six times a day, but sort of get really clear like I for kids. They have lots of requests, and they're all off in a million directions. And my husband loves to go do things. And normally it's a lot of fun. But sometimes I'm like, I'm done. And they'll be like, Come on, I'm like, No, that doesn't work for me.
Lisa Beres 25:16
Yeah, you have the power of No, no, it's a complete sentence, right? Like you said, I'm stressed, I got invited to this event. I feel this guilt go, but I can't, you know, I gotta take care of myself.
And I think that doesn't work for me. Alright, so going back to the beauty product question. Sorry, Ron. I didn't mean to ignore your question.
Ron Beres 25:33
Yeah, I'm really focused on beauty. So if you can help me Dr. Wendie. That'd be great.
Dr. Wendie Trubow 25:37
You got the no makeup makeup look going.
Ron Beres 25:40
Oh, thank you.
Lisa Beres 25:40
That's all natural.
Ron Beres 25:42
All Natural. For sure.
Dr. Wendie Trubow 25:42
I tried that no makeup makeup thing. And it took longer than just putting on my face. And I was like, forget, I'm just gonna do the makeup. Like, it didn't look better. I mean, it was good traveling. But okay, no. So back to beauty. Okay, there's a million things in beauty that can be bad for you. So there's a ton of endocrine disruptors, there's artificial colors. If it's made in another country, there's a high chance that is contaminated with heavy metals, particularly lead and mercury. So the list of what to avoid is really long. So I think what we want to do is flip the switch and say, Okay, how do you find products that are safe for you. And that's a much easier conversation, because what you want to start to do as humans, especially a lot of females, I treat women so I have a lot more data on women, women tend to be a lot more like, I kind of nail this and I'm going to be perfect. So women go down this rabbit hole of okay, get rid of everything. Don't do this, okay, do not do this. Go down the rabbit hole of as I run out of something. That's a tremendous opportunity to make a difference and level up in that moment. But I don't have to fix the world. I just have to fix what I'm running out. If so, in the moment, you're running out of your makeup under I cover up lotion, lipstick, I don't care, whatever it will fill in the blanks, cleaning product, hair product, go to Environmental Working Group or think dirty. There's also another app that I forgot the name of it was like a one word thing. And I don't remember it. I was like, oh, I should keep track of that. Now I forgotten. So anyway, go to them and look up your product start with: Did you nail it on the first try? I had a couple products when I went through this. And I was like, oh, it's actually not that bad. In fact, it's really good. So I kept it. But that was pretty rare. The majority of stuff I was like, oh..
Lisa Beres 27:22
It's gonna take a couple tries to get the perfect one. Yeah, don't give up if you switch a mascaras and you don't love the clean one.
Dr. Wendie Trubow 27:28
But look it up. Don't get greenwashed. This is my first thing. Don't do what I did when I did this product. I totally got greenwash. I was like, Oh, that looks cool. Yeah. Look all natural, beautiful packaging full of crap. So always look it up slow down enough.
Lisa Beres 27:44
Don't let the Greenleaf fool. Yeah, yeah. Yeah.
Dr. Wendie Trubow 27:46
Don't throw anything out, use it up, you bought it, and it's not going to move the needle to use it up. So use it up. And then level up and use whatever you're running out. Just do it as you go.
Lisa Beres 27:58
Yeah, that is so great. Because it's also good for the planet. If you're not just like wasting everything. And I think you make a good point. It's not going to move the needle because we're talking about small exposures to toxins everyday over our lifetime. that get us to that toxic point. So yeah, you're right, going like cold turkey on anything isn't usually a good idea. Because then you're going to be rebellious. And anyway. Yeah, so it took a long time to get there. It might take a long time to kind of undo to to get your life really clean. You know, because I used to talk to people and be like, Okay, you have to do this and you gotta get an air purifier and a new ad and booboo, you know, and then they're like, I'm not going to do anything, right? They get overwhelmed and paralyzed. Yeah, analysis paralysis. Okay, so I want to switch gears to talk about the pink elephant in the room, which is gluten. I mean, this is such a topic that everybody is affected by today, so many people are reducing their gluten, whether they have a food sensitivity or full on celiac disease, just to improve their diet and their gut health. However, most people with celiac disease are undiagnosed or misdiagnosed. Why is celiac disease so hard to diagnose?
Dr. Wendie Trubow 29:07
It's not hard to diagnose. I feel like you're sticking me with a pen or you know, like, I was undiagnosed for 20 years. And it was only because I could pretty much not get out of bed. And I went to a functional medicine doctor who took a whole history and listened to me and then diagnosed me but I was not right for 20 years. So part of the issue is that the vast majority of people who have irritable bowel don't have celiac, but a portion of people who have irritable bowel or some type of gut issues have celiac, it's just that because it's small, they just don't get tested. That's one. The other is it can masquerade as something else. So it can look like brain fog. It can look like hair loss. It can look like a different autoimmune disease, where there's one autoimmune disease, there's often celiac disease so they often go hand in hand, but it's just not on doctor's radar so they don't test as much, but it is it's the tip of the iceberg. The people who have been diagnosed Are the tip of the iceberg.
Lisa Beres 30:02
Okay, so how prevalent Do you think celiac is? Like? What percentage are undiagnosed? Walking around feeling terrible and not knowing why?
Dr. Wendie Trubow 30:10
Yeah, it's estimated that about 1% of the population has celiac. And only 1% of that 1% knows they have it.
Lisa Beres 30:18
Oh, okay. So we got a lot.
Dr. Wendie Trubow 30:19
We got a lot around who don't know it, and it's four times as common as type one diabetes and think about how many type one diabetics there are. It's four times as common.
Okay gives us some common symptoms of celiac.
Gut is the most common, really, I mean, hands down, bloating, gas, diarrhea, constipation, poor absorption of minerals or nutrients, especially when taking them because inside your gut, there are these things called villi. And think of them like this beautiful sea kelp bed with all these little fronds, okay? Now, when celiac occurs over time, these beautiful fronts that are there to all the surface area to absorb minerals and nutrients gets blunted. So instead of this, you have this. So you've now lost what 99% of your surface area to absorb. And so if you're not taking supplements, and you have poor levels, or if you are taking supplements, and you have poor levels, that's a pretty big red flag. Celiac and kids often shows up as behavioral issues or small for age, like the doctor would be like, God, they're small, you know, there's a small kid that would kill you for Hey, maybe there's celiac here. And then on the other end of the spectrum, if you have Alzheimer's or dementia or degenerative disease, that would be concerning for a gluten allergy slash celiac.
Lisa Beres 31:38
Okay, so do you recommend anyone listening who's having gut issues get tested for celiac and gluten sensitivity should they do both?
Dr. Wendie Trubow 31:41
It gets harder to get tested for gluten sensitivity unless you go to a functional medicine doctor, but I would recommend it. I mean it here's the thing, you can do what's called the poor man's test, where you stop eating it for two to three weeks. And really, what I would do is do a multiple symptom questionnaire before you do it, and see how you feel. And then for two to three weeks, do the gluten elimination. And then at the end of that two to three weeks, you have a choice. You can say okay, I feel amazing things I didn't even realize were a problem are cleared up. Like the patient who said to me, my stomach ache is gone. I'm like you never told me you had a stomachache because oh, it was so bad. It was so used to it. I told anyone I'm like, I went through the review of systems with you. You didn't tell me right? So things that you don't even think about.
Lisa Beres 32:29
You get used to right, I think just the way it is right? Get used to their headaches and there. Yeah, yeah.
Dr. Wendie Trubow 32:34
So at the end of two to three weeks, the reason two to three weeks is the magic time is that it takes about three weeks for your IGG antibodies to go down when allergy to gluten is not like an allergy to a bee sting, where you're gonna stop breathing, it's an allergy that's getting through the lining of your gut into your bloodstream in your bloodstream is like what is this, this is not supposed to be here, and you mount an immune response against it. So it's a different type of allergy, then I'm going to stop breathing, if I eat that you're not going to stop breathing, you're just gonna feel horrible. So it takes 21 days for those antibodies to really decrease. So somewhere between two and three weeks is a good time to test your challenge if you're going to because your antibodies are on their way down. And if you test at that point, you can trigger it pretty quickly.
Lisa Beres 33:16
Oh, gotcha. Okay, and we're talking, are these tests expensive? Are they out of pocket? Or are they covered by insurance?
Dr. Wendie Trubow 33:23
Yes, to both? Depends where you go, right? It could be expensive. If you go to a provider who doesn't accept insurance, and then you do cash pay for it. Some of the tests are not covered by insurance for sensitivity. That's um, you can do pretty straight ones. I think they range like 75 to $100. Or you could do a full sensitivity, like, what do I have? And that's like, $240 for all the foods, right? Okay. And then the blood testing for celiac should be covered by insurance. Okay. But it should be.
Lisa Beres 33:51
Okay. So that's good guys. And gluten. People get really freaked out when they think they might have to give up gluten. But I mean, I find there's so much gluten free options. Now that it is I know, it sneaks in things, but it's really we're talking bread and pastas. And right I mean, it's not like you have to give up everything that you love, right?
Dr. Wendie Trubow 34:08
So what you need to do is figure out what's making you sick. If you don't feel freaking amazing. Then there's something going on. And because you eat every day, multiple times a day, the odds are good that foods playing a role in that. The goal is figure out whether there's a food and the top ones gluten, dairy, sugar, right? Like those are the massive ones. Maybe it's corn, but it's unlikely you've gotten to this stage of life and don't know you have a corn sensitivity, right? But gluten is so pervasive that it's easy to miss.
Ron Beres 34:35
Excellent. Doctor, when you one quick question before we go. inflation continues to heavily impact us, especially at the grocery store, right? What healthy food choices are worth the expense. And where is it okay to save a few bucks?
Dr. Wendie Trubow 34:49
I love this question. Okay, Ron. So Environmental Working Group, Dirty Dozen clean 15 It gets updated every year. So the Dirty Dozen are those 12 foods that you want to eat organic. And the clean 15 are foods that if you don't have it in your budget that you could get those foods not organic. But then there's also hacks like, can you get in relationship with a local farm because they often have community supported agriculture, and it's organic, and you can drive down the street instead of mean, you're in California. So you guys have lots of local food, but we're in Boston, it comes from across the country. So we belong to a CSA, and it's $25 a week, which out it's now we do a double share because of all the people in our house. So it's $50 a week, but we get two boxes of food. So that's amazing. You can also sign up for something called misfits, which gives you organic but ugly food. There's discrimination against ugly food, and so ugly vegetables often get discarded. So if you're okay, wait doesn't look perfect. You could do the misfits. And then you can also look at..
A quick question. Are they sending you smash like avocados?
Weird shape, you know, instead of being straight, it's curved, or vice versa?
Lisa Beres 36:04
Oh, not like that. Not like bruise?
Dr. Wendie Trubow 36:06
No, no, it's not bad or bruise. It's just not perfect.
Lisa Beres 36:11
And now with the genetically modified food, people are getting way even more brainwashed into thinking everything has to look perfect. This bright, bright, bright, perfectly round, bright red apple, where food naturally doesn't look like that when it's grown. Yeah. Okay, those are great. Tips. Wow, this was so interesting. We definitely want to have you back. And thank you so much for being with us today. Dr. Wendie and her team believe that you are meant to be vibrant, healthy and alive until at least 100 years of age. From sex to brain function. Your vitality can improve decade over decade, and they will help you get there.
Ron Beres 36:48
You can learn more about Dr. Wendie at fivejourneys.com. And we'll put the link in to her book in the show notes as well. And to get all the details, go to Ronlisa.com/podcast. Stay tuned for the next episode. Get ready to uplevel your health. See you then.
Narrator 37:05
Bye. This episode of the Healthy Home hacks podcast has ended. But be sure to subscribe for more healthy living strategies and tactics to help you create the healthy home you always dreamed of. And don't forget to rate and review so we can continue to bring you the best content. See you on the next episode.
Transcribed by https://otter.ai
Sign up to receive email updates
Enter your name and email address below and I'll send you periodic updates about the podcast.
Disclaimer: *This post contains affiliate links for your shopping convenience. You still pay the same price but we might earn a small commission. Thank you for supporting the brands we love and trust.