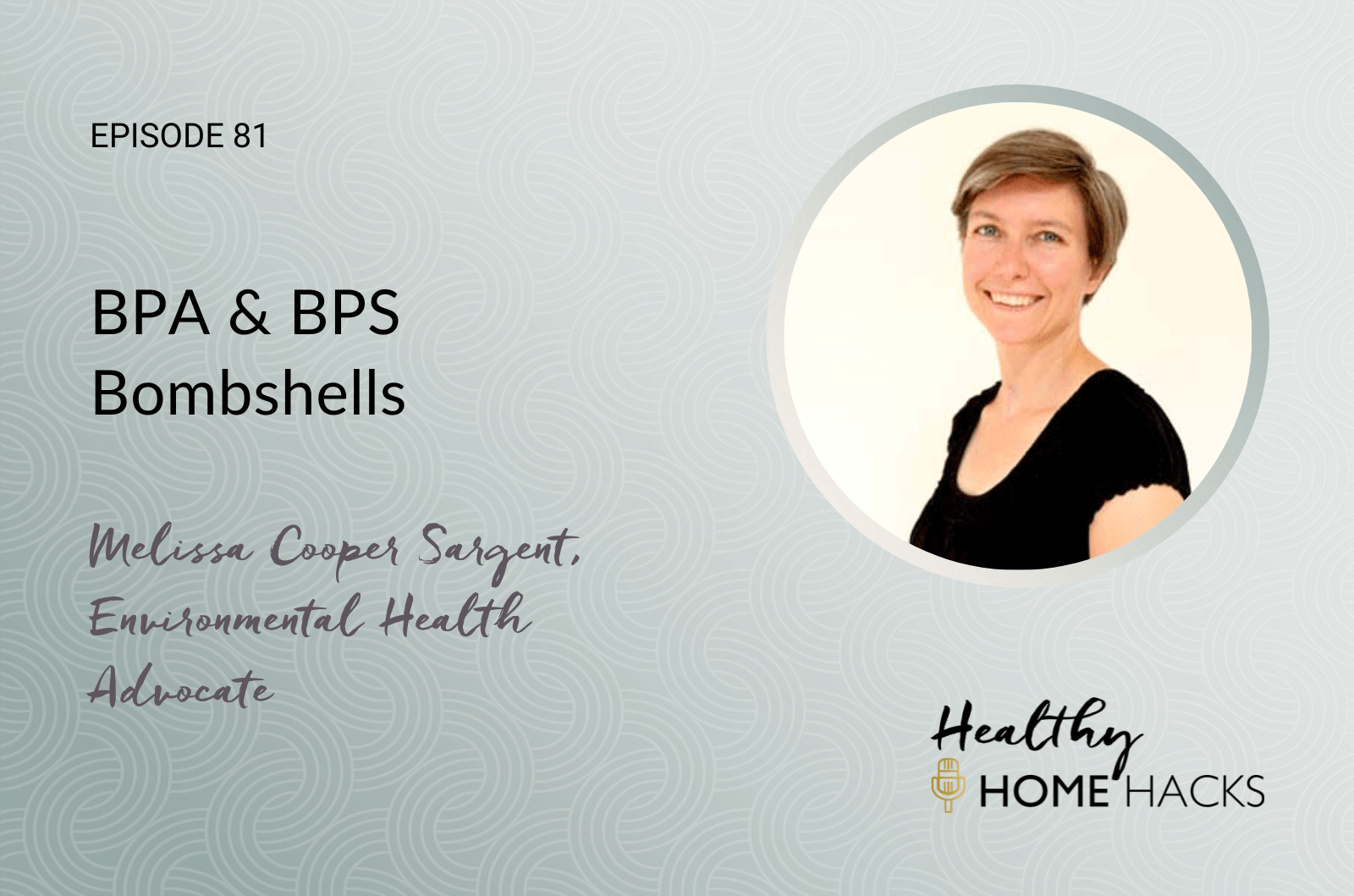 You've likely heard of BPA – or – Bisphenol A; a chemical used in most polycarbonate plastics and epoxy resins. While it's been popular with manufacturers for decades, mostly because of its unique physical ability to harden plastic, research has uncovered some disturbing facts about BPA. Our guest, Melissa Cooper Sargent, an environmental health advocate sheds light on a recent study by the Ecology Center based in Michigan which operates the Healthy Stuff Lab; a scientific research project whose team of scientists conducts research and tests consumer products, air, soil, water, fish, food and more for toxic chemicals. The study found toxic chemicals in 80% of paper receipts tested from large retailers in the US.
Key Takeaways
What toxic chemical is being used to replace BPA in receipts
How common BPS (Bisphenol S) or BPA is in receipts today
The health concerns associated with BPA and BPS
Improvements seen since 2018
What people receiving receipts should do
What cashiers or their employers can do
Listen to all episodes of Healthy Home Hacks on your favorite podcast app
Rate, Review, & Subscribe on Apple Podcasts
"I love Ron & Lisa and Healthy Home Hacks." <– If that sounds like you, please consider rating and reviewing our new show! This helps us support more people — just like you — to regain their health, protect their loved ones, and enjoy more energy. Click here, scroll to the bottom, tap to rate with five stars, and select "Write a Review." Then be sure to let us know what you loved most about this episode or the entire show.
Also, if you haven't done so already, subscribe to the podcast. Subscribe now!
Shop our Healthy Home Hacks Store
Visit the Healthy Home Hacks store to shop everything from notebooks and tees to hoodies, mugs & more! Your purchases help our show continue to thrive and reach more healthy living enthusiasts.
Episode Links:
Narrator 0:04
How would you like to improve your health and keep your family safe? You're listening to the Healthy Home Hacks podcast where we firmly believe in joining optimal health shouldn't be a luxury. Healthy Home authorities and husband and wife team Ron and Lisa will help you create a home environment that will level up your health. It's time to hear from the experts. Listen in on honest conversations and gain the best tips and advice. If you're ready to dive in and improve your well being and increase your energy, you're in the right place. All right, here are your hosts, baubiologists, authors, media darlings, vicarious vegans and avocado aficionados, Ron and Lisa Beres.
Lisa Beres 0:50
Friends, it is time to stop breathing in harmful biological and chemical contaminants. It's time to take control of your health, breathe better, and sleep more soundly. This episode of Healthy Home Hacks is brought to you by IQAir first and air quality. IQAir is the top air quality technology company and has been around for over 60 years. In fact, they provide the largest global air quality platform. In addition, they're the maker of award winning medical grade air filtration solutions that are Swiss made high performance air purifiers with something called hyper HEPA filtration technology. This technology removes 99.5% of airborne particles down to point 003 microns guides that's as microscopic as the smallest virus plus their filters last 38% longer than ordinary filters and are individually tested and certified. In fact, it's the air purifier we personally use and trust. Whether you're looking for a portable air purifier for your home, your office, your car, a whole house filtration system that fits right into your Hvac system, or an air quality monitor for your home. They've got you covered. Visit IQAir online at www.iqair.com to download their air quality app today and to find the ideal home air purifier for your needs. Oh and don't forget to head to ronandlisa.com to enter for a chance to win your own IQAir quality air monitors.
Ron Beres 2:23
Friends welcome to today's show. If you've been following us you've definitely heard of BPA or Bisphenol A, a chemical used in most polycarbonate plastics and epoxy resin. And while it's been popular with manufacturers for decades, mostly because of some of its unique physical ability to harden plastic research has uncovered some disturbing facts about BPA of a no longer used in plastic baby bottles and sippy cups. It is still used as a liner in most canned goods, and also thermal paper receipts. Let me paint a picture for you go to the grocery store, you go to a big box store, you're buying some product, and you're leaving with that product with this little slick piece of paper. That's supposed to be a receipt. I'm talking about those slicky receipts that is the thermal paper receipt.
Lisa Beres 3:15
Yes. And a new study was just released by the Ecology Center based in Michigan. They operate the healthy stuff lab, a scientific research project, whose team of scientists conduct research and tests consumer products, air, soil, water, fish, food and more for toxic chemicals. Their snazzy team believes chemicals have no place in our everyday products or our natural environment, and that retailers manufacturers and lawmakers need to help drive the market towards safer alternatives. So what did their study find? Toxic chemicals and 80% of paper receipts tested from large retailers in the US. Now while this is an improvement since 2017 the question remains, what did these companies use when they replaced BPA? Turns out the study found that BPA based receipts have been almost entirely replaced by the BPS toxic variation of this Bisphenol A.
Ron Beres 4:24
When states and companies restricted the use of BPA, many manufacturers turned to similar and toxic compounds. Someone here to shed the light on BPA and its evil cousin is Melissa Cooper Sargent an environmental health advocate who has worked for over 20 years educating the public about avoidable household toxins and advocating for healthy environments where we live, work and play. Melissa has a bachelor Science degree from the University of Michigan School of Natural Resources and Environment and is currently a graduate student Melissa lives in Detroit with her family, her dog or cat, or nine chickens. And she is active in her community. Welcome to the show, Melissa. Yes.
Melissa Cooper Sargent 5:12
Thank you so much. Thank you.
Lisa Beres 5:14
Welcome, Melissa. Happy to have you and your chickens in your dog with us today.
Ron Beres 5:21
Melissa herd I just read this article about chickens right off topic not BPA, right? That if every household in America had chickens, it would reduce the waste of our home by like a third or something. We're gonna reduce the landfills by a third. Is that true, Melissa?
Melissa Cooper Sargent 5:36
Oh, very interesting. Oh, I don't know. Well, you could also compost if you have a backyard compost bin. Right. That's where you could put your foods.
Lisa Beres 5:45
Yeah. And we're gonna get into because I also have read a study, I want to get into this in a minute about chickens having high levels of phalates because of the plastic bags that the chicken food is housed in. I'd love to hear your opinion on that. But we are so thrilled to have you with us today talking about a very hot topic Bisphenol A. Our listeners are really savvy. So they are a little familiar with it. But tell us about the latest study by the Ecology Center. Why did you guys decide to test receipt?
Melissa Cooper Sargent 6:16
Okay well, we first tested receipts in 2018. And so we were checking in again. And so this time, we tested 374 receipts from 144 major chains, and within 22 states and Washington DC. So we asked folks to send in their receipts, gave them instructions for how to fold them and mail them in. So we got receipts from all over the country. And why receipts because that is a really common exposure route for us, or anybody who's living in shopping. And even if you're not shopping, you're going to the ATM or somewhere else. We handle receipts a lot. And it's a really common route of exposure.
Lisa Beres 7:02
So because the skin is the largest organ is that why as we hold those, is there a time limit to how long it would take for these chemicals to get absorbed,
Melissa Cooper Sargent 7:13
They get absorbed pretty quickly, because the thermal, BPA and BPS are developers on the thermal receipt paper. And they don't stay put like many of these toxics in our lives. They don't stay where they've been put. And they rub off onto our hands and they get absorbed through the skin into the bloodstream very quickly. So they're very efficiently absorbed. So it's very concerning for people who are also handling receipts through their occupation. Hundreds, hundreds of receipts, handled by cashiers for hours. But yes, yes.
Lisa Beres 7:50
Restaurants I would think restaurants all day. All right, all day, every day.
Melissa Cooper Sargent 7:54
Yeah, right. Right. And so we wanted to check the
Lisa Beres 7:56
Yes, no one's immune to that.
Melissa Cooper Sargent 7:58
movements in the receipt world in general. But also we had received commitments from some big names. And we wanted to check in on them and see, did they hold true to their commitments.
Ron Beres 8:09
Like everybody.
Melissa Cooper Sargent 8:10
We were pleasantly surprised that Trader Joe's had switched to non bisphenol receipts and some other big names have also switched.
Ron Beres 8:19
Well, that's a big deal. Let's give them a big shout out. Trader Joe's I love Trader Joe's. We love Melissa tell us some of the dirt.
Lisa Beres 8:28
No the good dirt.
Ron Beres 8:30
The good dirt. Yeah,
Melissa Cooper Sargent 8:30
Yeah, yeah, the goods are even Best Buy has had Bisphenol free receipts for years. They were one of the first ones to ship. And there's even I don't know if Hooters is across the whole country. But we found that they use the ones that we were tested were just plain paper. They didn't even have any developer on their receipts. There's Costco, REI, the TJ Maxx family of stores, which is Marshalls and Home Goods as well. And Whole Foods Market. Those are all ones that tested well for us. And CVS has recently within the past few years, they have shifted. One of our partners is Green America, and they did a skip the slip report. And so CVS engaged with them. And it's great. They are not doing the mile long receipts anymore.
Lisa Beres 9:25
Oh my God, those are like what I feel like I've homework, you know, I gotta go home and read this thing.
Melissa Cooper Sargent 9:31
Right? And they're offering no receipt option so you can get an electronic option or just no receipt. So that's really what we are encouraging as well for stores to do.
Lisa Beres 9:41
Yeah, get the receipt.
Melissa Cooper Sargent 9:43
And so the shift has really been made from BPS to the regrettable substitute of BPS.
Ron Beres 9:50
Well, what a great study what a great way to check so it sounds like some big box stores are doing the right thing. So how common is BPS are BPA and receipts now?
Melissa Cooper Sargent 9:59
Regrettable substitute
Lisa Beres 10:01
That word. Can we just talk about that for a minute? Because, yeah, the first time I heard that word, I was like, Wait, that's an actual term. That's like a scientific term, right? Regrettable substitute. So like, hey, everybody get this products labeled BPA free. And everybody's like, Yay, it's healthy. Right? Great. I'm protecting my family. And then they didn't know that the manufacturer used a regrettable substitute, which basically means why explain that to the listeners?
Melissa Cooper Sargent 10:27
Oh, it means that, okay, they learned that the one particular chemical BPA in this instance, was bad. And so they just went to the very next chemical that could do the job that they were looking for, which was BPS or receipts. So in we're finding that BPS has a lot of the same concerns as BPA. So what we encourage is to get a third party certification, that what you're switching to is not a regrettable substitute, there are organizations out there that can help retailers or manufacturers wade through that, and analyze the chemical that they want to switch to to make sure it doesn't have health concerns attached to it.
Lisa Beres 11:09
Yeah, we were talking at the top of the show, Melissa, about how this issue should not be put on the consumer to be a scientist, this or detective or, you know, this issue really should be falling back on the manufacturers, really the manufacturers of the chemicals, if you ask me, right, because why are the chemicals allowed without the proper testing? I mean, we see the same thing with PFAS right now. Right. And the regrettable substitutes there that every same kind of greenwashing where they would say PFOA and PTFE free, but turned around and used as they're now finding out, very harmful alternatives, regrettable substitutes, and so it's overwhelming. I'm sure every single person listening has gone through this door and felt overwhelmed, you want to obviously make the healthiest choice for yourself and your family. And you're not a scientist, most of us. And so you're kind of going through and hoping that the marketing term, and maybe even the ingredients, if you can understand what they are, that you can rely on that but you really can't today. So you guys are doing a really good job going back to like you said upstream,
Melissa Cooper Sargent 12:15
Right? We really want to take the burden off of the everyday person and push it upstream of the retailers, the manufacturers and lawmakers make sure that the products that we come in contact with are actually safe.
Lisa Beres 12:29
Yeah. And so what kind of improvements? Have you seen, we mentioned some great retailers who are doing a good job? Let us know like since the study, yeah.
Melissa Cooper Sargent 12:38
So in 2018, when we first tested 93% of the receipts we tested were BPA or BPS. And so that is now down to 80. 80 is still a very high number. So we're seeing improvement. But still, the vast majority of receipts do have BPS, it was about 79% BPS, and it's less than 1% BPA now. So BPA is almost entirely out of the picture.
Lisa Beres 13:05
That's good- ish.
Melissa Cooper Sargent 13:06
It's hard to say it could be both. It's within the same class of chemicals. It's literally the same Bisphenol S instead of Bisphenol A. So maybe they didn't know maybe they were not wanting to know, you know, who knows,
Lisa Beres 13:21
Like the cousin. Right. Yeah.
Ron Beres 13:23
Do you suspect they're switching to BPS for economic reasons? Or is it just a case of not knowing? Is there common? Yeah, okay.
Melissa Cooper Sargent 13:31
Cost could be a factor. But there are what they call drop in replacements, meaning you don't have to change any equipment to just switch to a different paper that doesn't have BPA. There's other alternatives that, at this point in time seem to be safer. We always feel like more research needs to be done to make sure that there are multiple alternatives at this point.
Lisa Beres 13:57
It's like why not just regular paper?
Melissa Cooper Sargent 13:59
Yes, that's an option as well.
Lisa Beres 14:03
Why so complicated?
Ron Beres 14:04
Is it more expensive?
Lisa Beres 14:06
How about going back to the beginning.
Ron Beres 14:07
Wouldn't seem like it's more expensive, but you brought up a great point, the equipment is there, that it seemed to switch with our printing on.
Melissa Cooper Sargent 14:14
Retailers can purchase thermal paper that doesn't have BPA or BPS on it. There's alternatives such as Pergafast.
Lisa Beres 14:21
All the coding required. Yeah.
Melissa Cooper Sargent 14:25
Right. And like I still see every once in a while just plain paper receipts. Yeah.
Lisa Beres 14:31
We used to have paper, I guess it used to be paper. So it's like, I don't know why we don't go back to that. Yeah,
Melissa Cooper Sargent 14:36
I believe that the alternatives are a little bit more expensive. But yeah, I think it could be argued that that could be offset by just offering not have to print one for everybody.
Ron Beres 14:46
Do you have any data on the price comparisons isn't really this comparable to the same price? Why would someone make a choice? If it's the same price? Why wouldn't they choose the healthy one? So I'm trying to get at?
Melissa Cooper Sargent 14:56
I think that cost could be offset by enabling people to decline a receipt. You don't have to print a receipt for every single customer. Some people just want an electronic receipt.
Lisa Beres 15:06
Yeah, nine times out of 10 we get home and just throw them away anyway. Right.
Melissa Cooper Sargent 15:10
Right.
Ron Beres 15:10
For sure. You know, we've read research that suggests that over 90% of the population tests positive for BPA. And, Melissa, would you agree with the opinion that virtually everyone in America has measurable levels of BPA in their bloodstream? Would you agree with that? And can you explain to our listeners, the health concerns associated with BPA and BPS?
Melissa Cooper Sargent 15:33
Yes, I mean, I would believe that I think that's reasonable. There's some really sad statistics out there that there's no human born without some sort of chemicals already in their body when they're born. Like, that's the world that we're living in right now.
Lisa Beres 15:47
Like hundreds, right. According to EWG, Environmental Working Groups, body burden study on the umbilical cord, blood of babies found an average of I think, 287 chemicals in newborns, and lot of industrial chemicals to it's kind of shocking.
Melissa Cooper Sargent 16:02
Right, so BPA and BPS are hormone disruptors. Maybe you've talked about hormone disruptors already, but the interesting thing about them is that they can have an effect at very low amounts, because they connect to our hormone receptors in our body. And, you know, it doesn't take much to kick those into action. So we know that there's possible reproductive health effects, we know that can affect the brain. So there's some really very concerning health effects associated with both BPS and BPA. And we also know that the majority of cashiers are women. And I imagine a lot of shoppers are also women, right? So we know a lot of people handling receipts are thinking about their reproductive health, and want to stay as healthy as possible.
Lisa Beres 16:49
Yeah. And so pregnant women, can they pass that chemical? To the baby? I'm guessing for breast milk? For sure. Right? If not, ..
Melissa Cooper Sargent 16:57
Yes, I imagine chemicals can be passed on through. I imagine that's another topic for another day, because I wouldn't ever discourage somebody from breastfeeding.
Lisa Beres 17:05
Just being aware of the you know, just have to go when you're pregnant. Now, you just have to be super aware of all these exposures, because like you said, we're dealing with a vulnerable developing baby. And they're already at a disadvantage. So..
Ron Beres 17:16
And Melissa, not to put you on the spot, too. But I know these are studies around how they're affecting people directly from grabbing and touching these receipts for a few seconds. How about all the receipts that are going in the landfill? All right. And biodegrading getting into our water affecting that wildlife? Have you heard much about that? Yeah.
Melissa Cooper Sargent 17:32
Okay. I don't have stats on that. But I guess I would say, that's where you have to put it, you cannot recycle these receipts, because it will contaminate the recycling stream. So we do tell people if you are managing these receipts that they need to go into the trash and that the recycling bin.
Lisa Beres 17:48
Oh, okay, that's interesting. I don't know, I never thought of that trash. I think maybe.
Ron Beres 17:54
That's a good nugget.
Lisa Beres 17:55
That's a good nugget.
Ron Beres 17:56
I've made the mistake of accidentally leaving a few receipts in the recycle bin. So that's not anymore. And so not everyone, listen, don't do that anymore. It's not the right thing. Yes. Thank you, Melissa.
Lisa Beres 18:05
So Melissa, what would you say? How does the BPA when it's absorbed into our body? Is it a chemical that we released quickly? Or is that bio accumulative? Like some of these other chemicals?
Melissa Cooper Sargent 18:16
I believe it's a bio cumulative, I'm not a doctor, you know, or medical professional. But yeah, it's something that we do need to be concerned about.
Lisa Beres 18:26
Okay. Because I know like PFAS we actually get pee fast out of our system quick. But the problem was, there's just so much constant exposure, and of course, wildlife contamination and all of that, which, of course, we have to deal with this too. So what should people receiving receipts do someone who's working at a job where they kind of don't have a choice?
Melissa Cooper Sargent 18:44
Right, so we tell people the quick and easy thing, if you can't decline the receipt, if you have to deal with the receipt, to fold it printed side in very easy, doesn't take any extra time or money, hold it printed cited that way. When you touch it again, you're touching the outside the backside, which usually does not have any printing on it. Another thing that you need to do is wash your hands after using it, but don't use hand sanitizer.
Lisa Beres 19:09
Yeah, just soapy water would do the thing right?
Melissa Cooper Sargent 19:10
Yeah. Well, the alcohol hand sanitizer will actually increase the absorption. Don't want to use hand sanitizer. So especially if you are we're using a lot more hand sanitizer these days due to COVID and especially cashiers Yeah, if you're trying to stay clean, without running to the bathroom every few minutes, so a lot of hand sanitizer is being used. But we would suggest that cashiers do not use hand sanitizer, and instead, if they can wear gloves or those little reusable silicone fingertips, if that's possible, or to just, you know, wash your hands as regularly as possible.
Ron Beres 19:51
Oh my goodness, that's another good tip right there.
Lisa Beres 19:55
Or use a non alcohol based hand sanitizer. I know there's a cup of brands that use essential oils. And there's one that I think uses thyme oil, that actually is really good. I don't believe there's alcohol on there. So that's a great tip.
Ron Beres 20:10
So we just addressed people, cashiers. What about the employers? What can the employers do to limit exposure?
Melissa Cooper Sargent 20:17
Right? The bare minimum, the employers can make those gloves, the non vinyl gloves and the silicone fingertips available to their employees. But really what they should be doing is creating a safe chemicals policy that will phase out BPA BPS in products in general or in receipts, and be transparent with your employees, with your customers about what your chemical policies are. That can be really hard to find. We've reached out to manufacturers and retailers and said, hey, you know, do you guys have a policy regarding chemicals? And they might say yes, but it's secret, you know, we can't it's not public. And like, Well, okay, and that doesn't help. We need to know what you think is okay. And what you don't think is okay, what are you allowing, what are you not allowing? So we really want to encourage them to have public chemical policies, and to utilize some third party entities like green screen for safer chemicals or cam forward, those are some third party certifiers that can help them be sure that they're not using those regrettable substitutes.
Lisa Beres 21:24
Mm hmm. Okay, that's great. I guess my last question is, obviously, as we talked on the top of the show, we get BPA exposure. Other ways to as in can food linings being really big source. Well, how would you compare those two, as far as like, on a scale from one to 10? Just your opinion on a canned food exposure versus thermo receipts or the plastic bottle, put the polycarbonate bottles?
Melissa Cooper Sargent 21:49
I think that's hard. I don't know that I can do that. But I do know that I was looking at there was like a 2012 study. So it's dated by now. But at that point, it was saying like, 70% of our BPA intake was from receipt. So I think it's a good portion.
Lisa Beres 22:04
Wow. And that was even back then when we probably didn't even have as many thermal right, it was probably still a lot of paper. Okay, so I would have thought can food lining that's interesting. Let's get those canned foods test and shout out to the listeners, like spend the extra 50 cents or whatever it is to get the BPA free can. Amy's organics is a great brand. And that's sold everywhere that's sold at Costco, you know, you don't have to just go to a specialty whole food store to get these BPA free cans. I think that's important too, because you know, we talk about a lot on the show the body burden, and the body burden is all of your chemical exposures. So even reducing one part, even if you're not doing every part is still helping you. So don't ever underestimate the small steps that you can make. Well, Melissa, this was great. Is there anything else you want to leave our listeners with?
Melissa Cooper Sargent 22:58
I just want to say that there are some states that are starting to take action that the state of Washington early this year introduced, they proposed to prohibit the use of this Bisphenol as an entire class. So that would include Bisphenol A, Bisphenol S and there are others out there. They're not commonly in use, but there's more. So they would prohibit the entire class from being used in receipts. And they would be the first to do so. In the state of California. There's a Assemblymember Bill Teen who has a proposed legislation to prohibit this phenols and receipts, and would also require stores to offer a no receipt or electronic receipt options. So it's nice to see that there are states who are taking action on this. And because of people like you and others who are really sounding the alarm and saying, Hey, we don't want this in our everyday lives.
Lisa Beres 23:51
Yeah. Well, that's great. And you know, those states are the leaders for the other states to follow. That's typically what we see. Right? It takes the first day to do it. And then usually, people will follow suit. So fantastic. Great job. And I wanted to give a shout out to Walgreens because they're another one right. 9000 stores. Okay. Yes. Yeah,
Melissa Cooper Sargent 24:10
They committed to phasing it out by the end of the year. Excellent. Great.
Lisa Beres 24:10
Oh, wow, this was so insightful. Thank you so much, Melissa. You're welcome. Oh, yeah, thank you friends. Remember, there are too many people counting calories, and not enough counting chemicals. Head over to ecocenter.org to learn more. And be sure to also visit toxicfreefuture.org For more information.
Ron Beres 24:36
We'll have all the links in the show notes at Ronlisa.com/podcast.
Lisa Beres 24:41
Stay tuned for the next episode friends and get ready to uplevel your health. See you then.
Ron Beres 24:46
Bye.
Narrator 24:51
This episode of the Healthy Home hacks podcast has ended. But be sure to subscribe for more healthy living strategies and tactics. To help you create the healthy home you always dreamed of. And don't forget to rate and review so we can continue to bring you the best content. See you on the next episode.
Transcribed by https://otter.ai
Sign up to receive email updates
Enter your name and email address below and I'll send you periodic updates about the podcast.