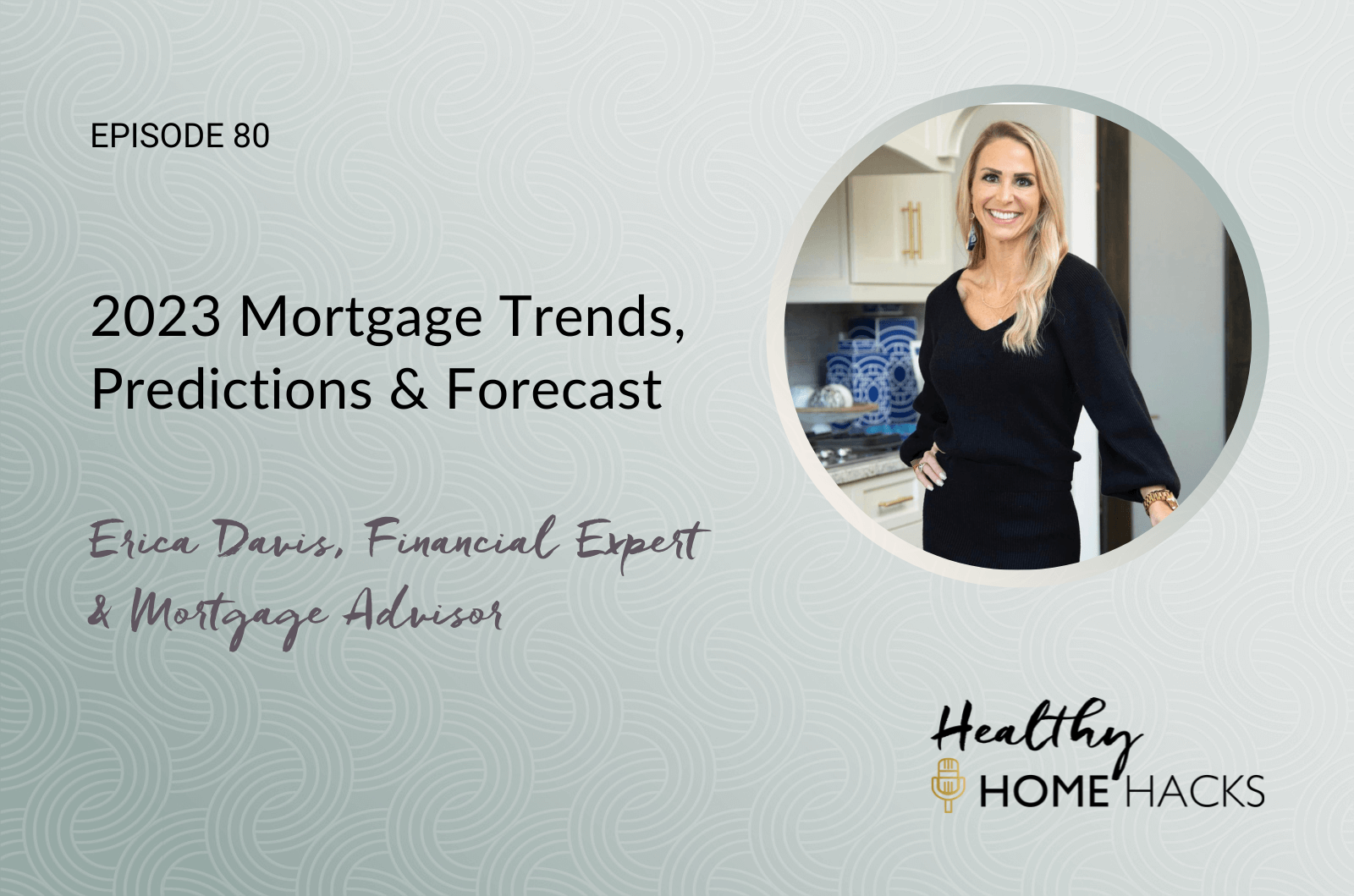 With mortgage rates soaring to the highest they've been in 20 years, Americans are wondering what it means for the housing market and economy, especially now that it's 2023. Financial expert and mortgage advisor, Erica Davis, The Stylish Lender, is here to answer all questions on this topic.
Whether you're looking to buy your second home at the beach, a vacation property, or finally get in on that first-time buyer deal, today's guest and her team can help! If you're curious about this year's forecasts, listen now. Erica covers everything from what should you buy, sell, rent, and refinance, as well as interest rates, rising rents, and the biggest mistakes for first-time home buyers.
Key Takeaways:
Overview of the 2023 mortgage trends, predictions, and forecast
The housing market trends happening right now
How to save for a down payment for a first home
How house values are changing in the current market
The benefits of buying and selling right now
How to refinance a home to get out of debt
What buying down your interest rate means for your monthly payment
What to do if you're experiencing rising rent
How to save enough money to buy a house
First-time home buyers' mistakes to avoid
Listen to all episodes of Healthy Home Hacks on your favorite podcast app
Rate, Review, & Subscribe on Apple Podcasts
"I love Ron & Lisa and Healthy Home Hacks." <– If that sounds like you, please consider rating and reviewing our new show! This helps us support more people — just like you — to regain their health, protect their loved ones, and enjoy more energy. Click here, scroll to the bottom, tap to rate with five stars, and select "Write a Review." Then be sure to let us know what you loved most about this episode or the entire show.
Also, if you haven't done so already, subscribe to the podcast. Subscribe now!
Shop our Healthy Home Hacks Store
Visit the Healthy Home Hacks store to shop everything from notebooks and tees to hoodies, mugs & more! Your purchases help our show continue to thrive and reach more healthy living enthusiasts.
Episode Links:
Narrator 0:04
How would you like to improve your health and keep your family safe? You're listening to the Healthy Home Hacks podcast where we firmly believe in joining optimal health shouldn't be a luxury. Healthy Home authorities and husband and wife team Ron and Lisa will help you create a home environment that will level up your health. It's time to hear from the experts. Listen in on honest conversations and gain the best tips and advice. If you're ready to dive in and improve your well being and increase your energy, you're in the right place. All right, here are your hosts, baubiologists, authors, media darlings, vicarious vegans and avocado aficionados, Ron and Lisa Beres.
Lisa Beres 0:50
Friends, it is time to stop breathing in harmful biological and chemical contaminants. It's time to take control of your health, breathe better, and sleep more soundly. This episode of Healthy Home Hacks is brought to you by IQAir first and air quality. IQAir is the top air quality technology company and has been around for over 60 years. In fact, they provide the largest global air quality platform. In addition, they're the maker of award winning medical grade air filtration solutions that are Swiss made high performance air purifiers with something called hyper HEPA filtration technology. This technology removes 99.5% of airborne particles down to point 003 microns guides that's as microscopic as the smallest virus plus their filters last 38% longer than ordinary filters and are individually tested and certified. In fact, it's the air purifier we personally use and trust. Whether you're looking for a portable air purifier for your home, your office, your car, a whole house filtration system that fits right into your Hvac system, or an air quality monitor for your home. They've got you covered. Visit IQAir online at www.iqair.com to download their air quality app today and to find the ideal home air purifier for your needs. Oh and don't forget to head to ronandlisa.com to enter for a chance to win your own IQAir quality air monitors.
Ron Beres 2:24
Hi friends and welcome to today's show. If you've ever watched the show Million Dollar Listing, you know one of Lisa's favorite shows by the way, you'll remember Ryan serhant from the New York series. He once said every day you have a 1440 minutes, minutes are your dollars. Invest your time wisely. We couldn't agree more and when will usually cover toxins on this podcast. Today we're covering everything 2023 housing and prediction trends with a mortgage expert.
Lisa Beres 3:00
Whether you're looking to buy your second home at the beach, a vacation property or finally get in on that first time buyer deal. Our guest and her team can help. If you're curious about this year's forecasts stay tuned friends she'll be covering everything from should you buy, sell, rent refinance, as well as interest rates, rising rents and the biggest mistakes are first time homebuyers.
Ron Beres 3:25
With mortgage rates soaring to the highest they've been in 20 years. Americans are wondering what it means for the housing market and economy, especially now that it's 2023 financial expert and mortgage advisor Erica Davis, the stylish lender is here to answer all questions on this topic. So excited.
Lisa Beres 3:45
Erica has been in the industry for 20 years and has dedicated her whole career to making homeownership a reality for everyone. She believes in home ownership as a great way to start building wealth, and has taken her expertise to social media, or she's amassed a large following sharing financial tips.
Ron Beres 4:04
Welcome to the show, Erica. Yes.
Erica Davis 4:08
Well, thank you guys for having me. It is such an honor to be here and just can't wait.
Lisa Beres 4:15
Oh thank you. We're so excited, welcome. And we our listeners are going to be so excited about today's show. Like I said before we started, this is the first time we have dived into this very, very important topic. So I can't wait to get started and see what you have to share.
Ron Beres 4:30
For sure. And with that being said, let's get started. So can you give our listeners an overview of the 2023 mortgage trends, predictions and forecasts? Erica, let us know!
Lisa Beres 4:40
In one sentence.
Erica Davis 4:43
That is the hardest thing. So obviously we're in a different market and so much has changed from the beginning to 2022 to the beginning of 2023 rates have ever doubled in 2022 and January they were you know around 3% and Now we're over 6%.
Lisa Beres 5:01
Oh, wow.
Ron Beres 5:03
Yeah. In 12 months too. Can you blow everyone? Right? Roughly 12 months, 13 months? Wow. Oh, wow. Yeah, so,
Erica Davis 5:09
But really the crusher, the indicator of what's driving these interest rates, it's all inflation. So really the beginning part of the year, we're really, unfortunately, in unknown territory, because we need to see if what the government has put into place is actually going to make a difference with inflation. So right now, you know, again, we're six to 7%, interest rate wise, and about two to three months, we'll see how this inflation is going. If it's coming down, guess what, these interest rates are also going to come down. But if inflation continues to rise, it means that the government needs to put more into place, and that means interest rates are going to continue to rise. Hmm. So we're in an unknown territory.
Lisa Beres 5:59
So what does that mean? Does that mean more renters and less homebuyers?
Erica Davis 6:03
I cannot stress this enough, you know, right, you're going to have to pay housing expense regardless, right? Yeah, there's very few of us that do not have a house and expense that we have an inherited home or that Oh, mom and pop that let us live rent free. So you're going to pay rent, and you're going to increase somebody else's wealth. Yeah. And guess what, with inflation, guys, the price to rent is continuing to rise and rise. Or you can purchase the home now, yes, interest rates are a little bit higher than they've been in the past. So you might not be able to afford right the home that you were looking to do, you might just need to kind of rethink the game plan as far as purchasing in your price range. But you can take that all either the money that you're using to pay for rent, you're paying it directly to build wealth, and to continue to be able to support yourself and make a difference.
Lisa Beres 7:07
I heard some expert. I don't know who it was recently say, Don't worry about interest rates, buy a house no matter what you can always refinance when the rates go down. I mean, how do you feel that's kind of a bold statement? Obviously, you'd have to stay within your budget. But how do you feel about that?
Erica Davis 7:24
Absolutely. So right now, there's not a lot of inventory out there. The buyers, they have a better stance they have, they're in better control, so they have more options. They might be able to get some seller pay closing costs, there's all sorts of things that they can do to help make this a true reality for them. And yes, I always say you date the rate, you marry the property, right? Yes, it's not permanent. We can refinance anytime I'm with Guild Mortgage Company, we offer free refinances to all of our clients that are purchasing within the next few years, because we know interest rates are going to come down. Nobody has a crystal ball. But all the predictions are saying that interest rates are gonna start to come down closer to the low sixes here shortly. And then even in two years, back to the fives. So when it makes financial sense, and you will save money, by all means we will cover the cost to refinance from our end, there'll be some other charges such as with a closing attorney, or possibly an appraisal. But it's a very, very minor costs to help save not only monthly, but probably hundreds of 1000s of dollars of for the life of the loan.
Ron Beres 8:45
Erica, sounds like you think the Fed is bluffing, ultimately, right?
Lisa Beres 8:49
He's just gonna come out and say...
Ron Beres 8:50
You don't think they're going to try to keep up with inflation? Because I think the rule of thumb is you actually have to match inflation percentage, right? And so obviously, even at 6%, we're not even there at 9,10 or 11, or whatever they're saying it is right. That's the number that they created. Right. I agree with you. I'm not a mortgage expert like you are. But I do think that they might be bluffing and they're not going to push it. Because at the end of the day, it's going to be hard to hit those levels. Do you foresee a turn happening in q2? I mean, obviously, it's leveled off a little bit with the increase so far. Well, what do you suspect will be the next move?
Erica Davis 9:21
I really do. I mean, most of the forecasts are showing that interest rates should come down realistically into the low sixes in q2, but we just don't know at this point. And we've seen even the difference within our industry, even the difference between 6% interest rate and 7% interest rate. It really makes a big impact on the housing market and cooling down. The buyers are really, really backing up and even though it's only 1% probably on average the difference between 6% and 7% on a payment you're talking 159 dollars. But I just think it's all the other things that come into play. And it's just you hear on the news, oh my gosh, we're going into a recession, these rates are gonna continue to rise all these other things, and it just makes them scared instead of broad picture, hey, I can go ahead and purchase a home, I know this, the absolute highest my payment is gonna be when rates come down, it will go lower. And I'm building wealth, at the end of the day, it's a great opportunity, and people don't need to lose that focus.
Lisa Beres 10:34
So you're saying buy no matter what, even if it's below what you originally wanted to just get in the game, if you're not in?
Erica Davis 10:40
Yes, yes. I've had several clients too, that they were lucky enough they purchased when interest rates were 3%. And now they're wanting to move into another home. Guess what? They can hang on to it and have rental and calm? Yeah, and have another source of income for as long as they want. Yeah. So it might not be your forever home? Yeah, can you afford the monthly payment, and you're paying yourself to create that wealth, you're not playing a landlord to increase his equity or her act me, you're helping yourself. And again, it can be a rental property down the road, or you can sell it and chances are, you're gonna make some pretty good equity off of it.
Lisa Beres 11:21
Nice. Wait, I have a question. I have a personal question. Because you're with Guild. Yes. I don't know how big Guild is. But a good friend of ours is in Sacramento area. Dan Tharp, do you know him?
Erica Davis 11:32
I have heard of Dan. Yes. I've met him a few times. We just had our leadership conference. And then we're getting ready to have our awards. Fun trip in Mexico.
Ron Beres 11:43
Congratulations.
Lisa Beres 11:45
Shout out to Dan. Dan's gonna be like, Why didn't you have me?
Sorry, damn, good stuff to share. No, he's awesome. We loved him. We were friends with him for a very long time.
Erica Davis 11:58
He is a great guy.
Lisa Beres 11:59
Yeah, really great. Okay, sorry. I interrupted you, Ron.
Ron Beres 12:02
I lost my train of thought. Come back with I'm coming back with boredom.
Lisa Beres 12:06
Okay, can you share housing market trends happening right now as a whole with our listeners?
Erica Davis 12:12
Yeah, housing market trends. Right here. Their homes are still increasing, guys. It's not as rapidly as it was a year two years ago. But it's still increasing. We're not anywhere near back in 2008, when prices started to rapidly decrease. We're not there. It's actually we're coming back and kind of more of a normal market. And I can't remember right off the top of my head, the exact number of people that are still looking for homes, but the housing shortage, it's huge. The demand is still there. So as long as the demand is still there, you're going to increase your equity.
Ron Beres 12:54
Now. Erica, quick question. So you're in South Carolina, right? And obviously, South Carolina, I'm not even sure when it compares to for example, like New York City or Los Angeles, or those places are in California,
Lisa Beres 13:07
We are in California.
Ron Beres 13:07
So I'm thinking California specific. Because there's a lot of people here that are thinking, Well, I'm gonna hold tight. Is it different based on your geography or move? You're actually leaving California for better and moving to South Carolina? Right. There you go.
Erica Davis 13:18
And that's exactly. Yes.
Lisa Beres 13:22
They're leaving in droves. I think we have the state with the highest one way you halls going out of California? Yeah, there was.
Ron Beres 13:30
I heard there was 500,000 residents that left alone or something.
Lisa Beres 13:33
Yeah, it is.
Ron Beres 13:34
That's a crazy transit. That's actually Erica, obviously, it's going to be different no matter where you are, or your forecast. And as you said, it's gonna maintain value. Do you think differently about areas like New York City or Los Angeles? Because maybe they're way overpriced? I mean, do you have any personal thoughts on that?
Erica Davis 13:50
I think is yes, every area is definitely going to be a little bit different. And we haven't seen values decline. Again, they're not rising as rapidly as they were. So we're still not in a market, thankfully, where homes are starting to depreciate.
Ron Beres 14:10
Okay, well, it's interesting to note.
Lisa Beres 14:11
What would you say to someone in California, or New York or somewhere with very high priced real estate? Who wants to get into the market, but literally, even with going below what they had planned? Maybe it's not available, right? Would you say move out of state move to a place where Texas or Florida somewhere where they can get inexpensive real estate and just get their toes wet? If that's doable?
Erica Davis 14:34
Right. Every situation is different. And thankfully, you know, one of the good things that happened from COVID So many people can work remotely. I have seen a lot of people in California relocate to South Carolina for numerous reasons. So it's definitely worth exploring. And even if maybe they can't move their full time but look at if you've got the funds to do a rental property or maybe go in with the family member, somebody else, you know, Morris like a partnership to purchase a home, we're starting to see what we call co-borrowers a lot more to help people to be able to achieve homeownership, because prices have increased.
Ron Beres 15:14
Or even credit rating, right? Would that be true to say, so you have to live in the same state to do something like that. So if someone wanted to leave California, they want to move to Tennessee, let's say today, and they need a co-borrower, how would that work? Do they have to be in the same state to facilitate this transaction? Can you elaborate on that?
Erica Davis 15:31
Yeah, absolutely. So the nice thing is, you know, you got to think about it from a big perspective, with lending, it's all about risk. So if you have a co-borrower that kind of strengthens where the buyer is weak, so if the buyers weak and credit and the co-borrower has stronger credit score is going to help, same thing with maybe assets, money for a downpayment, the co-borrower might come in and help with assets to show that they have reserved some money for a downpayment. Now, occupancy comes into play. So if somebody is looking to purchase a primary home, then that main borrower either has to show that they can work remotely, or they're relocating, it has to make sense, the co-borrower doesn't necessarily have to live there full time, but the borrower would or again, have to work remotely have to have an explanation for the case. If it's a second home or investment property, you can have two people, two different states, it doesn't matter because you know, that they're not going to be residing there.
Lisa Beres 16:43
Right. Okay. That makes sense.
Ron Beres 16:44
Okay, so how would you advise people save for a down payment for their first home?
Erica Davis 16:48
Yes, I love this. Because again, with inflation is hard these days, everybody's been to the grocery store, right? I have two children. My bill has gone up.
Ron Beres 16:59
We used to go there. We don't go there anymore. It's too expensive. All right, where the prices are crazy, right? 30-40%?
Erica Davis 17:08
Yes, but you really have to comb through what I would do have, print out your bank statements for the past six months, really go through with a fine tooth comb and see realistically what you could alleviate me. I'm a coffee lover. I have my $10 cup of Starbucks every morning. And that adds up very quickly. Women, how often do you get your hair done or nails done, you name it, there's some easy things that you can put aside or alter to save that money. Also, people don't realize guys, you do not have to have 20% to put down there are so many wonderful first time homebuyer options. There's a ton with 3% down and now there's more and more with downpayment assistance or 100% financing. You just have to see that or at the band aid off do a mortgage consultation and see what your options are.
Lisa Beres 18:08
Are those incentives only for first time? Or do they have incentives for non first time owners?
Erica Davis 18:13
Yes, most of them are for first time homebuyers. However, a first time homebuyer means you have not owned a home in the past three years.
Ron Beres 18:22
Oh, wow. Okay, I never need that.
Lisa Beres 18:26
Secret. Yeah. All over reset button.
Ron Beres 18:29
And then on top of that, so you can actually take part of your 401k to help that downpayment, right?
Erica Davis 18:34
Yes, sure. You can do some sort of loan against your 401 K, you can borrow from the 401 K.
Lisa Beres 18:40
Interest free, right? Correct?
Erica Davis 18:43
Yeah, every plan is a little bit different. So you have to look in for details. But that is definitely an option. Again, we're talking about the co-borrowers. Hey, Mom and Dad or someone in the family might also be willing to gift you a downpayment. And y'all can make an arrangement, you know if there's any sort of payback there, but basically, you don't know until you ask right until you explore all your resources and see what it would take and get that game plan together.
Lisa Beres 19:10
And that's a good point you made about the saving, I think to COVID kind of had people reassess right. You're at home all the time, and you're thinking about things that you weren't before. Like, we just got a coffeemaker we had a coffee maker, but we just got a nicer coffee maker, and it makes lattes, espressos and cappuccinos and it foams the milk for you. Okay, that was like I'm sold. And it was not that expensive. So the upfront costs, we figured out Ron, what we're going to it's going to be paid for in two months right now, believe it or not, yeah, just a couple of months. So there's a couple of months now it's a now we're in the profit zone. Right. And, you know, we stopped going to Starbucks, like years and years ago for health reasons, actually. But yeah, that you're right about that. $10 It's not really an exaggeration. If you're getting venti fancy drink. It's like Target You can't leave out of there without spending $100 same with Starbucks.
Erica Davis 19:59
That's a prime example. And I mean, yesterday I was at the office didn't pack my lunch. I tell myself did an Uber eat. It was $30 for a salad. $30 Yeah,
Lisa Beres 20:11
Exactly. We do. Uber Eats a lot, too. And we try to cook as much as we can, but you can't cook all the time, right? You've got to get order in. And it's crazy, right around $30 for a salad, yeah, it's like, that's crazy, you know, prices, everyone's passing on their their inflation prices. So how would someone refinance a home to get out of debt?
Erica Davis 20:30
I love this, we're seeing this more and more. And, guys, if you have debt, don't be ashamed. Like there's a way out of it. Especially if you own your own home, you can take advantage of that equity. Again, because of COVID. And other reasons, a lot of people have gotten into financial hardship. And you think about it with credit cards. All day long. It's 20%. And it is so hard to ever get out of that. You're in it.
Lisa Beres 20:58
It's like a cyclical prison. And yes, right, we were talking about this, if you didn't have good money, financial education from your family, or wherever growing up, you really didn't get it right. And then you go to college, and it's like, hey, sign up here for a credit card, hey, we've got free credit card, just you're approved, you're approved, right? Because you have no credit, so you have perfect credit. So everyone's approving you. And then that's where it starts. I think that's where it starts for most people. And if you don't have that good financial wherewithal, you can start getting into trouble at a really early age. Right?
Erica Davis 21:30
You can I wish there was more education on that. I mean, especially in today's world, we're always on our phones. So how easy do they make it for us to spend money like click of a button or all day long, so I don't care how great of a financial point you're at in life, at least annually, guys really take the time to go through and see what you're spending money on, go through your apps. Think about that. How many apps do we have that are on auto renewal that we use, I have to do that at least once a year. So here are numerous monthly..
Lisa Beres 22:10
Right sometimes it's a lot of the little monthly things versus one big payment, it's a lot of little things that add up that you're right evaluating. And like another example was our water filter. When we first started our home water filtration system. I'm a writer. So I wrote this articles on Yahoo, if anyone's interested. And it was how we saved $1,800 Our first year just by having the water filter. And then the second year it went up and then it went up because we were prior buying so much bottled water, and it's not as good for you. It's not good for the planet. And we were wasting so much money. So people always feel that sting of buying something right up front, right. But it only took a year and it started paying itself off.
Ron Beres 22:52
Right? We didn't we just thought it out. And that's what Erica is saying to just like think bigger and save more money and get a down payment on a new home, right?
Lisa Beres 23:00
We're all spending money in areas that we're not thinking about. And we're not like adding that up.
Erica Davis 23:05
Just taking a few minutes out of your day or just being intentional. What do you want out of life, if homeownership is the goal, then make it happen put together the plan. So you have some wonderful tips on the water filtration system. I mean, you name it, there's a lot of ways out there. And as far as people that are already in a bad place, and they've got that credit card debt, you can do what's called a cash out refinance. And again, thankfully, people that have owned their home, their value has increased. Basically, what you do is we go off of appraised value, so we'll have to get an appraisal on your property. And then again, depending on credit score, if it's your primary residence investment property, then you can borrow a certain amount of that equity and even at closing, like we will pay the debt off for you or you can have that cash back to pay it off on your own. So it depends on how much accountability you need. If it were me, I would say yes, you do it, pay it off at closing. You don't even have that temptation.
Lisa Beres 24:13
So that's for somebody that's buying a house for the first time that has a lot of credit?
Ron Beres 24:17
No they have an existing home and they just refinancing, right?
Lisa Beres 24:20
Oh, they refinance.
Ron Beres 24:22
Okay. The question is when you do this appraisal, it currently I know every markets different South Carolina versus LA and so forth. Right? What are some of the appraisal rates now they lower than they were last year? Are they around the same?
Erica Davis 24:34
It's about the same? Our average and South Carolina is about $600. But depending on the property if it's a condo if it's..
Ron Beres 24:45
Oh, yeah, Erica, that was great granular detail. I was actually the market itself the home values. So across the board, so is the home value itself, as much as it was a year ago. Are they a little bit lower?
Erica Davis 24:58
I think they might be a little bit lower. I mean, thankfully, in our market, property values have really held steady.
Lisa Beres 25:06
And if I see squirrels in your tree behind you.
Ron Beres 25:09
Oh, my goodness.
Lisa Beres 25:10
You got squirrels, did you know that?
Erica Davis 25:13
But yes, so with the appraisals, if people don't, honestly, for more than two years, they've got a good amount of equity no matter where you live. And depending on how much cash out you need, oftentimes it works. And even if you go up an interest rate, so let's say you're at the low 3%, but you have $50,000, in debt at 20%, it's gonna make sense to do a cash out refinance and go up to six and a half, you get the tax write off, you have one payment, and you get out of that debt.
Ron Beres 25:47
That's a great point here, I say. So if someone were to do this two years from the time they purchased their home from 2021, the value obviously is higher. So if you did this last year, that may not be the case. But if you're getting that, again, that defeats the purpose of you trying to get out of tax you got in debt again from last year. So it really depends.
Lisa Beres 26:05
You learn from your mistakes.
Ron Beres 26:07
And then also, in the event home values go down, is it prudent for someone to go out there and get a refund, and maybe not collect that line of credit for their home, but do this anyway, so they have the opportunity to pull from that line of credit?
Erica Davis 26:21
So a line of credit? That's a great question. Home Equity Line of Credit is different than a cash out refinance, a line of credit is think about that almost like a credit card. So you're going to apply, and then whatever you're approved for, it's there. And it's available to us at your discretion. And oftentimes, the interest rates on those home equity lines of credit, it's not fixed. And depending on the year, and regulations, they may or may not be tax deductible right now, there's no tax deduction for them. So some people that have a better, we said, like more accountability, and they know they're going to pay it off. To use that equity line of credit. It makes sense. Like if they're like, oh, I need to do a quick renovation or pay off this debt. But I know I'm getting a tax refund next year, and I can pay it off. All good. That's the way to do it. But if you again, are in hardship, and that debt is just too much, you can never pay it off a cash out refinance, you are basically redoing the entire loan and increasing the amount owed. So let's say you owe 100,000, you've got 50,000 and debt, the new loan amount would be 150,000, current interest rates, but it wouldn't be locked in. And then they can get the cash back at closing to do whatever they need. Or again, we can pay off that debt for them.
Lisa Beres 27:51
Hmm. Interesting. Yeah. learning so much. I know. I am not the numbers girl like you are. I usually cringe around the sound of numbers.
Erica Davis 28:03
Not exciting all the time. But hey, when you can save money, it does get excited.
Lisa Beres 28:07
Yeah, that's right. So for someone listening who is experiencing their rent rising, what should they do? We talked about some little tricks, but how else can they save to buy a house eventually, if they're in that situation?
Erica Davis 28:18
Yes. I mean, definitely in my area, the cost to rent, it has gone up tremendously. And a lot of it lack of inventory. I personally closed on a new home this week. I have to do some renovations and me trying to find a rental especially short term as near as possible. But I am paying a lot of rent.
Lisa Beres 28:39
You're in a rental now.
Erica Davis 28:41
I am in a rental now. And so I can permanently move into my home and I hate to do it. But again, I know this is short term it's three months, this makes more financial sense than purchasing yet another home.
Lisa Beres 28:53
And you are fine with the interest rates. You bought your house right now?
Erica Davis 28:56
Absolutely. I did. Because I'm dating that interest rate, and I'm married my house. So I'm renovating it. But yes, basically, you don't have control on a rent. Yes, you sign an agreement, but it's for whatever amount of times on that agreement. So it could be three months like me, it could be as long as a year. But after that time is over. There is no guarantee. Right? If you purchase and you save that money and do what it takes, it is the guarantee. So you know, again, even at six 7% This is what I can comfortably afford. And I know it's not going to change versus renting. So unfortunately, you can try to barter renting but again, that's not in your control.
Lisa Beres 29:47
Yeah, right. I don't know if you're a first time homeowner or not. Can you get an extra special rate did you say as a first time homeowner.
Erica Davis 29:54
I'm not a first time homebuyer and I'm glad because again, it's helped me it's helped me progress in progress and be able to Do this renovation that I'm doing the first time homebuyers. There are so many different incentives, closing costs instead of help with the downpayment, there's different charities and states, counties that see that this is a need, and they're coming in to offer different types of programs and opportunities for people. So I mean, there is a slew of options out there, you really just need to do some research and do your homework with the lender, because it's the biggest purchase you'll ever make. You need some hand how.
Ron Beres 30:37
Erica, quick questions, too. So what are some of the benefits of buying and selling right now? So let's just say I've owned my home for two years. That's the magical point, right? You've been a primary home resident two years, right? Yes. What would be the advantage of me selling that home and buying a new one?
Erica Davis 30:53
Well, I'll give me a subprime example. So my home was not even listed. I was not intentionally moving. But because of a lack of demand, I was approached by actually, there was a couple of people, I was offered to do a house trade with somebody in the neighborhood. Oh, my gosh, wow. Yeah. And then yes, I had somebody that they literally have been looking for a home for two years has not been able to find the perfect one. This works. So for me, Listen, if it made financial sense, which it did, I'm all for it. And thankfully, having the equity that I built out of that home, I was able to purchase, get this the home, I grew up in that my parents bill, wow. And I have the means to renovate it and to do the renovation portion cash, I wouldn't have that opportunity if I didn't get into home ownership when I did. So I'm definitely grateful. And I say all that there's definitely benefits to both the buyer and the seller. Sellers, again, lack of inventory. So if you need to sell if you need to get out of debt, or you got another job opportunity, and divorce, you name it, you're in a good position in buyers, there's not as much to choose from. But again, how else are you going to be able to build wealth in a place that you create memories that you get to physically enjoy? You don't get to enjoy your stocks? Right? You don't get to wake up?
Ron Beres 32:29
Yeah, sometimes not no.
Lisa Beres 32:31
I heard a quote about that said: You don't get to live in your stocks. They're not tangible until they're tangible. I know that's not true. But I always feel that way. Like, gosh, you know, you can't cash it out. So that always where's your house? Like you said, you can make it yours. Like the memories there
Ron Beres 32:51
One thing I wanted to ask for our listeners was, so let's say they had a primary House residence and like, wow, I developed all this equity in my home, it was X amount, and I'm going to buy a new home. I'm going to be taxed on this. I mean, some people don't know this. Yeah. For those who are first time homebuyers, what is that magical number. So if you purchase a home, and you live there for two years, and equity is built in your home, you're not taxed on that extra portion when you sell it. What is that number?
Erica Davis 33:19
Well, and this could be I do not know for sure. Ask your CPA, okay. In our area, I believe that if you profit more than $500,000, then you're taxed on whatever the overage is. Now, there's also another like tax shelters, if you will, if you purchase a home and then basically you sell it to purchase another investment property has to be investment, you can do what's called a 1031 exchange and you do not pay tax.
Lisa Beres 33:53
Yeah, that's what I think you're thinking of Ron? Mm hmm.
Ron Beres 33:56
Okay, so there are some of us here, some of us might be jumping the gun, right. So some of us are a first time homebuyer, right, we're purchasing this home. But our real goal is to have multiple properties rent out these properties. There's something that you were telling us before the show that they can do to capitalize on not having capital gains on their purchase of these investment properties. Can you elaborate on that Erica?
Erica Davis 34:18
Yes, there's a really, really great opportunity. It's called a 1031 exchange. And so it's particularly for people with investment properties. So again, you got to buy that first home, right? Get that primary residence, get the equity and then it can lead to these new opportunities. But if you are selling a investment property, and you're purchasing another, you do not have to pay taxes when you purchase like basically to transfer the equity from one home to the other. Oh, wow, that's good. So think about it. It's a way to continually progress. So you might start are out with an investment property condo $300,000. And then you make 50,000, then you can buy a townhome with a better view go up to the single family. It's just such a great way to compound savings and that wealth.
Lisa Beres 35:17
And what was the time stamp? In what period?
Erica Davis 35:19
Can you do that with the 1031? There are limitations and I can't remember exactly, it might be 190 days or 120. We need to find that out. But there's that period of time that you have to identify to go under contract on a new property and then to close to take advantage of that.
Lisa Beres 35:37
Gotcha. Okay, very good. Wow. So hopefully your lender is smart like Erica has all of this information.
She can help you build your empire.
Erica Davis 35:39
Build the empire I love that.
Lisa Beres 35:40
Build it. So final thoughts leave our listeners with a few first time homebuyer..
Oh, wait, one more question. What does buying down your interest rate mean for your monthly payment?
Erica Davis 36:01
Yes. Okay. So I have two opinions on this. And I'm glad you asked bind down interest rate. Basically, what you're doing is paying additional money at closing to lower your interest rate. And typically, I'll give you an example. So let's say we're at 6%. And you're going to buy 1.1 point is equal to 1% of the loan amount, and it will change your rate by, on average, a quarter point, in my opinion, it has to make financial sense. And you talk about that break even point that you were discussing on the water filtration system. That's exactly the same thing with five downs. So you need to take your costs and your savings and see when your breakeven point is Oh, gotcha. See if it makes financial sense. Now if you have free money, if the builder is giving you $10,000 In closing costs, by all means, use it to purchase to get the lower interest rate. You're paying for it. Let's take a deeper dive to see. And again, if you're paying for it, we offer free refinances. So chances are, I'm not going to recommend for you to spend that additional money.
Ron Beres 37:22
Gotcha. That's a great point. She do offer that do you offer a twice? What if it drastically changes it goes down? Is there a double refinance opportunity? Or is it just a one time?
Erica Davis 37:31
Well you do have to hold on to the mortgage for a certain period of time?
Ron Beres 37:35
That's where you have to make money to we understand here?
Lisa Beres 37:42
Waiting for you to do the last question. Okay, here. Okay.
Ron Beres 37:44
I'm sorry. I thought I did already. One final question. Leave our listeners with a few first time homebuyer mistakes to avoid the pitfalls, give us the dirt Erica?
Erica Davis 37:55
Yes. Oh my goodness. Okay. Number one, do not change your job during the process. And when I say process, when you get pre approved, the process starts. So if you're on a salary, and then you get this great opportunity to make all this commission, guess what, we can't use it, you're not qualified because you don't have a history of it, you have no clue what you're really gonna make. A lot of times number two large deposits, for whatever reason, some people just have a ton of cash on hand, they might be a lighter waitress, I don't know, and just stuffed those funds away, and then deposit them. We can't trace those. And that's called a large deposit. So we cannot use those.
Lisa Beres 38:49
Oh, I see what you're saying. Okay. Yeah. So you can't count that you can't count that? Yeah, well, for good reasons that can be suspicious too.
Ron Beres 38:58
What's the amount where someone had just $5,000 they wanted can't even count that either.
Erica Davis 39:03
Just $5,000 So listen to your question. If you have $500 in your account and deposited $5000 It would be a big red flag.
Lisa Beres 39:12
Yeah, they need to know where that money came. Yeah. Oh, wow. Okay. Okay.
Erica Davis 39:16
If you have 100,000 in your account and deposit five, it's probably not that big of a deal. But it depends on your individual situation. So no large cash deposit.
Lisa Beres 39:28
Okay, no trip south of the border. That's right.
Erica Davis 39:33
Do not change your employment and do not open up new credit card debt. I have had lots of clients, they get sold. Oh, I'm going to buy all this furniture and I'm gonna save 20% By opening up this credit card. Well, guess what? Now we gotta count that debt against you. So Wow. And probably hurt the credit score in the process. Right? Yeah. I'd definitely make your payments on time too while you're in the process. So yeah, you gotta follow the plan.
Ron Beres 40:06
Thank you for those tips. We're gonna avoid that for sure.
Lisa Beres 40:09
That was good information, guys. I hope you guys learned so much. I know I did. Thank you, Erica. This one, too.
Erica Davis 40:17
Yes, I so appreciate it.
Lisa Beres 40:19
And friends. Over the years, Erica and her team have helped hundreds of people to achieve their dream of home ownership. They take their motto to heart: Your loan on time, every time. Learn more at thestylishlender.com. And we'll I'll put that link in the show notes.
Ron Beres 40:36
That's an excellent point. And we'll have all the links in the show notes at Ronandlisa.com/podcast. Stay tuned for the next episode. Get ready to uplevel your health and take control of your wealth. See you then. Bye.
Narrator 40:50
Hi, everyone. This episode of the Healthy Home hacks podcast has ended. But be sure to subscribe for more healthy living strategies and tactics to help you create the healthy home you always dreamed of. And don't forget to rate and review so we can continue to bring you the best content. See you on the next episode.
Transcribed by https://otter.ai
Sign up to receive email updates
Enter your name and email address below and I'll send you periodic updates about the podcast.