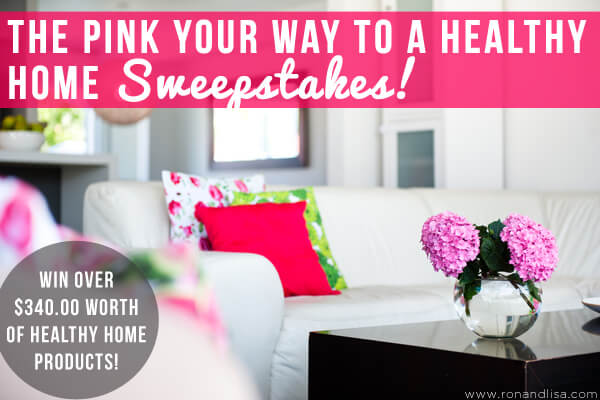 ENTER FOR A
CHANCE TO WIN !
Ology™, exclusively from Walgreens:
A Six Month's Supply of: Ology Spring Lavender & Vanilla Laundry Detergent, Ology 2X Free & Clear Liquid Fabric Softener, Ology Fragrance Free Odor Eliminator, Ology Citrus Dish Detergent, Ology Lemon & Lavender All Purpose Cleaner, Ology Peppermint Bathroom Cleaner Spray, Ology Streak-Free Finish Glass Cleaner,  Ology Moisturizing & Revitalizing Pear & Cucumber Shampoo, Ology Moisturizing & Nourishing Pear & Cucumber Conditioner, Ology Triple Milled Oatmeal & Honey Bar Soap (3-pack), Ology Ultra Absorbent Paper Towels, Ology Milk & Honey Body Lotion (ARV $349.71)
Valued Over $345.00!!
in the…
Pink Your Way to a
Healthy HOME
Sweepstakes!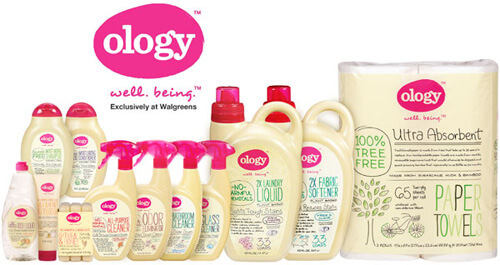 Isn't it time you Rethink. Your. Pink?
It's October which is synonymous with National Breast Cancer Awareness Month. Pink ribbons adorn every box, bag, wrapper, package, product – even NFL shoes and towels – all with the goal of bringing more awareness to this ubiquitous disease. But, since we are all verrrry aware, how about turning the attention from awareness to prevention for a change? As shoppers, you may find yourself channeling your inner-Pink Panther as your detective skills go on high alert. You shouldn't need a magnifying glass to read product label ingredients. However, sifting through numerous name brands claiming to be healthy and toxin-free, while camouflaging the dirty truth is well, for the birds – or in this case – the panthers.
How 'bout instead, we show you a product that was pink…before pink was cool! How about a brand who believes that a happy home should also be a healthy home (oooh, they had us at healthy!)? How about a brand who believes in:
living life well and making positive choices.
avoiding toxic ingredients.
seeking out sustainable raw materials and including natural ingredients.
leaving behind a healthier, happier world for our children and grandchildren.
What if we told you this brand is affordable, adorable (o.k., that's just my two cents 'cuz I love pink) and oh yeah…available in – as Al Roker would say – your neck o' the woods?! Yes, my beloved peeps – you can buy everything you need to protect your family, clean yourself + your kiddos + your home + your laundry and your skin with affordable products that can be found exclusively at the corner of Healthy & Happy® called Ology™, exclusively from Walgreens! Don't believe me? You don't have to because they're soOo confident you'll love 'em, they offer 100% satisfaction guaranteed, or your money back.
The Ology™ Philosophy:
We believe in living life well and making positive choices. That means avoiding toxic ingredients. It means seeking out sustainable raw materials and including natural ingredients. It's all about leaving behind a healthier, happier world for our children and grandchildren.
Proof's in the Product Ingredients! 
I've personally been using the Ology Volumizing Shampoo Grapefruit & Eucalyptus and Ology Moisturizing & Nourishing Conditioner White Pear & Cucumber and can tell you (contrary to what you may have heard), you don't need toxins to get body, bounce and shine (or, SLS-lather for that matter) for your luscious locks. Nor, do you need to cut down trees to wipe your hands, blow your nose or dry your buttocks. That's right, even the paper towels and TP were designed with Mother Nature in mind and are tree-free materials that boast the sustainable skills of bamboo and sugar cane husks!
Did You Know? 
Exclusively at Walgreens or Walgreens.com/Ology
Endorsed by Healthy Child Healthy World
No harmful chemicals
100% tree free
Safer for your family and the environment

No harmful chemicals, dyes or artificial fragrances
Effective without the harshness
Plant-based—no animal testing or animal products—plus, paper products are 100% tree free
They're affordable

Bottles made from 100% post-consumer materials
Paper made from sugarcane husks and quick-growing bamboo
You won't find these chemicals in Ology™ products:

No-No Ingredient List:

Ammonia
Chlorine bleach
DEA (diethanolamine)
TEA (triethanolamine)
Nonylphenol ethoxylates
Triclosan
SLS/SLES
Isn't it time you slather, spray and squirt your way to health – sans the harmful, toxic ingredients?! Don't you deserve the peace of mind knowing you can trust a brand to have your back (and your hair, face, countertops – you get the point) without breaking the bank? Ron & I are super duper excited for this verrry lucky winner who will be receiving not one, not two, 3, 4, 5…but, a SIX MONTH SUPPLY of Ology™, exclusively from Walgreens products for their home and life valued over $349.71! Will it be you? Enter daily + puuurty please share this page with someone who could benefit from switching to healthy products for their home, life + family!
How to Enter:
For every action below that you complete, you receive a specific number of entries. Click each individual action to enter yourself. For actions you have done in the past (i.e. you are already a fan of Ology™, exclusively from Walgreens or RonandLisaTheHealthyHomeDreamTeam on Facebook) just click directly on 'I did this'. The eligibility of the winner will be verified by The Healthy Home Dream Team®.
There is no mandatory entry. Each action will earn different numbers of entries into the contest. You may Tweet or share on Pinterest, Google+ or your Facebook wall for an entry once per day. All other actions will only be counted once. You must be 18 or older and reside in the United States address to win. Contest ends 11/22/14 at 12:01am ET. Click here for complete terms and conditions.