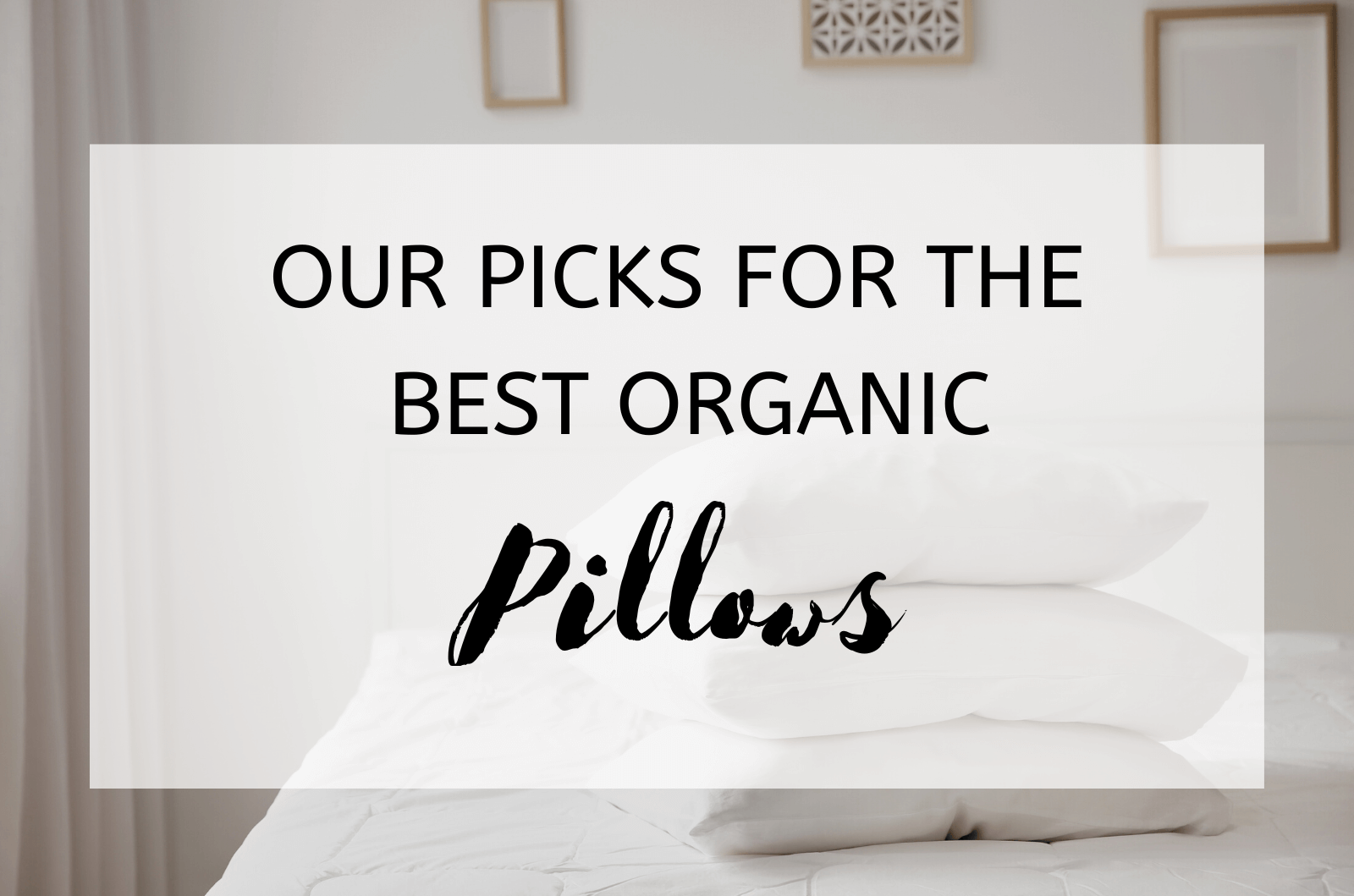 When creating organic pillows, manufacturers use natural and healthy materials such as natural buckwheat, kapok, natural latex, certified organic wool, and certified organic cotton. Materials used to make organic pillows are pesticide-free, petroleum-free, chemical-free, and non-toxic. Traditional, non-organic pillows on the other hand, contain petroleum-derived chemicals and pesticides that you inhale into your system as you sleep.
While organic pillows may cost more upfront, they last longer. The fibers in them are of high quality and provide immense value for your money. You'll also sleep better since the materials are relaxing to the touch and many of the filling materials mold to keep your head comfortable. You can combat stiff muscles, skin reactions and breathing in toxic air when using an organic throw pillow.
Organic pillows are an excellent option for those with allergies as well since they typically do contain allergic materials (with the exception of down which we do not advise as the sourcing is inhumane). Organic pillows are also environmentally friendly, and recyclable. In regards to price, synthetic pillows may be cheaper upfront, but are no match when compared to the investment in health when buying an organic pillow.
Learn more about best organic bedding
Our Five Organic Pillow Picks
This pillow is made with certified natural wool and a removable cotton cover. It comes in various sizes: Child, Travel, Standard, Queen, and King. The Organic Textiles Natural Wool Filled Pillow is constructed of all-natural materials that are free of toxic additives and are not treated with fragrance or bleach. The pillow is comprised of 100% natural Australian wool filling and a 100% organic cotton cover. It's machine washable and offers an adjustable loft. All products are GOTS and GOLS certified.
Pros
Chemical-free
Environment friendly
Customized loft
Moisture wicking wool
Certified organic materials
Moldable
Easy to fluff
Cons
Can be expensive
If you toss and turn before finding a good sleeping position, a Naturepedic pillow is all you need. It has an adjustable latex fill that allows you to change the firmness. Be careful as you unzip it, as it can get messy. This pillow gives you good neck and head support. The cover is made from soft organic cotton. It has a luxurious feel and is easy to clean. The pillow has PLA batting, so it's non-toxic and renewable.
Pros
Made using natural materials
Is it safe to clean using a washing machine
It easily molds to every curve
Cons
It may need fluffing up
Firmness may be undesirable
Purple Harmony pillow assures you luxurious sleep and a clear eco-conscience. It is a vegan and hypoallergenic pillow that offers you the best support. The pillow utilizes a honeycombed GelFllex layer and Talalay latex core flex to support your neck. This ensures you are comfortable in all sleeping positions. The pillow has ventilated latex, an airy grid, and a moisture-absorbing mesh cover. This unit lets air in and out to cool your head as you sleep.
You don't have to worry about the pillow falling flat like a pancake after a few nights. Purple Harmony pillows use ultra-durable materials that maintain the float feel for an extended period. The company is keen on environmental impact during production. They produce the GelFlex Grid Hex Layer in their factory in the U.S. with their crafted machines. The materials they use are food-grade and recyclable. Comes in a variety of sizes.
Pros
Suitable for people with allergies
Hypoallergenic
A 1-year warranty
Pillow maintains the shape
Provides cool nights
Made of natural materials
Cons
Relatively expensive
This pillow is made of all-natural materials including 100% natural Tlalay latex derived from sustainable and renewable Thai rubber trees and is OEKO-TEX Class 1 Baby bedding Safety Standard 100 certified. It contains no memory foam chemicals.
This pillow offers the perfect balance of support and softness and works well for back, stomach, and side sleepers. It provides a moisture-wicking cover that is removable and machine washable. The cell structure provides maximum airflow and breathability.
Pros
Environment friendly
The perfect blend of soft and firm
Works great for a variety of sleepers
30-day money back; one-year warranty
Cons
It may be on the firmer side for some users.
All PineTales pillows are handmade in Arizona. Importing buckwheat hulls requires the use of fumigants, which may be toxic for the end user. Thus, PineTales only uses locally available buckwheat.
The buckwheat material supports your head as you sleep and ensures a cool environment that helps you sleep better. If you have neck, back, or head pain when you wake up, this pillow is the solution you need.
Buckwheat helps maintain a firm pillow that supports you throughout the night. You do not need to fluff or mold it into a ball to achieve the best cervical alignment. It is important to note that PinTales pillows work best for side sleepers. However, you can remove some hulls and align it to your back sleeper position.
Pros
Highly breathable
Adjustable; the pillow allows you to add or remove filling as you wish
Provides superior support
Environment-friendly
Cons
Works best for only side sleepers
You should invest in your sleep as much as in other areas of your life. Getting an organic pillow is the first step in doing this. Apart from sleeping better, you'll also breathe better during the night. By purchasing an organic pillow, you typically support companies that provide a safer working environment for farmers and other workers on the production line.
When purchasing an organic pillow, there are several factors to consider. The first is your sleeping style. Side sleepers, back sleepers, and stomach sleepers have different needs. The pillow shape is also an important feature. For example, cervical pillows are best for sleepers with neck pain, as they provide extra support. Check to see if the manufacturer allows for a trial period or a test run before you purchase.