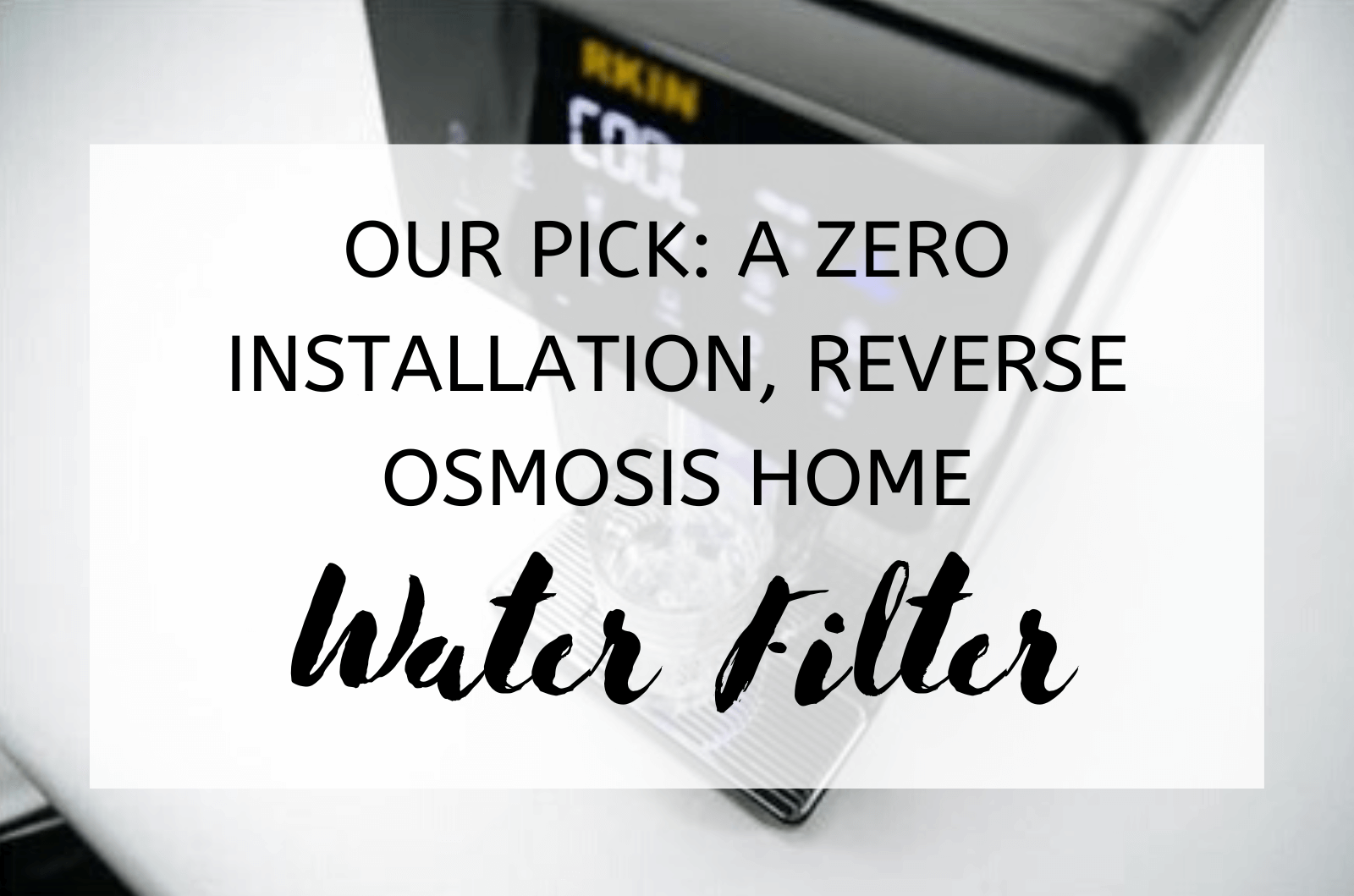 Have you been considering purchasing a water filtration system for your home? We did and can attest, choosing the right one is a wise investment from a financial, planetary, and health perspective; the staggering stats don't lie.
We, humans, use about 1.2 million plastic bottles per minute, 91 percent of which is never recycled – eek! As Americans, we are purchasing a whopping 50 billion water bottles per year which equate to about 13 plastic bottles per month for every person in the United States (gulp). Landfill and cost consequences aside, using single-use plastic water bottles is taking a major toll on our health. Most single-use plastic water bottles are made of PET, or polyethylene terephthalate. According to EcoWatch, 'in the presence of heat [PET] can leach antimony, a toxic metalloid, into food and beverages, which can cause vomiting, diarrhea, and stomach ulcers…The longer the bottle is on the shelf or exposed to heat or sunshine, the more antimony is likely to have leached into the product.' Not to mention, an investigation by the Environmental Working Group found 38 pollutants in 10 brands of bottled water, including chemicals linked to cancer. Or that a study by Johns Hopkins University researchers, detected PFAS (per- and polyfluoroalkyl substances, a chemical class that has been linked to cancer and learning delays in children) substances in 39 out of more than 100 bottled waters tested.
So, duh! It only makes sense to purify your water from your home which can improve your health, reduce environmental impact and save you money. Ron and I saved over $1,300 our first year and over $1,800.00 our second year after purchasing the zero-installation countertop home water filtration system from RKIN. And, while we love this countertop reverse osmosis system, we just upgraded to the new and improved, U1 Space-Saving 4-in-1 Water Filter System for our home also by RKIN (and you can, too. Keep on reading for a special discount code just for RonandLisa readers, whoop!).
We know, we know. Finding the best water filter for your home or commercial property can be a daunting task. So, if you're feeling stumped or overwhelmed, don't worry – we've outlined some key features that you need to know about the U1 Space-Saving 4-in-1 Water Filter System. These features should equip you with the arsenal of knowledge to help you decide whether the U1 Space-Saving 4-in-1 Water Filter System by RKIN is the ideal option for you and your family.
Key Features of the U1 Space-Saving 4-in-1 Water Filter System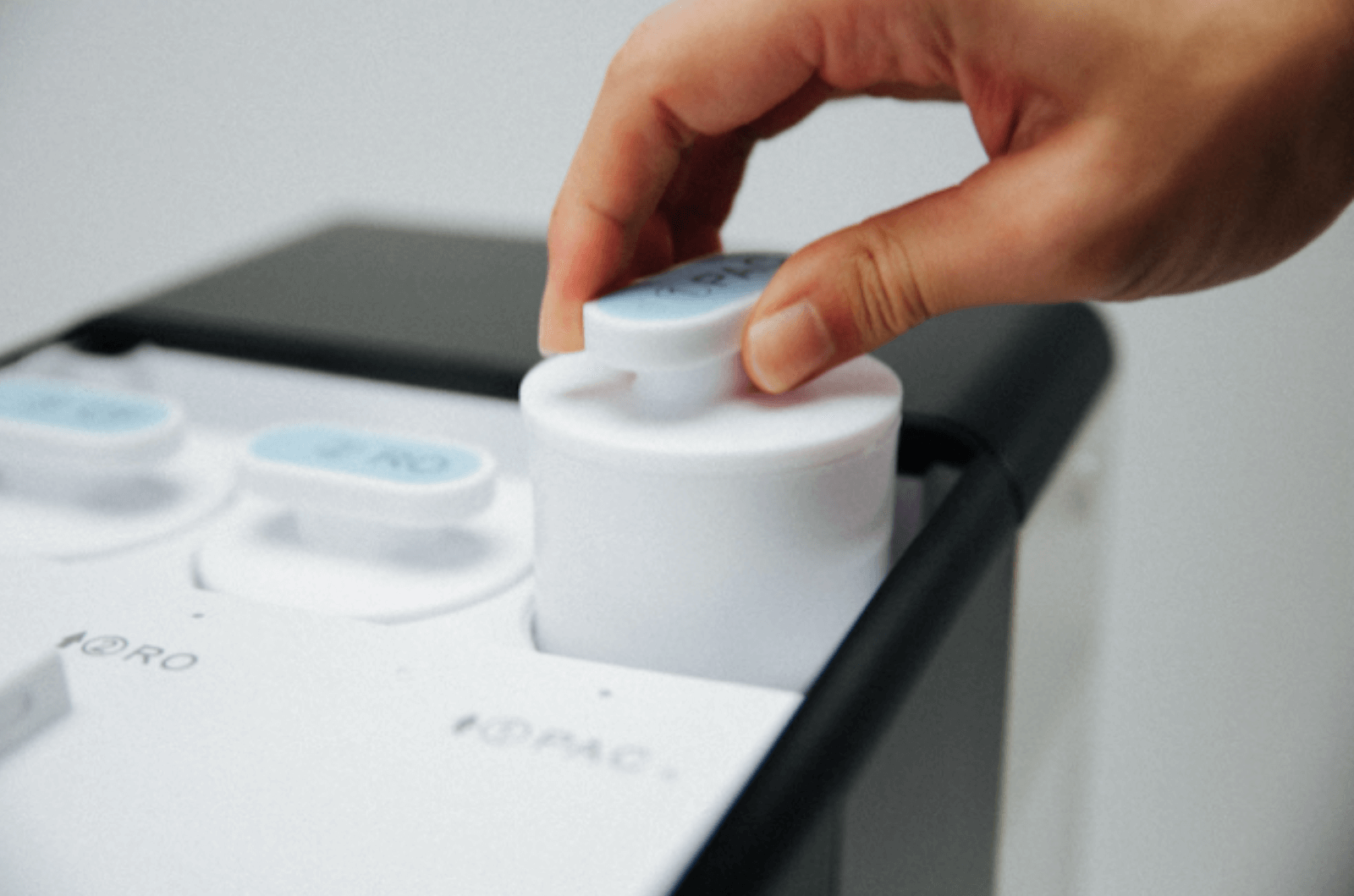 Countless portable home water filtration system options are available on the market today, but we highly recommend the U1 Space-Saving 4-in-1 Water Filter System which boasts excellent features that make it one of the most effective and most convenient water filters on the market today.
The U1 Space-Saving 4-in-1 Water Filter System is designed with a sleek aesthetic and compact design to help minimize the space requirements in your home, even within small space accommodations. The filtration system also includes full temperature control systems so that you can automatically choose between hot and cold water, depending on your preference.
How Does the U1 Work?
The U1 Space-Saving 4-in-1 Water Filter System works by using reverse osmosis protocols to help remove as many impurities from your water as possible. In addition to this, the U1 Space-Saving 4-in-1 Water Filter System also integrates hydrogen and UV technologies to help further purify the water. This achieves mildly alkaline, antioxidant-negative ORP water that's free from 99% of all contaminants (and it's unbeatably refreshing!).
Unlike many other water filter models on the market, the U1 Space-Saving 4-in-1 Water Filter does not require installation from a professional, nor does it require a direct connection to a water supply like a point-of-use or point-of-entry option does. Instead, this filter uses a large ½ gallon water tank to store a generous supply of water at once.
The Five Filter Stages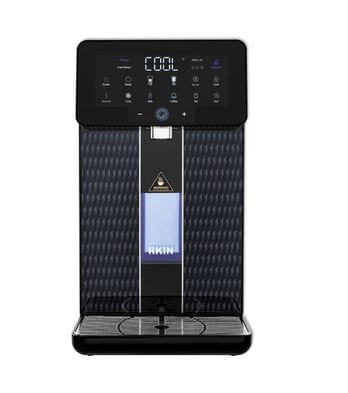 The U1 Space-Saving 4-in-1 Water Filter System uses five different filtration stages to help remove impurities from your property's water supply.
Stage 1: First, a sediment filter to remove any traces of rust, sand, or sediment from the water supply.
Stage 2: The filtered water is then passed through an activated carbon filter which helps to remove chemical residues such as pesticides, THMs, VOCs, and carcinogens.
Stage 3: A reverse osmosis membrane filter then blocks almost all harmful contaminants by drawing water across the membrane (leaving the impurities behind).
Stage 4: Next, the water undergoes an alkaline post-filter process to restore beneficial minerals that may have been extracted during the filtration process.
Stage 5: Finally, the water is enriched with antioxidant hydrogen to help give the best possible results.
Pros and Cons of the U1 Space-Saving 4-in-1 Water Filter System
We've summarized some of the key features of the U1 Space-Saving 4-in-1 Water Filter System. It's important to consider the system's key pros and cons to determine whether or not it is the best solution for your needs.
Pros
Effectively removes up to 99% of contaminants from your water supply including PFAS, heavy metals, chromium, lead, fluoride, chlorine and more
Restores beneficial minerals and antioxidant hydrogen after filtration
A half-gallon water tank provides several days' worth of water in one go
Temperature controls allow the user to heat or cool the water precisely, as required
No installation is required; the U1 Space-Saving 4-in-1 Water Filter System can sit freely on countertops and work surfaces
NSF 61 certified plastic (BPA-, BPS-, BPF-free)
Can take it with you if you move; perfect for people who live in apartments, condos, or use RVs
Backed by a one-year money-back guarantee, giving customers additional confidence
Annual replacement filter kits and osmosis membranes are available to help extend the lifespan of the system
Fills automatically without having to wait for the system to finish, with an auto shut-off feature to prevent overfilling the glass
Convenient drip tray which attaches magnetically (and can easily be removed)
Filter change light indicator
Easily display view of the hydrogen content or TDS (total dissolved solids) in PPM (parts per million)
UV light to prevent microbiological contamination of stored water
Smart water dispensing system with an intelligent touch control panel
Sleek, stylish design that's easy to integrate into modern homes
Suitable for making coffee, tea, and baby milk water
Records hydrogen content, total dissolved solids (TDS), water volume, and temperature accurately
Alkaline post-filter that returns beneficial minerals, calcium, and magnesium to the water and creates a perfectly balanced level of 7-8 pH
¼ turn for replacing the filter cartridges easily
Cons
The position of the water tank at the rear of the system can be awkward to fill and replace; especially without the use of the turntable add-on (RKIN offers one. However, we found a transparent one online that better matches our home's décor and works perfectly making refills a breeze)
Refill instructions are a little unclear – e.g. the system reads 'Fresh Water' when a refill is needed versus 'Refill'
Dispensing the water could be a little faster; we would also like to be able to turn the spout on and off at will without choosing a pre-determined size
As you can see, the pros far outweigh any minor design cons and we are thrilled with our unit and the fresh, pure water we use for cooking and drinking daily for a fraction of the cost of bottled water, knowing the investment in our health is priceless.
If you're seeking to buy a top-of-the-line, effective, beautiful, and zero-installation water filter system, the U1 Space-Saving 4-in-1 Water Filter just might be your ideal solution. While it's a bit more expensive than some countertop systems on the market (we just made it more affordable with a discount code below), it also packs a top-of-the-line reverse osmosis-filtration-punch, beautiful aesthetics, and loads of features. There's no doubt that this unique system offers countless conveniences that make it a highly popular model for many homes and businesses alike. If you've been looking for a system that delivers excellent results and exceptionally healthy water, the U1 Space-Saving 4-in-1 Water Filter System is our pick for the best option available today.
Oh, we almost forgot…enjoy exclusive savings by using code RON&LISA10 to save 10% off any water system on the RKIN website (new customers only). What do you have to lose (besides plastics, toxins and savings?). SHOP NOW and be sure to drop back here and let us know how you like, no LOVE, your new water purification system.