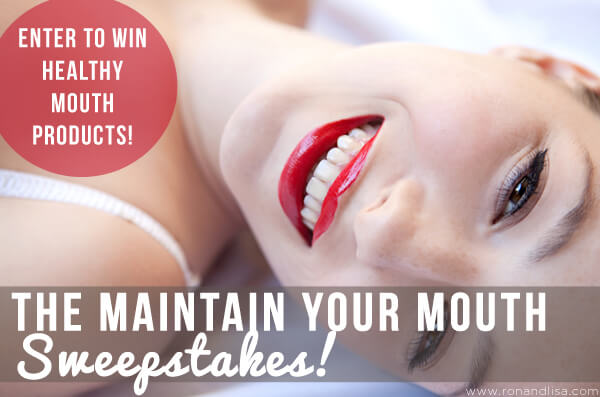 ENTER TO WIN !
Slim Sonic Toothbrush & Zapi Luxe UV Sanitizer
1st & 2nd Place Winners Will Receive Both Items valued at: $54.90/ea
The Slim Sonic Toothbrush includes: 2 replacement brush heads, 1 Free AAA battery and user manual.
The Zapi Luxe includes: toothbrush and user manual.
Total Value Over $109.80
in the…
Maintain Your Mouth
Sweepstakes!
 Ready. Set. Smile.
Good oral health is essential to optimal well being. Did you know there is as much bacteria lurking inside your mouth as there are people on Earth? Not all of those bacteria are bad; some actually secretes enzymes that kill the bad bacteria. Plaque, on the other hand, is not desirable in any way, shape or form since its comprised excess bacteria in the mouth. Let's paint a clearer picture, shall we? The average toothbrush can contain 10 million bacteria or more—including E. coli and Staph, according the University of Manchester in England. We've talked about the importance of choosing healthy toothpaste, free of hidden chemicals, in Toothpaste Smackdown: 5 Ingredients You Must Avoid!, but we haven't yet discussed how to keep those pearly whites germ and bacteria free…until now!
Introducing the coolest (and cleanest) gadgets for you home or travel bathroom needs from a company called Violife. The great peeps here are the creators of UV (ultraviolet) products for oral care including travel toothbrush holders and – don't worry nighttime grinders – a denture/mouth guard cleaner; offering sonic cleaning and UV sanitizing for sports mouth guards, retainers, night guards, and dentures (because we all know those things can get a little, um, gross!). Oh, and get this – they also created a Personal Humidifier Travel Kit. In my over 10 years of traveling, I personally, relied on the Travel UV Sanitizer and loved having it with me – especially after hearing about the study from the University of Arizona (my alma matter, by the way) College of Public Health. Professor Charles Gerba, revealed that bacteria and viruses from toilet spray "remain airborne long enough to settle on surfaces throughout the bathroom." If that doesn't make you want to sanitize your toothbrush, this should: An English study found that diarrhea-causing bacteria from a lidless flush flew as high as 10 inches above the toilet. Do I have your attention now?
Better Mouth. Better Health.
Violife toothbrush sanitizers eliminate 99.9% of the germs that simple rinsing leaves behind.
Odds are good that you clean your silverware, cups, plates, and bowls— almost anything that goes into your mouth—after every use. Why not your toothbrush? Unlike most of the other things you put in your mouth every day, your toothbrush has tightly packed bristles which form nooks and crannies that hold on to moisture, forming a perfect sanctuary for germs that cause illnesses like flu, cold, and diarrhea.
Bacteria are introduced into your toothbrush in many ways. Some come from your own mouth, others are airborne, and still more sail to your brush on water droplets launched form the toilet when you flush (yeah, we discussed that above). However they get there, you can bet that once they've found your toothbrush, the germs are there to stay.
If left unchecked these bacteria will multiply, filling your brush with colony after colony of potentially disease causing germs. By the time you are ready to toss out your brush you could be putting thousands, if not millions, of bacteria in your mouth every time you brush.
Violife sanitizers use the same ultraviolet technology found in hospitals and high-end water purification systems to hit the germs where they live—in your toothbrush. The UV rays penetrate areas that you simply can't reach when running your brush under the tap, then safely and effectively obliterate up to 99.9% of disease-causing germs.
You could disinfect all the brushes in your house by hand after every use, but that takes time. You could put your brushes in the dishwasher, and spend even more time waiting for clean, sanitized bristles. Or, you could simply use Violife.
Two Winners Will Receive: 
Slim Sonic Toothbrush (The Fashionable Sonic Toothbrush)
Zapi Luxe UV Sanitizer (The adorable UV sanitizer that kills up to 99.9% of germs with UV light)
Will you be one of the lucky winners? Enter daily for a chance to WIN and please share this page with someone who could benefit from a cleaner, happier and healthier mouth! Say cheese!!
How to Enter:
For every action below that you complete, you receive a specific number of entries. Click each individual action to enter yourself. For actions you have done in the past (i.e. you are already a fan of Violife LLC or RonandLisaTheHealthyHomeDreamTeam on Facebook) just click directly on 'I did this'. The eligibility of the winner will be verified by The Healthy Home Dream Team®.
There is no mandatory entry. Each action will earn different numbers of entries into the contest. You may Tweet or share on Pinterest, Google+ or your Facebook wall for an entry once per day. All other actions will only be counted once. You must be 18 or older and reside in the United States or Canadian address to win. Contest ends 3/28/15 at 12:15am ET.