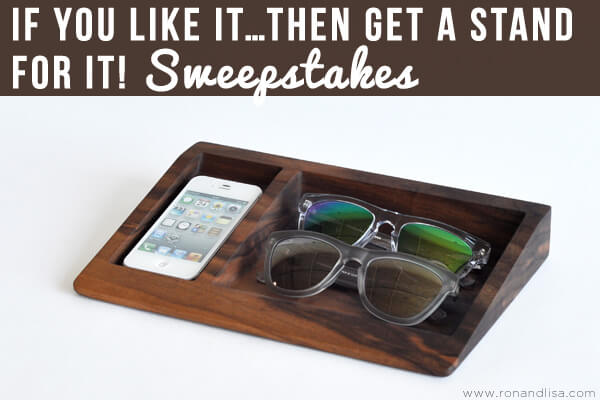 ENTER TO WIN !
Bushakan Sunglass + iPhone Dock
Solid Walnut Sustainable Wood Stand

Valued at $145.00!!
in the…
If You Like It…Then
Get a Stand for It!
Sweepstakes
There use to be two things I couldn't leave home without – lipstick and oversized shades. Today, however, that has changed a bit.  The two things I never walk out the front door without are 1.) My sunglasses (still) and 2.) My iPhone. I know you can relate. Perhaps for you, it's your iPad, iPod or iPud (o.k., I made that last one up). But, you get the picture. However, trying to locate these rather small items can sometimes turn into a comedy act (especially when the sunglasses are on your head), as you spin through your home or office like a swirling haboob trying to locate this precious cargo. Later when you return from work, picking up the kids, errands – you name it- you unconsciously drop down your belongings…somewhere. A-HA (yes, that was a moment and Oprah would be so proud)! Therein lies the problem. There isn't a dedicated place in which to house these items that we use and rely on daily. How silly when you think about it. We have a trunk for groceries, cabinets for food, dishes and glasses, and a desk for work; yet, no spot in the home designated to store these items. Ron and I were thrilled to come across a company called Bushakan. Not only has this dynamic duo solved the daily grief of wasting time searching (and blaming your oh-so beloved family members for stealing your items), but they do it with class, style and sustainability! The lawyer and architect/designer team starts each stand from one solid piece of Forest Stewardship Council (FSC) certified hardwood. What's more, each stand is finished with a zero-VOC finish that maintains the woods' beauty while protecting and enhancing its beauty.
Keep it simple, keep it sleek and keep it functional with BUSHAKAN 's handmade and built-to-last eyewear stands and tech accessories. Bushakan offers design-driven lifestyle products that help protect and display one's favorite belongings in a chic, modern, and innovative way.
Promising a lifetime of function in a timeless design, Bushakan's American-made products blend practicality and beauty – mastering the balancing act of style, design, and function.
Have nothing in your house that you do not know to be useful, or believe to be beautiful. ~William Morris
Each multi-pair stand comes with the option to add a customizable label. It can be your name or a message to the person you're gifting. Each label fits into a recessed hole so it's flush with the surface of the stand! This is so beautiful for yourself or an upcoming holiday gift for you main squeeze, your boss or a loved one.

We've written many articles on this site about clutter-clearing and the power of making room for new energy to flow in. One key element in keeping your space organized and clutter free is to have a place for everything. The Bushakan solid wood stands are the perfect way to assure you always have a place for your favorite tech gadget and chic pair of glasses – be it on your nightstand, entry way or your desk. One lucky winner is going to WIN a Walnut Bushakan stand valued at $145.00!! Ho, ho, ho…how's that for another fantastic holiday gift from your friends at The Healthy Home Dream Team®?!
How to Enter:
For every action below that you complete, you receive a specific number of entries. Click each individual action to enter yourself. For actions you have done in the past (i.e. you are already a fan of Bushakan or RonandLisaTheHealthyHomeDreamTeam on Facebook) just click directly on 'I did this'. The eligibility of the winner will be verified by The Healthy Home Dream Team®.
There is no mandatory entry. Each action will earn different numbers of entries into the contest. You may Tweet or share on Pinterest, Google+ or your Facebook wall for an entry once per day. All other actions will only be counted once. You must be 18 or older and reside in the United States or Canada address to win. Contest ends 12/14/13 at 12:01am ET. Click here for complete terms and conditions.