We aren't referring to your I.Q., rather your I.A.Q. (Indoor Air Quality) and specifically as it relates to your home or office where, as Americans, we spend up to 90% of our time. If you have not had your indoor air tested and someone in your family is suffering from allergies or other breathing issues, now you can check it yourself– easily, efficiently and cost effectively. The Jossam Home Air Quality Test Kit is a simple and effective first step to helping determine if your home is a haven for excess dust (ie: dust mites and their debris) mold spores, dander, carcinogenic fibers and more!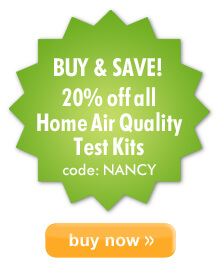 For those of you who would like your own home test kit, you have TWO CHANCES TO WIN A FREE JOSSAM TEST KIT including MOLD & DUST analysis in the HealthyHomeDreamTeam.com online contest. All you have to do is provide a comment, tip, or tidbit on what you are going to do for the I.A.Q. of your own home! The luck of winning doesn't end there because there is another chance to win. We are going to be raffling away FIVE FREE JOSSAM TEST KITS including MOLD & DUST analysis to attendees present at our upcoming Just Green It! book launch party on August 26th, 2010 at Environment Furniture in Hollywood, CA.
There have been many stories lately about the dangers of toxic mold in homes, including most recently the rumor of the toxic mold link to the unfortunate passing of movie star Brittany Murphy and her husband. The presence of household mold may have been relevant in their passing because of its' effects on their respiratory health which led to pneumonia. The fact is, there is wide variability in how different people are affected by mold. Some people may be sensitive to "low" levels and others affected at "higher" levels. Also, many species of mold can make toxins that could make one sick, and it is not clear that any one mold is worse than another. However, by sharing your Jossam I.A.Q. lab report test results with your Physician, he or she may be better able to identify whether certain mold spores or other air contaminants are contributing to your allergies, asthma, and other medical problems.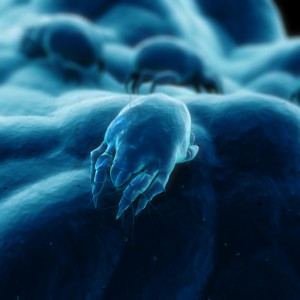 In addition to mold, other indoor air contaminants in your living space could have disastrous effects on your health. For example, dust is the second leading cause of allergies, and the average home collects 40 pounds of dust a year! One of the major reasons for the allergies, however, is due to the fact that dust mites harbor in the dust particles. Many people are allergic to dust mite debris and their feces. Just imagine the amount of dust mites that are in the air that are not visible to the naked eye. If you have not seen a dust mite under a microscope, this picture should help put into perspective just how important it is to know the dust count of your home!
The Home Air Quality Test Kit is designed to collect deposits of airborne-contaminants on its' specially designed mixed cellulose filter. The filter is then dissolved at a professional laboratory and the contaminants analyzed by highly trained personnel under a microscope at up to 1000X power. Results will indicate the level of airborne contaminants specific to your environment. Once you know what's in your air, you can then focus on reducing those specific contaminants.
There are three methods that can be used to take the Jossam Home Air Quality test: the force furnace method, the vacuum cleaner method, or box fan method. The forced air furnace method gives you a representative reading of the total air quality in your home or office. The vacuum method allows you to check the air in a specific area such as a bathroom or bedroom. The third option, of the box fan method is used only as a last resort as this is the least precise method.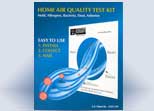 With the Jossam Home Test Kit, you can opt-in to test for total dust, mold spores, dander, carcinogenic fibers (i.e. asbestos), pollen, bacteria, and allergens. It is an affordable, easy to use air-monitoring kit that allows you to personally monitor your office and/or home's air rather than depending on a professional to do it for you at ten times the cost. Remember, knowledge is power! Knowing what is in the air you are breathing allows you to effectively reduce those specific pollutants. And now, for a limited time only (SALE EXTENDED through September 30, 2010) you can SAVE 20% on all Home Air Quality Test Kits (the blue covers)! Click here to order & SAVE now!
If you aren't one the lucky seven to win a kit – you can still custom build and order your own kit directly at Green Nest!