ENTER FOR A CHANCE

TO WIN!

The VentMask®
Three Winners Will Receive:
A Year Supply of VentiMask® for Their Home (16 filters per family)
Total Value Over $240.00
in the…
Filter Your Vents
Sweepstakes!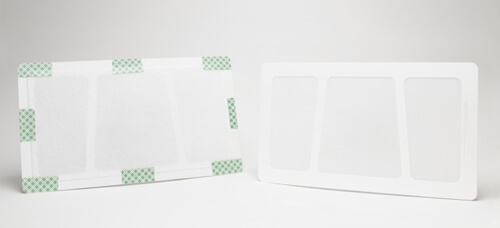 Have you ever looked at the vent registers located high on the ceilings (and occasionally on the floor) in your home, hotel or cruise ship and wondered how much bacteria, mold, dust mites, pollen and fungi are blowing into your precious air? Or, even worse…noticed the thick layer of accumulated dust around the perimeter (click to view…seeing is believing) – especially in hotel rooms? HVAC system filters do a good job filtering the incoming air, but that air still has to travel through the duct work and make it's way back out into your bedroom, living room and kids room's where you inhale it.
Introducing the super cool (or hot, depending on your thermostat) VentMask®! VentMask® offers an affordable, portable indoor air filter solution that works great for homes, hotel rooms, traveling, children's rooms and much more! They are extremely easy to use and each filter lasts 60 days. Simply remove the adhesive backing and apply firmly to any vent register. Hotel air filters (VentMask®) can be placed right over both vent registers and air intake registers for cleaner, healthier air. VentMask® requires no tools to install and is easy to remove; leaving no residual marks on registers.
Breathe Easier with the Vent Mask®.
Air pollutant particles are the main cause of many annoying health concerns including: allergies, lung irritation and asthma related symptoms. Home air filters like the VentMask®, help to remove the cause of these symptoms by filtering the indoor air. VentMask® removes pollutants such as dust, pollen, smoke, animal dander, mites, mold and bacteria; leaving the air safer to breath and providing a last line of defense against for your family. Buy now.
Promote Clean Air.
Other allergy air filtration systems can be loud, costly and take up space in your home. VentMask® effectively and affordably removes over 95% of contaminates in your home's heating and cooling systems. They are so easy to install you notice the benefits immediately. The slim design makes the VentMask® ideal for travel. Pack one in your suitcase on your next vacation and place it directly over the dirty hotel room-heating registers. More of a road warrior? The VentMask® works great in RVs, too and comes in three colors: white, pink or blue.
VentMask® indoor air filters offers the most affordable, simple and portable option for safer and cleaner air on the market today. Over 50 million Americans, suffer from allergies and early 30 million have asthma related symptoms. Why suffer when room air filters like the Vent Mask can help? Stop airborne irritants before they make their way into your room – and ultimately your lungs.
Don't Take Our Word for It…Watch it in Action!
"Our family loves to travel a lot, and as a nurse (and a germaphobe) I used to be bothered by what could be introduced to us while we stayed in hotels.  It is great to know we can use VentMask® to clean the air in any hotel during our travels. Filtering the air in our room and using anti-bacterial wipes in hotels makes me feel 100% better about staying abroad! Thanks VentMask®!!" ~Paige Rawson
The VentMask®® Benefits Include: 
Easy Peel-N-Stick application! No cutting or trimming to fit. Quick and easy to apply and replace.
VentMask® traps and removes pollen, dust and dust mites, mold spores, pet and rodent dander, insect dust and feces, and even construction particulate (sheet rock and sawdust) found in new homes after construction.
Slim frame design makes VentMask® suitable for both home and hotel. When applied VentMask® is physically and visually unobtrusive while protecting you from particulate built up within the ducting system before it can be blown into your room; providing immediately cleaner air with MERV 8 filtration.
Single filter covers most vent registers – or – apply two or more for larger vents.
Produced in the USA!
Money back guarantee.
Will you be one of the THREE lucky winners? Enter daily for a chance to WIN and please share this page with someone who could benefit from filtered, clean and healthier air for their family.
How to Enter:
For every action below that you complete, you receive a specific number of entries. Click each individual action to enter yourself. For actions you have done in the past (i.e. you are already a fan of The Vent Mask or RonandLisaTheHealthyHomeDreamTeam on Facebook) just click directly on 'I did this'. The eligibility of the winner will be verified by The Healthy Home Dream Team®.
There is no mandatory entry. Each action will earn different numbers of entries into the contest. You may Tweet or share on Pinterest or Google+ for an entry once per day. All other actions will only be counted once. Sweepstakes open to US and Canadian residents age 18 and over. Contest ends 6/6/15 at 12:15am ET.