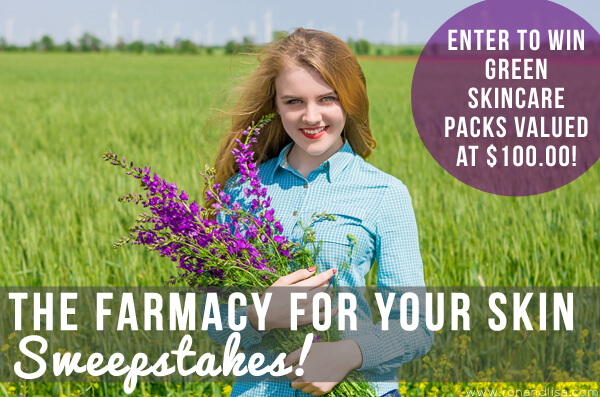 ENTER FOR A
CHANCE TO WIN!
2x FIRST PRIZE WINNERS Will receive a Skincare Travel Pack valued at $24.95 & a Deodorant Travel Pack valued at $24.95

Total Value $100.00
in the…
Farmacy
for Your Skin
Sweepstakes!

Green Goo!
Choosing to live a healthier lifestyle involves many aspects of conscious choices that better your personal well-being and planetary health. This involves creating a healthy home, eating more plant based, organic foods and choosing skincare and beauty products that are natural and free of harsh chemicals. While Ron and I have tested many a healthy brands, we've found a company that we can't wait to tell you about. It's amazing for many reasons, but one of the best parts about Green Goo, is that they're somewhat of a one stop, safe-skin shop for you, your kids and your pets (oh, and your pits)!
When you think of a traditional pharmacy, you think of bottles, pills and synthetic chemicals, colors, additives and preservatives. That's because drugs are not natural and therefore can be patented. This equals BIG money for the pharmaceutical companies. In fact, today, Americans are unhealthier than ever, yet a recent report by IMS Institute for Healthcare Informatics, which tracks the pharmaceutical industry, reveals Americans spend about $424 billion (with a 'b')  a year on prescription drugs—and the prices for many of them seem to keep on rising. Hmm, how's that working for us as a country? You do the math.
Nature's Farmacy
Nature, on the other hand, cannot be bought or owned. The inherent qualities of an herb or essential oil are a gift to us all with (virtually) no side effects.
As they say, if you can't pronounce it, you shouldn't eat it (except quinoa, right? You should always eat quinoa!). Well, the same applies to whatever you put on your skin. After all, your skin is your largest organ and it absorbs a whopping sixty percent of whatever you put on it. Why then, would you douse it in synthetic fragrance chemicals, toxic preservatives, heavy metals, artificial colors and ingredients linked to hormonal disruption and cancer???  That IS what you're doing if you use most traditional skincare products.
Meet Green Goo
Meet Green Goo, a line of all natural skincare formulas created with the timeless herbal wisdom to produce Food for Your Skin™. The peeps at Green Goo use only the purest, most sustainable herbs and essential oils. Their herbs are harvested at their peak from organic farmers or organically grown in house. Next, they infuse their fresh and dried herbs in organic oils to increase the medicinal value of their products. This process maximizes the potency, taking healing properties of the plants to the next level.
First Aid from a Farm
A women-owned and family operated business, Jodi and her team created the concept of Rethinking First Aid™ and Body Care Products. Even the CDC advises avoiding overuse of antibiotics. With Green Goo's like of first aid, you get defense, without increasing antibiotic resistance. They don't just offer products that simply soothe and moisturize, they craft products that make a difference in your life!  Green Goo is committed to offering:
No bad stuff.
No sneaky stuff.
Does not contain Aluminum, Propanediol, propylene glycol.
No artificial ingredients.
Made in the USA.
100% all natural herbs and oils.
A deep commitment to making pure products safe for you, your family, and the environment
A positive impact on the planet.
From dry skin and baby balm to Pit Goo and pain relief, Green Goo's got you covered with a complete line of:
1. First Aid
2. First Aid for Animals
3. Mama & Baby


4. Natural Deodorant
5. Skincare
6. Southern Butter Intimates
7. Sun block
8. Tattoo Care
9. Accessories
Food for Your Skin

The line of Fur & Feathers helps pets to heal and be protected organically without chemicals that can harm them. Try the First Aid for you and your pets. #nobrainer Watch now:
Nurture with Nature
From Golf Goo, and Poison Ivy to Foot Care and Cold Sores, you'll find everything you need in the First Aid section to assist in your upcoming fishing, camping, climbing and biking excursions. Before you head out on your next adventure, remember that the Green Goo outdoor line was designed with you in mind; good for you and the environment. If you're an active, outdoorsy-type, you'll love the First Aid Travel Pack! It contains Green Goo's popular products and includes travel tin of the following (and makes a perfect gift for the holidays):
Repair
Dry Skin Care
First Aid
Pain Relief
Giving Back
Green Goo's Animal First Aid products help support the planet.  All sales support the 1% for the planet. Additionally, they have partnered with: World Vision, Mercy in Action, Mandela Foundation, Snowball Express, Summit for Soldiers, the Pacific Crest Trail, and John Hopkins, St. Jude's Children's Hospital. By purchasing Green Goo products, you are helping to make a difference, One Tin at a Time.
Who's Ready to Win a Green Goo Skincare Travel Pack and Deodorant Pack?
Two super lucky first prize RonandLisa.com readers will win a Skincare Travel Pack valued at $24.95 & a Deodorant Travel Pack valued at $24.95 (ARV $100.00). Who's ready to enjoy better skin, cleaner pits and a healthier planet??
Enter daily for a chance to WIN and please share this page with a friend, loved one – or anyone – that could benefit from eliminating toxic skincare and enjoying the power of plants.
How to Enter:
For every action below that you complete, you receive a specific number of entries.  Click each individual action to enter yourself. For actions you have done in the past (i.e. you are already a fan of Green Goo on Facebook) just click directly on 'I did this'. The eligibility of the winner will be verified by The Healthy Home Dream Team®.
There is no mandatory entry. Each action will earn different numbers of entries into the contest. You may Tweet or share on Facebook or Google+ for an entry once per day. All other actions will only be counted once. Sweepstakes open to US  residents age 18 and over. Contest ends 12/10/16 at 12:15am PST.