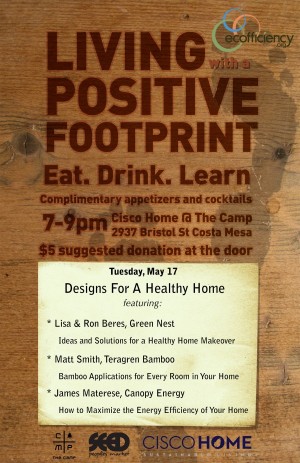 We have a few exciting bits of news that we'd like to share with you:
Join us tonight for a special event, Living with a Positive Footprint. Ron and Lisa will present 'Ideas & Solutions for a Healthy Home Makeover' at Ecofficiency's speaker series at Cisco Home located inside The Camp (near South Coast Plaza in Costa Mesa, California). Join us and two other experts who will be discussing how anyone can design a healthy home, easily and affordably. Eat. Drink. Learn! Proceeds benefit Ecofficiency.
Test your healthy home IQ! We are now offering a complimentary Healthy Home Quiz for our Healthy Home Dream Team readers! Test your skills, receive your score instantly and spread the news to your friends & family!