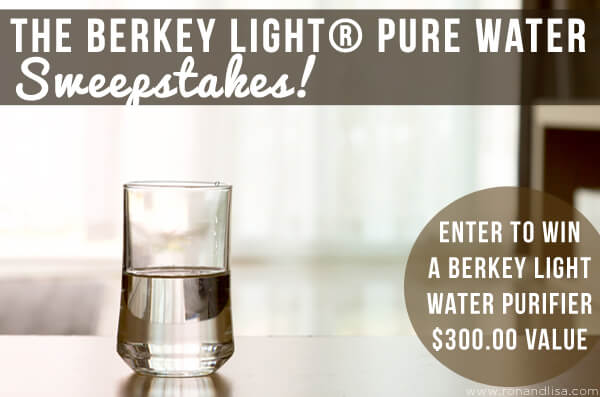 ENTER FOR A

CHANCE TO WIN!
The Berkey Light® system
One Winner Will Receive:

1 Berkey Light system (2.75 gallon)
2 Black Berkey Purification Elements
2 Fluoride and Arsenic Reduction Elements.
Total Value Over $300.00
in the…
Berkey Light® Pure
Water
Sweepstakes!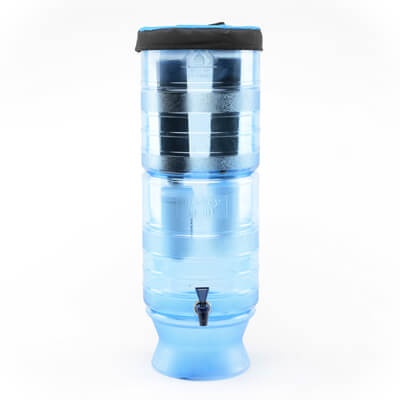 Most of us know that drinking clean, pure water is the foundation of a healthy body and lifestyle. However, most municipal tap water generally has numerous potential contaminants such as chlorine, anti-corrosive chemicals as well as unpleasant taste and odors. Even bottled water can contain these same contaminants and, moreover, it is quite expensive. So how can you provide your family with access to a constant supply of healthy, fresh, great-tasting water for pennies per gallon?
Berkey® systems are the gold standard in gravity-fed personal water purification. Why? They have been tested to remove viruses, harmful pathogenic bacteria, cysts, parasites, unhealthy contaminants and impurities to below detectable levels, leaving in the essential minerals your body needs. Because Berkey® systems are tested to reduce contaminants at the virus level they are classified as a purifier.
Berkey® systems can easily purify ordinary tap water, yet are powerful enough to efficiently purify raw, untreated water from sources such as remote lakes and streams. They are designed for everyday use and can be used during natural disasters and emergencies when treated water may not be available. Berkey® systems are easy to assemble and operate without the need for tools, electricity, water pressure or plumbing. You simply pour the water into the top chamber, where gravity draws it through the purification elements. The purified water collects in the lower chamber, where it can be easily dispensed through a spigot. If you are concerned about removing fluoride from your water, Fluoride and Arsenic Reduction add-on filters are available. WATCH NOW to learn more.
Don't Take Our Word for It…
"We use the Berkey Light every day. It sits on our kitchen counter, being clear, allows us to monitor the water levels. The elevated base makes getting a cup of water easy. Our water always had the smell of chlorine and with the Berkey Light, the smell is gone."

"I have been using the Black Berkey water purification system for about two years. My water at my home comes from a well. After passing through my Berkey water Purifier, it tastes fresh, clean, and so good. The more I learn about the contaminants of all types that the Black Berkey elements keep me from drinking in my water, the more satisfied I am that I chose Black Berkey as my water purifier. I have also purified local pond water with the result being the same clean, clear, fresh, so good taste. Cleaning the elements when needed is very simple and takes so little time. Thank you Berkey for the confidence that I am drinking fresh, clean, pure water from my Berkey water Purifier."

"I love how these filters take out all the nasty taste of our city water and make my coffee taste better. We have the Royal Berkey with 2 black filters and 2 fluoride/arsenic reduction filters and starting our second year. For my family of 4, I fill it each evening and have enough water for the next day. My sons' initial responses were "The water has no taste!" but no longer miss the taste of chlorine. Thank you!"
The Berkey Light® System Benefits Include: 
Powerful: The Black Berkey™ Purification Elements (included with the unit) have been rigorously tested and proven to reduce contaminants at the virus level, along with pathogenic bacteria, cysts and parasites.
Economical: The two Black Berkey™ Purification elements (inside the Berkey Light®) purify up to 6000 gallons of water and last for years before needing replacement, making it extremely economical. The Fluoride and Arsenic Reduction filters last 1000 gallons before needing replacement.
Ideal Size: While lightweight in size (only 7 pounds!), the Berkey Light®) holds 2.75 gallons of purified water and can provide enough water for groups of up to 10 to 20.
Design: The transparent design conveniently allows you to see how much water is available and when it is time for a refill. The unit is made of rugged, non-BPA co polyester which will not retain or leach any foul orders.
Base: The included elevated base raises the spigot up so you can fill a glass with water without having to place the unit on the edge of the counter.
Availability: Berkey Light® systems are always in stock and available for purchase in California. Find it here.
Will you be the lucky winner? Enter daily for a chance to WIN and please share this page with someone who could benefit from pure, clean and healthy water for their family.
How to Enter:
For every action below that you complete, you receive a specific number of entries. Click each individual action to enter yourself. For actions you have done in the past (i.e. you are already a fan of Berkey Water or RonandLisaTheHealthyHomeDreamTeam on Facebook) just click directly on 'I did this'. The eligibility of the winner will be verified by The Healthy Home Dream Team®.
There is no mandatory entry. Each action will earn different numbers of entries into the contest. You may Tweet or share on Pinterest, Google+ or your Facebook wall for an entry once per day. All other actions will only be counted once. Sweepstakes open to US and Canadian residents age 18 and over (excluding residents of Iowa). Contest ends 5/16/15 at 12:15am ET.