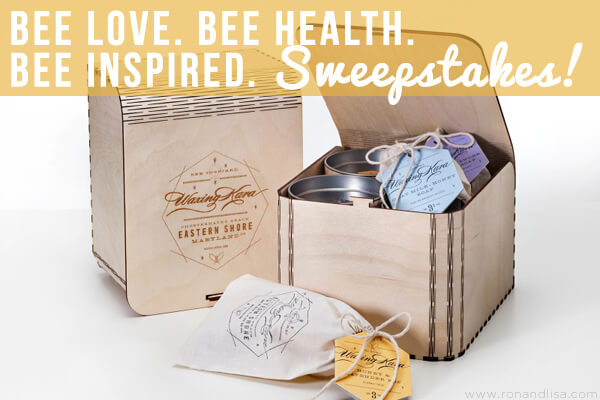 Vegan. Vegetarian. Pescatarian. Flexitarian. Fruititarian. Oh. Em. Gee. So, many buzz words to keep up with these days. Speaking of BUZZ, have you heard of Beegan? Yep, it's those who support the nurture, safety and well-being of all animals and insects, but do eat honey since the bees aren't killed or mistreated. There are numerous health beneficial aspects of honey, beeswax and the latest craze – bee venom. The latter in mask form, hailed as the natural alternative to Botox, plumps, lifts & firms the look of skin and even celebs like Gwyneth Paltrow, Victoria Beckham and the Duchess of Cambridge (aka: Kate Middleton) swear by it! Hmm, listen up single ladies – perhaps a real prince is just around the corner? But, I digress. Until now Bee Venom Mask USA (use code BVM10 and save 10%) was only available in Europe. The New Zealand Bee Venom and Manuka Honey (known for its healing powers) work together to moisturize and lift the skin, turning back the clock and creating a dewy, youthful glow.  All of these products are harvested without harm to the bee or their colonies and one lucky Ron & Lisa reader is gonna try it for themselves if you win this Honey Spa Gift Box from our BEEautiful friends at Waxing Kara.
Bee venom aside, there are more goodies in this box than we have time to discuss. But, since I'm obsessed with candles, we have to mention these since you'll also get a beeswax one included! If you are stuck on using paraffin wax candles, then you better get unstuck real quick since these are derived from petroleum.  Read more about why beeswax candles votives are better than soy paraffin and other man-made wax candles. Waxing Kara's candle wicks are made with 100% cotton and are self-trimming and slow burning.  Beeswax votives burn longer and cleaner than any other wax candles, do not emit any off-gases (as man-made wax often does) and has been used for candle-making since the time of the Egyptian pyramids.
"I am honored and committed to host healthy beehives. Bees are responsible for a third of the food we eat; if they disappear, we cannot sustain our agriculture or our own survival. I live each day with gratitude and respect for bees, and apply this knowledge and awe of nature to Waxing Kara products. It is my hope that you will feel the expansive energy of life in the bees, the sun, and the waves instilled from Waxing Kara products." ~Kara Brook
Founder of Waxing Kara, Kara Brook, became a beekeeper over three years ago to harvest wax for her encaustic painting passion. [Encaustic paint is made with beeswax, damar resin and pigment]. In the process she made the serendipitous discovery that honey is a much more precious gift from bees than wax. She wanted to ensure the purity of her products. They are all natural and raw. They don't blend, colorize, infuse, pasteurize or boil it. And, it's minimally filtered.
Now that specialty food producers have gone from having a toehold to a foothold in the local marketplace, look for increasing varieties and options—a true return to growing local, buying local, and consuming real food—not a chemical substitute.
Did You Know?
1 of every 3 bites of food we take comes from a pollinated plant or an animal that depends on bee pollination.
If you are concerned about what to do to help local beekeepers—buy honey and hive products from them. And, learn more about how dying bees are affecting our lives.
Protect the Bees:
Sponsor a hive. Most beekeepers are not earning profit on what you are buying from them. Ask if you can sponsor their hive. Create a neighborhood collection to encourage experienced beekeepers to obtain and keep more bees.
Grow a pesticide-free garden in your community.
Take a basic beekeeping class to see if this is a good hobby for you.
Did You Know?
The Honey Spa Gift Box is filled with bee inspired goodness. Share artisanal and varietal honey, a day of beauty and relaxation all in one box. The handmade honey gift box for her includes:
Giving Back!
For the last 10 years Kara has served on the board of Vision Workshops; a worldwide non-profit organization focused on teaching at-risk youth the art of photojournalism often with National Geographic photographers as teachers. To date, Waxing Kara has raised/given in excess of $150,000 for programs in the DelMar,VA community. A portion of all profits made from Waxing Kara will be donated to Vision Workshops.
Who's ready to WIN the The Honey Spa Gift Box valued at $200.00? Will it BEE you? Enter daily and bee sure to share this page with a loved one.
How to Enter:
For every action below that you complete, you receive a specific number of entries.  Click each individual action to enter yourself. For actions you have done in the past (i.e. you are already a fan of Eastern Shore Honey or RonandLisaTheHealthyHomeDreamTeam on Facebook) just click directly on 'I did this'. The eligibility of the winner will be verified by The Healthy Home Dream Team®.
There is no mandatory entry. Each action will earn different numbers of entries into the contest. You may Tweet or share on Pinterest, Google+ or your Facebook wall for an entry once per day. All other actions will only be counted once. You must be 18 or older and reside in the United States address to win. Contest ends 2/13/14 at 12:01am ET. Click here for complete terms and conditions.