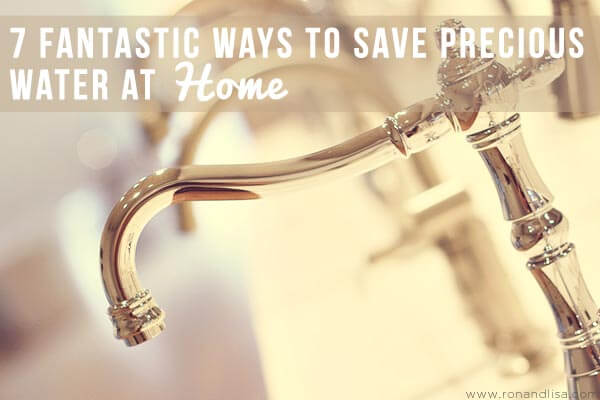 Water is a precious resource and many people don't have enough of it. In fact, federal officials have designated portions of 11 western and central states as primary natural disaster areas because of a drought with California, Oregon and Nevada being the worst hit. Today, most households in the U.S. waste a huge amount of water each year and it's time we start doing something about it. Here are a few ways you can do your part to help out.
1.) Fix leaks
You may have noticed a few faucets with water dripping from them, so this is a great place to start. You might not think there is too much to worry about since it's only a tiny amount of water leaking from each faucet, however you do need to be aware that every bit adds up.
2.) Flush Responsibly
There is nothing wrong with flushing after your trip to the loo. However, water saving devices such as dual flush toilets are a great investment.  If we look at how Kohler toilets use technology, we will find that they have their flush handles installed on the side (similar to a traditional toilet) instead of on top as with most modern dual flush toilets. They offer two flushing methods for liquids or solids and can save up to 68% more water than a traditional low-flow toilet. These in turn will save money on your monthly water bills (toilet conversion kits are also available for around $25.00). Being cognizant of our daily water usage can make a big difference.
3.) Find Hidden Water Leaks
Walk around your home and visually inspect to detect visible leaks or water damage on ceilings and walls. But, what about the leaks hidden from sight that may be impossible to see with the naked eye? A great tip is to take a reading of your water meter, then do not use any water for the next few hours. When you return read the meter, if you notice a difference, you can assure there is a leak somewhere.
4.) Use Less Water in Your Toilet Tank
Every time you flush your commode, you waste gallons of water because most of the water used is not required. A simple trick is to grab a bottle and fill it with pebbles and sand. Then, put this inside your toilet tank. This will prevent the tank from filling up with too much water. Make sure there is enough water left in the tank for it to flush properly.
5.) Don't Leave Water Running
When you're cleaning vegetables, it's easy to leave the water running while you head to the fridge and back. Additionally, most people unnecessarily leave the water running while brushing their teeth. Did you know, according to the EPA,  you can save up to 8 gallons of water every day by turning off the tap while brushing your teeth? Get in the habit of turning off your faucet when not in direct use.
6.) Wash Full Loads
Don't turn your washing machine on unless you're about to wash a full load of clothes. The same thing applies to the dishwasher (you shouldn't be turning it on to wash a few dirty plates). Each of these machines requires a large amount of water per cycle. Instead, run short cycles  for smaller loads and look for Energy Star appliances.
7.) Install a Water-Saving Showerhead
Congratulations if you don't indulge in a bath every day because this is the ultimate waste of water. A bath should be kept for special occasions, but even a shower is not perfect. If you install a low-flow showerhead, which can't exceed more than 2.5 gallons per minute (gpm) at a water pressure of 80 pounds per square inch (psi),  you can achieve a water savings between 25%–60%.
Get Started Today!
Nothing we've mentioned above will cause you any great hardship to start implementing right away. You don't need to do everything at once as this can be overwhelming. Instead, choose a few things from the list and start trying to save water today. Which tips will you'll choose? Let us know in the comments or share your favorite water-saving tip below.
Leslie Kramer, is an employee at Corefront Custom Renovations, a well-known basement renovation firm in Calgary. Leslie loves to entertain and on weekends and she can be found either hosting a party or attending one.
Photo Credit: Jessie Preza  + Hollingsworth Showroom
Save