Soda Maker
by SodaStream
'Tis the Season to be
Bubbly Sweepstakes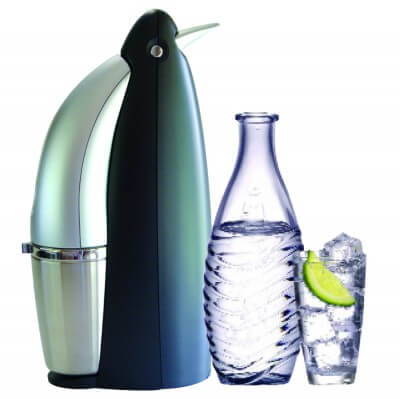 ENTER TO WIN!
The Penquin Home Soda Maker!

Valued at $199.95!
Would you like to WIN the Penguin Home Soda Maker by SodaStream? The holidays are here. Don't let your precious holiday memories fizzle. Instead, add some fizz to your Fa la la!  Making carbonated water and soft drinks has never been easier. You can now turn tap or filtered tap water into sparkling water in under 30 seconds, with no clean-up (and, who doesn't love that?). If you want to make this season healthier for you, your family and your guests – now you can by enjoying the freshness and convenience of homemade soda while greening the environment at the same time. No heavy bottles to carry, store at home or throw away. Select the fizz of your choice to your taste and add flavor to make your favorite drink. The Penguin is the first and only soda maker with glass carafes making it the perfect solution to reduce plastic waste. The beautiful design makes it an eye catcher in every kitchen and dining room. Among the Penguin features include:
Customized carbonation level
Easy to clean
Automatic access gas release mechanism and minimal space usage on counter tops
Because SodaStream uses water straight from the tap or filter, the system makes traditional store-bought beverage bottles obsolete. That means less plastic manufactured, less plastic waste is created, and fewer bottled beverages must be transported from manufacturers to distributors to stores to homes. When it comes to sparkling water, the Penguin is well – perfect
No need to lug/store cases of soda bottles and cans from the store
No pile of empties to trash or recycle… and no half-empty bottles of flat soda to pour down the drain
Over 50 flavors to choose from including: traditional favorites, sparkling naturals (our fav) and even mixers for classic cocktails and wine spritzers
The Penguin is $199.95, but SodaStream has models priced from $79, available at retailers nationwide [Bed Bath & Beyond, Macy's, Kohl's, Target and many more.] Find a store near you at

sodastream.com

   (ARV $199.95)
How to Enter:
For every action below that you complete, you receive a specific number of entries.
Click each individual action to enter yourself. For actions you have done in the past (i.e. you already follow  @SodaStreamUSA or @RonandLisa on Twitter) just click directly on 'I did this'. The eligibility of the winner will be verified by The Healthy Home Dream Team.™
There is no mandatory entry. Each action will earn different numbers of entries into the contest. You may tweet or share on your Facebook wall for an entry once per day. All other actions will only be counted once. You must be 18 or older with a US address to win (sorry international readers). Contest ends 12/21/11 at 12:01am PST. Click here for complete terms and conditions.