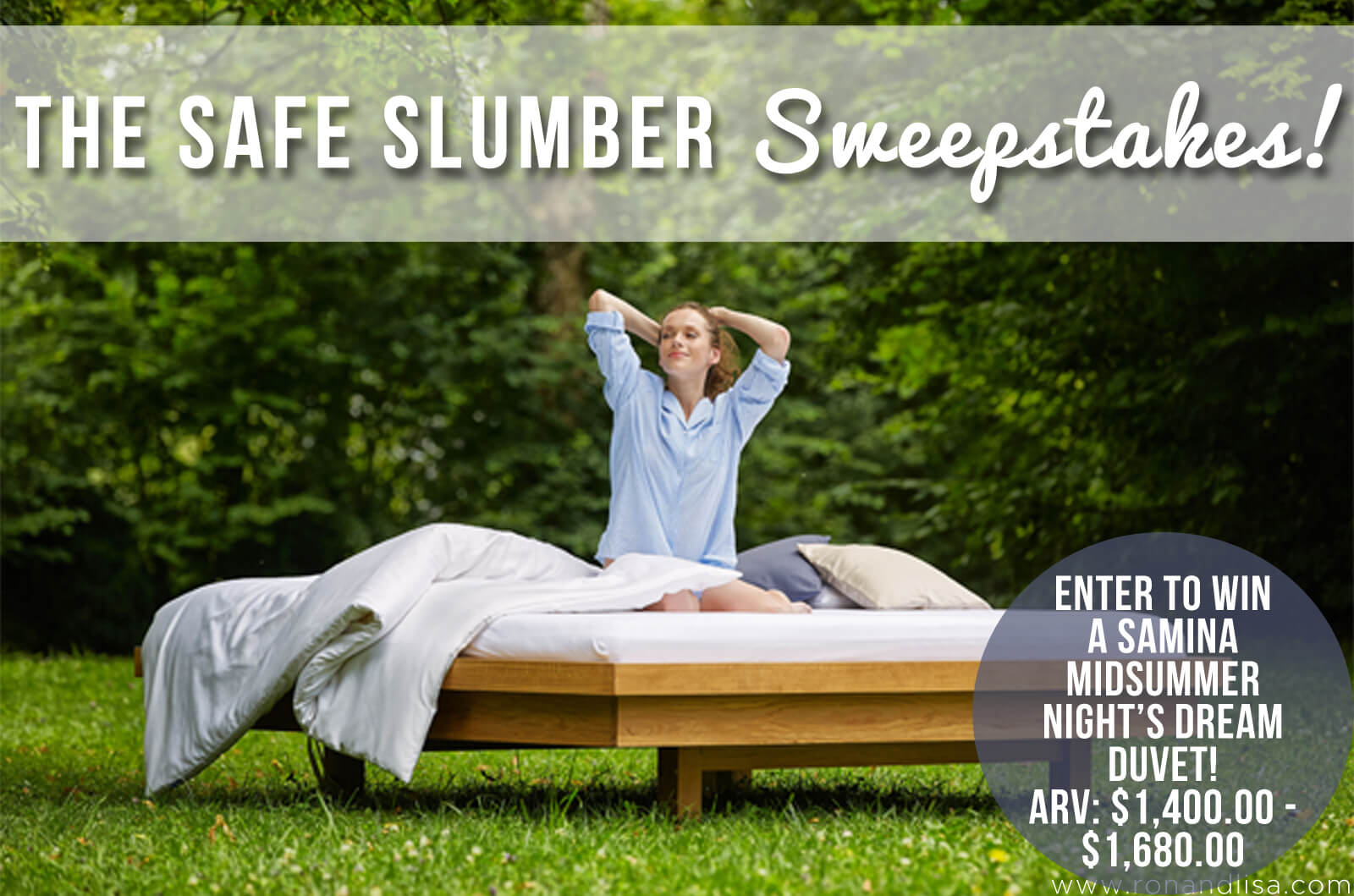 Are you among the 50 to 70 million Americans who suffer from sleep disorders or have something called sleep debt; the cumulative effect of not getting enough sleep? Or, perhaps you are one of the 30 percent of adults who experience symptoms of insomnia as reported by the American Academy of Sleep Medicine. Either way, inadequate sleep and wrestling with nightly insomnia leads to a variety of unwanted health issues and can lead to dangerous situations.
According to the American Sleep Apnea Association, 'Sleepiness affects vigilance, reaction times, learning abilities, alertness, mood, hand-eye coordination, and the accuracy of short-term memory. Sleepiness has been identified as the cause of a growing number of on-the-job accidents, automobile crashes, and multi-model transportation tragedies.'
As you can see, not getting enough Zzzzz's doesn't just affect productivity and well-being, but reduced quality and lack of sleep can be detrimental to health and potentially harm others. But what about the materials you sleep on? What are the health effects and are you even aware of the potential dangers of the fabrics you're sleeping on?
Conventional Bedding Chemicals Are Harming Your Health
The nonprofit organization, Made Safe, has created the Detox Your Sleep report and compiled a list of the hazardous ingredients found in conventional mattresses, pillows, and bedding by detailing the accompanying health hazards associated with each material or chemical.
Foam: Most, if not all, of the ingredients used in making the polyurethane foam in mattresses, are petroleum products derived from fossil fuels. Foam has been found to contain:
Flame retardants: linked to endocrine disruption, lower IQ, hyperactivity, altered sexual development, fertility issues, thyroid dysfunction, and cancer.
Isocyanates: linked to asthma attacks, irritation to mucous membranes, skin inflammation, chemical sensitization, respiratory disease, and cancer.
Volatile organic compounds (VOCs), including a poisonous gas originally used as a chemical weapon in WWI that was responsible for the majority of deaths.
Methylene chloride (urethane grade): can cause skin and eye irritation and is readily absorbed through the lungs.
Acetone: skin and eye irritant; linked to respiratory tract irritation, dizziness and weakness in workers.
Polyester: Used as ticking, this is the same material used for soda bottles, chemicals in which are linked to cancer and hormone disruption.
Adhesives: These are mostly kept secret as proprietary information, but one commonly-used chemical, nPB, is linked to irritation of the eyes and respiratory tract; neurological effects like dizziness, confusion, and headaches; and cancer
Sheets: Especially cotton, those labeled "wrinkle-free," "no wrinkle," "no iron," and other terms can contain a formaldehyde finish. Formaldehyde is a known carcinogen.
Synthetic Pillows can be made with flame retardant chemicals, phthalates or alternative plasticizers.
Mattress Toppers & Pads: Antibacterial and antimicrobial compounds can be added to bedding, including sheets, mattress pads, and mattress toppers, including triclosan, a known endocrine-disrupting chemical.
Great news! We're offering you a chance to win the GRAND PRIZE: Your choice of a luxurious queen or king-size Midsummer Night's Dream duvet! Total Value: $1,400.00 – $1,680.00!! Click below to enter (and share with a friend or loved one who could benefit from slumbering safely). Sweepstakes open to residents of the United States and Canada age 18 or over. Ends 9/17/19.

Meet the SAMINA Sleep System
Unlike conventional bedding that can be loaded with toxic chemicals (see above), SAMINA creates a whole-body bedding system approach with luxurious sleep products that are in their most natural form. In fact, the Made Safe certification seal offers a Sleep Safe Fact Sheet: Tips for Choosing a Safer Mattress and SAMINA products avoid these three chemicals of concern: VOC's, flame retardants, and isocyanates – among many others. In fact, the entire line of Samina bedding solutions is hypoallergenic, non-toxic and metal-free. This SAMINA Sleep System includes:
A climate-regulating wool pad topper
A supplementary Lokosana® grounding pad
A latex mattress
An orthopedic flexible slat frame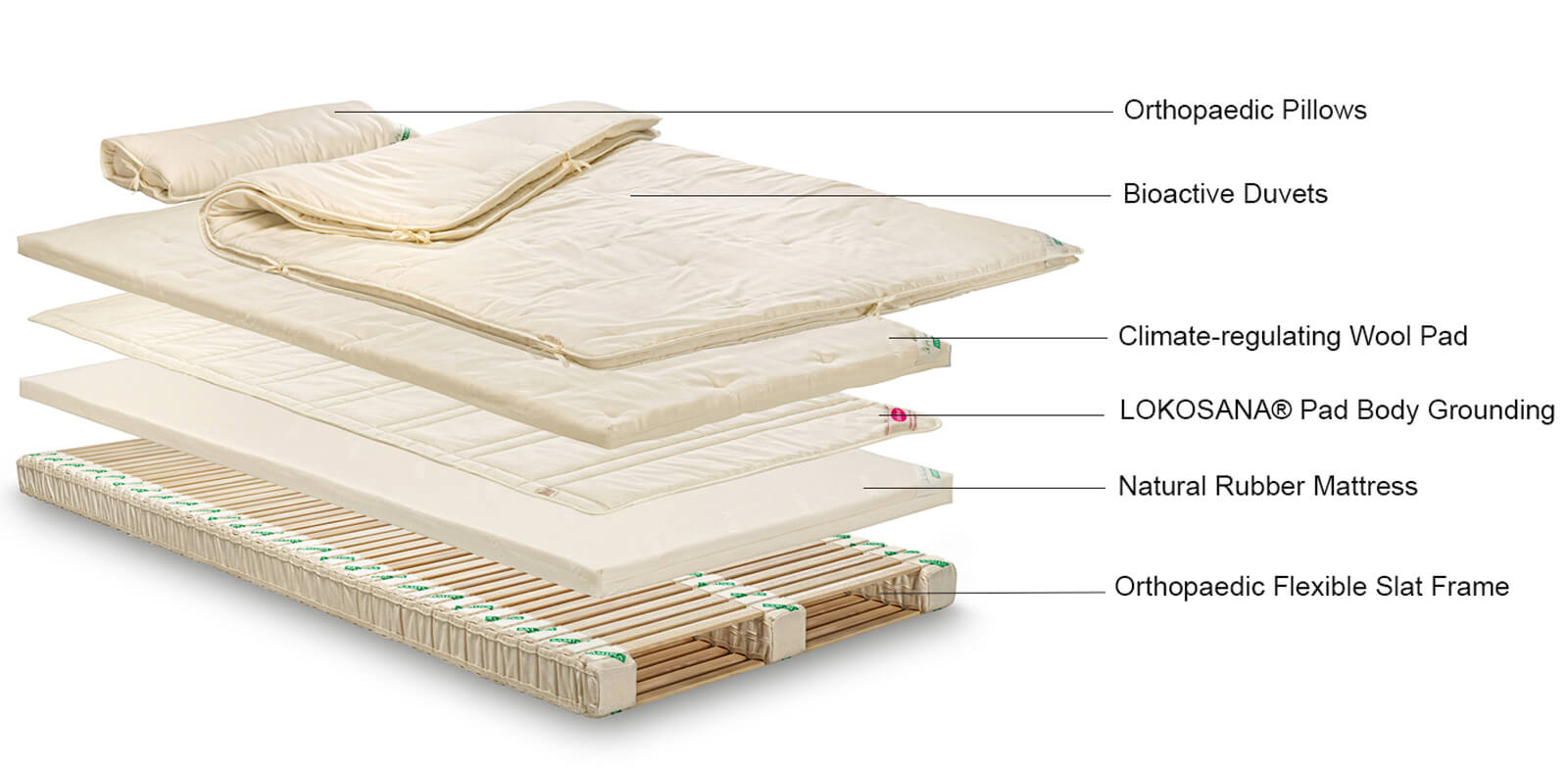 Did You Know? The SAMINA Pillow outside case is filled with Merino wool from Sheep species called "Merino," and is hand washed with organic soap. With this time-consuming process, SAMINA retains the highest amount of lanolin – also known as "wool fat;" bugs + dust mites hate the smell of it. The wool can absorb up to 30 percent of its own weight in moisture which leaves no moisture and no nourishment for all these little unwanted critters.
Dare to Dream


We spend one-third of our lives sleeping. Did you know that by the age of 75, you'll have spent about 25 years in bed? SAMINA understands this and believes every minute in bed should count.
The SAMINA Sleep System is the cutting edge of modern sleep technology. When other companies proclaim they've been making the same mattresses the same way for many, many years, we have to wonder "Why"? Today, we know so much more about sleep and our biological, physiological and psychological needs for truly healthy sleep. Old forms predated the basics of our modern understanding of sleep science and components like metal springs make no sense. SAMINA offers the only truly eco-friendly mattress that will transform your sleep. A good night's sleep is proven to upgrade your wellbeing, offering endless health benefits. Reset your body systems with SAMINA Sleep and enjoy relief from:
Back Pain
Sweating
Detoxification
Asthma & Allergies
Sleepless Nights
Tossing and Turning
Snoring
Grounding
Adjustable for Comfort
Eco-Friendly, sustainable materials
Animal-Friendly
Hypo-allergenic
Spinal Support
Breathable, open-air system
Great news! We're offering you a chance to win the GRAND PRIZE: Your choice of a luxurious queen or king-size Midsummer Night's Dream duvet! Total Value: $1,400.00 – $1,680.00!! Click below to enter (and share with a friend or loved one who could benefit from slumbering safely). Sweepstakes open to residents of the United States and Canada age 18 or over. Ends 9/17/19.

SAMINA Uses the Purest, Natural Materials for All of Its Healthy Sleep Products
Humanely raised, free-roaming sheep in the mountains of Austria and Germany produce rich, unpolluted wool.
SAMINA mattresses are lightweight and durable, made from 100% natural talalay rubber (organic latex). Latex has natural antibacterial properties for a perfectly healthy sleep.
Natural processing, using only wool from the top side of the sheep ensures cleaner, sun-drenched wool.
No harsh detergents or chemicals are used in processing to preserve the natural fibers and, very importantly, the lanolin (or sheep's wool fat).
No silent off-gassing chemicals – only purely natural and organic materials.
100% organic cotton covers encase the wool and that is all there is in SAMINA's duvets.
Why are Natural Materials Important for Sleep?
Lanolin gives wool the perfect features for sleep, moisture-wicking and temperature control. No one wants to sleep or can sleep well hot and sweaty or freezing beneath the sheets.
Wool fibers are hollow and cork-screw shaped. They can hold up to 30% of their weight in moisture which is why you sleep drier.
We recommend covering the SAMINA duvet in an organic cotton, machine-washable duvet cover for ideal comfort and easy cleaning.
Optimal Back Support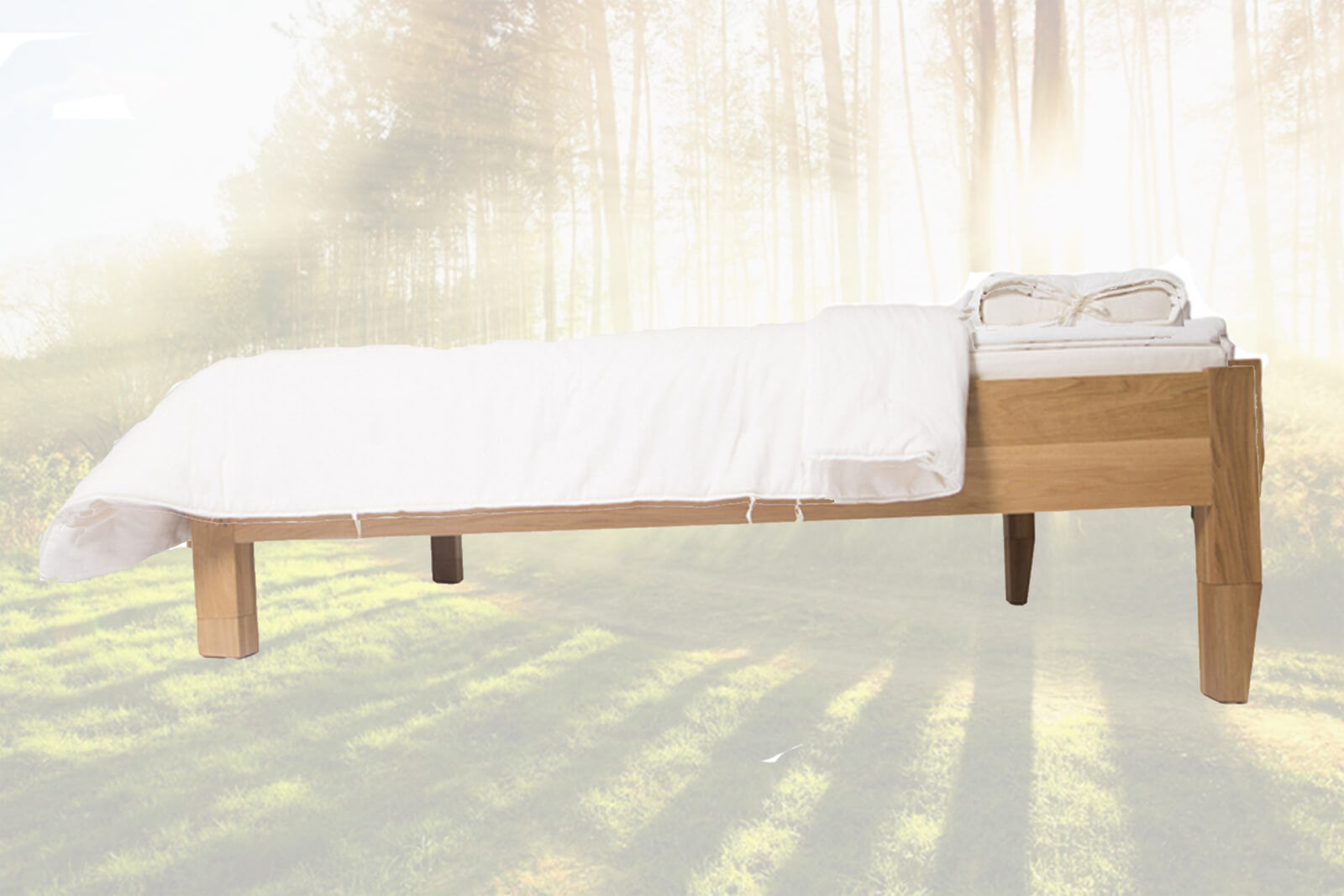 When we first met husband/wife team, Claus and Denise Pummer, who head the North American arm of SAMINA, we were jumping for joy! No, really. We got to see and test the SAMINA Sleep System out ourselves. When Claus encouraged us to literally jump on the patented, the double-sided, free-floating SAMINA slat frame, we thought he was joking. But Claus insisted the slats wouldn't break. So, we channeled out inner-two-year-old and jumped. Much to our surprise, the slat frame held up. Let's just say, if it can do that, we're confident in what it can do for nightly back support.
To ensure optimal recovery of the back, the spine and the muscles, the ideal sleeping base should support the body just as if it was standing up. The SAMINA healthy sleep concept fulfills this criterion perfectly. The slat frame supports and relieves the body and thus ensures constant pressure between the sleeper and the base.
We Couldn't Have Said it Better Ourselves
The rave reviews of happy backs and rested customers speak for themselves, but you can read more SAMINA praise HERE.
"For years I searched for the greatest bed on earth…After years of chronic pain, and annual or bi-annual bed replacement (I kept buying organic futons, which I know consider short-lived and disposable), I was getting tired of…well…feeling tired. I finally went for it. SAMINA is the healthiest bed on earth." -Daniel Vitalis, Host, entrepreneur & writer
A Luxury Holistic Sleep System with Grounding "Barefoot" Technology
The holistic and metal-free design has been proven to remedy back pain, relieve symptoms from allergies and other breathing ailments, and to improve deep sleep for optimal benefits. Sleeping inclined with the head slightly above feet can also transform the body's natural systems improving blood pressure regulation and aiding in brain detoxification. This eco-friendly product is also designed to include a grounding pad to re-align the body, protect from EMF frequencies, and increase oxygenation. The SAMINA Sleep System experience allows for your body to get back in touch with its natural rhythm. This eco-friendly mattress system also includes grounding properties to realign the body and protect from EMF frequencies with the addition of the supplementary grounding pad.
EMFs are wireless energy waves that surround electronic devices. Specifically, these are artificial EMFs since they're created by human technology. Hopefully, now that you know what EMFs are and their effects, you can apply this knowledge to keep your bedroom radiation-free.
Lokosana Grounding Technology
The basic idea of the Lokosana Grounding pad is to improve the quality of sleep through grounding (AKA "earthing") and the desired stabilization of natural magnetic fields.
•It's no secret that when you're in nature, especially barefoot, you feel great because you're physically connected to the earth—grounded!
•Scientific studies about grounding demonstrate that when we ground ourselves, free electrons in our body flow more freely. Thus, we can use a connection to the electromagnetic earth which most of us are missing in our modern lives for a better and deeper sleep.
•Grounding helps neutralize free radicals in the body to aid in combatting inflammatory factors like stress, infection and injury.
•People who sleep grounded experience better circulation, less pain (inflammation), and awaken feeling refreshed and with more energy!
•The Lokosana® grounding pad is a revolutionary way for you to have the "barefoot in nature effect," giving you healthy, restful sleep night after night.
•The high content and quality of silver embedded with the organic cotton and large surface area coverage of the Lokosana Grounding Pad is what makes it so effective.
As human beings, we are bioelectrical organisms living on an electrical planet. Most people feel comfortable in the great outdoors especially when they are barefoot and that's because they have direct contact with the earth – they are physically grounded. The Lokosana® grounding pad is a revolutionary way for you to have a healthy, restful sleep. With Lokosana, you can have the "barefoot in nature effect" throughout the night. As part of the SAMINA healthy sleep system, you would place the grounding pad on top of the natural latex mattress and then layer the wool pad topper on top of it.
Organic Mattress & A Full Line of Luxury Sleep Products
The SAMINA Sleep System is recommended for optimal sleep, support, comfort and health. SAMINA offers a full suite of luxury products to enhance and upgrade your nightly slumber including:
1. Organic Bed Frames – Metal-free, natural and sustainable. The SAMINA bed frames are constructed from 100% natural materials like solid hardwoods (not formaldehyde-drenched particle board) and organic oil finishes (not synthetic varnishes or paints with harsh chemical off-gassing). The Pummer Inclined Adjustable Bed Frame is one of the more popular. Constructed from FSC-certified hardwoods in Canada.
Did You Know? Metal has proven harmful in your bed because it can behave like antennae attracting non-native electromagnetic fields (EMF's) towards your body and interrupt your natural Circadian sleep rhythm.
2. Pillows – Eco-friendly, organic and animal-friendly for full head and neck support. The SAMINA pillows utilize Bio-Ceramic® Organic sheep's wool from German sheep roaming in the pesticide-free outdoors of the Austrian alpine area.
3. Nursing Pillows – Using hypoallergenic, eco-friendly and raw materials. The SAMINA Nursing and Positioning Pillow is made from two simple unpolluted raw materials: virgin sheep's wool and organic cotton.
4. Duvets – Using sheep's wool, the SAMINA duvets are animal-friendly and provide restful sleep. Choose the best one based on your location or the season.
Did You Know? Because wool has the ability to absorb up to 30% of its own weight in moisture, it's an ideal material for bedding. The moisture-wicking properties of wool ensure you do not sleep sweaty and the hollow fibers help keep an even temperature under the covers and the open-air design allows the moisture wicked away to simply evaporate, keeping your bed a warm and dry, cozy place.
5. Lokosana Grounding Pad – As humans, we are electromagnetic. Positive free-flowing electrons in our bodies have been linked to inflammation, aging, and other chronic conditions. It especially interferes with our natural sleep rhythms. Grounding your body at night while sleeping, the body is restored to its normal electrical state. The Lokosana Grounding Pad offers a natural way to improve quality of sleep through earthing and the stabilization of natural magnetic fields to restore the natural, balanced electrical state of your body while sleeping.
Did You Know? The organic mattresses and other SAMINA healthy sleep products were designed to improve the quality of peoples' lives with the intent to achieve better sleep and living healthier, fitter, and more successful lives. -Dr. Günther W. Amann-Jennson, SAMINA founder, sleep psychologist and health expert
Great news! We're offering you a chance to win the GRAND PRIZE: Your choice of a luxurious queen or king-size Midsummer Night's Dream duvet! Total Value: $1,400.00 – $1,680.00!! Click below to enter (and share with a friend or loved one who could benefit from slumbering safely). Sweepstakes open to residents of the United States and Canada age 18 or over. Ends 9/17/19.

A Healthy Sleep Concierge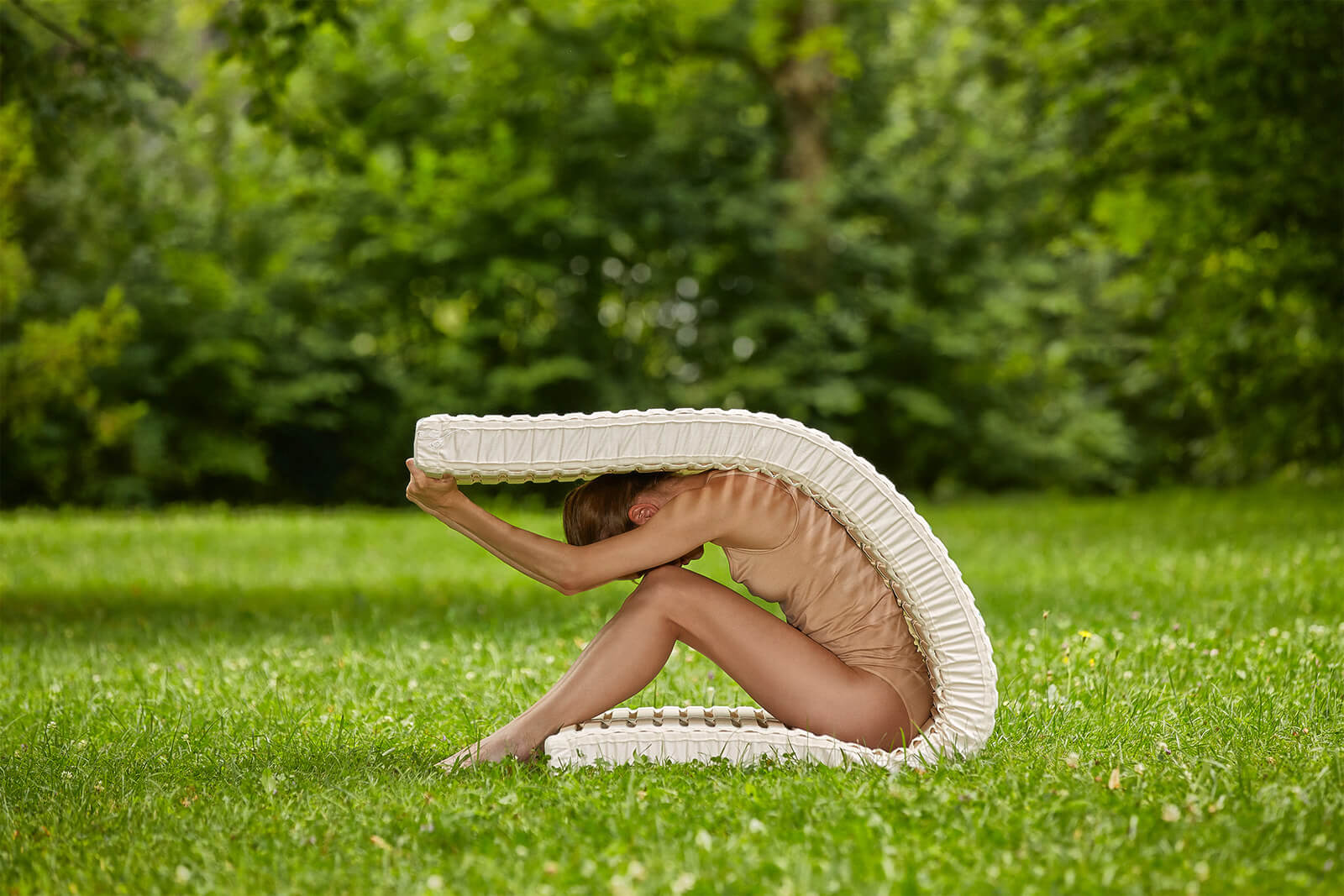 Located in sunny California, the SAMINA North America team are passionate and knowledgeable sleep enthusiasts. They and their team of SAMINA Sleep Concierges are available to assist you with hands-on service to assure you and your sleeping partner, when applicable, have the right system for your respective physical needs and specific sleep concerns and answer any question you have about the SAMINA Sleep System and line of products. You can reach them via email at info@saminasleep.com or call them toll-free at 1.877.494.1091. They invite you to visit and try out the bed yourself cuz, well – sleeping is believing!
One Mission: Healthy Sleep
With payment options and financing available, it's time to kick the chemicals, trash the toxins and give yourself and your loved ones the gift of health in the form of organic, non-toxic and natural bedding. The time is now to be your most productive self…claim your greatest night's sleep and dare to see your dreams come true. Sweet dreams, friends!
Great news! We're offering you a chance to win the GRAND PRIZE: Your choice of a luxurious queen or king-size Midsummer Night's Dream duvet! Total Value: $1,400.00 – $1,680.00!! Click below to enter (and share with a friend or loved one who could benefit from slumbering safely). Sweepstakes open to residents of the United States and Canada age 18 or over. Ends 9/17/19.