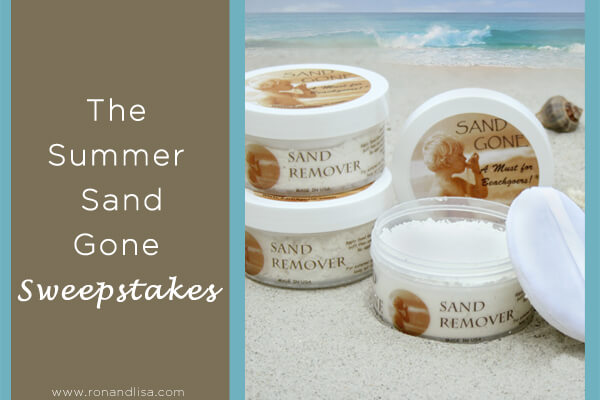 ENTER TO WIN !
(2) Winners will receive…
3 x Sand Gone Beach Bags each including:

-8 oz. Family size Sand Gone
-2 oz. Individual size Sand Gone
-Premium Handmade Almond Coconut Soap Bar
-Beautiful Display Bag
A $156.00 Value!!
in the…
Summer Sand Gone
Sweepstakes!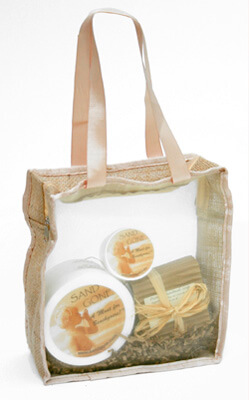 Having just returned from a tropical vacation ourselves, we can attest that nothing beats the scent of island air, palm trees swaying in the breeze, sun-kissed skin and the feeling of silky sand between your toes.  However, after leaving the beach, most of us prefer that the sand stay behind – where it belongs! All this summer vacation talk has me reminiscing about my childhood and thinking about, well…the dirty side of sand!
 On a beach or in your toes
sand is fun, but not on clothes!
In a park, or at the shore,
removing sand can be a chore!
I am Sand,
That Sand-I-am.
I like your home and your fam.
But, you prefer to keep me far,
not on your skin, nor in your car!
O.k., enough of my channeling Dr. Seuss – you get the picture!  Since we've raised the bar on our summer sweepstakes series, we wanted to introduce you a unique product for your summer sand challenges! SAND GONE: A must for Beachgoers®, is a dry body powder that, when applied to sand covered skin, removes the sand and leaves the skin soft and smooth while feeling fresh and clean. Sand Gone comes in an attractive eight ounce jar with a screw-able lid. Within the jar is a microfiber applicator. It is extremely soft, but also durable. It can be cleaned by household washers and dryers when necessary. The applicator also has a strap across it to help secure it to the user's hand as the powder is applied.
The dry, white powder is both non-toxic and non-talc. It also contains a hint of coconut for a tropical scent derived from essential oils that are 100% pure and natural, of therapeutic grade and free from any chemicals or pesticides. Sand Gone is best used when cleaning up while leaving the beach. However, Sand Gone works perfectly well when cleaning up after the sand box, playground or wherever one encounters sand. It is like having a "dry shower" from a jar! In addition to removing the sand, Sand Gone also removes the salt from your skin after a day at the beach. No more uncomfortable "scratchy feeling" under clothing during the drive home. After using Sand Gone, you will quickly find that it becomes one of those must-haves at the beach, sandlot or park. You'll now be equipped to pack your sunblock, towel, shades…and your jar of SAND GONE. Watch a demo of how to apply it HERE!
Not one…but two of our lucky readers will WIN (3) beautiful Sand Gone Beach Bags (ARV $156.00)!  Each winner can keep one for themselves and share or gift the others with friends, family members or loved ones –or- enjoy them all to yourself!  You will looove the gorgeous bag (which can be reused as small beach tote or gift bag), premium handmade almond coconut soap (which smells divine) and two sizes of Sand Gone for home and travel; an 8 oz. Family size Sand Gone + a 2 oz. individual size (ARV $156.00)! 
How to Enter:
For every action below that you complete, you receive a specific number of entries.  Click each individual action to enter yourself. For actions you have done in the past (i.e. you are already a fan of Sand Gone or RonandLisaTheHealthyHomeDreamTeam on Facebook) just click directly on 'I did this'. The eligibility of the winner will be verified by The Healthy Home Dream Team®.
There is no mandatory entry. Each action will earn different numbers of entries into the contest. You may Tweet or share on Pinterest, Google+ or your Facebook wall for an entry once per day. All other actions will only be counted once. After completing any entry below, look for the blue 'SHARE THIS' text at the top of the widget that will give you options to share with your friends. For each friend that enters the giveaway, you will receive +1 entry into the giveaway. You can refer up to 10 people and earn 10 more entry points! You must be 18 or older with a U.S. or Canadian address to win. Contest ends 6/8/13 at 12:01am ET. Click here for complete terms and conditions.