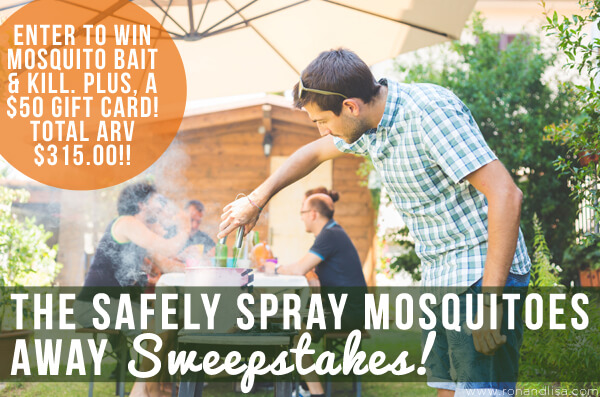 ENTER FOR A
CHANCE TO WIN!
5 x Winners Will Receive Terminix® AllClear® Mosquito BAIT & KILL twin pack valued at $12.99 and a $50.00 Gift Card ($62.99/ea)
Total Value $315.00
in the…
Safely Spray
Mosquitoes Away
Sweepstakes!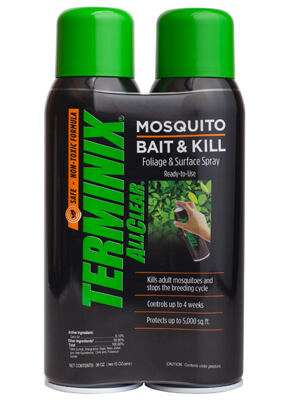 Pesky. Persistent. Problematic.
They may be small, but mosquito bites today are no small matter. The West Nile virus is the primary mosquito-borne disease in the US. Now, the Center for Disease Control and Prevention (CDC) is advising pregnant women and their partners to take strong precautions against mosquito bites while traveling.
But, spraying our bodies isn't enough to feel safe and secure against diseases that mosquitoes can carry. Homeowners, beachgoers and vacationers alike agree we all need to do more to protect ourselves and our families. Take back your yard this summer from annoying and potentially dangerous biting mosquitoes.
In fact, according to Whitney Qualls, PhD, University of Miami Miller School of Medicine, Department of Public Health Sciences, Center for Vector Biology and Vector Control "To control mosquitoes in the backyard, it takes an integrated effort."
Most Americans Feel the Need To "Do More" To Combat Mosquitoes and feel Current Do-It-Yourself Backyard Solutions "Don't Work."
Empowering Homeowners
Instead of dousing your yard with toxic pest control, feed these uninvited guests something they'll die for without harming you or your pets. Terminix AllClear Mosquito Bait & Kill is the first and only ingestible control for adult mosquitoes with ATSB that is available direct to consumers. When used as directed, this do-it-yourself solution reduces mosquito populations by more than 90 percent in just two to three weeks, including reducing populations of the Aedes albopictus mosquito and Culex species. [i]The formula is safe for people, pets and the environment and has also been proven not to attract bees, butterflies and other pollinators.[ii]
Nontoxic. Safe for People & Pets. Environmentally Sound. Ready-to-Use.
To use, spray Bait & Kill on non-flowering foliage or non-porous surfaces in the backyard. When used as directed, Mosquito Bait & Kill starts killing mosquitoes within 24-48 hours and can collapse populations in treated areas by more than 90 percent within two to three weeks.  Results last about 4 weeks and to keep populations down, should be re-applied monthly or after heavy rains.
Terminix AllClear Mosquito Bait & Kill is available at select Target and Lowes stores, and online at Amazon.com and lowes.com.  It is sold as a twin pack of two 15 oz. cans for an MSRP of $12.99.  30 oz. protects 5,000 sq. ft.  For more information, visit www.baitandkill.com.
Radically Different Control: A Non-Toxic Method with a Powerful Punch
For decades, controlling backyard adult mosquitoes meant either repelling them for a short period of time or spraying chemicals that must make contact in order to kill, many of which contain toxins. After a decade of honing, researchers at Westham Co. developed and commercialized a new approach called ATSB.  It works by baiting mosquitoes with a proprietary attractant and then killing them with a safe, ingestible sugar-laced toxin–microencapsulated garlic oil.
"Research around adult mosquito control has traditionally focused on the female mosquito's need for blood to reproduce. We are now focusing on the innate need of mosquitoes to regularly feed on plant sugars for the energy they require for survival to uncover new forms of control, like ATSB," explains Qualls.
Twenty published scientific papers support the ATSB process as a formidable force in the global war against mosquitoes, the most recent of which appeared in the September 2015 issue of Acta Tropica.[iii]
DID YOU KNOW?
63% of Americans say a non-toxic backyard mosquito control solution is more important to them this spring and summer than in years past. Parents with child(ren) 18 or under in household feel more strongly than the average American with more than 73% agreeing that a non-toxic backyard mosquito control is more important this year.
Source: This survey was conducted online within the United States by Harris Poll on behalf of  Westham Co. from March 8-10, 2016 among 2,015 adults ages 18 and older. This online survey is not based on a probability sample and therefore no estimate of theoretical sampling error can be calculated
Don't Take our Word. See for Yourself:
Did You Know? The Mosquito Bait & Kill is:
The first-ever ready-to-use spray that safely and effectively reduces populations of mosquitoes
Starts killing mosquitoes within 24-48 hours
Reduces mosquito populations by more than 90 percent in just two to three weeks
Results last about 4 weeks
Is deadly for mosquitoes yet safe for people, pets and the environment.
A Bite Free Backyard
Not one, but five lucky RonandLisa.com readers will win Terminix® AllClear® Mosquito BAIT & KILL twin pack valued at $12.99 and a $50.00 Gift Card (ARV $62.99/ea). Who's ready to start now – enjoy a bite free backyard for this summer!
Will you be one of the five *lucky* winners? Enter daily for a chance to WIN and share this page with a friend, loved one – or anyone – that could benefit from protecting themselves, family and friends from pesky and potentially dangerous mosquitoes!
How to Enter:
For every action below that you complete, you receive a specific number of entries.  Click each individual action to enter yourself. For actions you have done in the past (i.e. you are already a fan of Terminix® on Facebook) just click directly on 'I did this'. The eligibility of the winner will be verified by The Healthy Home Dream Team®.
There is no mandatory entry. Each action will earn different numbers of entries into the contest. You may Tweet or share on Facebook or Google+ for an entry once per day. All other actions will only be counted once. Sweepstakes open to US residents age 18 and over. Contest ends 7/23/16 at 12:01am PST.
[i] ATSB Trial Summaries Israel 2013: "ATSB with garlic oil encapsulated in beta-Cyclodextrin as active ingredient" by Dr. Gunter Muller
[ii] Qualls et al. Acta Tropica 131 (2014): Evaluation of attractive toxic sugar bait (ATSB)¬ Barrier for control of vector and nuisance mosquitoes and its effect on non-target organisms in sub-tropical environments in Florida
[iii] Junnila et al. Acta Tropica 152 (2015): Efficacy of attractive toxic sugar baits (ATSB) against Aedes albopictus with garlic oil encapsulated in beta-cyclodextrin as the active ingredient
Save