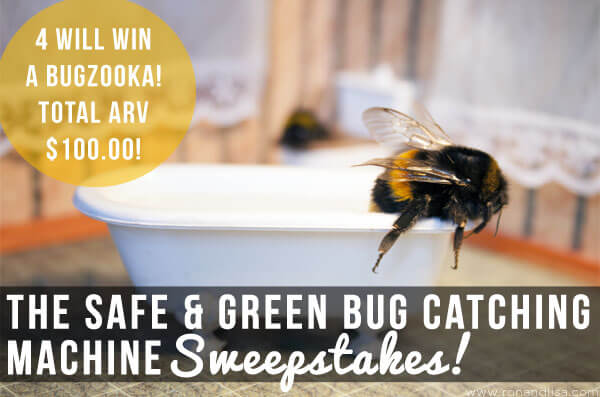 ENTER FOR A
CHANCE TO WIN!
4 x GRAND PRIZE WINNERS will receive:
– A BugZooka™ $25.00 MSRP
Total Value $100.00!!
in the…
Safe & Green Bug
Catching Machine
Sweepstakes!

Safely Win the War on Bugs
I often find myself speechless with Hollywood headlines. Angelina Jolie's recent consumption of a tarantula, a beetle and a scorpion in Cambodia, while her six kids engaged in the fruitless feast, is no exception.
Thankfully we don't reside in a third world county and have the luxury of sparing the lives of amazing insects that are an important part of our earth's ecosystem. In fact, insects are an essential food source for a wide variety of other animal species. Pollinating insects to flowering plants contribute upwards of 30 percent of our food supply – and not just by bees or butterflies. Turns out wasps, moths, beetles, and flies are also essential in this process. As scavengers and decomposers, insects dispose of our wastes, regulate populations of other pest species and recycle organic nutrients in the soil. Non-venomous house spiders make great watchdogs by eating other insects and ladybugs are great integrated pest management for your garden.
Unlike Angelina's fanged-prefrences, I doubt noshing on a furry, eight-legged insect is the first thing that comes to mind when you find a creepy crawly in your home. Quickly eliminating it is more likely top of mind. If you're an avid RonandLisa reader, then you're already familiar with the dangers from toxic pest control exposure (read: Nontoxic Pest Control for more). We certainly advise hiring an eco-friendly professional for serious insect infestations like ants, termites or cockroaches, but what if we told you there was a way to safely remove insects from your home without bug squish or splatter and without toxic chemicals? How about a kinder, gentler way to win the war on bugs occurring in your home or office such as: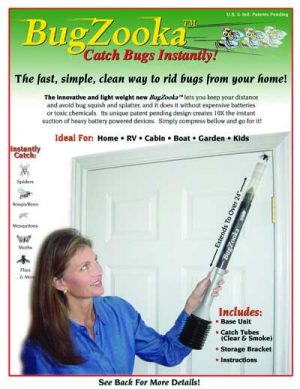 Spiders
Moths
Mosquitoes
Bees & Wasps
Flies
Crickets & more
Meet the BugZooka™
We're thrilled to tell you about an effective and affordable solution we've been personally using for years in our own home. One of the most innovative home products ever created, the BugZooka™ is a fast, simple, clean and fun way to manage your bug problem. The BugZooka works without batteries via it's unique compression-suction design creating 10 times the sucking power of battery operated devices. Bugs are safely captured into a clear, removable Catch Tube that extends over 24 inches long. This makes it super easy for catching pesky or dangerous insects from hard to reach spots like ceiling, cracks or corners. The uniquely designed Catch Tube has a special trap door that allows you to either dispose of the bug or safely and easily release the bug back outside. It even includes a wall hanging bracket for convenient storage and both clear and smoke catch tubes.
As Seen on the Dr. Oz Show
Ron and I use this in our own home to save insects. In fact, here's Ron demonstrating a safe, squeamish-free spider removal. Watch now:
We also demonstrated the BugZooka™ on the Dr. Oz show which you can see for yourself HERE.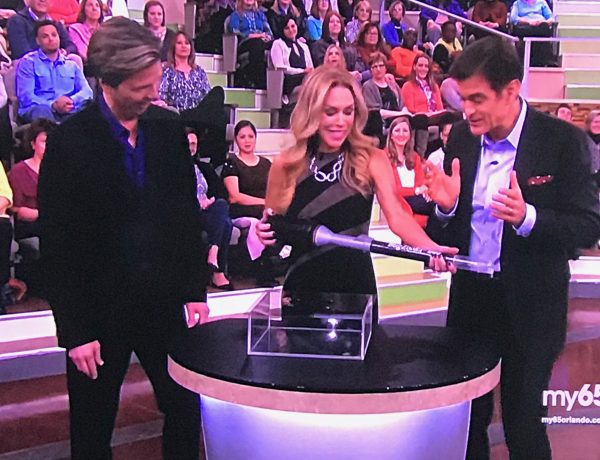 Where to Use the BugZooka™
The BugZooka™ can be used at home, work or on vacation. No more paper towel insect squeezing and no more wiping up bug guts. Say goodbye to violent fly swatters forever. Try it for yourself in: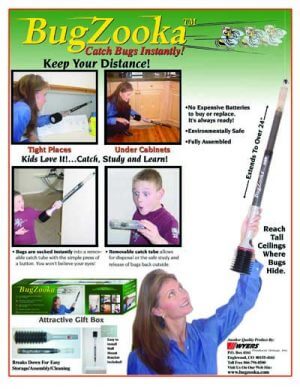 home
RVs
cabins
houseboats
gardens
vacations
restaurants
offices
clinics
High Tech. Lightweight. Fun for Kids
Kids love the BugZooka™! Parents will find themselves with a ready and able bug patrol on standby. It is safe, sturdy and can be used as a fun, educational tool. The BugZooka allows children of all ages to study their favorite bugs and quickly and safely return them to their natural environment.
Bug hunting and collecting with the BugZooka™ is non-violent to the insects involved. The "catch and release" system enables hours of interactive, educational backyard fun.
Did You Know? BugZooka™ is:
ingeniously engineered
unique patented design
instant, powerful suction
no batteries needed
no toxic chemicals

Bug Removal is:
fast and simple
safe and clean
humane
quick expulsion
Savings for You!
Between now and March 24, 2017, you can save 10% off any order at BugZooka.com! Just use Coupon Code: Ron&Lisa on the checkout page. Save money and save your health. It's a win-win!
Who's Ready to Win the Environmentally Safe BugZooka™?
Four lucky RonandLisa.com readers will win their very own BugZooka™ (total ARV: $100.00). Who's ready have a BugZooka™ tool for their home, business, hospital or other facility for insect management? Enter daily for a chance to WIN and please share this page with a friend, loved one – or anyone – that could enjoy a safe + green insect catching machine.
How to Enter: 
For every action below that you complete, you receive a specific number of entries. Click each individual action to enter yourself. For actions you have done in the past (i.e. you already follow BugZooka on Twitter) just click directly on 'I did this'. The eligibility of the winner will be verified by The Healthy Home Dream Team®.
There is no mandatory entry. Each action will earn different numbers of entries into the contest. You may Tweet or share on Facebook or Google+ for an entry once per day. All other actions will only be counted once. Sweepstakes open to US and Canadian residents age 18 and over. Contest ends 3/25/17 at 12:15am PST.
Save
Save