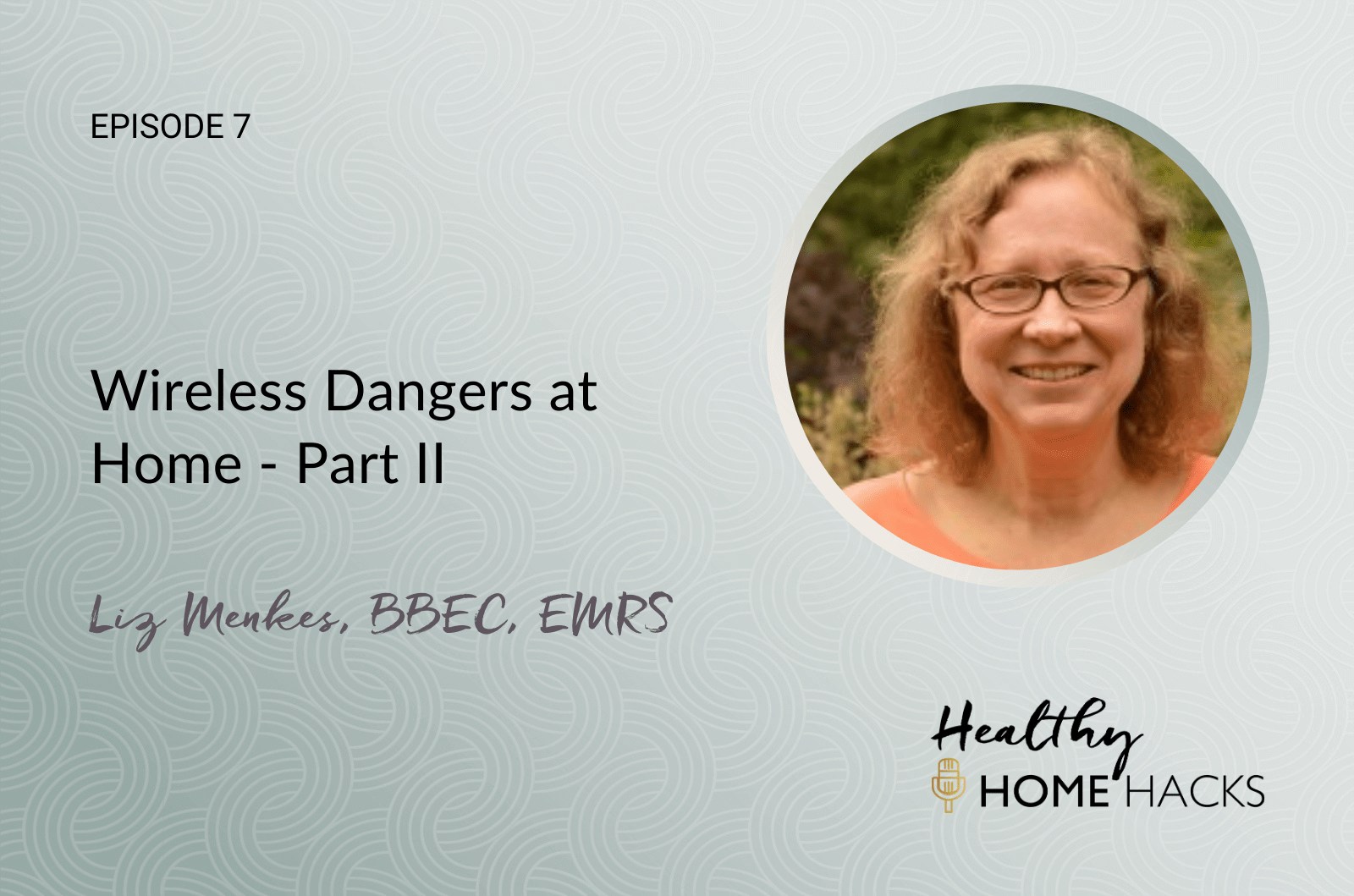 Picking up from Part I with Building Biology Environmental Consultant and Electromagnetic Radiation Specialist, Liz Menkes of EMF Healthy, we continue the enlightening conversation on wireless devices that permeate homes today. Liz shares hidden sources of wireless radiation such as cordless phones and not-so-smart 'smart' meters. Liz offers suggestions to reduce cell phone usage for children and adults and a sneaky way to hardwire your router and iPad so you can sleep more soundly and protect your loved ones while staying safe in a wireless world.
This episode is brought to you by The Building Biology Institute, a non-profit organization that is dedicated to the holistic science that you can embrace in their seminars, courses, certification programs, fact sheets and videos on designing, building, remediating health-supporting structures in harmony with planetary ecology. Join informative thinkers and stay up to date with new research on their Facebook page and find out more and become a member online HERE.
Listen to all episodes of Healthy Home Hacks on your favorite podcast app
Rate, Review, & Subscribe on Apple Podcasts
"I love Ron & Lisa and Healthy Home Hacks." <– If that sounds like you, please consider rating and reviewing our new show! This helps us support more people — just like you — regain their health, protect their loved ones, and enjoy more energy. Click here, scroll to the bottom on iTunes or on your iPhone, tap to rate with five stars, and select "Write a Review." Then be sure to let us know what you loved most about this episode or the entire show.
Also, if you haven't done so already, subscribe to the podcast. Subscribe now!
Episode Links
Lisa Beres
This episode of healthy home hacks is sponsored by the Building Biology Institute to learn more about creating indoor environments that support health and wellness visit their free resources at building biology institute.org

Narrator
How would you like to improve your health and keep your family safe? You're listening to the healthy home hacks podcast where we firmly believe enjoying optimal health shouldn't be a luxury. healthy home authorities and husband and wife team Ron and Lisa will help you create a home environment that will level up your health. It's time to hear from the experts. listen in on honest conversations and gain the best tips and advice. If you're ready to dive in and improve your well-being and increase your energy you're in the right place. Alright, here are your hosts, Baubiologists, authors, media darlings, vicarious vegans and avocado aficionados, Ron and Lisa Beres.

Ron Beres
Thanks for tuning and welcome back to segment two with Liz monkeys, you're going to learn so much about how to protect yourself and your family from the wireless dangers in your home.

Lisa Beres
Hey, and welcome back to the podcast. Liz, thank you again for being here with us. If you want to learn more, take classes, learn how you can help, and be a voice in your community for change, visit www dot building biology institute.org. And we have some colors that have called in and have some burning questions for Liz today. And now we have Jeff on the line. And Jeff, what is your question for Liz?

Ron Beres
Hey, Ron, Lisa. Hi, Liz. Thanks for taking my call. So, I work from home and I use my wireless router a lot. What can I do about my wireless router and Wi-Fi enabled computer?

Liz Menkes
Okay, so the best thing you can do for your computer or your laptop is to hardwire it. And what that means is you connect that device to the router using ether Net cable. And then when you do that, you also have to be sure to turn off the wireless on the devices. And I also recommend that if you have a cordless keyboard or a cordless mouse, you get corded versions. And then you also turn off the Bluetooth on your device, you can do that. immediately go to the store, get the cordless mouse, get the or sorry, get the cord, corded keyboard, plug them in, turn off the Bluetooth, get some Ethernet cable, run it to your router, and then turn off the Wi-Fi on your computer. And now where you're sitting closest to that device, you've eliminated all of that, that exposure from that computer.

Lisa Beres
Yeah, that's a great, great suggestion. And what would you say are the measurements when you've measured, say a computer that's hardware wired but as using a wireless mouse and our keyboard versus the other, okay,

Liz Menkes
if they've still got a wireless mouse or a wireless keyboard, I could get like 7000 from the keyboard and a several thousand as well from that mouse. Now, remember over 1000 is the extreme concern microwatts per meter squared.

Lisa Beres
Wow. So that's shocking, because people think, Oh, my computer's hard-wired. And a lot of people will still use the wireless mouse thinking they're protecting themselves.

Liz Menkes
Yeah, and not even realizing that. And it's also that Bluetooth, which is giving a strong signal to several thousand that's coming out from the devices

Ron Beres
A great tip. You're right because the Bluetooth can throw everyone off. After all, you think that you're doing everything right?

Lisa Beres
These little settings on our computer that a lot of people don't even know where to find them and they're easy to find.

Ron Beres
Okay, we have a caller here Liz, her name is Julia.

Unknown Speaker
Hi, guys. Hi, Julie. Welcome to the show. Thank you. I do have a question for you. How I have a teenage daughter who likes to sleep with her cell phone right near her head. Pretty much she uses it as an alarm clock. And I'm wondering if that's something I should be concerned about?

Liz Menkes
Yes.

Unknown Speaker
The short answer.

Liz Menkes
So that cell phone is pulsing radiofrequency radiation throughout the night if it's enabled. And so, what we recommend is that she put it on airplane mode, and then she can use it safely as an alarm clock. Now, when you have it on airplane mode, it's also important to look and make sure that Bluetooth and Wi-Fi, and cellular are all turned off. Because if they're not, even if it's an airplane mode, it could still be emitting a strong signal. And once you turn those off, the next time you put it in airplane mode, it should now default to being off but just Check it a few times and make sure then she can use her cell phone safely as an alarm clock.

Lisa Beres
Oh, that's great. That's great. I would feel so much better about that. Excellent question. And we hope your daughter sleeps safely and soundly. Thank you, guys, so much. Thank you. Yeah. Okay, so let's get into smart meters, which I like to call not so smart meters.

Liz Menkes
I'm sure you'd agree. Ron and I were lucky here in Orange County, we got a notice. And we were able to opt-out of ours. Granted, they charged us with a hefty fee and a monthly fee. But a lot of people around the country didn't get a notice didn't know there was an opt-out period and are now stuck with these smart meters. So, what can they do? And you know, what are your suggestions to remediate? And is there a way there are guards that you can buy that will do a good job of shielding the radio frequency from the smart meter. And there's you can do a search on the internet and you can look and find different available ones. And the other thing that I recommend and depending on where the smart meter is located, if it's like directly on the wall of a bedroom, for example, behind the meter itself, the Smart Meter itself has a metal plate, but there can be a gap in that plate. So even if you've got a cover or a guard on the smart meter, there can still be a signal that will come directly behind the smart meter. So, to be on the safe side, if you don't have a meter to measure it, put a three-foot by three-foot piece of aluminum foil, right on the other side of the wall from that smart meter.

Lisa Beres
You can access that right?

Liz Menkes
Or on the wall, the wall of the bedroom or the room, just put it. Okay, put a poster over it. And then that's additional protection.

Lisa Beres
First people who don't know what a smart meter is, why don't you tell because I'm sure we got into that and I forgot to tell people. Why is it bad or what is it doing? What is it doing?

Liz Menkes
So, the smart meter is what measures the electricity that's being used in your house. And it's that round meter that is near typically your electrical panel, it's somewhere on the outside of your house. And those meters emit a signal about every 2030 seconds or so. And it can be a very powerful signal. So, if the smart meter is on a garage wall, and it's far from bedrooms, it's generally not a serious issue. But if you've got a smart meter on a bedroom wall, that can be very serious.

Ron Beres
Wow. Okay, as David mentioned, the guards are like a price point for spots. I'm sure the listener wants to know like, how much would it cost to get one of those things typically on average,

Liz Menkes
yeah, so they range anywhere. I've seen them from $20 up to about $130. Wow.

Lisa Beres
oils, really inexpensive. We're going to be putting our head and we were talking Earlier lives and your smart meters can be your electric monitoring your electric usage, it can also be monitoring your gas. And it can also be your water. So, you can have three separate smart meters in your home. And for us, we live in a planned community. So, we know two of them were installed. Thankfully, we opted out of both, but so it's not just one. So, for listeners, make sure you check all three of those. Those all each have to be mitigated individually

Liz Menkes
depend, I think it would depend on the utility company, where I'm located in the San Francisco Bay Area, the gas meter only emits a signal like four times a day. So, unless someone is extremely sensitive, that wouldn't be as big of an issue as the electrical.

Lisa Beres
Okay, so we want to focus on the electric. Yeah, okay. Yes. Today, there are 4.6 8 billion cell phone users around the world. Yeah, it's pretty staggering. We've all got one. No matter how good of a job we want to do in reducing exposure. We can't avoid that. It's a modern world. So what are some suggestions that you have for reducing cellphone exposure? How can we still be using the conveniences by protecting ourselves?

Liz Menkes
So first, let me tell you what, what those typically measure. If you're holding your cell phone in your hand, and I'm measuring where your body is, I would typically get about 15,000 to 20,000. From that cell phone, remember over 1000 is the extreme concern microwatts per meter squared. So sometimes people think that if they're holding it in their hand, that they're safe, and that's certainly better than holding it to your ear. But to me, it's still a really serious issue. So, anything people can do to reduce their exposures is a good thing. And what I recommend is if you can get a corded phone for your house, you can forward your cell phone to that corded phone when you're at home and turn off the cell phone and that way you can read Use your exposures when you're at home.

Lisa Beres
That's a great idea. Yeah, we have a corded phone that looks like it's from 1950.

Lisa Beres
We got rid of the cordless phones after we use the RF detector and heard the noise, I played for you guys earlier, but it was even like off the charts. And so, we use the corded phone. And what we do is we have an emergency line. And so, we can get unlimited calls in on that line. And so I think for someone who doesn't want to pay a gazillion dollars to their telephone company, that's a great way to have something at home where you can get unlimited calls, you're not relying especially on business, you can use that for you know, calls without doing

Ron Beres
that. Well, this is crazy. So, do you have a really good real-life example of some of the changes you helped with the client in the past and any stories you can share with us? Yeah, in the trenches, Liz.

Liz Menkes
Yeah, there's one that comes to mind. And I had this client, she was an older lady, but she was a very strong, very sturdy lady. And she said Over the past year, her health just started to go down just very rapidly. And it just didn't make sense. It didn't seem like it was just regular aging. She said she had terrible brain fog. She couldn't connect thoughts. She felt that sometimes she described it as literally just losing her brain. Wow. And, and the family, the PG&E had done some work over at the power pole. So, they thought that the issue was that power pole, and that's what they wanted me to look at. So, I came out there, and there was no problem with that power pole. But what I found, and they had, they had a larger home, and they had a smaller home on that same lot. And about a year ago, they had moved into the smaller unit so they could rent out the larger one. And they had a cordless phone that was sitting right by the couch and by the dining table that was emitting 50,000 microwatts per meter wire. It was a very powerful one and that's where she was spending a lot of her time. And the other thing she told me is what she loved to do is take her laptop her wireless laptop to bed with her. She would serve while she was out for a couple of hours and then fall asleep with that.

Lisa Beres
Teddy bears, the modern-day teddy bear.

Liz Menkes
So, the very first thing I told her was you cannot take that laptop to get that laptop out of your bedroom. Number one, her daughter happened to be there with while we were doing the assessment, they immediately unplugged that cordless phone, and the wireless wasn't an issue because of the way they were getting their wireless you know their internet connection coming in. But what Her daughter there, we immediately hardwired her laptop. We turned off all the Wi-Fi we unplugged that that cordless phone. And, you know, I never can tell people that when we do these things that it's going to help. I can't say that that's causing their symptoms. All I can do is tell people to reduce their exposures and see how you feel. Yeah. And so, I spoke to her a couple of days later, and she said, Oh, my God. The next morning, I woke up and I had no brain fog. She said I can't. She said I can't believe how good it felt to wake up and not have brain fog. And normally, honestly, with the brain fog and the difficulty concentrating, it might take a week or so before some somebody notices some difference. But she noticed it right away. I bet

Lisa Beres
I mean, that's a lot of pressure on your body energetic pressure and when you relieve that pressure, you know You know, for us even just simple changes even when we years and years ago, we got rid of the cordless. We felt that Incidentally, we've never had Wi-Fi but you know, being on your cell phone for long periods, you know, you do, obviously get the thermal heating, which is, well, that's a whole other ballgame. We know that's not the real problem. That's what the telecommunications industry bases their studies on. And you know, we were talking about distance is key with the phone and the apple, the apple pamphlet even says, you know, move these devices away from your body. The manufacturers are even telling you not to keep these close your body. Yeah, but what's a tip that you can give our listeners, everyone at home right now at work on the treadmill wherever they are in their car, right now, what's something that everyone can do right now that let's say isn't going to cost them a lot of money that they can implement and make a change for the better

Liz Menkes
take that cell phone and when you're not using it, put it in airplane mode. You can do that immediately. And then maybe every couple of hours depending on your need. Turn on and check it, you've just reduced your exposures dramatically. Yeah,

Lisa Beres
I think that's such a great tip. And people, some people don't even know what airplane mode is, and especially with children, right? So, if you're going to give a child something to play with, or a software, download it, turn it on airplane mode, and then give it to the child. Oh my gosh, so many of these parents, you know, you see these little kids with their developing brains. Yeah. And on these devices, these wireless devices all the time. Well, thank you, guys. This was so incredibly informative and fun. And I want to leave you with one of my favorite quotes by Thomas Edison, 'Until a man can duplicate a blade of grass. nature can laugh at his so-called scientific knowledge.' I mean, right, all this technology, where is it getting us? Yeah, so friends at home, you can take action today you can make a difference by visiting building biology institute.org that's building biology institute.org to learn more, and you can use your voice to make real positive and impactful change not just in your home in your neighborhood, but in our world.

Ron Beres
Well, thanks for coming here. Very valuable tips.

Narrator
Thanks for listening and tune in next time we've got a really special guest coming up. This episode of the healthy home hacks podcast has ended. But be sure to subscribe for more healthy living strategies and tactics to help you create the healthy home you've always dreamed up. And don't forget to rate and review so we can continue to bring you the best content. See you on the next episode.

Sign up to receive email updates

Enter your name and email address below and I'll send you periodic updates about the podcast.